9 Home Service Industry Trends
January 4, 2022 | Read: 12 minutes
Every business owner wishes they could see into the future. And while there's not much we can do about getting you a crystal ball, there's certainly something to say about this year's home service industry trends and connecting the dots on how they'll impact the new year.
Skip to what matters most to you:
Home service revenue trends
Home service industry hiring trends
Home service industry marketing trends

After all, a smart business owner is always going to be the person who's able to anticipate challenges and rise up to the occasion. Overall, the US home service industry was made up of 429,000 businesses in 2021 (an increase of 4% from 2020). This might sound like a lot of competition, but keep in mind that the market is valued at $105 billion, so there's plenty of customers to go around.
At the same time, big name players like Amazon have also entered the fold, pushing the expectations for a certain standard of service and making things more challenging for the average home service business.
Therefore, flexibility is key, and having the right processes in place can be a lifesaver when it comes to dealing with these trends. This is why anticipating them can give you a big advantage when drawing up plans for the coming year.
So, without further ado, let's dive into the  9 home service industry trends that you should get ready for: 
Home service revenue trends
1. Sales, sales, sales
Just waiting around for customers to call is no way of growing a business, especially in competitive times like these. At the same time, leaving it all to the customer means you have little control over what types of jobs come your way.
Or, you might say "we don't leave things to chance; our leads come pre-qualified". This is an excellent strategy (or is it? Keep on reading for an interesting lead trend!), but when those leads don't convert straight away it leaves money on the table, as is the case with many high-value tickets where the customers usually have a longer buying cycle than someone in need of a quick repair.
Sales training for your employees, sales communication platforms that help you keep in touch with customers even when you might not be able to service them right away, as well as sales tactics awareness in general are all things you should consider implementing in the near future.
If you'd like more service business sales content, check out the full category here!
2. Paid lead generation is getting (even more) expensive
One home service industry trend that might not be great news is that lead buying costs are going up.
According to WordStream, the average cost per click (CPC) ranges from $2.94-$9.03, while the average cost per lead (CPL) ranges from approx. $30 to $100, as far as the general home services industry goes. If you happen to operate in the Pools & Spas sub-category, you're in luck as that's at the low end of the spectrum for both, costing $2.94/click and 29.08/lead.
However, the more businesses there are competing for the same customers, the higher the costs will be, so popular subcategories like HVAC and Plumbing start at a minimum of $48.91/lead, with Roofing & Gutters coming in as the most expensive at $101.49
The reason behind these increases is easy to spot: after lockdown was lifted in most areas, customers flocked to home service businesses to take care of the work that had been postponed.
Generally speaking, these were not emergency services but rather big ticket items like renovations and upgrades. Therefore, businesses looking to recoup losses incurred during lockdown bought up ad words and lead lists to make sure they were the first to get to these customers.
Those who anticipated this home service trend had budgeted for an increase in marketing spend, while others were left in the dust. Moving forward, costs only seem to be going up, so make sure you've got some money put aside to make up for it.
3. Communications campaigns
Offering a good customer experience is essential in the home service industry—that's not a trend that's going away any time soon. But with more and more businesses becoming aware of this, "good" simply becomes standard. In order to impress, you have to go above and beyond.
After all, 80% of customers say the experience a company provides is as important as its products and services (Salesforce) and 65% refuse to rehire or recommend a company that offers poor customer service, even if their product is ok (Digiday).
A great customer experience is like building a relationship: it takes communication and attention to detail. Email campaigns are great for demonstrating both and for keeping customers that you might not have been able to service engaged and in your sales funnel. Whether that's by informing them of seasonal offers, or providing some simple home repair advice regularly, it's all about staying top of mind.
4. Review campaigns
This statistic's been around for some time so it hardly needs reiterating, but just to give you an update: 87% of customers read online reviews before hiring a local business (BrightLocal). That's up from 81% in 2019, so this home service industry trend isn't going anywhere.

Similar to getting new customers, there's two ways to go about earning reviews: you can sit back, relax, and see them trickling in, or you can take control and run review campaigns that guarantee you're going to be first-of-mind when a potential lead is researching home service companies to hire.
In order to run a review campaign, the first thing you'll need is a series of emails (two is ideal, and no more than three, as you don't want to spam people into unsubscribing). The second is a software that enables you to send these messages automatically after you've completed a job.
Home service industry hiring trends
5. Diverse hiring
Hiring is one of the biggest challenges the home service industry has faced in recent years, lockdowns included. The main issue is that technicians are aging out of the job and there aren't enough people entering the industry to replace them with. In the next ten years, it's forecasted that three out of every four people in the trades will retire.
With that in mind, according to the Department of Labor, less than two percent (1.4% to be exact) of women work in the plumbing industry. Furthermore, the World Bank Utility Survey found that water companies hire men over women at a 4-to-1 rate. So, there's definitely an opportunity in expanding your image of the perfect hire.
Hiring more women and promoting opportunities for them, especially with the Great Resignation in mind and all the people looking for a change of careers, is essential and comes with many benefits. For instance, a study by the Center for Creative Leadership (CCL) found that having a higher percentage of women in the workplace leads to:
Increased job satisfaction
A more motivated workforce
Employees find meaning in their work
Lower chances of burnout
If you'd like to hire more female techs, you can try:
Advertising on forums and job boards dedicated to promoting trades amongst women
Keeping your job descriptions gender-neutral by avoiding terms like a tradesman, rockstar, heavy-duty tech, and other masculine-sounding phrases
Staying committed to offering a chance to women who apply
Why the Industry Needs More Female Plumbers and How They're Changing the Male-Dominated Landscape
6. Apprentices
Another hiring opportunity that's on the rise is getting apprentices. Apprenticeships have risen by 68% since 2010 (Forbes), as college tuition fees have gone up and many have realized that it might be worth exploring other avenues to earning a great salary without having to carry crippling amounts of debt.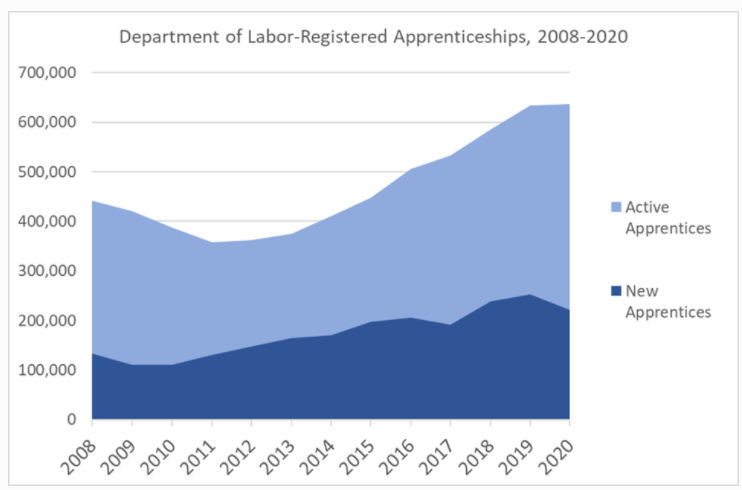 Since nearly 70% of organizations polled by The Service Council are concerned about the ageing of their field service workforce, apprentices can be a big part of the solution to the skills gap.
You might think they're too much hassle or too unreliable, but the truth is that soon enough there won't be many other choices. You'll be better off with a loyal employee that you've trained to your liking. And if you don't hurry up, the best apprentices will be snatched up by business owners who were paying attention to home service industry trends and acted fast.
When it comes to getting the best apprentices, it's important to look for soft skills and personality, since they most likely won't bring a lot of technical experience with them. We've detailed what these business soft skills come down to before, but the short of it is that they need to be:
A genuine desire to learn and get better at the job
Friendly and great at customer service
Understand how they represent the company
Meeting up (or having a video call) with potential apprentices is essential, as asking the right interview questions will help you identify the skills above and put you ahead of the competition.
7. Outsourcing
Home service businesses often find themselves in an in-between situation when it comes to hiring: they need an extra person in busy periods, but they're not sure there's enough work year-round to warrant a full-time employee. With Billd reporting in 2021 that 62% of contractors are planning to take on larger projects, outsourcing will become a common solution.
When it comes to outsourcing technicians, sub-contracting work has always been around, so this is one trend that's not going to change. But admin and other activities are also on the rise, with more and more agencies offering to pick up the slack.
Marketing and sales are an obvious department to outsource, as these are departments where most business owners hire last. There are many agencies around claiming to be able to get amazing results, but whenever you decide to outsource, you need to have your business KPIs clear in your mind. This way, you'll be able to keep any outside company you hire accountable to exact metrics.
At the same time, if you're thinking of following this home service trend, it's still a good idea to hire at least one in-house person to coordinate any agency efforts you might need.
Home service industry marketing trends
8. Video content
It's been found that 95% of viewers retain a message when they watch a video compared to only 10% when reading it in text form.
If you think about your day-to-day online scrolling patterns, you most likely click on posts that have a visual attached to them–especially if that image is of a person. We naturally gravitate towards this type of content, so it's a great idea to record a short video in your posts to really stand out.

To see some great examples of the different types of videos you can create, check out our blog. You'll see topics can range from industry trends, interviews with experts, and even your own personal tips and advice.
9. Podcasts
Finally, podcasts. It seems like everyone and their cat is starting one and there's a good reason for it. There are 2.9 million podcasts on Spotify, and the latter credits podcasts for a 24% increase in paying subscribers.
At the same time, people interested in home services run into a common issue: very few of these cater to their industry. The leading podcast genres are comedy, news, and true crime. Home services don't even crack the top 15, so there's definitely room for you to jump on this trend.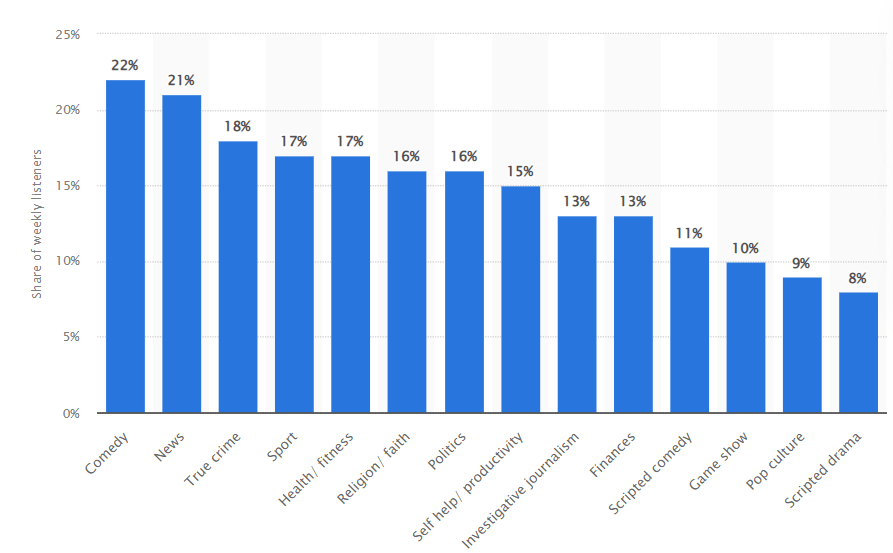 The most important thing is to visualize your audience. Are you speaking to owners looking to understand how to take better care of their home? Or are you speaking to service businesses like yours and giving them management advice?
Both options are equally valid. What you don't want to do is mix the two and confuse both audiences, leading them to tuning out.
The takeaway
All in all, these home services industry trends paint a very interesting picture for visionary leaders. Taken as a whole, they show an industry that's looking to expand, by targeting bigger jobs with higher standards, by employing new sales & marketing techniques, and by looking to fully engage with customers on every level, whether that's email, videos, or any other form of content.
At the same time, it's an industry that's being held back by issues which have been brewing for a long time, such as the technician shortage, and that's something that owners and managers need to reckon with.
But a challenge is nothing if not an opportunity to innovate and grow, so by paying attention to trends, you'll be in the best position to take advantage and improve your business.