SERVICE REMINDER SOFTWARE
Multiply Recurring Revenue With Service Reminder Software
Service reminder software provides a frictionless booking journey; increasing appointments and pleasing customers. Sent before the service is due, our service reminders include a link where customers can conveniently book appointments straight in your schedule. Further, automated self-service reminders take more weight off your admin team!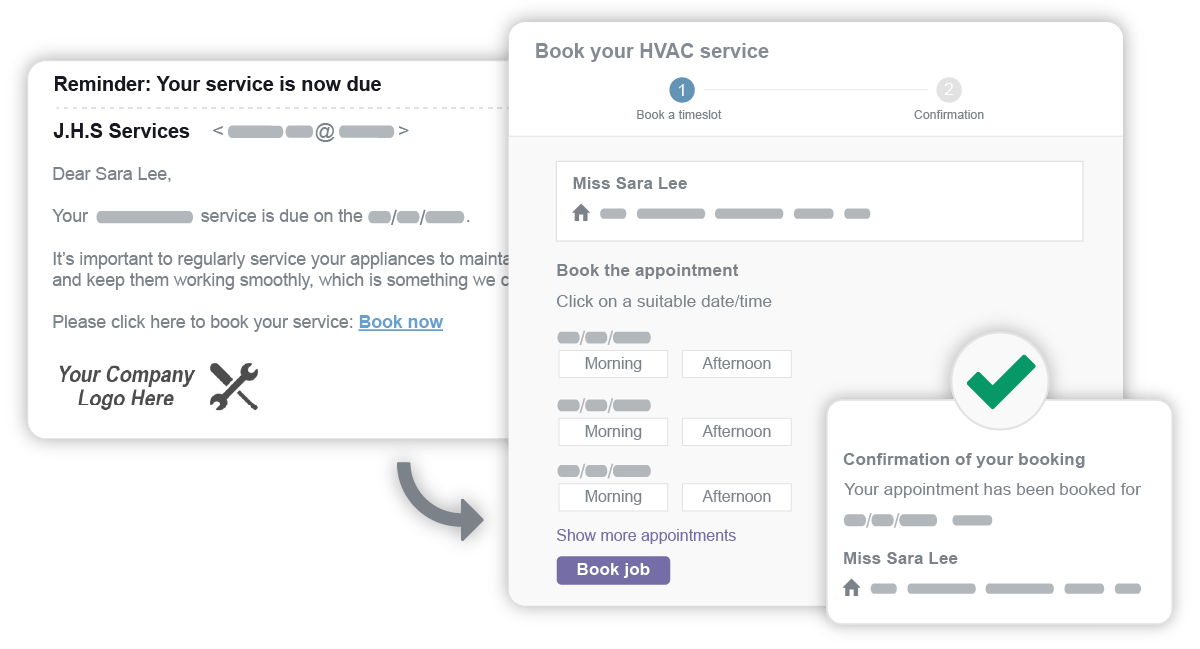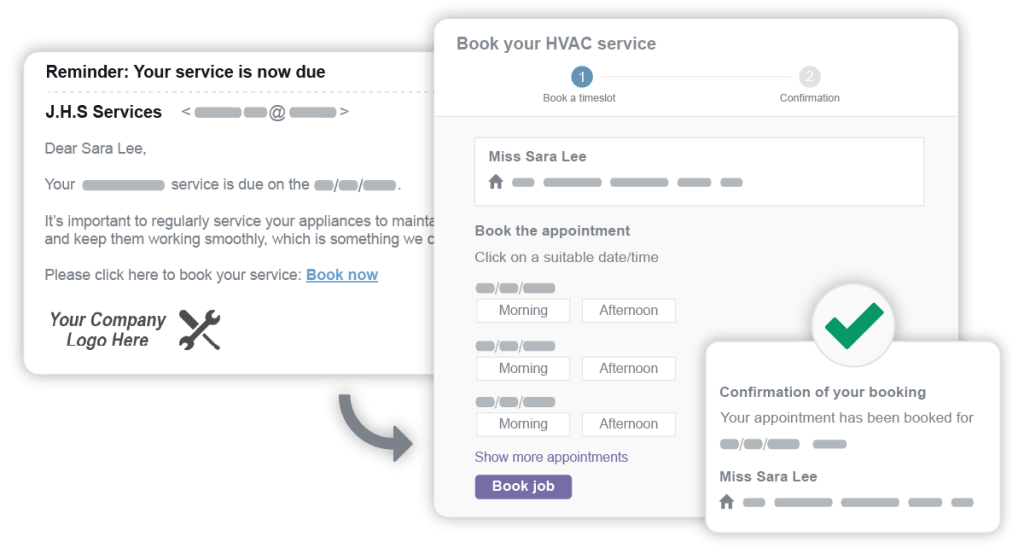 Service Reminders That Are Convenient for Everyone
Automated Appointment Reminders
Revolutionize your reminder process by automatically recording service due dates and sending service reminders.
Manual Appointment Reminders
Your team can determine which services should be manually or automatically sent; the choice is yours.
Customizable Timeframes
Our timeframe settings can be modified to accommodate your businesses' different types of recurring services.
Message Templates
Reminder messages can be customized for different customers or services with templates and personalization tags.
Online Booking
This self-service solution empowers customers to schedule appointments on their own via a personalized link.
Follow Ups
Schedule automatic follow up messages for when customers haven't yet responded and booked their service.
Chris
Director/Technician
Aurora Heating
Maintaining your existing business with service reminders is great and the ability to have your customer details, appliance data, and work history at your fingertips is also great, saving time and offering your customer that "personal feeling".
Help Customers Stay On Top of Their Appointments
Book More Maintenance Jobs With Less Admin Work
RELIABLE SERVICE REMINDERS
Structured around convenience, automated job reminders eliminate the need to chase customers or have them call the office for routine services. Your team will notice an increase in efficiency, ability to focus on other high-value tasks, and ultimately more revenue from recurring service jobs.
Track and view every upcoming service job

Option to send automatic emails and texts messages

Stay top of mind and get one up on competitors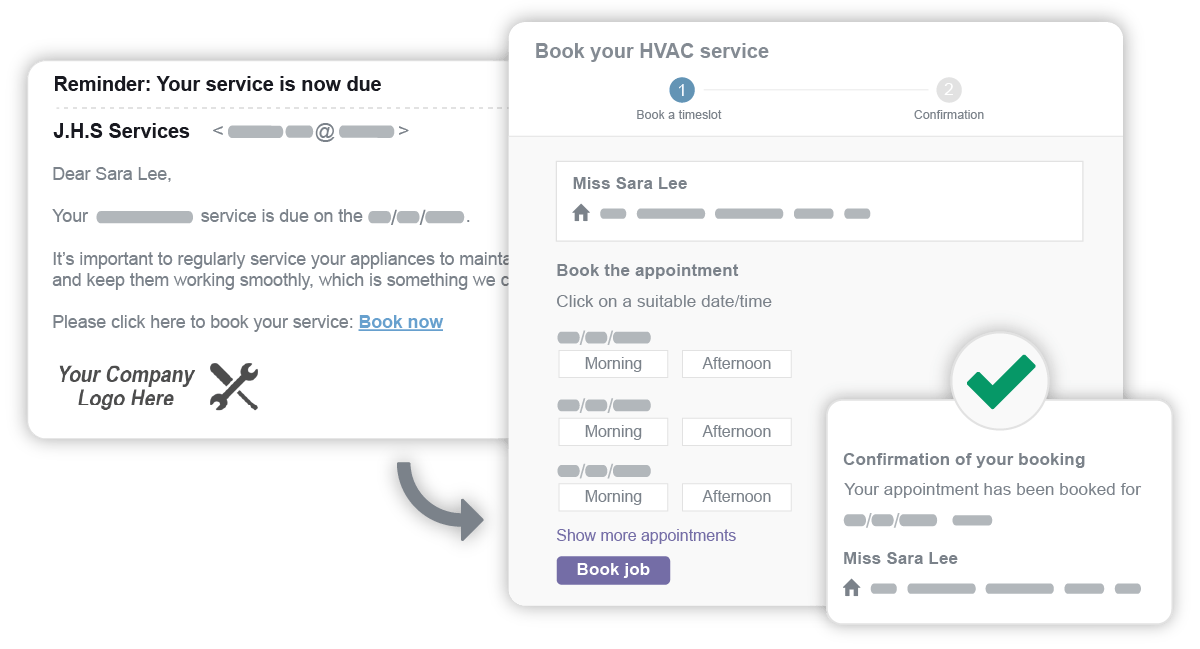 Let Customers Help Themselves
EFFORTLESS ONLINE BOOKING
Powered by Commusoft's Intelligent Scheduling Software, our appointment reminders give your customers greater control and lets them select their booking slot with just a few clicks. Working in the background, Intelligent Scheduling considers team schedules, and technician skills, ensuring the job is assigned to the best team member. The scheduled job will directly appear in your calendar as soon as it's scheduled, keeping things simple for your team.
Include a link to your convenient booking portal

Only offer available time slots with suitable technicians

Help customers stay-on-top of asset maintenance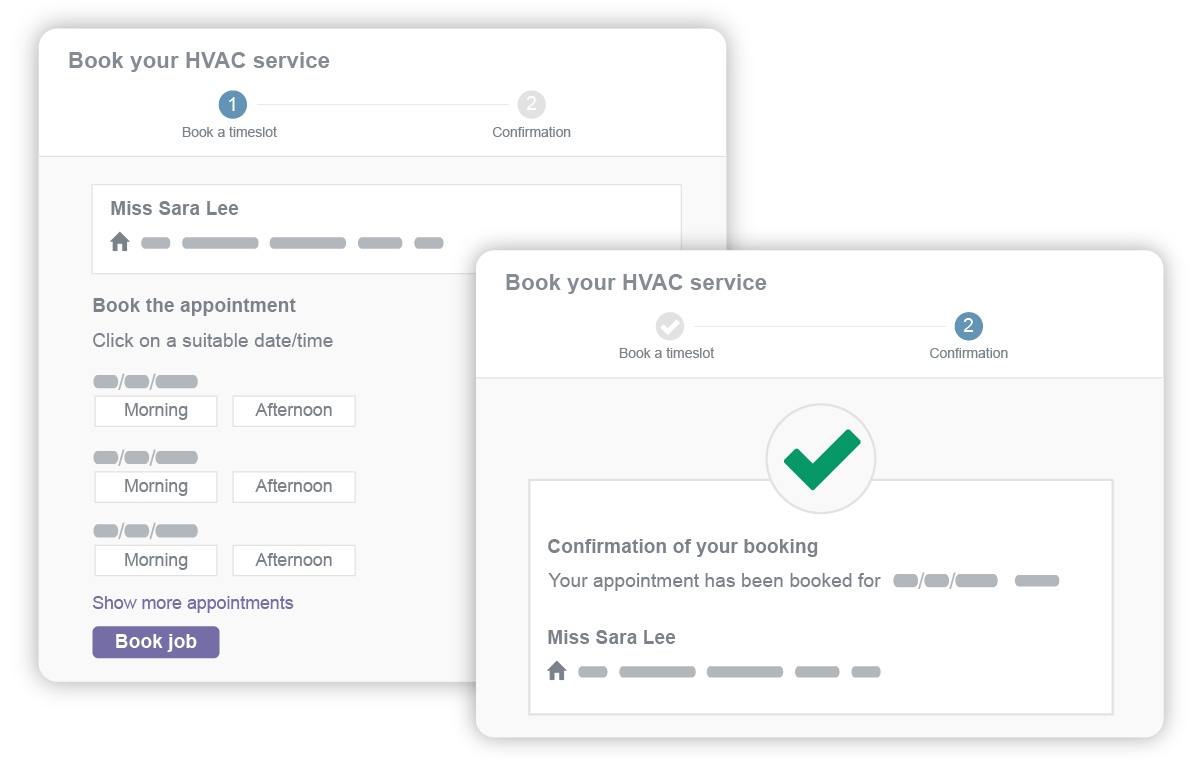 Discover How Service Reminder Software Boosts Customer Satisfaction!
Create Service Reminders That Suit Your Business
Tailor the Experience to Your Customers
PERSONALIZED TEMPLATES
Our service reminders are fully customizable, with a unique template for each service type, and offer tags to ensure you always include the right information for the customer. Different customer types get their own message templates, whether it's a customer with multiple properties or a single residence.
Include specific and relevant data in reminders

Edit templates and tagging to suit your business

Templates for multi-property and private customers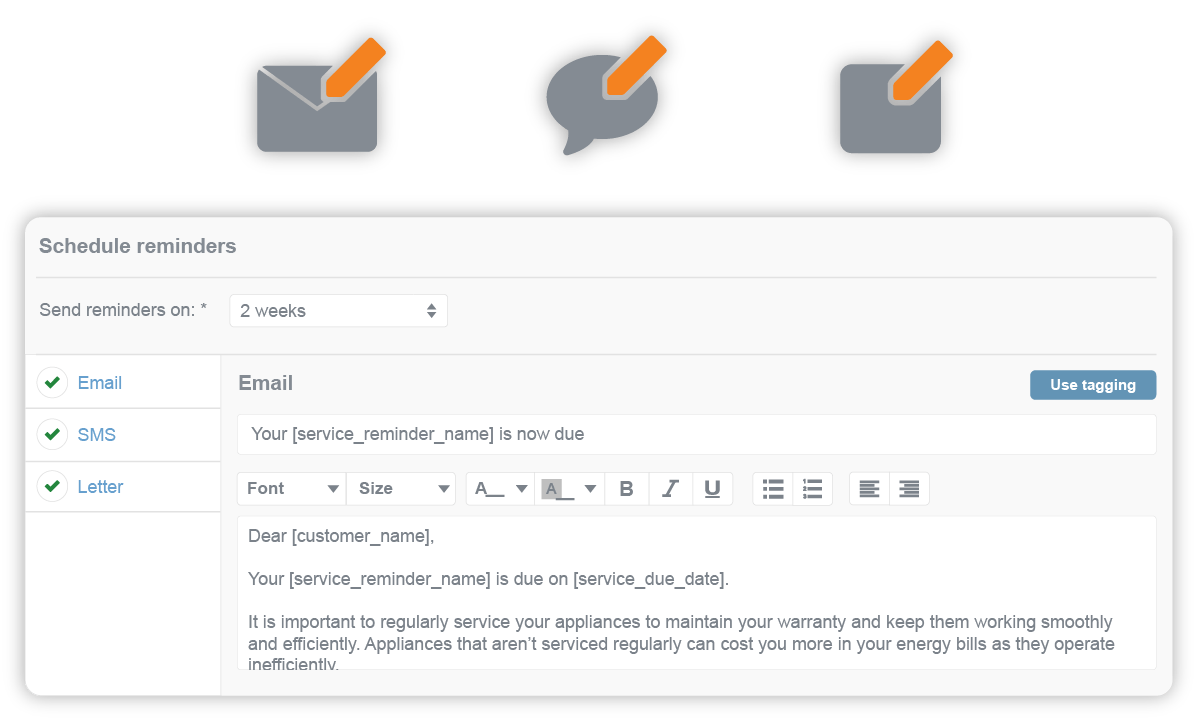 More Than Just Annual Reminders
DIFFERENT TIME FRAMES
Whether you're adding an annual HVAC service reminder or a monthly fire system check, you can easily customize the time frame for each service reminder to match its needs. You can also designate specific jobs as service jobs to auto-sync the reminder without anyone having to remember.
Set various time frames for different services

Instantly link a service reminder to a 'service job'

The system automatically tracks the service date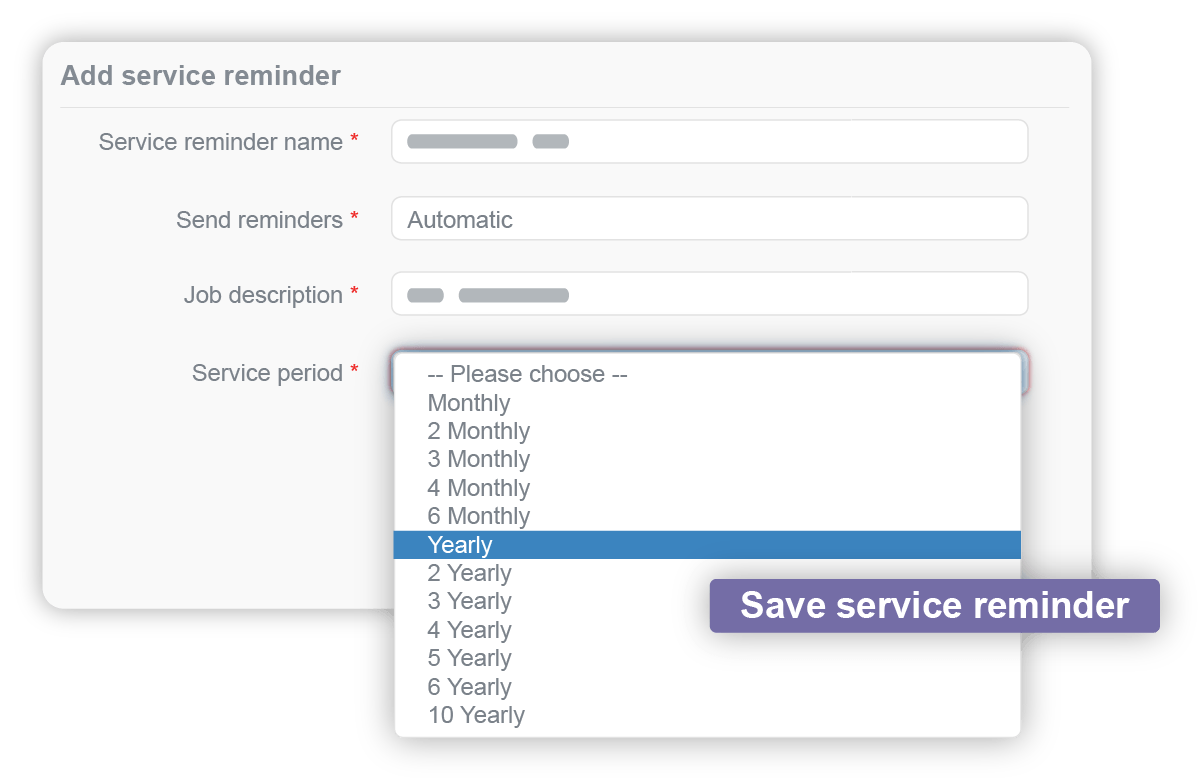 Get Even More From Our Service Reminder Software
Auto Sync Appointments to Schedules

The booking portal only shows customers available slots with technicians who have the right skills for that service. Once booked, jobs immediately sync to your calendar and are sent to the corresponding technician's mobile app.

Arrange Access for Tenants

Service reminders for tenant properties are sent to the landlord or property manager to seek their approval. With their go ahead, you can rely on our workflow to handle communications and booking with each resident.

Track Unbooked Services

You can keep an eye on any service appointments that still haven't been booked, the messages or follow ups that have been sent, and decide whether it's time to give the customer a call.

Self-Service Appointment Rebooking

Whether phone lines are busy, your business is closed for the day, or customers forgot, they can reschedule appointments via their service reminder message. Empowering customers to help themselves lifts pressure from your admin team, and ensures technicians work from optimized schedules.
Get Even More From Our Service Reminder Software
Service reminder software is a digital platform that helps trades businesses create and send notices for recommended servicing.

This system is perfect for service maintenance businesses; service reminders show customers you care, meaning you can book more repeat appointments. Further, this helps reduce emergency call-out situations, while padding recurring revenue.

Commusoft's service reminder software helps businesses increase cash-flow, please customers, and reduce emergency call-outs with scheduled maintenance appointments.

With appointment reminders software, your office staff don't need to manually track of each customer's unique servicing requirements. Basic reminders can be automatically sent to customers, or staff can be alerted when specific reminders are due. This system organizes and reduces admin tasks, so they can focus on more important responsibilities.

Our appointment reminder software pairs with our online booking tool, so you can further reduce admin by giving your customers the option to book an appointment through a link to your booking portal in the service reminder message.

Commusoft's service reminders software pricing depends on how many licenses you need, and which of our powerful plans you choose.

Service reminders are available on Commusoft's Customer Journey plan, or higher.
More Appointment Management Content