Commusoft Sales
STOP QUOTING,
START SELLING
Don't simply send a quote and cross your fingers. Track the sales process from start to finish and stand out from the competition with proposals that drive your revenue.
A new sales CRM from Commusoft.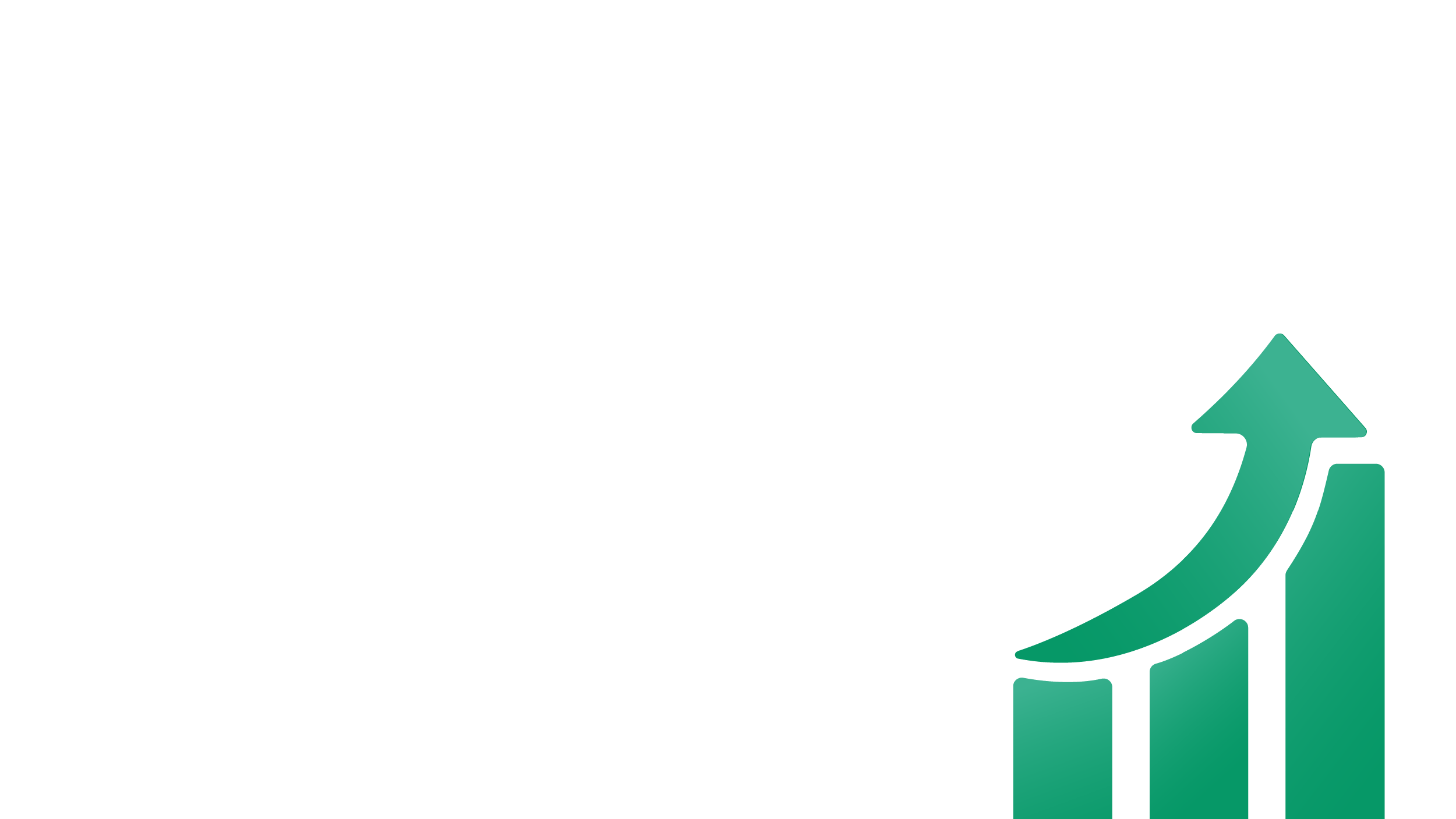 Take Control of Your Sales Pipeline
Sales CRM Software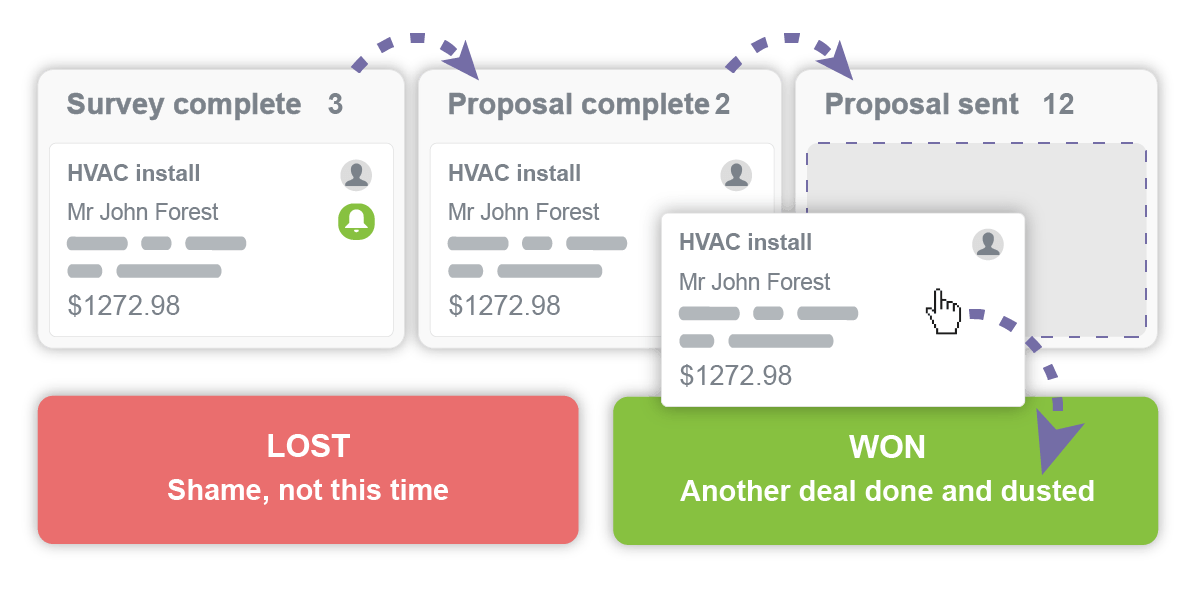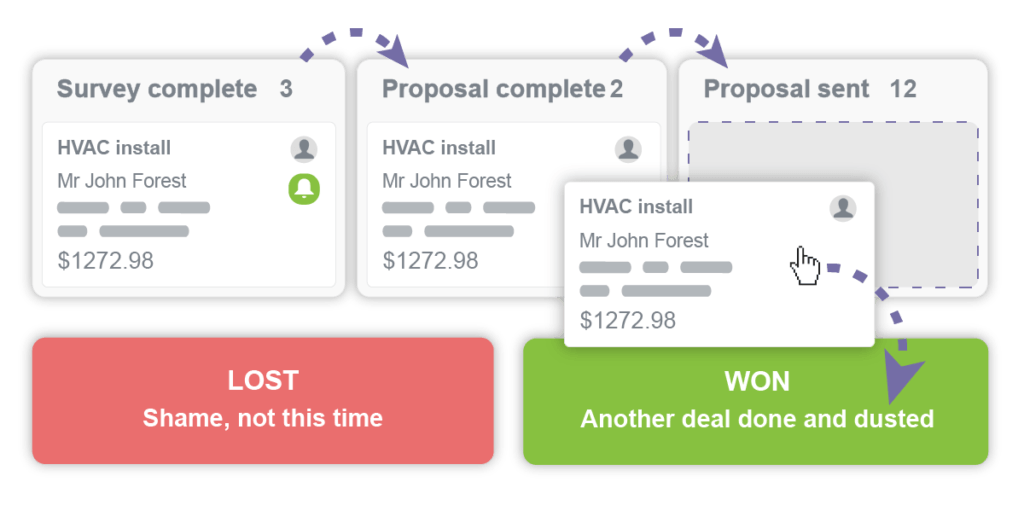 No matter whether you call it selling, quoting, or estimating - winning work is a vital part of your business. That's why we've built and all-in-one sales system designed specifically for field service businesses, so you can gain more control over your sales process, manage costs and profit margins with ease, and ultimately increase revenue when the job is won.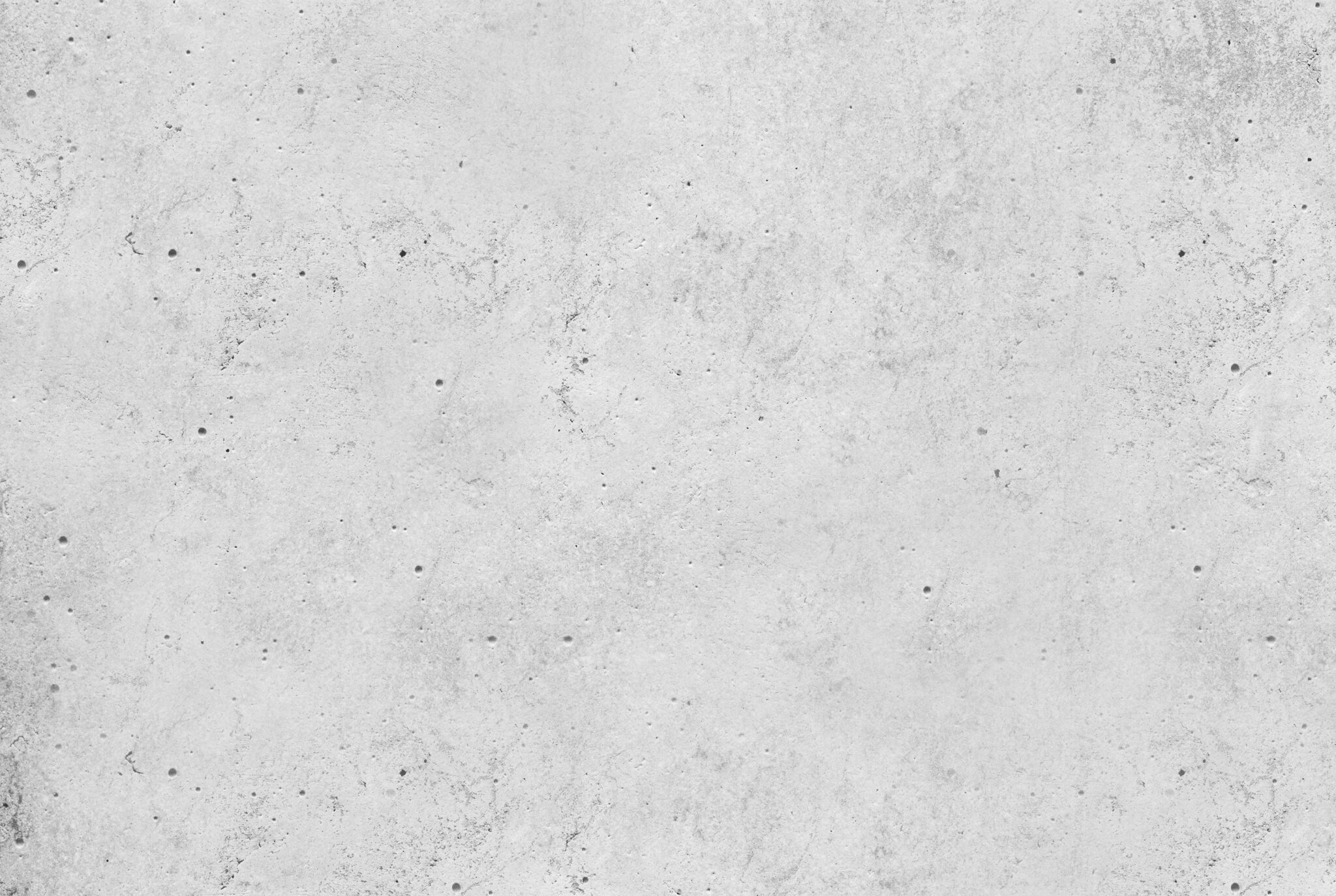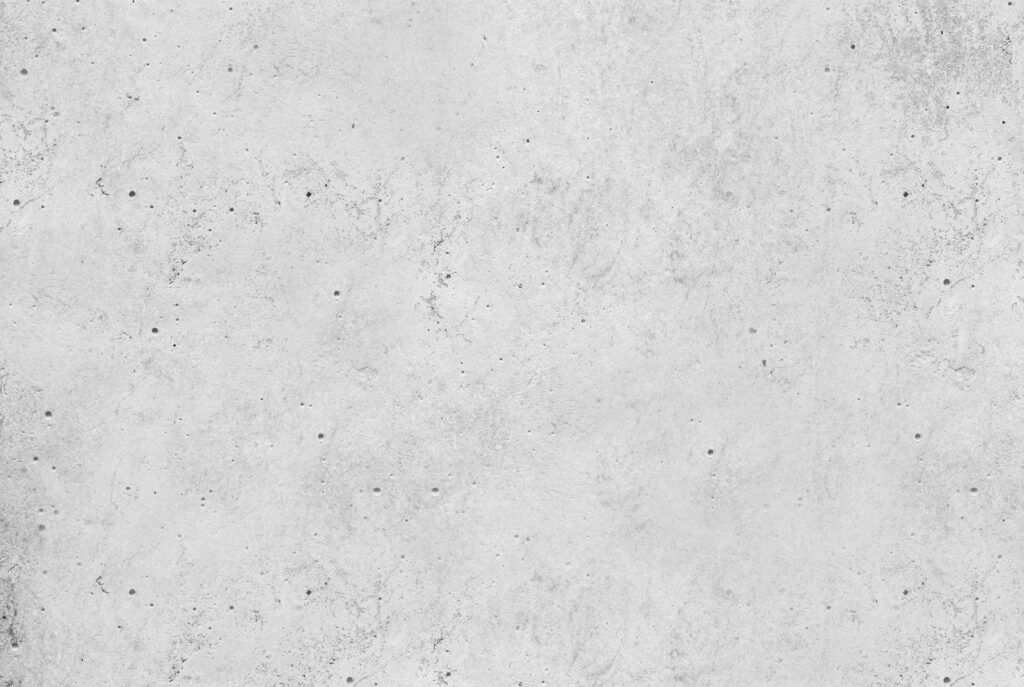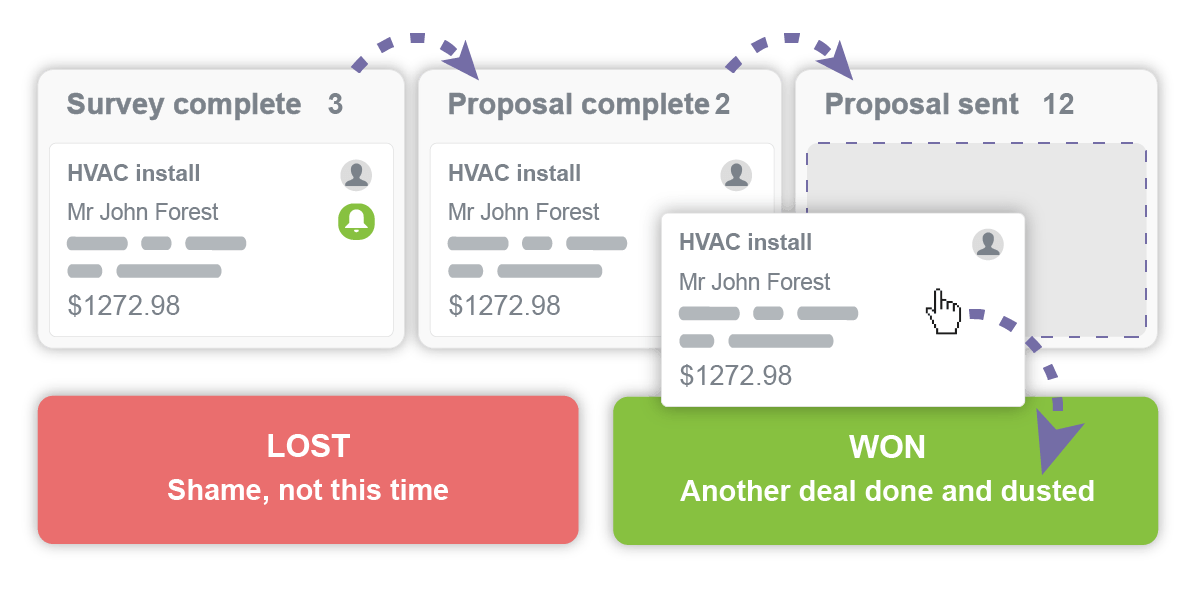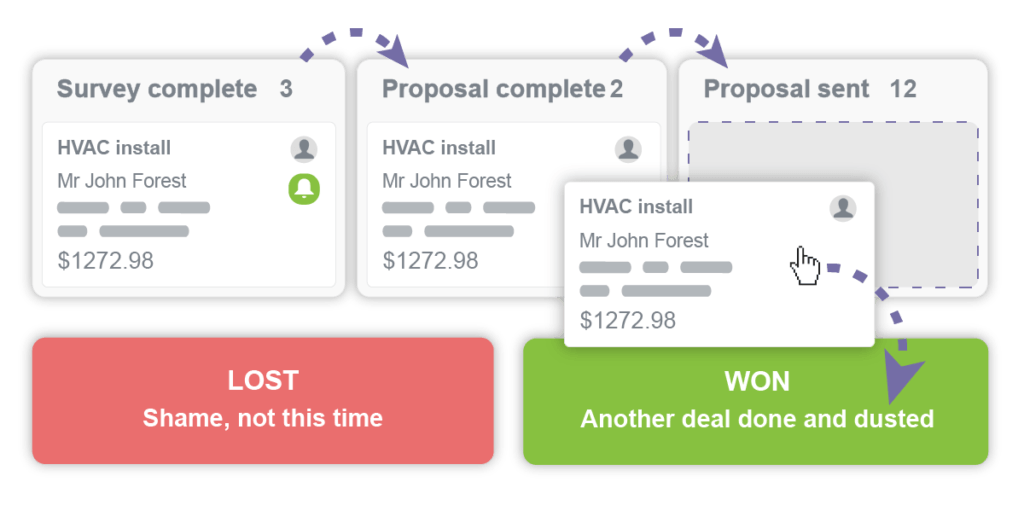 Sales Management for Field Service
Integrated System
Extend Commusoft's Jobs solution with a natively-integrated sales CRM for field service businesses.
Opportunity Tracking
Every opportunity for work has a unique record, so you can view everything important in one location.
Sales Pipeline
Track opportunities as they move through your pipeline and see how best to keep them progressing.
Proposal Builder
Build sleek proposals in minutes with a drag-and-drop builder, convenient templates, and smart pricing options.
Proposal Portal
Customers accept proposals through a guided portal with opportunity to upsell, take payments, and more.
Budgeting
Connect parts, prices, labor rates, and more into your proposals for accurate budgeting and profit margins.
Sales Communications
Schedule follow up calls, emails, and tasks to stay on top of your opportunities, plus build automated sequences.
Financing
Offer customers reliable finance options within their proposal, so you have more ways to get paid.
Sales Reports
Report on sales to learn why you win or lose opportunities, who sells the most, and how much you're earning.
Speed up Quoting with Beautiful Proposal Templates

Proposals

Build sleek, personalized proposals in minutes and drive your sales pipeline with a convenient template for each type of work you offer. See the difference that quick, professional documents make in your sales process!

Add multiple options, add-ons, and upsells to drive revenue

Convert more with images and videos directly in your proposals

Embed real-time pricing tables for accurate parts and materials

Increase Conversion by Monitoring the Entire Sales Process

Sales CRM

Sending the quote is only the beginning. With Commusoft Sales, you'll know the exact status of every opportunity, can track all previous communications, and can plan conversion-driving follow up activities. Keep your eye on the process and ensure you convert more customers.

See every opportunity at each stage of your pipeline

Know which leads need to be contacted and when

Enroll leads in communication sequences to follow up automatically

Ensure Profitability by Tracking Exact Costs and Margins

Financial tracking

Winning more customers is a start, but it's essential that you charge the right price to maximize your profits. Every proposal in Commusoft keeps track of your margins, including materials, labor, and other expenses so you can see exactly how much profit is projected.

Track total spend vs billable for each proposal

Compare real-time part prices across vendors

Pull in pricing items from your Jobs system

Grow Your Revenue at Every Step of Your Pipeline

Upsell and finance

Growing your revenue doesn't stop at increasing conversion and charging the right price. Commusoft Sales gives your business unique ways to push your revenue even further, such as cross-selling your services, upselling higher value parts and installations, and even offering finance to help secure customers.

Cross-sell services with optional add-ons

Upsell assets with greater value and higher margins

Offer finance to attract more customers (subject to approval)
Join Thousands of Trades Professionals
Business Owner

As a Business Owner, you're no doubt very busy handling the big picture. With our Sales solution, you don't have to worry about tracking sales and quoting. Stay on top of it all with our thorough sales CRM, pipeline tracking, and reporting.

Sales Manager

As a sales manager, your main goal is to support your team and help them make as many sales as you can. With our Sales solution, you can track every opportunity, proposal sent, and follow up to identify both your team's strengths and weaknesses.

Salesperson

As a member of the sales team, it's important to focus on selling and not get bogged down with admin. With our Sales solution, you have the tools to make more sales: all your communications in one place, a sleek and quick proposal builder, and convenient activity scheduling.

Estimator

As an on-site estimator, your job is to assess the property and provide all the necessary work details to your team who will close the deal. With Commusoft, your site crew can easily record the relevant information via their mobile app and add it to the customer record.
Discover Commusoft's Other Solutions

Jobs
Commusoft's core offering for field service businesses
Job management is the foundation of what Commusoft do, from scheduling and dispatch to invoicing and communications, it's all here in one system.