Establish a dependable company cash-flow
INVOICING SOFTWARE
Our invoicing software empowers clients to effortlessly build and send professional invoices. Your team can request and receive payments online and on site. We also offer accounting integrations, automated invoicing, an invoicing portal, and more.
Top-of-the-line invoicing features
On site invoicing
Accelerate your cash-flow; technicians can request or accept payments directly from the field.
Automated invoicing
Set jobs to automatically send an invoice as soon as an technician marks the job "complete".
Online payments
Let customers pay when it's convenient for them. Accept payments anytime of day with our online invoicing portal.
Branded PDF invoices
Personalize your invoices with your company logo, colors, and unique accreditations.
Consolidated invoicing
Condense invoices for multiple jobs into one and ensure no payments are missed.
Accounting integrations
Commusoft syncs with a variety of accounting integrations, including Quickbooks, Kashflow, SumUp, Xero, Sage, and more.
Lisa
Office Manager
A & S Kingdon Ltd
We get invoices out much quicker to customers and get paid faster too – sometimes paying the same day.
Invoicing software, for the 21st century
Modernize your finances
INVOICING SOFTWARE
Commusoft's invoicing system centralizes your records and documents in one comprehensive platform. Improve organization across your whole business, and focus on generating bigger, and consistent, company profits instead of mulling over paperwork.
Propel and standardize company cash-flow with us

Streamline payments so invoices are paid on time

Technicians or your admin team can handle invoicing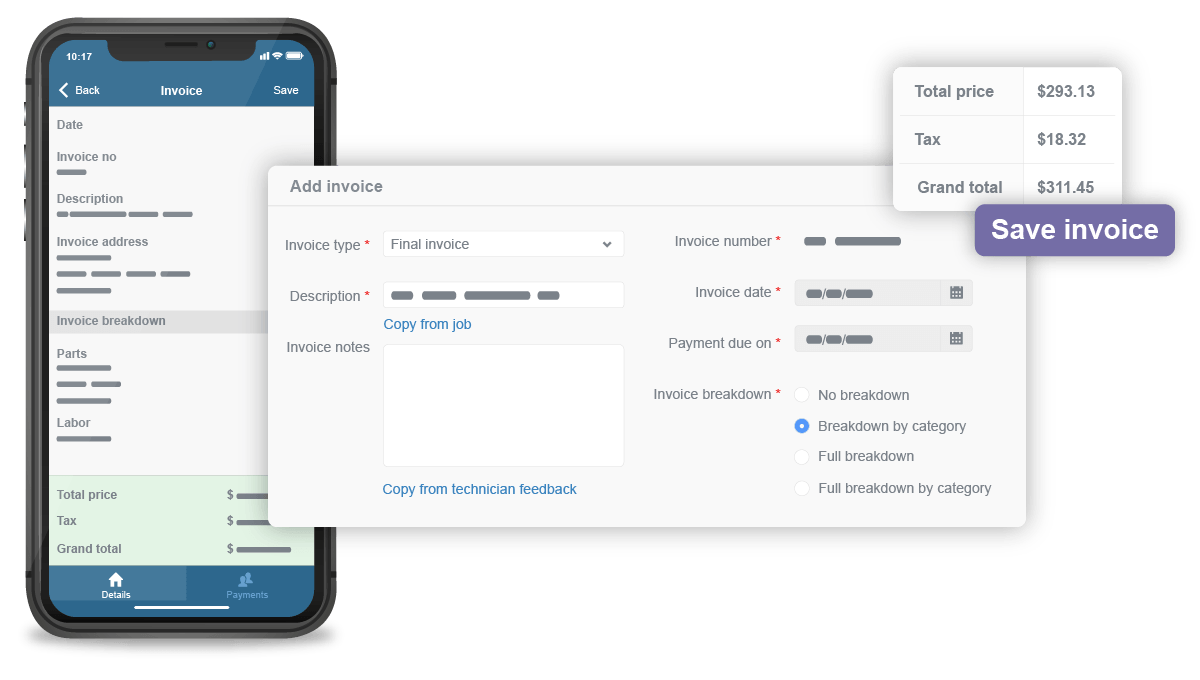 Take the invoicing pressure off
AUTOMATED INVOICING
Tired of manually creating and sending invoices? Automate the process; nothing is faster or easier. Automatically generate and send invoices based on flexible rules you choose. This feature is available on our Customer Journey plan.
Invoice when the job is created or upon completion

Assign labor rates costs and charge accordingly

Use price books to charge customers how you want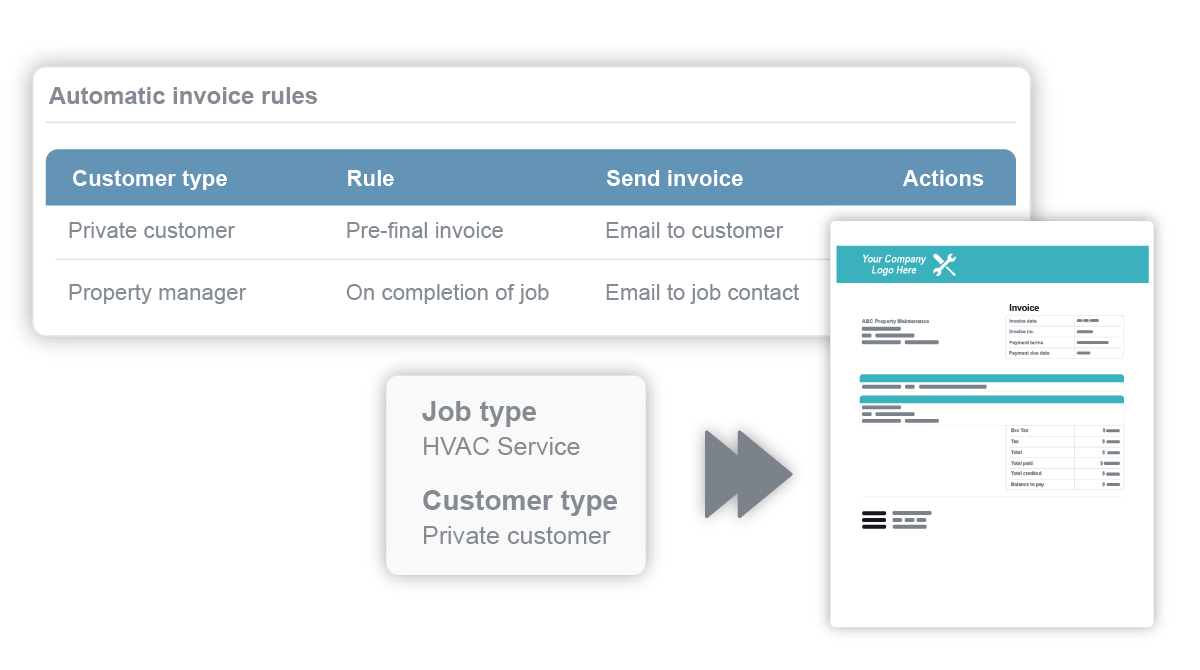 See how invoicing management can increase your profitability!
Get a handle on your finances
Integrate with the best accounting softwares
ACCOUNTING INTEGRATIONS
Commusoft integrates with many accounting packages. Linking your accounting system to our job management software means no more double data entry or forgetting to add important items to your accounting system. We take care of all the small details.
Sage, Quickbooks, Freeagent, Xero, and more

Commusoft and your accounting program sync every 2 hours

Get the best handle on your company finances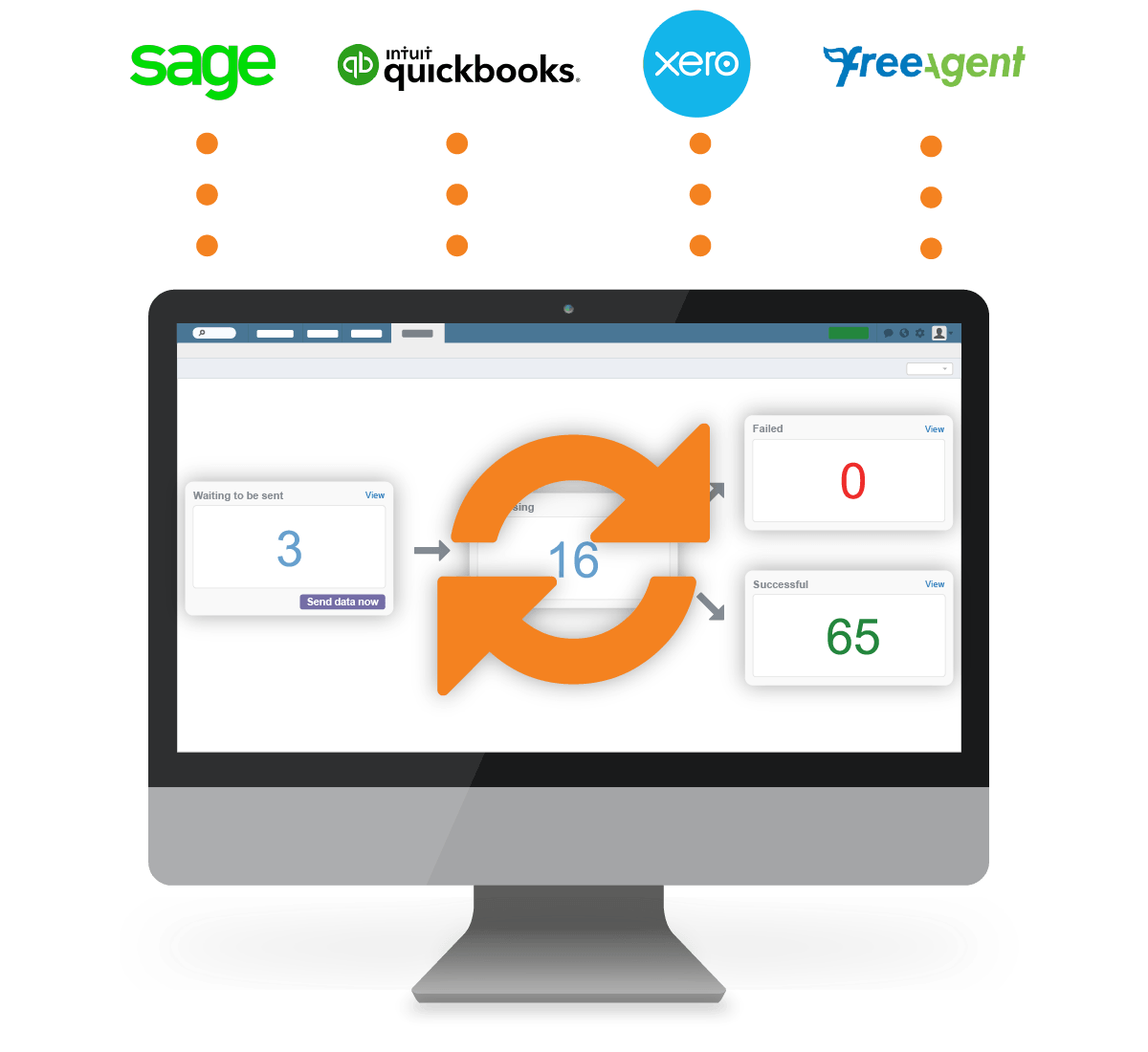 Give customers convenient ways to pay
INVOICING PORTAL
An online invoice portal is an efficient way for customers to compensate your business. They can view invoices and pay straight through the online portal link in their email. Accept credit or debit card payments online instead of over the phone.
Don't chase customers: save your admin team's time

Commusoft will alert you when invoices are paid

Receive customer payments any time of day or night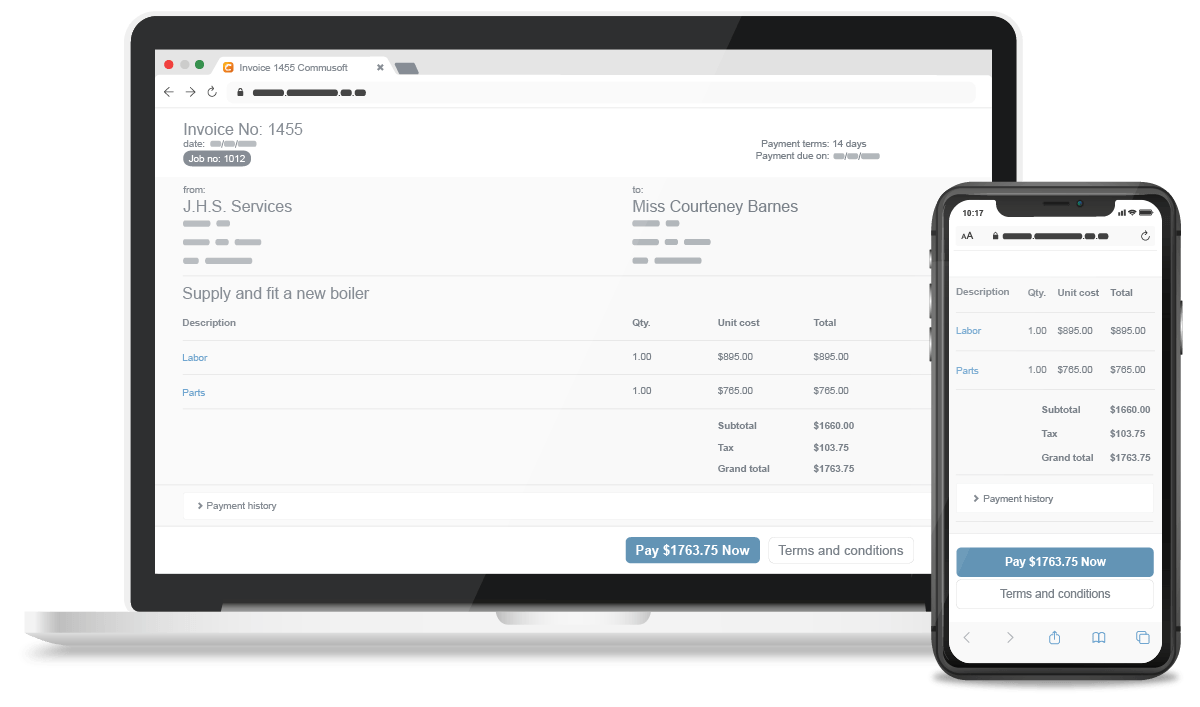 More invoicing software features you'll go crazy for
Multiple invoicing options

Send your online portal link to customers after jobs for quick turnarounds. If you prefer emails, Commusoft generates PDF versions of all invoices.

Professionally branded PDFs

Grow brand awareness with your customers! Commusoft invoices can be customized to include your logos, accreditations, and brand colors.

Consolidated invoicing

Combine multiple jobs across multiple sites into one invoice. This is great for property maintenance companies or customers with many properties.

Annual contract invoicing

Commusoft can automatically generate and send invoices for your annual contracts. This works in conjunction with our service contracts feature.
More invoicing software features you'll go crazy for
Your team can easily build a variety of invoices for any occasion with Commusoft. As soon as your technician marks a job as "complete", your office staff will be notified, and can send an invoice that's prefilled with the customer's personal and job details straightaway.

If you want to send invoices even faster, you can set up automated invoices for certain job types. These invoices will be automatically sent to customers as soon as your technician marks a job "complete". Automated invoicing is available on our Customer Journey plan. Book a demo today, and see how automated invoicing can help you get paid faster.

Commusoft integrates with Quickbooks, Xero, Sage, and more! Plus we also integrate with payment tools including SumUp, Stripe, and more. Check out all of our integrations.