Handle all aspects of your business with Commusoft
WORK ORDER MANAGEMENT
The right work order management software separates efficient and profitable businesses from those who struggle to serve customers. Track job progress with Commusoft, so you can offer the best experience for both employees and customers.
Manage your services with our work order management software
Localized job details
Everything your team needs to know about your jobs is traceable to a single, backed-up database.
Mobile app
Our powerful mobile app gives your technicians access to all job details, no matter where they are.
Track jobs anywhere
Manage job details in the office or on the road. You'll never lose or misplace job records again.
Connect office and technicians
Technicians know where they need to be and office staff can see precisely what's occurred at each job.
Real-time updates
Commusoft's web and mobile app update in real-time. Your entire team will be in the loop.
Custom job reports
Complete mobile job reports from site with customizable questions by job type and technician.
Lawrence
Director
DB Heating Limited
The seamless continuity between the calendar and job booking/logging/location recording is a great asset to our business. At a mere glance we can see what technicians are encountering issues, are en route to appointments, or have completed tasks.
Manage jobs with data at your fingertips
Job information at the ready
JOB TRACKING SOFTWARE
Everything your team needs to know about jobs are in a single, backed-up database. With Commusoft, you'll never lose or misplace important records. Whether it's information on past or on-going jobs, we ensure all details are quick to find.
All digital records are organized and protected

Every single job your company has done, in one place

Access job details across mobile & web applications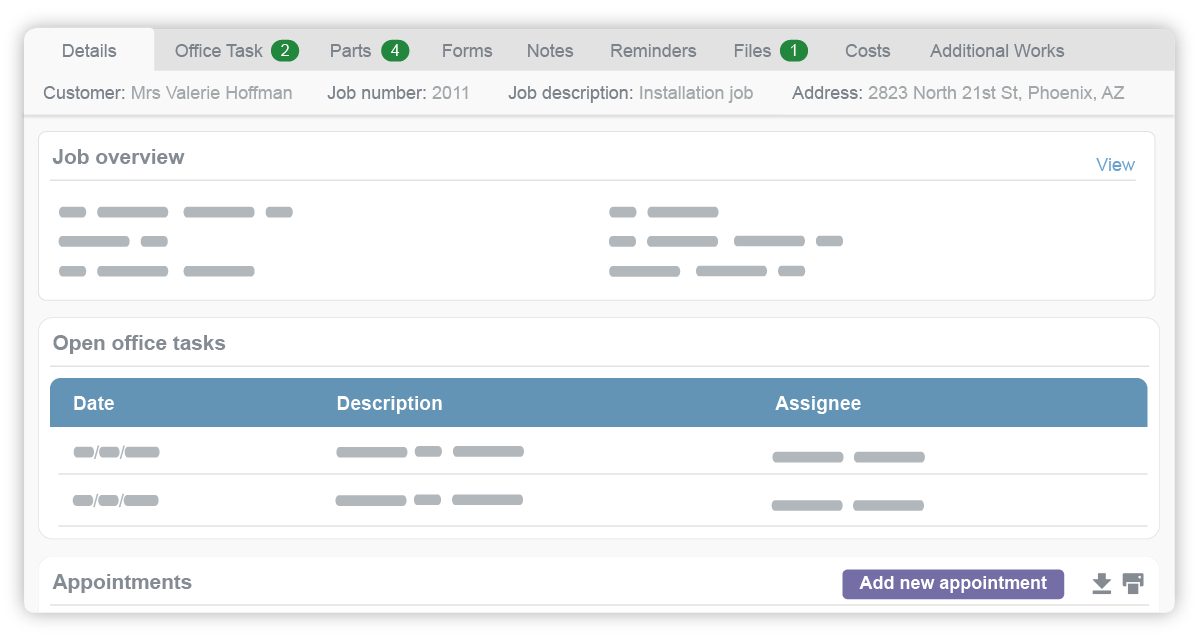 Job details at the ready
PRESET JOB TYPES
Field service jobs are rarely one of a kind—you'll most likely complete similar work time and time again. To make adding and tracking jobs simple, our work order dispatch software allows you to create preset job types that have all the required details saved.
Quickly create new jobs from both mobile and web

Add details like price, time to complete, and required technician skills

Customize and automate jobs based on job type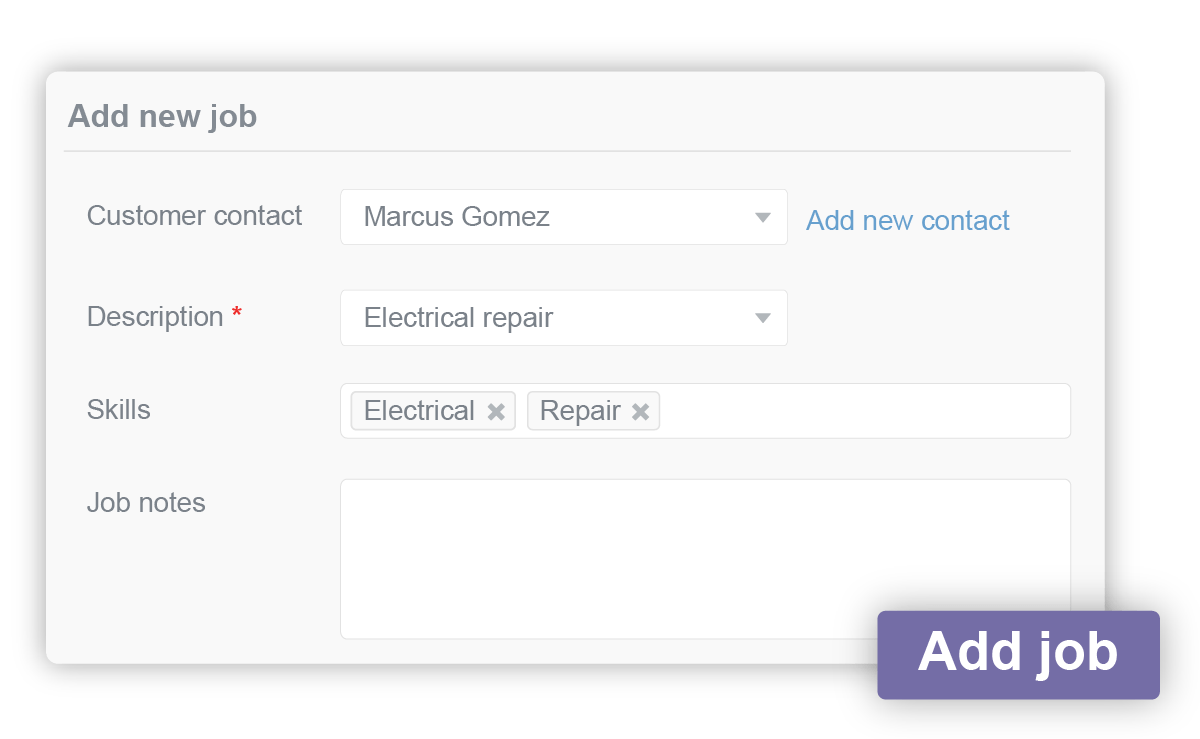 See how job tracking software can revamp daily operations!
Keep everyone in the know
REAL-TIME UPDATES
Commusoft's web and mobile applications update in real-time. Your technicians and office staff can carry on with their tasks with less check-ins. Technicians know exactly where they need to be and office staff can see exactly what occurred at each job.
Job statuses update as technicians tap on their app throughout the day

Commusoft's mobile app updates no matter where technicians are

Alerts and notifications keep customers updated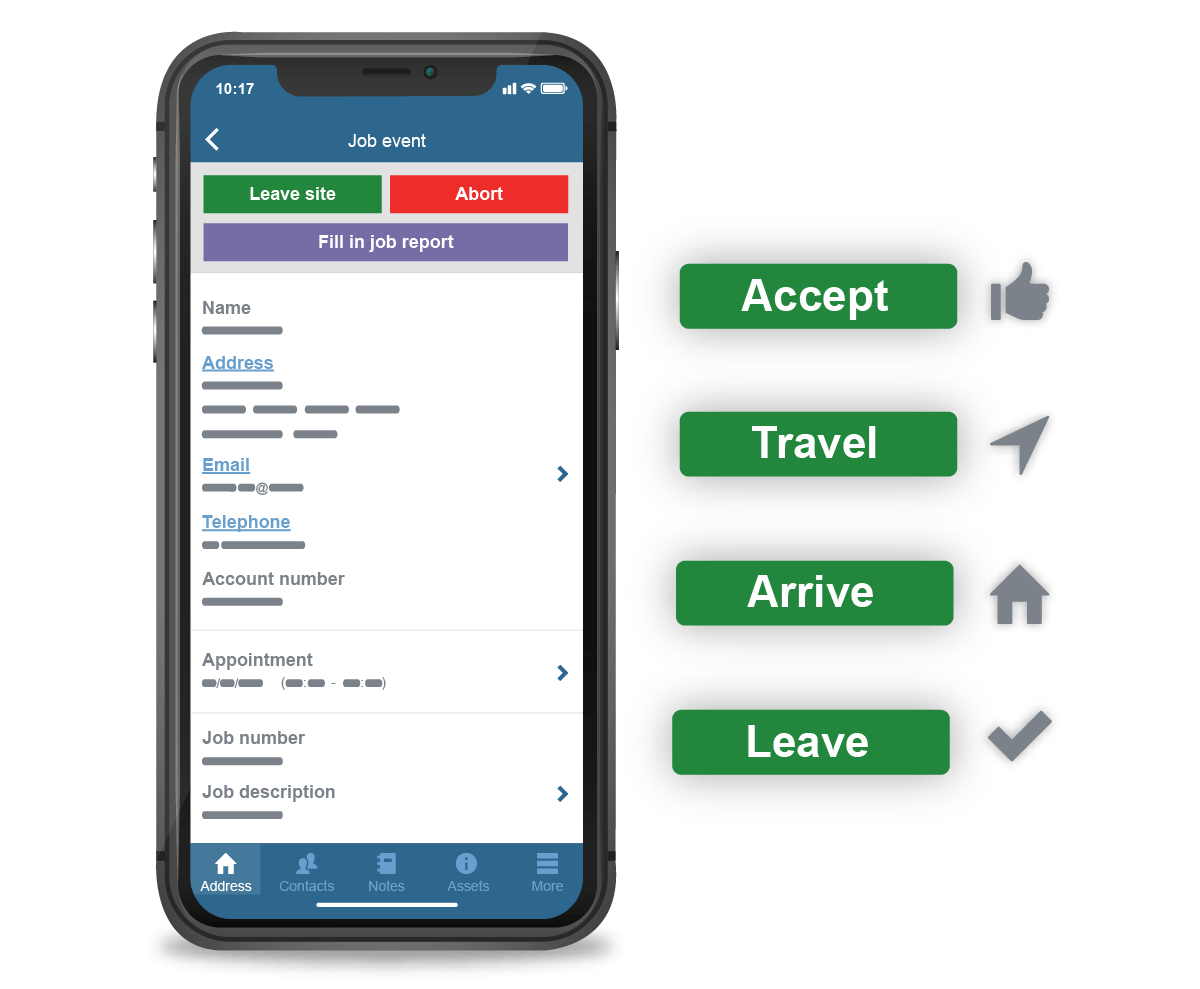 Manage any situation
EDIT JOBS
Many jobs don't go to plan. Commusoft's job management software makes it easy to roll with the punches. Your team can effortlessly react to unforeseen changes, update and amend all aspects of jobs at any time
Always know the status of every job

Record no access jobs and reschedule

Raise recall jobs if you need to revisit a property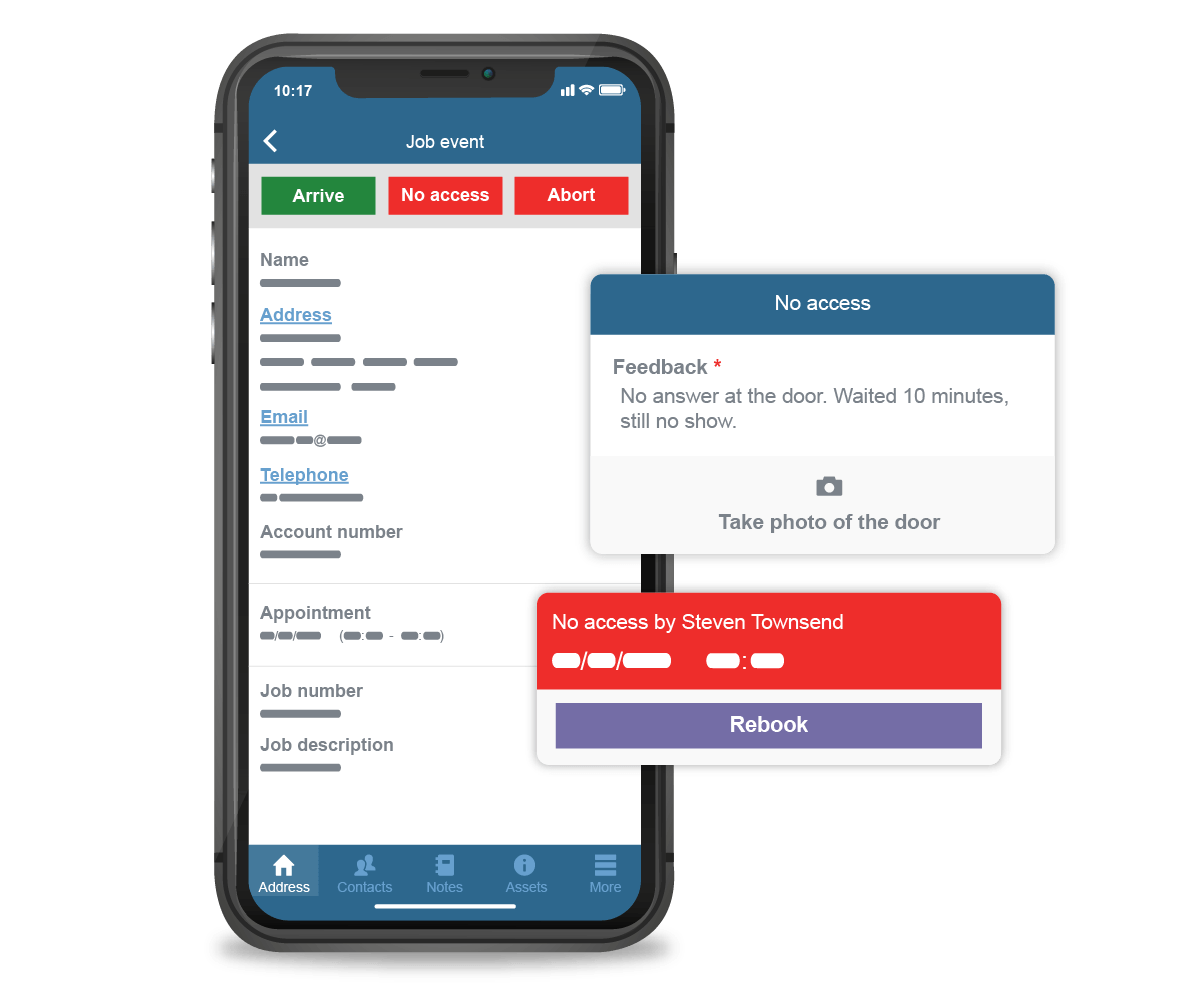 Job tracking software features to rejoice over
Work with landlords and more

Easily manage landlords with the ability to add multiple properties against a single customer. This customer/property relationship makes booking and job tracking seamless.

Handle complex jobs

Every job comes with different scenarios that affect how they turn out. Your team can tackle additional works, no access, and recall jobs with ease.

Streamlined job sheets and reports

Creating and organizing professional documents is difficult to do alone. Our job reports are logged against the corresponding job, and are automatically transformed into branded PDFs.

Protected job details

All job data on Commusoft is safely backed up to the cloud. This ensures that critical company information will never be misplaced or lost. You can even set viewing permissions for different employees.

Capture unique information

Build custom workflows for each of your job types, and your team will be prompted to answer directly on site. These answers can be included in your job reports and invoices - giving customers a full picture.
Job tracking software features to rejoice over
Work order management FAQs
Work order management software is a digital system that organizes a field service business's work orders and dispatching systems.  Businesses use this software to reduce admin strain and oversee their mobile workforce on the road.

After all, accurate work orders and swiftly dispatching teams is the core of field service operations, and it's the core of Commusoft's system.

Commusoft's work order management software is an all-in-one solution that allows you to oversee your entire business from a centralized platform. You can see technician schedules, book jobs, track technicians, see customer job histories, view invoices, build profit reports, create parts lists, and much, much more.

All of our tools work together in sync, so you can streamline all aspects of your daily operations, provide unmatched customer service, and boost company revenue.