CUSTOMER PORTAL SOFTWARE
Slash Admin Stress and Boost Client Happiness With 24/7 Availability
Commusoft's customer portal software significantly reduces customer inquiries while increasing positive experiences. This self-service solution hosts everything your commercial property owners need, when they need it. Discover how offering clients 24/7 access to digital work records, invoices, custom forms, and ability to book jobs can boost your dependability and revenue!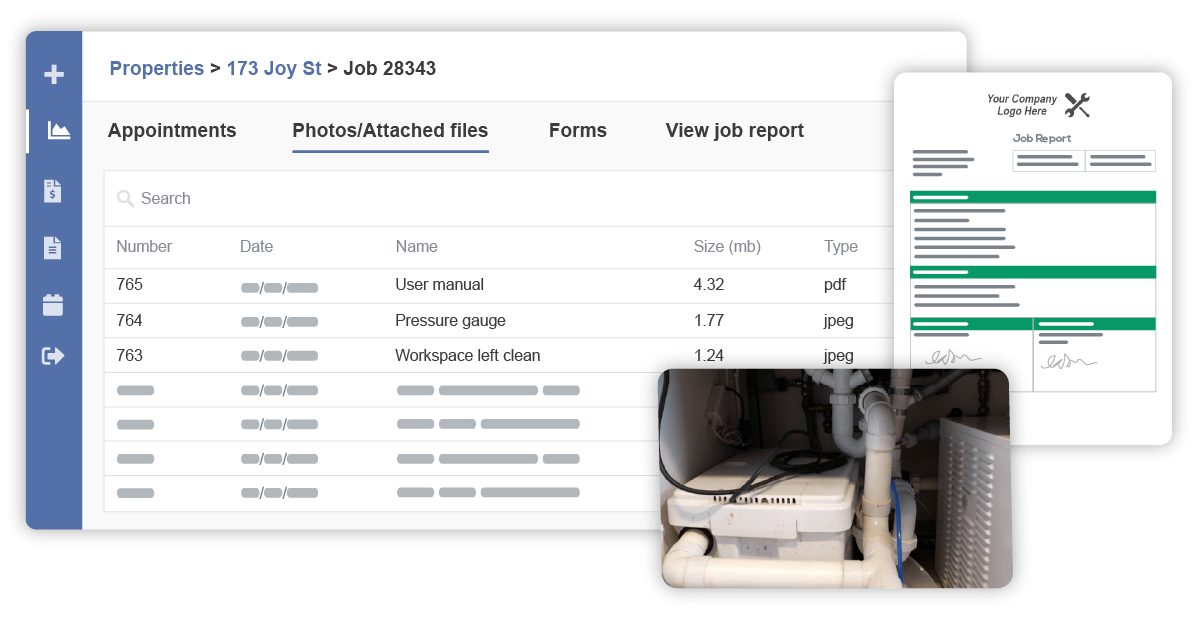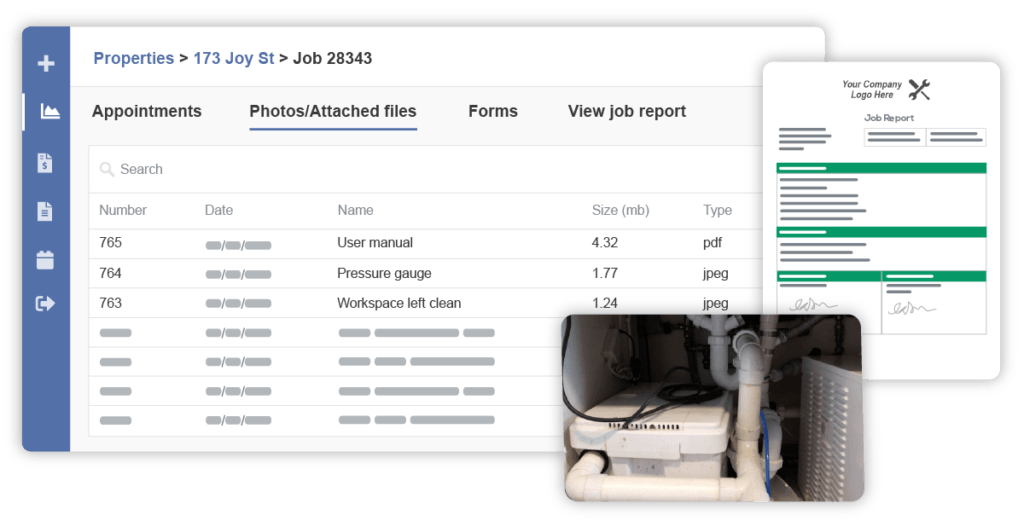 Customer Portal Software Empowers Admins and Commercial Clients
24/7 Access
Provide constant online availability, whether customers are gathering information or requesting jobs.
Secure Customer Login
All customers have a unique login, meaning their portals are personalized and private.
Property Overviews
Customers can access up-to-date records for all properties serviced by your company.
View Invoices
Full invoicing histories, including outstanding and previously paid, help customers manage their finances.
Certificates and Forms
Safety certificates and forms for all their properties are at your customers' fingertips.
Job Booking
No matter what time of day, customers can easily request jobs through their customer portal.
Katrina
Office Admin
Plumbgas Services
Commusoft has made a massive difference in the daily running of the business, from booking jobs in, to quotes, and invoicing customers. We can now keep track of previous customers, send out service reminders, and leave notes for the future.
Self-Service Helps Customers Help Themselves
Support Clients Night and Day
24/7 REAL-TIME ACCESS
Offering self-service options is convenient for both your admins and your customers. After all, most commercial clients want to quickly find what they need, without involving your team. Whether clients need to print a job report, or see outstanding invoices, they can easily find what they need, any time of day. This allows admins with time to cover higher-value tasks.
Detailed real-time job overviews for all properties

Full access to invoices, custom forms, and appointment history

Easily request jobs when it's most convenient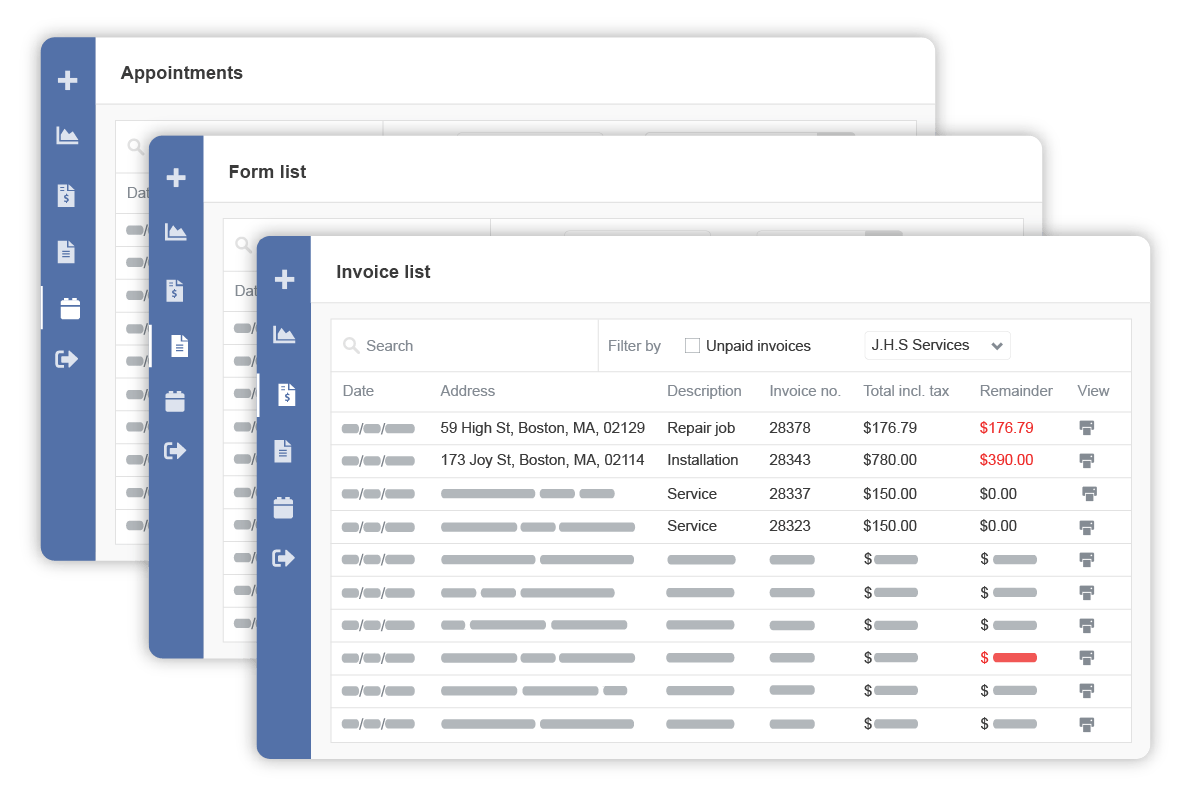 Boost Client Loyalty
OFFER NON-STOP AVAILABILITY
Not only can clients find important job documents, they can book appointments through their customer login portal. Not only does self-service help improve bookings and profits, it boosts client happiness by assuring them you're always there for them. Improving customer trust ensures they'll always choose your team whenever they're in need.
Frictionless scheduling keeps customers coming back 

Clients can add site photos and a summary of the issue

Uncomplicated job tracking helps customers oversee their properties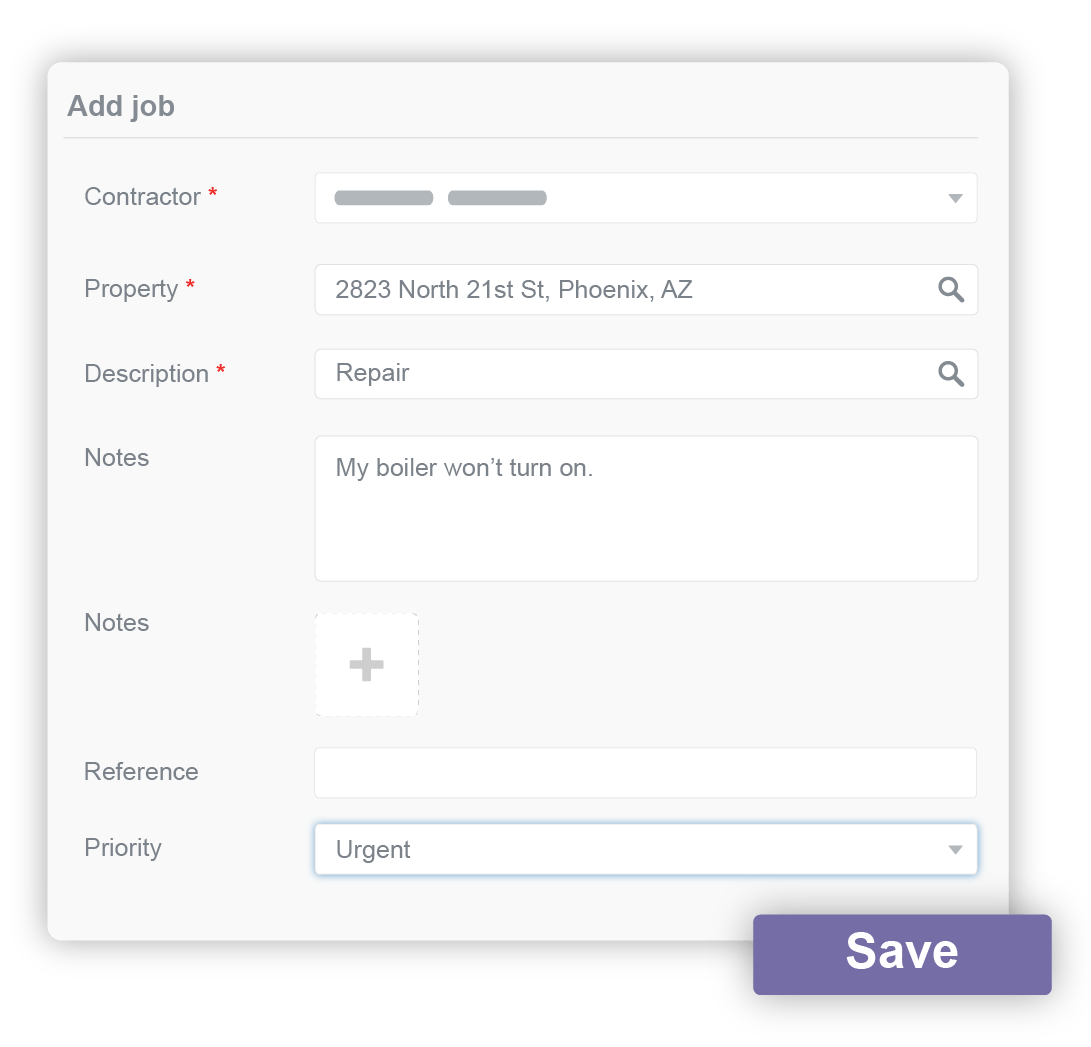 See How Self-Service and Customer Portals Go Hand-in-Hand
Offer Professional Self-Service Options
Streamline Admin Workflows
AUTOMATICALLY UPDATED DOCUMENTS
Admins won't need to manually upload documents to each of your customer portal accounts. Commusoft's customer portal syncs with the main Commusoft platform, automatically updating files as they're created or edited throughout the day. This removes pressure from admins while guaranteeing clients will always have access to the most up-to-date documents.
The online schedule is on-call 24/7

Our portal syncs with updates in real-time

Information your customers need is always available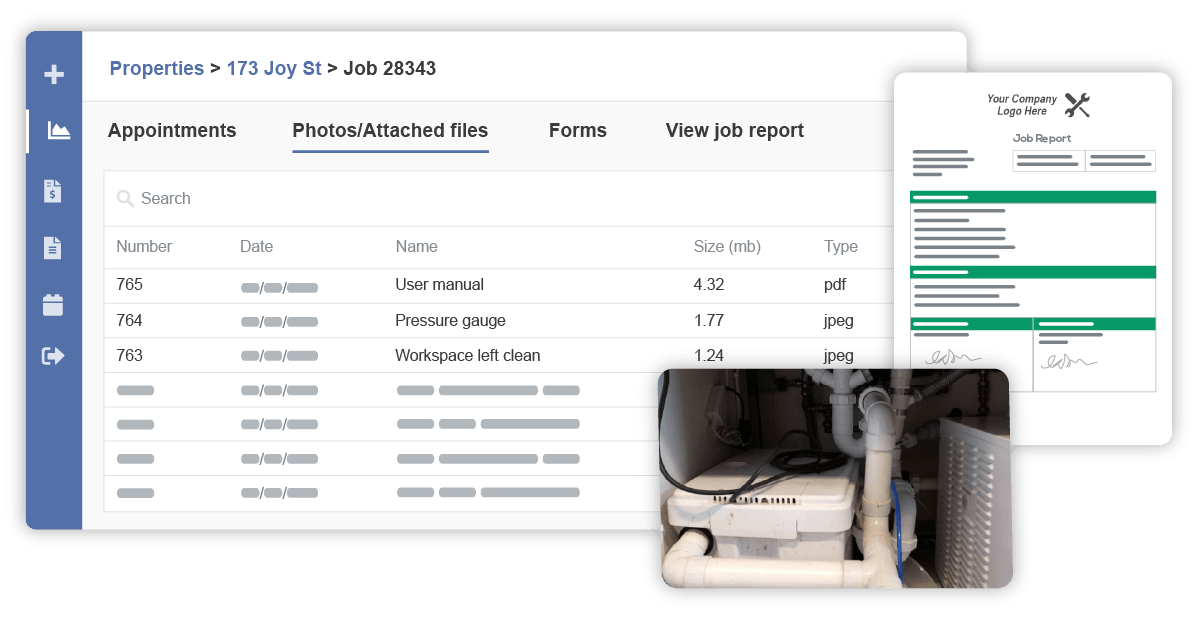 Set Property Managers up for Victory
PROVIDE UP-TO-DATE RECORDS
Self-service options like a customer portal make it easier to meet, and exceed client expectations. The organizational benefits of customer portal software trickles down from your company to clients, to their tenants. From downloadable documents, access to updates, and ability to book appointments, we'll help both you and your commercial clients nurture business relationships with easy access to files spread across different properties.
Updated custom forms are grouped in one place

Filters help customers quickly find the documents they need

Files are downloadable, making sharing easy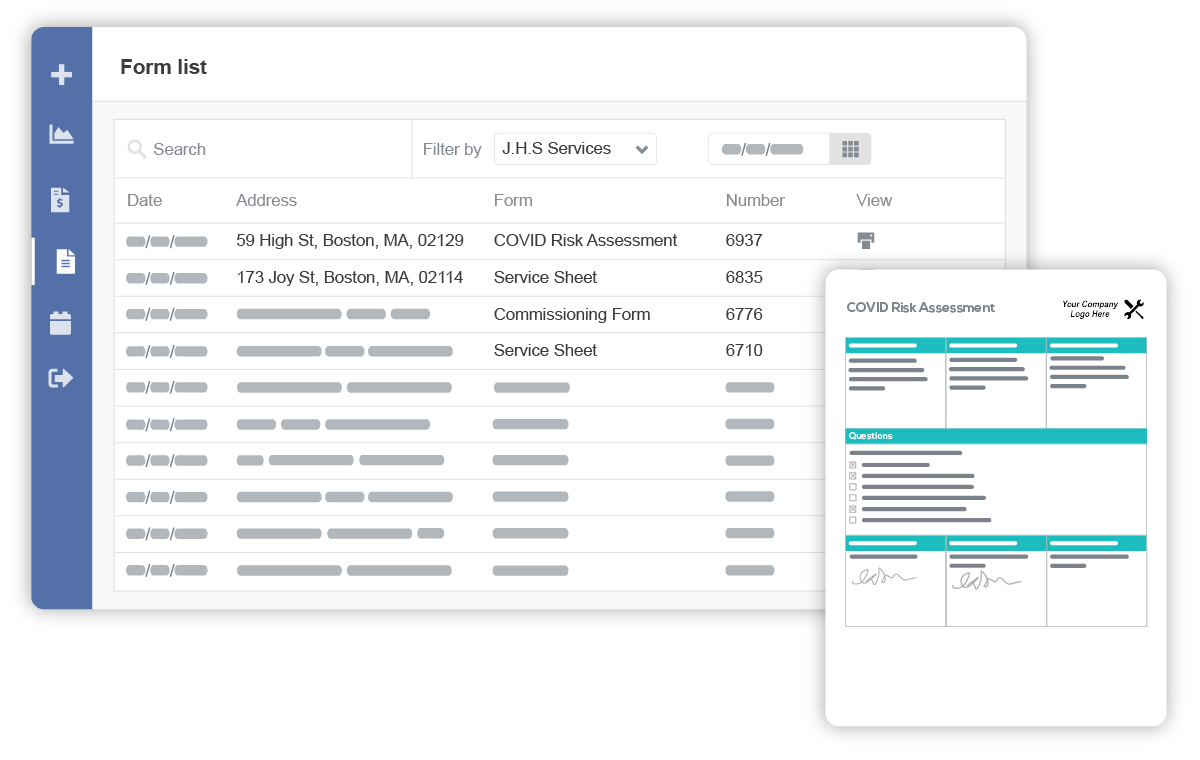 Provide Unmatched Support With Customer Portal Software
Access to Job Reports

In their personal portal, customers can access relevant job information for all past jobs, including site photos, attachments, and full job reports.

Downloadable Custom Forms

Property managers and landlords can quickly access, download, or print custom and safety compliance forms for any of their properties with their customer download portal.

Multiple Contractors

Commusoft's customer portal software can host multiple businesses, so customers only need one unique login to access information about different services.

Appointment Tracking

Customers can check the status of any appointment, whether it's booked, cancelled, if an technician is on their way, or if the job is complete.

See Unpaid Invoices

Customers don't have to question the status of past and present bills; all invoicing files are stored in their portal. Unpaid fees are marked in red.
Provide Unmatched Support With Customer Portal Software
Customer Portal Software FAQs
Client portal software is a digital self-service platform that empowers your multi-property customers with 24/7 access to their personal job information, and ability to request jobs across different job sites, all without needing to reach out to your team.

Commusoft's customer portal allows your property manager customers to access job reports, safety certificates and forms, invoices, and more.

Whenever they need, your commercial clients can log into their personalized portal to find the information they need. This results in less email and phone inquiries for your office team to answer.

Want to reinvent your customer experiences? Learn more about about the best customer portal software features!

From your commercial clients, their customers, and your business, customer portals offer a variety of benefits. With improved client retention and bookings, efficient office operations, and increased company revenue, a self-service centered strategy can transform your business!

As you know, the concept of self-service involves clients to solve their own issues without needing to involve your team. Whether your clients are too busy to place a call or write an email, or a question comes up after working hours, a customer portal extends your team's support to 24/7. This level of availability and ease of access improves both customer happiness and loyalty. Further, clients can conveniently book services directly through their portal, boosting your team's productivity.

Customer portal software offers automations that help admins streamline their workflows. They won't need to worry about emailing commercial clients with updated safety certificates or invoices, Commusoft automatically syncs information between customer portals and the main Commusoft app. Cleaning up admin schedules gives them the freedom to handle higher-value tasks without needing to hire another team member.

With automation working 24/7, your business can boost revenue, with less stress!

Ready to see Commusoft's customer portal software in action? Book a call with our team today!

A portal won't be necessary for these types of customers, as they don't have as many jobs and invoices to keep track of.

Commusoft's customer portal software was built for multi-property owners, landlords, and commercial property managers who need work performed across multiple job sites. Their portal keeps their files organized, and keeps them up-to-date on various projects.

Our customer portal software pricing depends on how many licenses you need, and which of our powerful plans you choose.

Customer portal software is available on our Customer Journey plan, and higher.
Related Commusoft Features
Discover more ways Commusoft's Jobs Platform can help your team empower multi-property owners to find the information they need at any time of day.
More Self-Service Content