Commusoft vs ServiceTitan
The powerful ServiceTitan alternative
Commusoft and ServiceTitan both provide job management software for field service businesses in North America. However, many businesses find ServiceTitan's suite of tools don't support both their growth and diverse operations. This is where Commusoft comes in. Commusoft's easy-to-use platform, customer-focused features, and productive workflows make it a natural ServiceTitan alternative.
Intuitive and easy-to-use interface

Our training team ensures clients are set up for success

Data syncs in real time between the office and field

Purpose-built mobile app for iOS and Android

Powerful schedule and route optimization tools

Make confident decisions with 40+ preconfigured reports

Build your own custom forms from anywhere

Dynamic accounting integrations to QuickBooks, Xero, Sage, and more
Triumph with Commusoft
Want to know more about why Commusoft is a natural ServiceTitan alternative? Book a demo and one of our experts will be able to guide you through the system and answer any questions you have. Or keep reading, and discover why Commusoft offers the best support for growing field service businesses.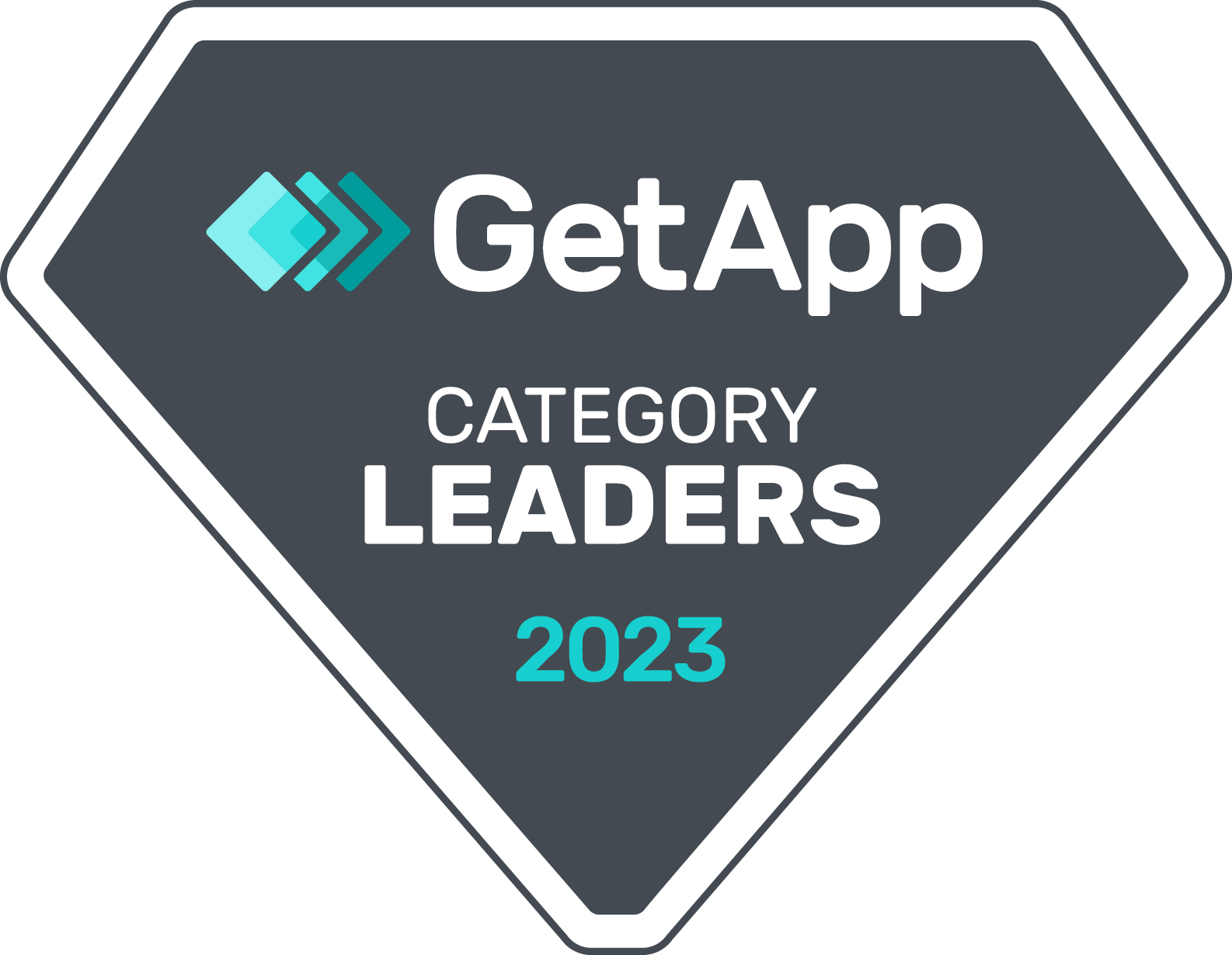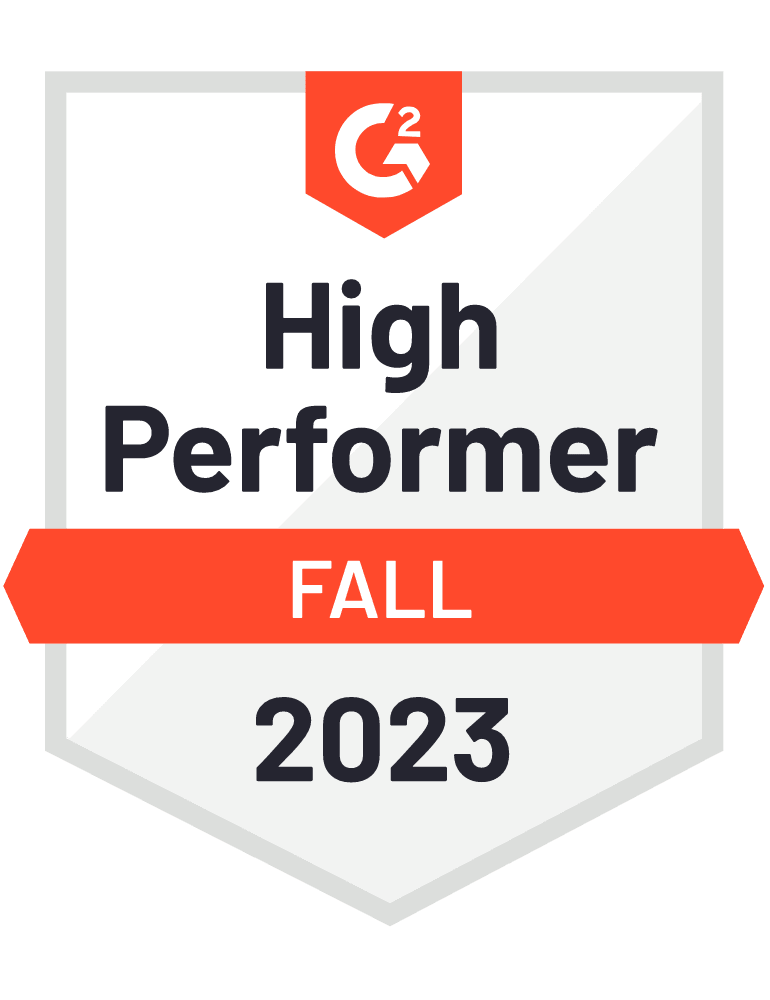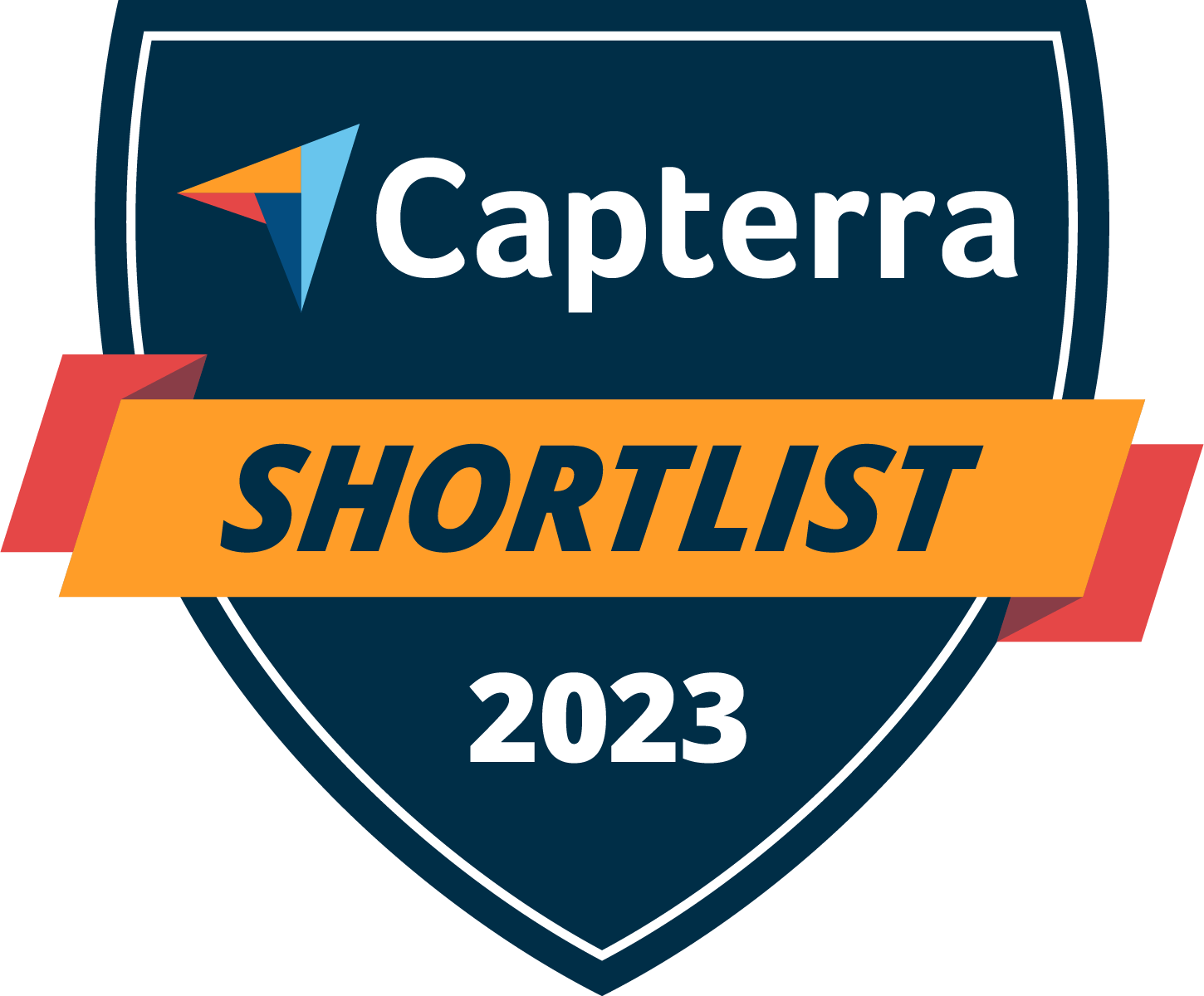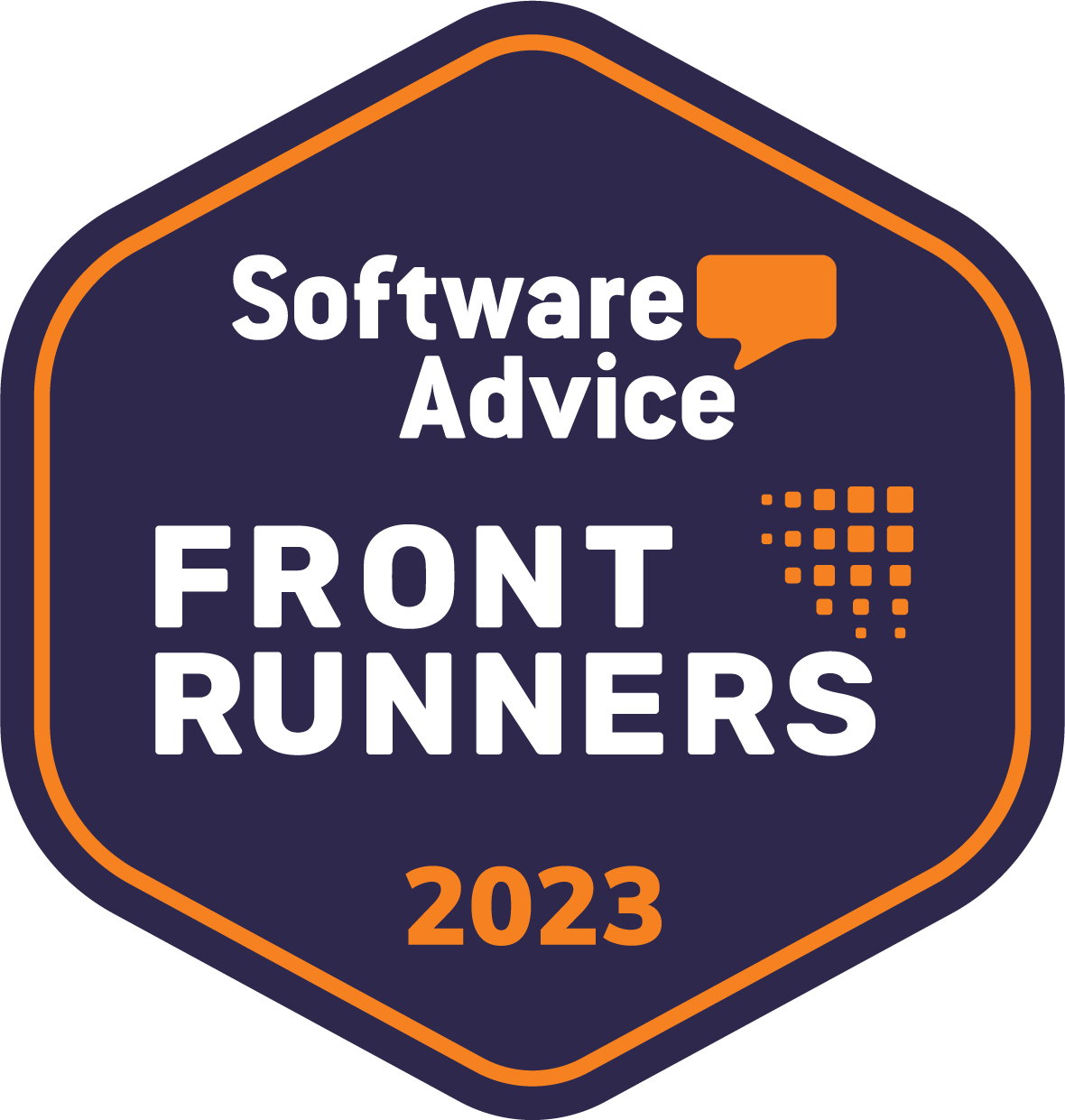 Commusoft Reviews
"Customers specifically use our company over our competition because of how smooth our process is from end to end. And that process wouldn't be possible without Commusoft."

"For the lifespan of a repair, from creation to completion, Commusoft's job management process is unparalleled."

"I can't say nice enough things about Commusoft. It allows us to streamline everything and make us more meaty instead of fat."

"I can increase my revenue by 14% by the end of this year. When you look at that in terms of monetary value, it's a no brainer."

"Commusoft Sales has been a game changer! We're getting our proposals out in record time; which means we can focus our time elsewhere, which really is the biggest plus!"

"Commusoft is a big player; it really puts it all together for us, and without it, genuinely, we would be lost."

"It's a really easy software to use…If it wasn't easy, then I wouldn't do it! I didn't realise how easy it was going to be until we started using it."

"The way that Commusoft tracks every part of every single job... it gives you complete confidence in the whole system. Complete confidence to grow. Complete confidence to push on with your business."
Commusoft is highly ranked by Capterra when compared with ServiceTitan
Industry Leader
Commusoft ranks highly on Capterra when compared with Service Titan. Data is based on real customer insights across categories, including functionality, ease of use, value for money, and customer support.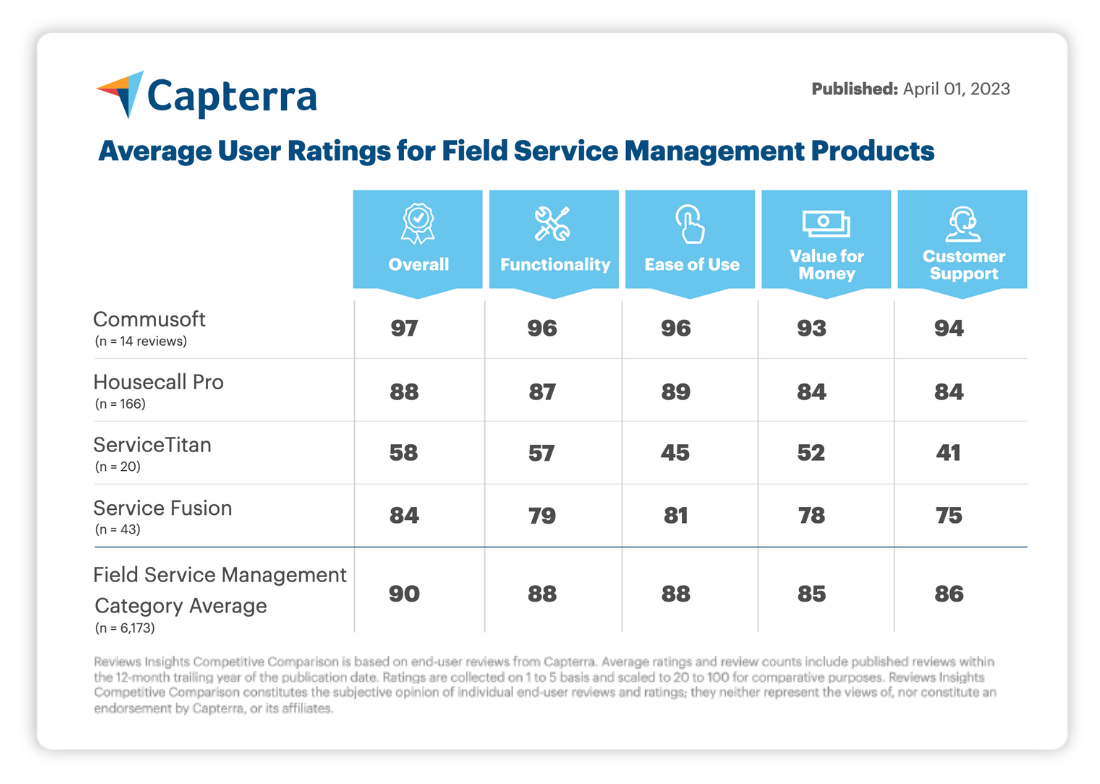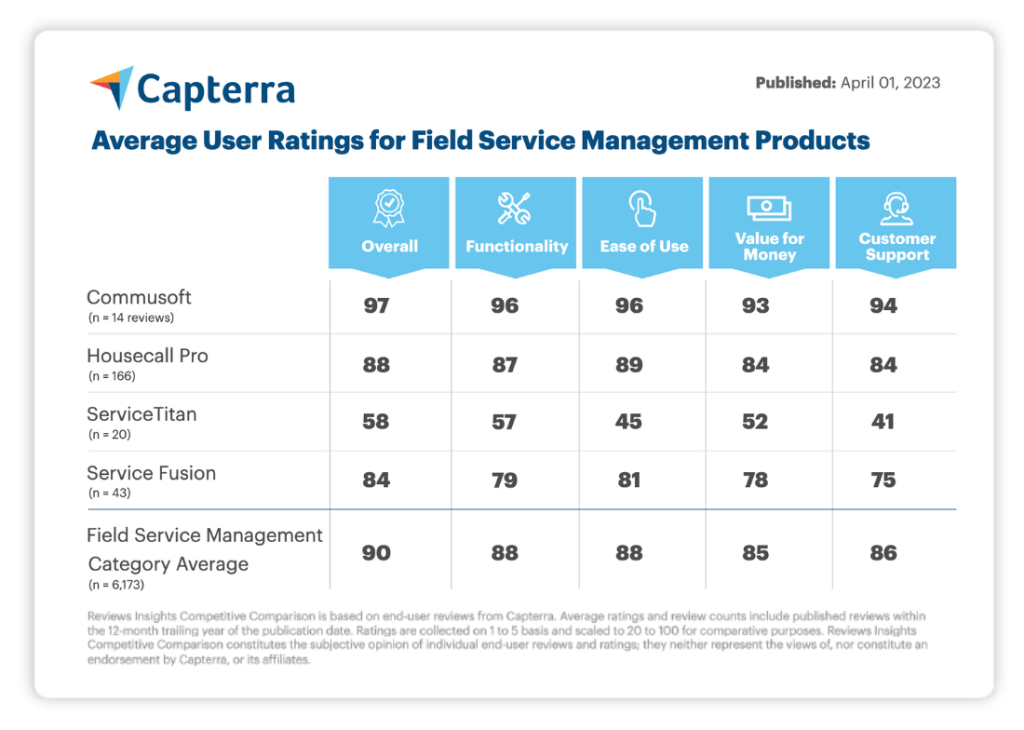 Take Control of Your Calendar and Jobs
Compared to ServiceTitan
An intuitive and easy-to-use schedule and job tracking system is essential; after all, your calendar is the heart of your daily operations. Commusoft's calendar is clutter-free; giving employees necessary job information from the office or on the road. Commusoft's drag and drop calendar makes it easy to seamlessly move or incorporate new appointments, so your team can stay on track, and get more work done each day. Commusoft's streamlined scheduling system powers productivity while empowering clients, so they can effectively grow their businesses.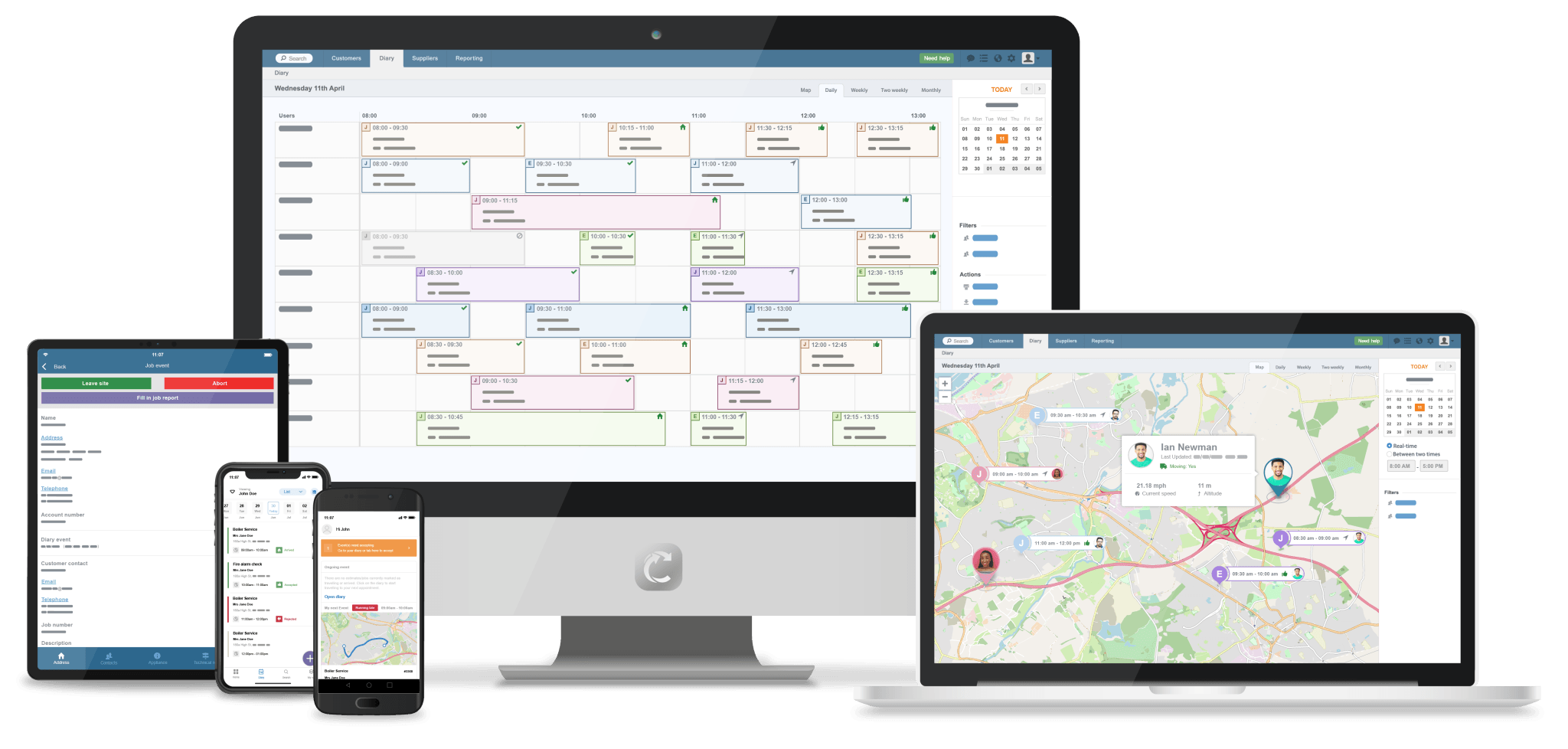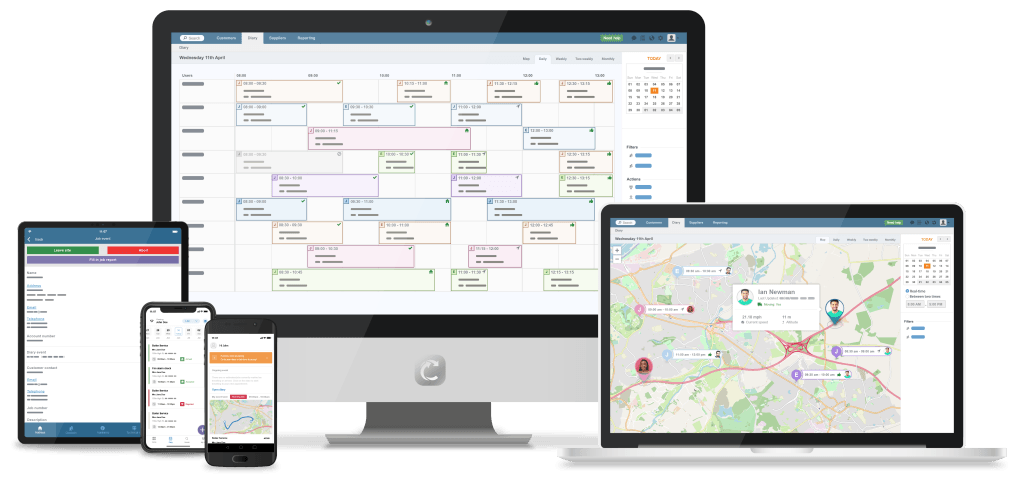 Keep Customers Updated with Alerts and Notifications
Compared to ServiceTitan
Alerts and notifications help Commusoft clients create stronger connections with their customers. After all, each touchpoint with customers is another opportunity to extend unmatched service. Commusoft stores all customer communications chronologically against the customer record, so our clients can pick up conversations right where they left off. Additionally, Commusoft's technician tracking portal empowers customers to track their technician as they're on their way. With live updates, customers can prepare for their technician's arrival, reducing the amount of no-access, or forgotten appointments.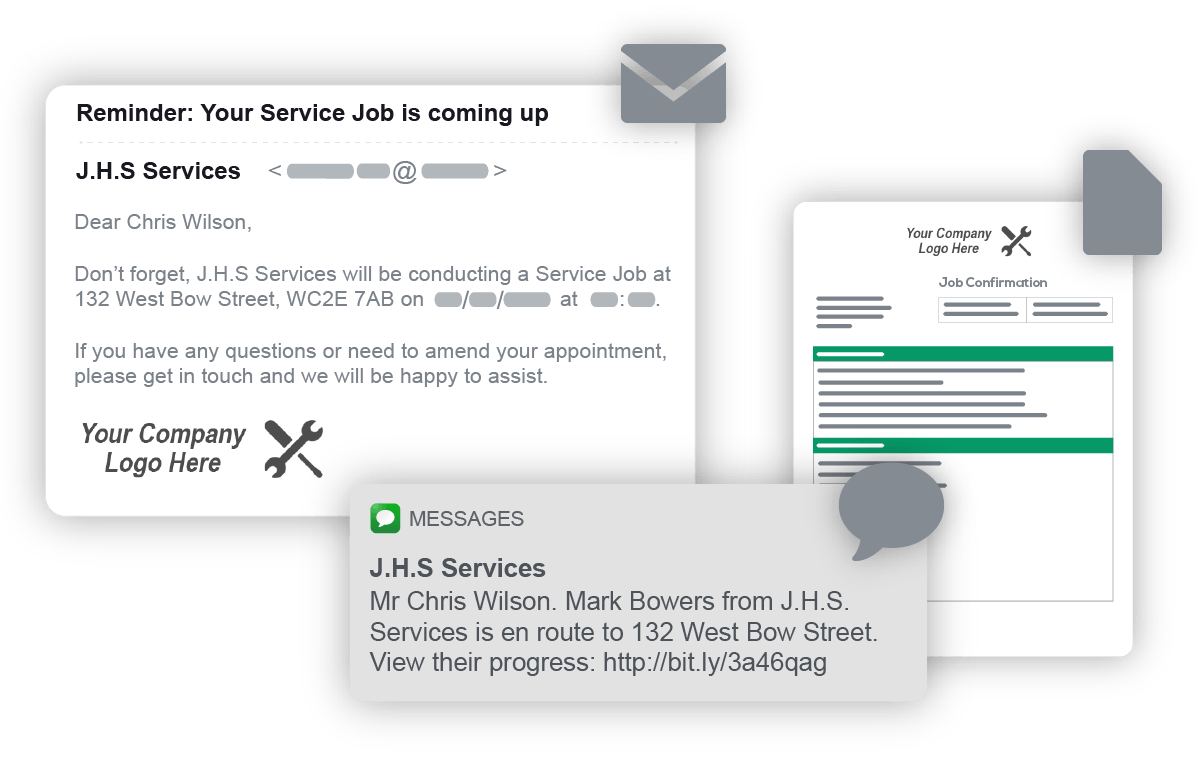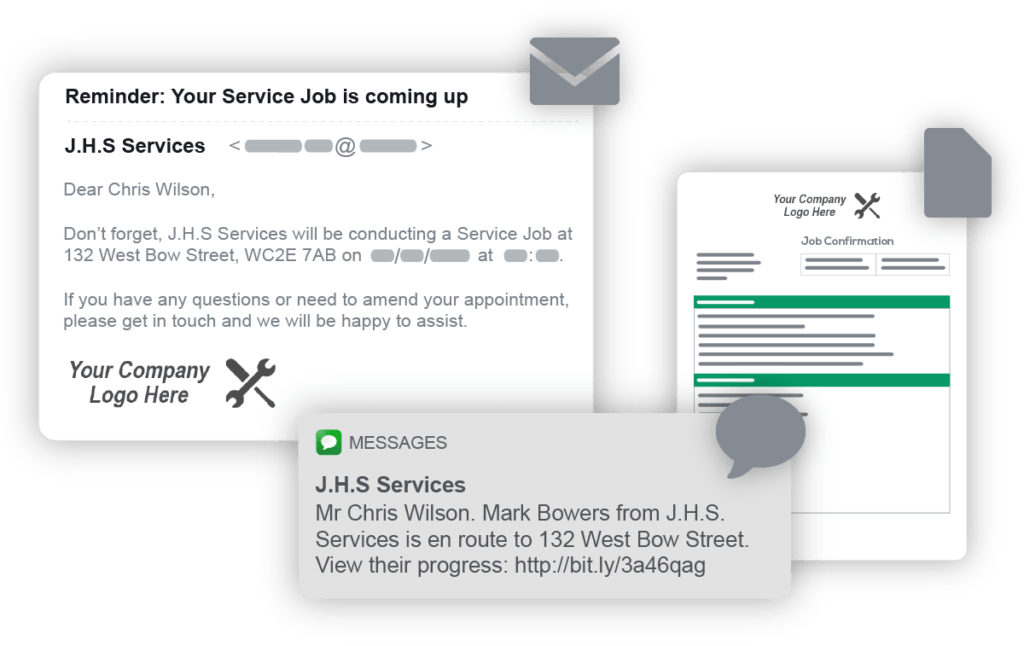 Watch a demo to learn more
Boost Satisfaction with Powerful Service Reminders
A ServiceTitan alternative
Personalized reminders are a great way to extend customers another level of care. Commusoft's Service reminder messages are customizable; your team can create custom templates, timeframes, messaging, and include personalization tags. Further, Commusoft Service reminders include an online booking form, so customers can book service directly from their reminder message. With the option to send automated or manual reminders, Commusoft clients have full control over the experience they offer their customers.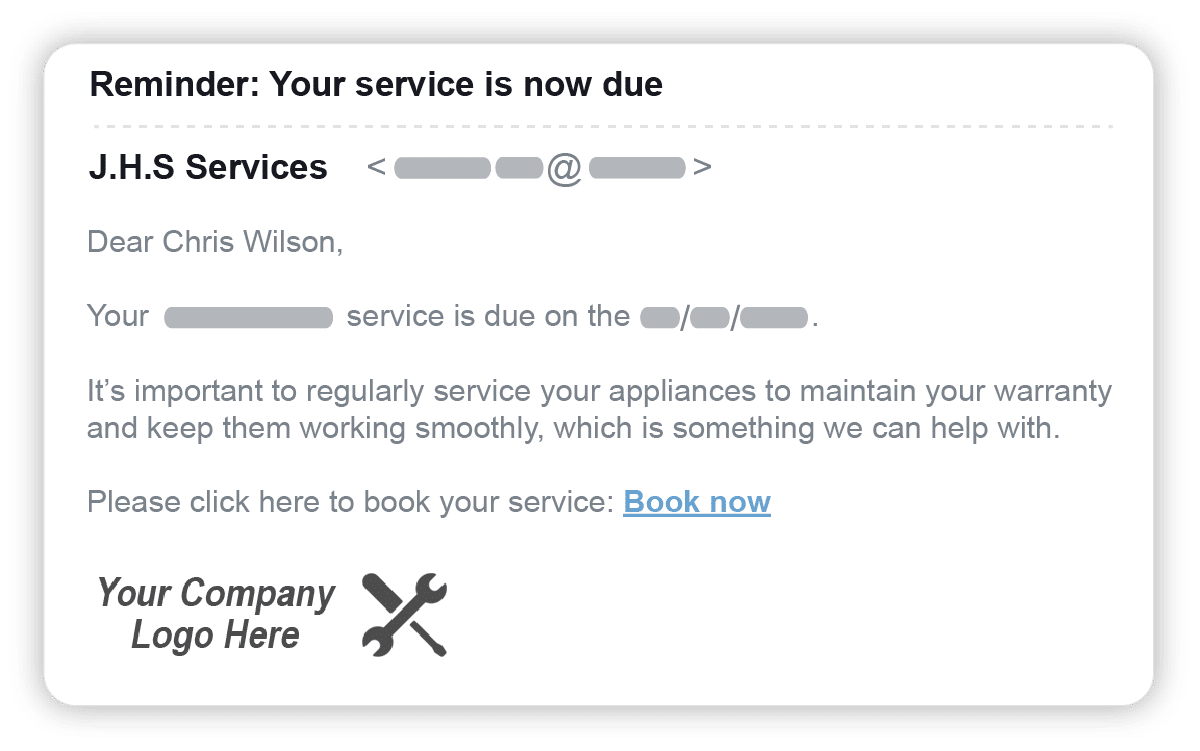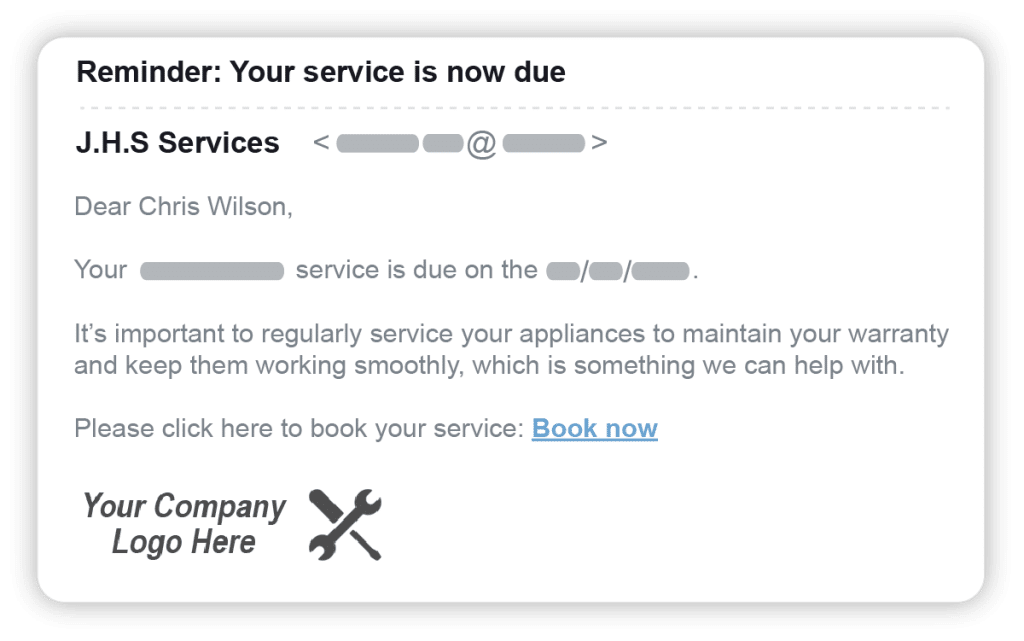 Maximize Parts with Inventory Management
Commusoft vs ServiceTitan
Commusoft's Inventory management system supports multi-location workflows, including the transfer of parts from your warehouse to technician trucks. Inventory management helps managers coordinate all inventory activities, so teams can avoid overordering and stockpiling extra parts. Further, Inventory management empowers technicians. With their mobile barcode scanners, technicians can exchange parts, and request or order parts, all from the road. With automatic reordering and dynamic picking lists to streamline daily activities, clients can focus on providing excellent customer care, and reinvent company revenue.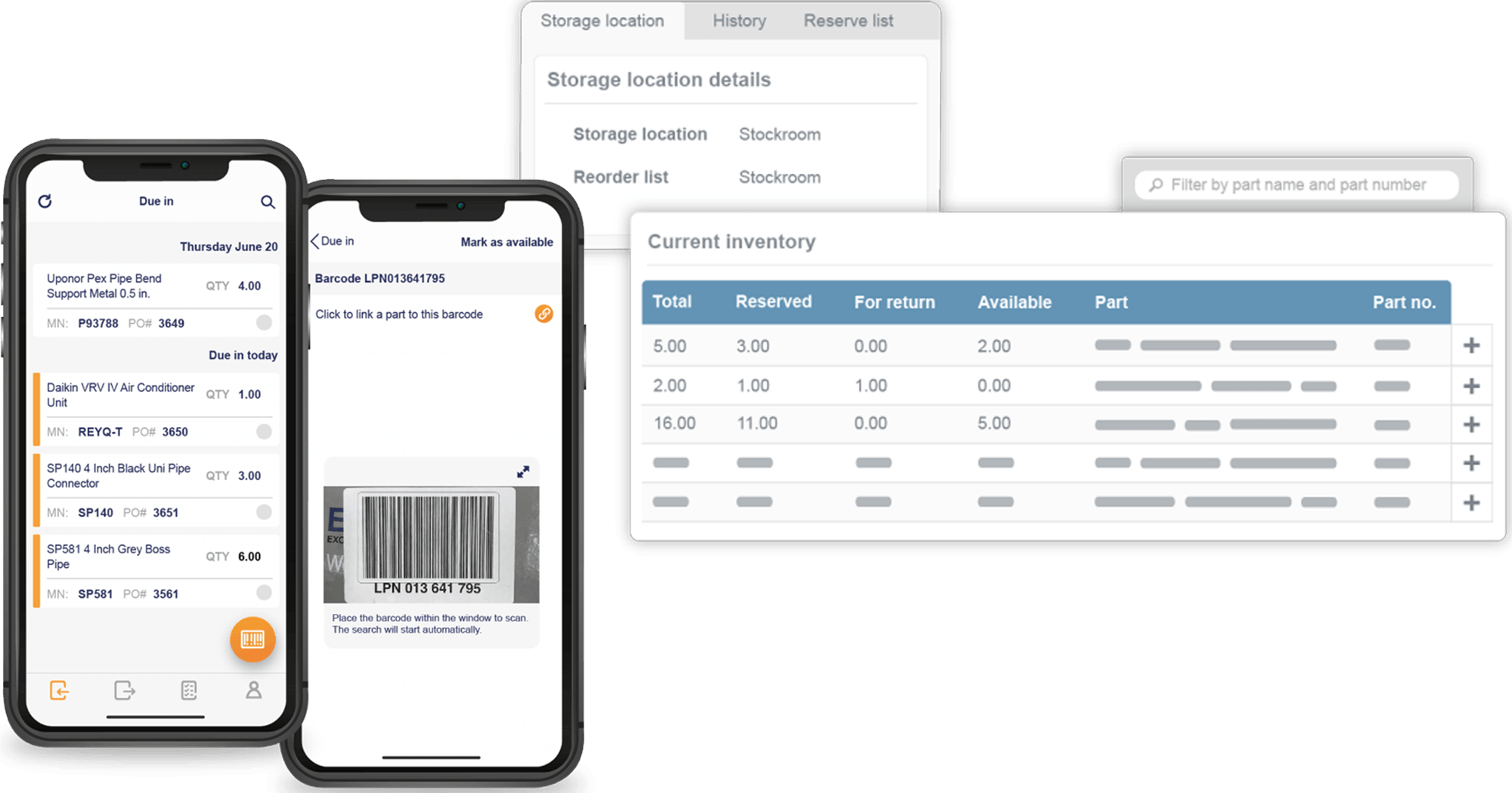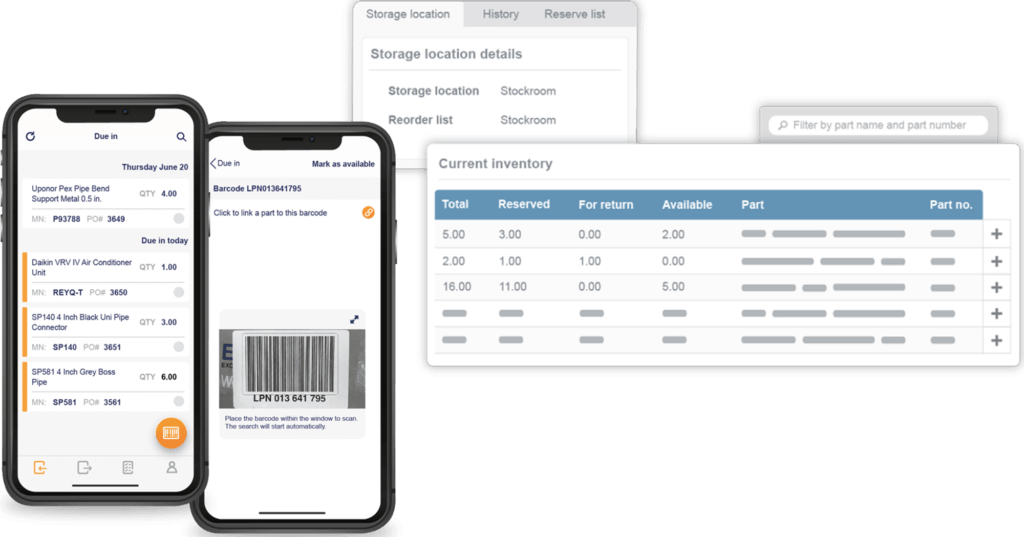 Exceptional Training and Customer Support
Compared to ServiceTitan
We pride ourselves on our 5-star client services and customer support – and we strive to always go above and beyond for our customers. Our training isn't limited to impersonal videos; Commusoft provides personalized training sessions. This implementation process sets clients up for success. Further, with articles from our Knowledge base, and email support, Commusoft strives to empower clients.
On top of that, we make sure to listen to our clients when developing new features for the software. As a result, we regularly release requested tools and functions that our client base have suggested, ensuring Commusoft best suits their needs. After all, Commusoft exists to make our client's lives easier.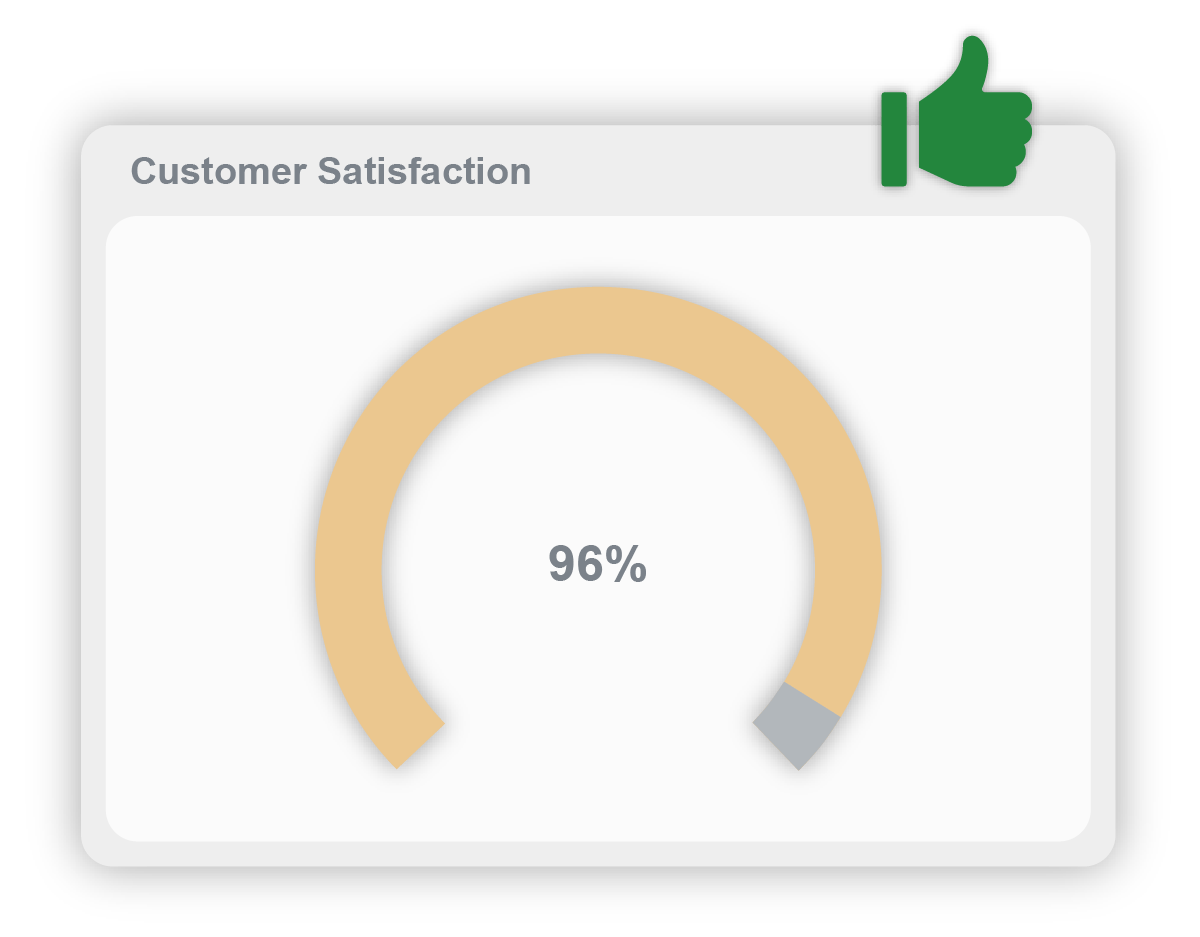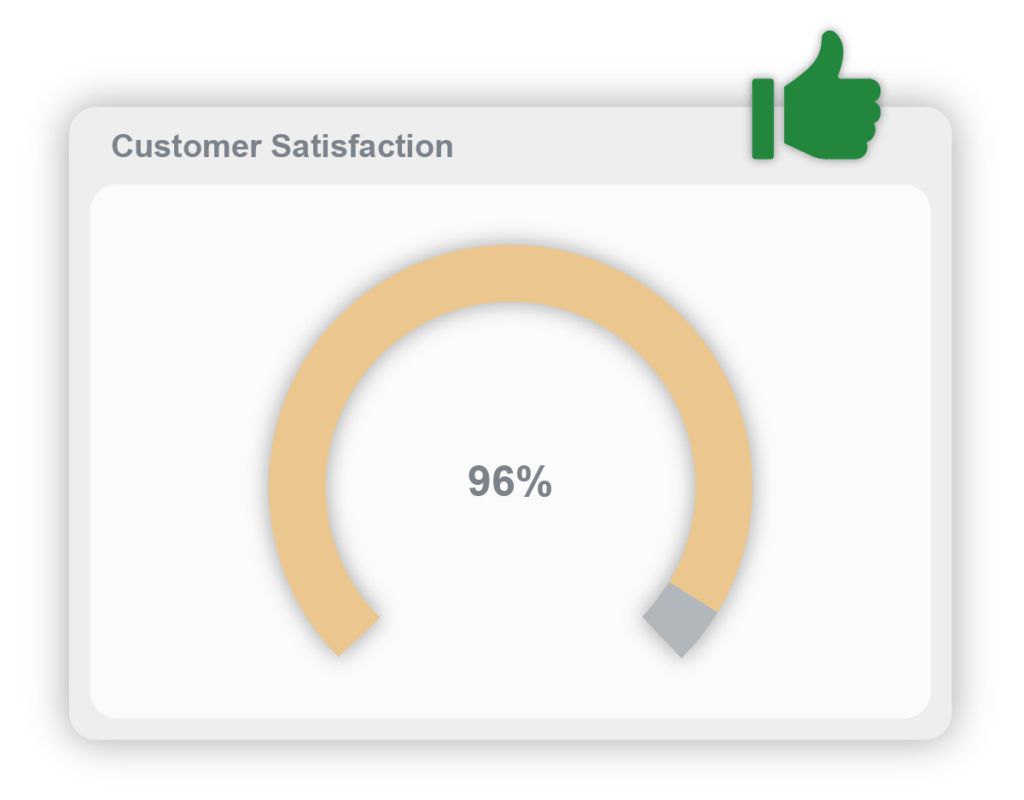 Easily Connect Your Existing Software
Seamlessly integrate tools your business already use for an all-in-one experience.
Learn More About Integrations