How Do Purchase Orders Work And 4 Other PO Management Questions You've Been Asking
August 18, 2020 - Management - 8 minutes
Let's be honest here: "how to manage purchase orders efficiently" is not on anyone's list of most exciting things to learn. If you're just starting out as a manager or owner, you're probably still researching how do purchase orders even work?
This is why we've put together an easy guide to managing purchase orders with software (and without!), which includes some of the most common questions we hear. Without further ado, click to what matters most to you:
1. How do purchase orders work with software?
2. What is the difference between purchase orders and invoices for a trades business? What about a partial invoice?
3. Can I turn a purchase order into an invoice automatically?
4. Keeping track of purchase orders and parts associated with a work order.
5. Can a purchase order management strategy save me money?
And just to get you started on the right path to becoming a purchase order management master, we've got a free downloadable guide listing The Lesser Known Benefits of Managing Purchase Orders with Software. Click here for your copy!
1. How do purchase orders work with software?
When it comes to admin activities, it's clarity that often helps people the most. Even in your personal life, If you're able to easily see what's coming in and out of your account thanks to a clean and clear layout on an app or website, it makes keeping track of your money and other financial responsibilities a whole lot easier.
The same can be said when it comes to managing business expenses. After all, with money that's changing hands between parties like customers, vendors, contractors, freelancers, and more, it can quickly become a major headache when managed poorly. Purchase orders create a papertrail (preferably, a digital one) that keeps every party on the same page and assigns expenses to specific projects, as well as decision makers who need to be held accountable in case of errors.
Where managing purchase orders is concerned (and particularly if you're increasingly concerned with getting the process right, every time) using software is the best way to streamline your workflow. From pulling the item data across from different spreadsheets then checking to make sure the information is correct, before moving on to manually convert it into a purchase order, makes an already boring process more convoluted. Consequently, this isn't going to win you any points with your admin or the customers they've kept waiting.
Learn more: 6 Functionalities You Need for a Multi-Location Inventory Management Software
With software, you can limit the amount of manual data entry you or your team have to do. A proper digital workflow lets you convert parts information into a purchase order, and a purchase order into a supplier invoice with just a few clicks.
While it's true you may still want to manually manage purchase orders for niche projects, or less frequently used parts (or even unlisted parts that might not be in your database), creating a purchase order with software means you can take the inventory information that's sitting within your pre-existing database and quickly use that to fill in a pre-existing or blank form.
The best part is that a software solution means you can do all of this in one place, on a single screen, instead of messing about with multiple pieces of software, which is only going to cause more confusion.
2. What is the difference between purchase orders and invoices for a trades business? What about a partial invoice?
Simply put, a purchase order is what you send to a vendor when you order an item for a job. It contains details about parts and/or appliances such as make, model, price with and without tax, etc. An invoice is what you send your customer and it contains fewer details about each individual item but it lists every part used as well as the cost of the man-hours spent by a technician on the job. More often than not, tax is calculated as a percentage of the total sum rather than per individual item. To better manage purchase orders, you need to eliminate any error arising from the mixing up of these two.
If you know you're facing a larger project, you'll probably associate multiple purchase orders with a work order sheet, which is where a partial invoice can be useful. Let's say you install a pricey industrial HVAC unit as part of a mall refurbishment project and your employer agreed to pay for the appliance directly, rather than at the end of the project.

Learn more: 4 Small Tweaks to your Customer Service Process that Drive Big Sales
In this situation, you're going to send a purchase order with all the details to your preferred vendor, then, if you're using the right software, convert that purchase order into a partial invoice listing the basic information as well as the final price (including tax), then send the partial invoice to your employer. This way, they can pay and know that you'll reconcile the partial invoice with the final invoice at the end of the project.
Making errors and charging a business partner twice because you haven't kept a record of the purchase orders and/or partial invoices can truly sour a business relationship, and won't help you win more of those profitable property maintenance contracts so keep in mind how important it is to always get your purchase orders right and know the difference between POs and invoices.
Learn more about invoicing software!
3. Can I turn a purchase order into an invoice automatically?
When it comes to getting paid (or making payments) you'd rather it happen sooner rather than later. Speed is an essential ability when providing the oversight you need to manage your finances, and so it makes sense to go with a system that lets you quickly transform the data you need into the final outcomes you want. This means converting POs into supplier invoices should be a breeze and with purchase order software, it will be.
4. Keeping track of purchase orders and parts associated with a work order.
Perhaps the best part about a field service software is that your data becomes infinitely easier to track, thanks to automatically assigned numbers and smart search functions. Every time you create a purchase order, the system can (and should) generate a number, in sequence, so that if you ever need to search for that PO again, you can find it right away.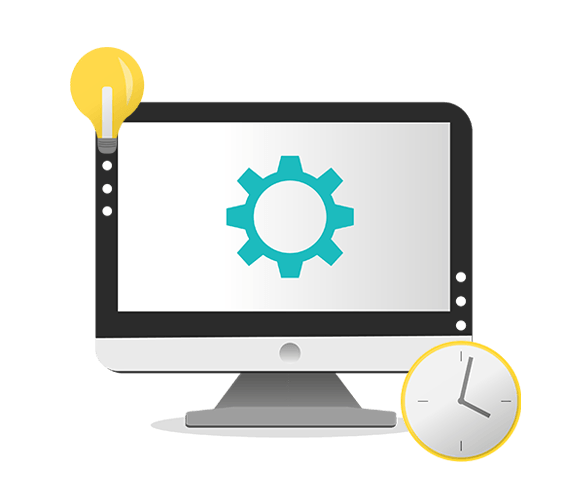 For example, imagine how much time you could save if all you needed was to input a number in a database and give it a second, rather than trawling through paperwork or separate spreadsheets. Your cash can truly start to flow with a system like this in place, and no doubt your accountant, finance, or operations manager would appreciate the helping hand.
This means you can find substantial pieces of important information about the parts you're using with ease and communicate them just as simply with your team, supplier, or customer.
Ultimately, when it comes to minimizing the time your techs spend on admin or paperwork and prioritizing your own time as a field service manager, there's a lot of value to be found in a system that makes searching and accessing files easy for everyone. Not to mention the advantage of having all this information at your fingertips, regardless of whether you're in a physical office, your home office, or on the field.
5. Can a purchase order management strategy save me money?
A study conducted by the APCQ discovered that, depending on the industry, the cost of manual purchase orders can be anywhere between $35.88 and $506.52. So how can you minimize the costs of your PO management?
Consequently, by issuing purchase orders digitally, you are better equipped to track your company's expenses, keep control of your inventory costs, and manage relationships with essential business partners.
This way you can clearly see how much is being spent not just on inventory in general, but on specific items in particular. It can lead you to have greater oversight of what's in your warehouse/storage location.
You can spend your money more efficiently and more sensibly on the items you know you need frequently, which can lead to better results than relying on a hunch that you "might" be running out of spare parts. It's certainly going to get you further with vendors who like forecasts and predictability from your orders.

The Takeaway on how to manage purchase orders with software
With purchase order management software that's easy to use, you can create clear, correct purchase orders anytime, anywhere and reduce the chances of mistakes delaying your business, every day.
Clarity, as we've discussed, is of paramount importance when it comes to business admin processes, which is why it's a great idea to use software that will streamline them for you.
As you continue to grow your field service business, whether it's a plumbing company, an HVAC one, fire & security or electrical, you'll find yourself looking for the best tools to help you on your journey.