How to Structure Customer Assets for Field Asset Management
January 14, 2021 - 3 minutes
Your business is unique. With the right field service asset management software, you can configure your assets to meet your exact business needs.
Field service businesses are typically required to install and service customer assets at their clients' properties. To do this effectively, businesses must track the details of each asset including the type, make, model, location, and service history.
Asset management software can offer field service businesses the tools to ensure up-to-date operational customer asset data is always on hand. Field service asset software comes with varying degrees of sophistication and customization regarding how customer assets can be managed and structured. Basic solutions will allow the tracking of singular appliances, however, assets often have multiple components and sub-assets. Also, having the right data fields is crucial. Most asset management software will have the basic data fields such as make and model, but you'll want to go beyond this and have a software that lets you add more details to customer assets.
Customer assets hierarchy
By structuring customer assets in a hierarchy, you can properly reflect the connected sub-assets, while maintaining field asset data and history for each individual component. Additionally, sub-assets may even have their own sub-assets too.
Configuring an asset hierarchy is relatively simple. The highest level is the "Parent", which is the core asset itself (e.g. a fire alarm). Any sub-assets below that are "Child" assets (e.g. the batteries within the fire alarm). Child assets can subsequently have their own child assets below them in the hierarchy too, accommodating for highly complex customer assets.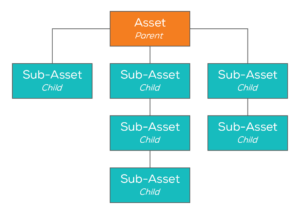 Structuring customer assets hierarchically provides a more accurate representation of customer assets and their sub-assets, thus making them easier to manage. You will always be able to tell which sub-asset belongs to which asset and view its separate service history.
Advanced data fields and structures
Another helpful aspect of field asset management is logging complex assets with more advanced data fields. Standard fields available for assets may include make, model, description, and serial number. If you're looking to increase your flexibility with how you store asset data, you can take advantage of even more fields, such as the last visited date, who installed it, barcodes, photos or many others.
Takeaway
Commusoft field asset management software is highly customizable, allowing you to structure customer assets in any hierarchy you wish, with unlimited sub-asset levels. Additionally, data fields against assets can be configured to record data in a variety of formats, ensuring all relevant information can be logged against an asset. Assets can be linked to jobs and planned maintenance contracts for full integration into your job management system. To learn more about asset management and Commusoft, book a call with our team today!