Slash admin and nurture customer relationships with 24/7 availability
CUSTOMER PORTAL
Commusoft's customer portal significantly reduces enquiries made to your office and delivers property owners what they're looking for: 24/7 digital access to their work records, including jobs, appointments, invoices, and custom forms.
Expand your reach with these customer portal features
24/7 access
Provide constant online availability, whether customers are gathering information or requesting jobs.
Secure customer login
All customers have a unique login, meaning their portals are personalized and private.
Property overviews
Customers can access up-to-date records for all properties serviced by your company.
View invoices
Full invoicing histories, including outstanding and previously paid, help customers manage their finances.
Certificates and forms
Safety certificates and forms for all their properties are at your customers' fingertips.
Job booking
No matter what time of day, customers can easily request jobs through their customer portal.
Katrina
Office Admin
Plumbgas Services Limited
Commusoft has made a massive difference in the daily running of the business, from booking jobs in, to quotes, and invoicing customers. We can now keep track of previous customers, send out service reminders, leave notes for the future, etc.
Help customers help themselves
Our portal gives customers what they want
24/7 REAL-TIME ACCESS
Convenience is the name of the game. Help your customers quickly locate important information and book new jobs with our simple, yet comprehensive customer download portal.
Detailed real-time job overviews for all properties

Full access to invoices, custom forms, and appointment history

Easily request jobs when it's most convenient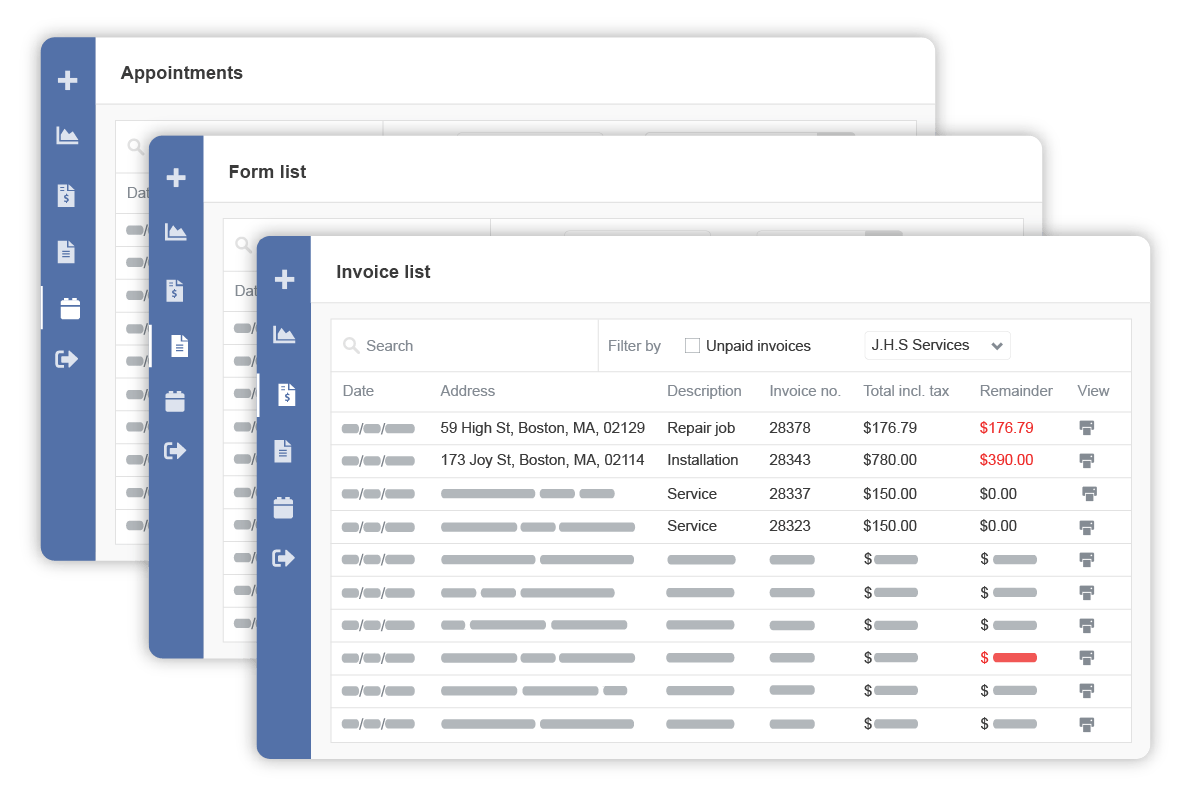 Requesting jobs with Commusoft is effortless
NON-STOP AVAILABILITY
Customers want to book jobs straightaway. Increase your scheduling rate and company revenue by allowing your customers to schedule through their online portal.
Frictionless scheduling keeps customers coming back 

Customers can add photos and a summary of the issue

Uncomplicated job tracking helps customers oversee their properties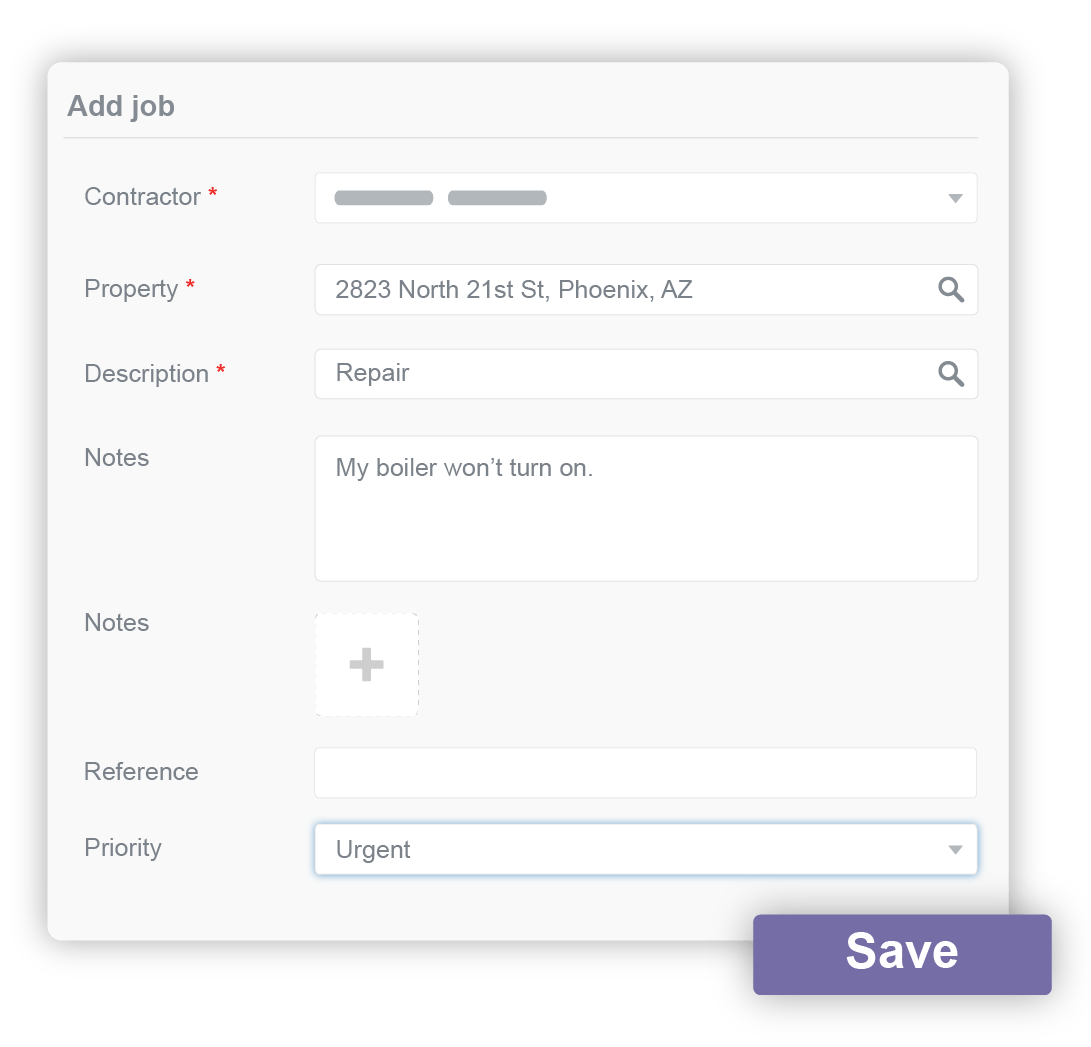 Want to see how a customer portal can boost customer happiness?
Give customers the access they want
Let us handle your tedious tasks
ORGANIZED DOCUMENTATION
Clear your admin team's workflow by allowing customers to help themselves. Our innovative customer portal slices time-consuming phone calls and emails.
The online schedule is on-call 24/7

Our portal syncs with updates in real-time

Information your customers need is always available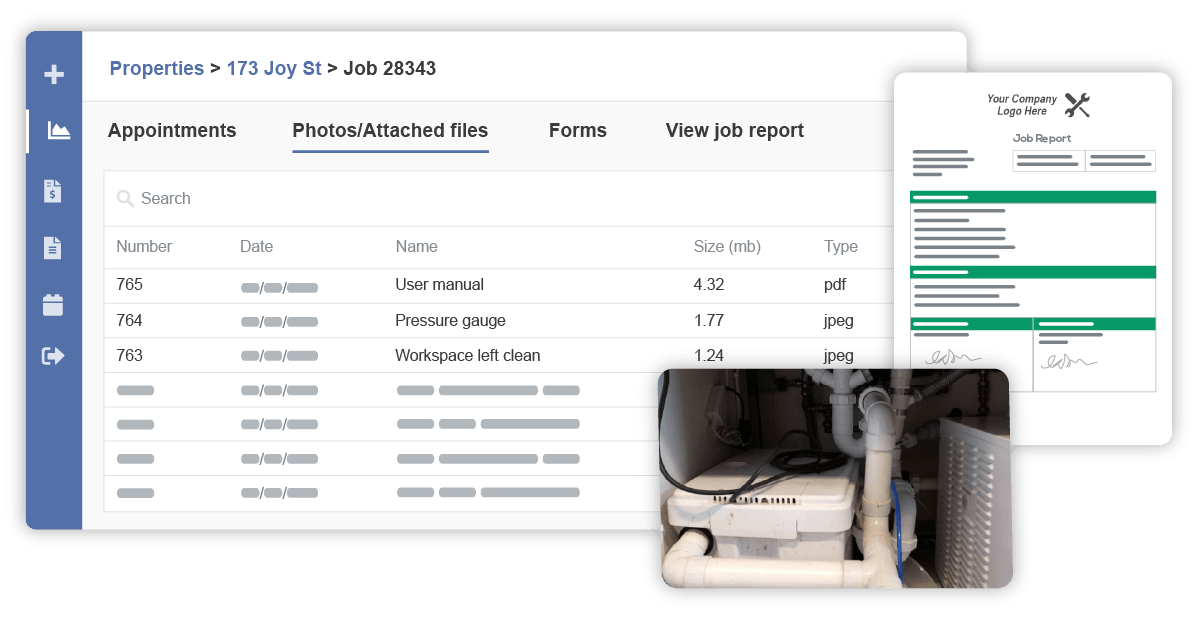 Set property managers up for victory
UP-TO-DATE RECORDS
Fulfilling expectations is crucial. Commusoft's customer portal nurtures business relationships by helping customers manage contracts spread across different properties.
Updated custom forms are grouped in one place

Filters help customers quickly find the documents they need

Files are downloadable, making sharing easy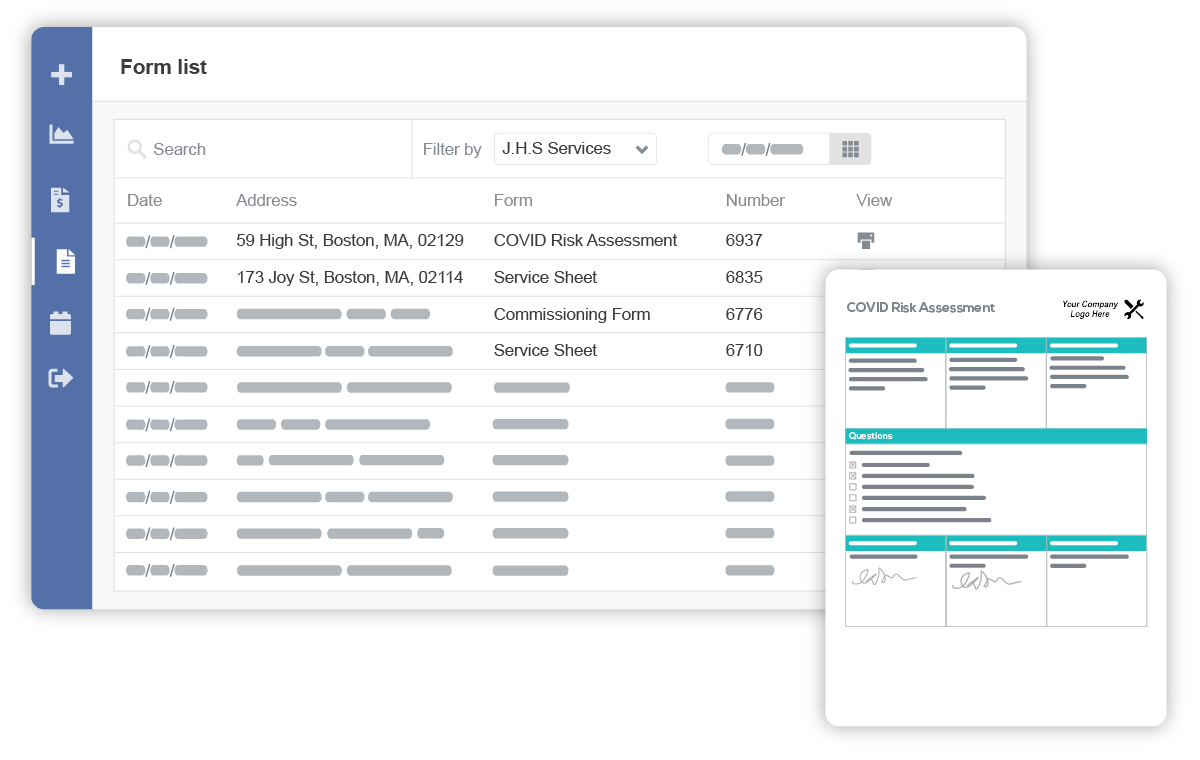 Bonus customer portal features
Access to job reports

In their personal portal, customers can access relevant job information for all past jobs, including site photos, attachments, and full job reports.

Downloadable custom forms

Property managers and landlords can quickly access, download, or print custom and safety compliance forms for any of their properties with their customer download portal.

Multiple contractors

Commusoft's customer portal can host multiple businesses, so customers only need one unique login to access information about different services.

Appointment tracking

Customers can check the status of any appointment, whether it's booked, cancelled, if an technician is on their way, or if the job is complete.

See unpaid invoices

Customers don't have to question the status of past and present bills; all invoicing files are stored in their portal. Unpaid fees are marked in red.
Bonus customer portal features
Client portal software is a digital platform where your multi-property customers can review their personal job information, and request jobs across different job sites.

Commusoft's customer portal allows your property manager customers to access job reports, safety certificates and forms, invoices, and more.

Customers can log into their personalized portal to find the information they need. This results in less email and phone inquiries for your office team to answer.

Commusoft's customer portal software was built for multi-property owners, landlords, and property managers who need work performed across multiple job sites. Their portal keeps their files organized, and keeps them up-to-date on various projects.

A portal won't be necessary for these types of customers, as they don't have as many jobs and invoices to keep track of.

Customer portal software is available on our Customer Journey plan, and higher.

Our customer portal software pricing depends on how many licenses you need, and which of our powerful plans you choose. Learn more about each of our plans ➞