Efficiently win more business with intelligent scheduling
INTELLIGENT SCHEDULING SOFTWARE
Commusoft's intelligent scheduling software automates the complex process of manually mapping and scheduling jobs. With powerful route optimization, you can maximize your technician utilization, decrease driving time and fuel costs, and reduce the admin burden.
Intelligent appointment scheduling
Efficiency-boosting algorithm
Our scheduling system creates the best schedule for your appointments by analyzing existing events, drive times, and more.
Hassle-free scheduling
Automatically schedule 1, or 1000 appointments without any headaches.
Assign the right technician
Our system considers technician skills, shifts, and company service windows. The right technician will always be assigned to the right job.
Save on fuel costs
Intelligent scheduling software sends technicians on the most efficient routes between jobs, saving fuel, and extending both vehicle life and profits.
Hattie
Founder
The Register of Tradeswomen
[Intelligent scheduling is] so seamless and it's in real time. That's a really brilliant thing. We don't have to keep on updating it to get what's happening in real time.
Take control with job scheduling software
Boost company profits while saving time
ROUTE OPTIMIZATION
Manually creating efficient schedules for multiple technicians while trying to boost company profits is a huge task. We do the difficult work for you. Commusoft's smart scheduling software calculates and processes thousands of routes in seconds. Technicians work along profitable routes; saving on fuel while taking on more jobs.
Our route optimization algorithm suggests thousands of jobs and routes

No more illogical schedules; our routes make sense

There's no wasted time driving back and forth to appointments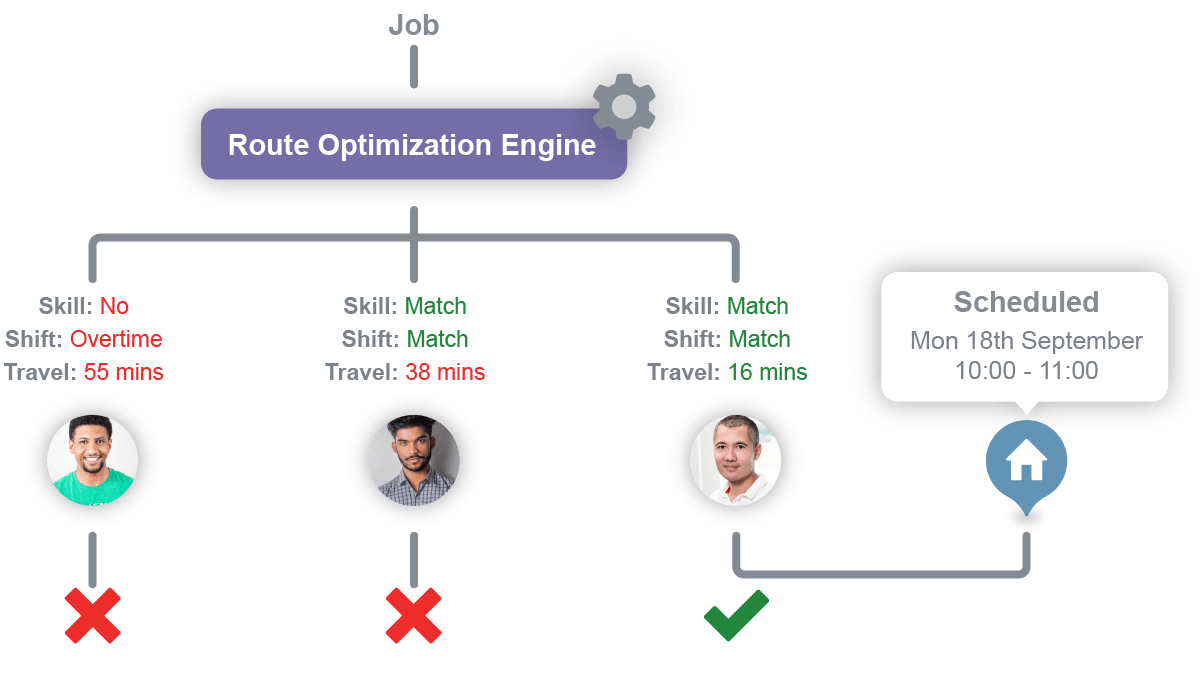 We do the heavy lifting
FIT JOBS INTO YOUR EXISTING SCHEDULE
Our smart scheduling software instantly reviews all of your company settings when making appointment suggestions. We don't consider the job in isolation, but at how it impacts both the previous and the following job. New jobs fit perfectly into your teams' existing schedules.
Technicians with the right skills will be sent to appropriate jobs

Commusoft considers technicians shifts, and will schedule who's available

Schedule jobs during flexible service windows like "morning"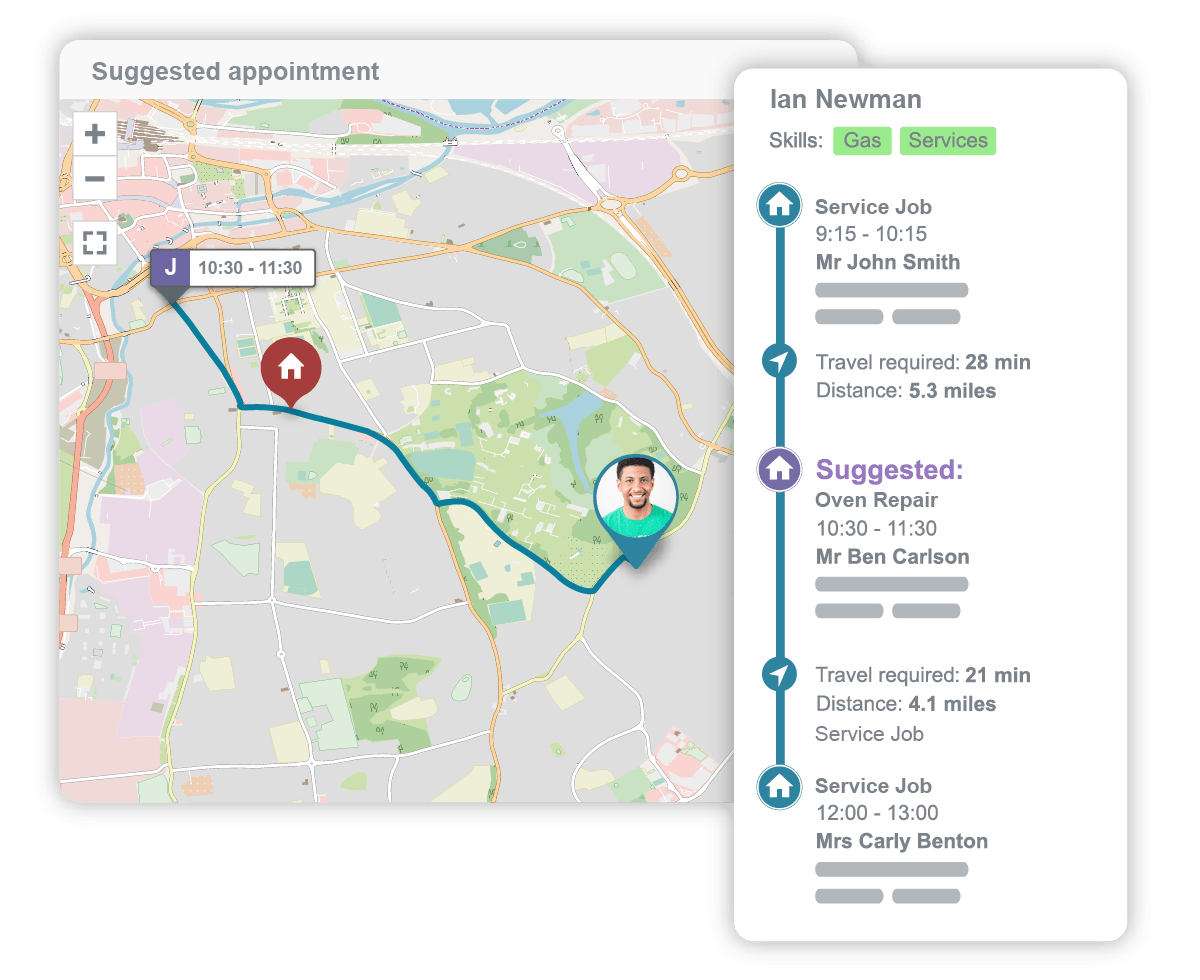 See how intelligent scheduling can increase your profitability!
Schedule jobs quickly and efficiently
Let us help
APPOINTMENT SUGGESTIONS
Searching through your calendar for empty slots and trying to decide which technician should take a job takes too much time. Once Commusoft complies suggested appointments, you can navigate through the different suggestions and choose the right one for the situation.
Job suggestions are ordered by efficiency

Modify search parameters, like time and skills

You make the final appointment decision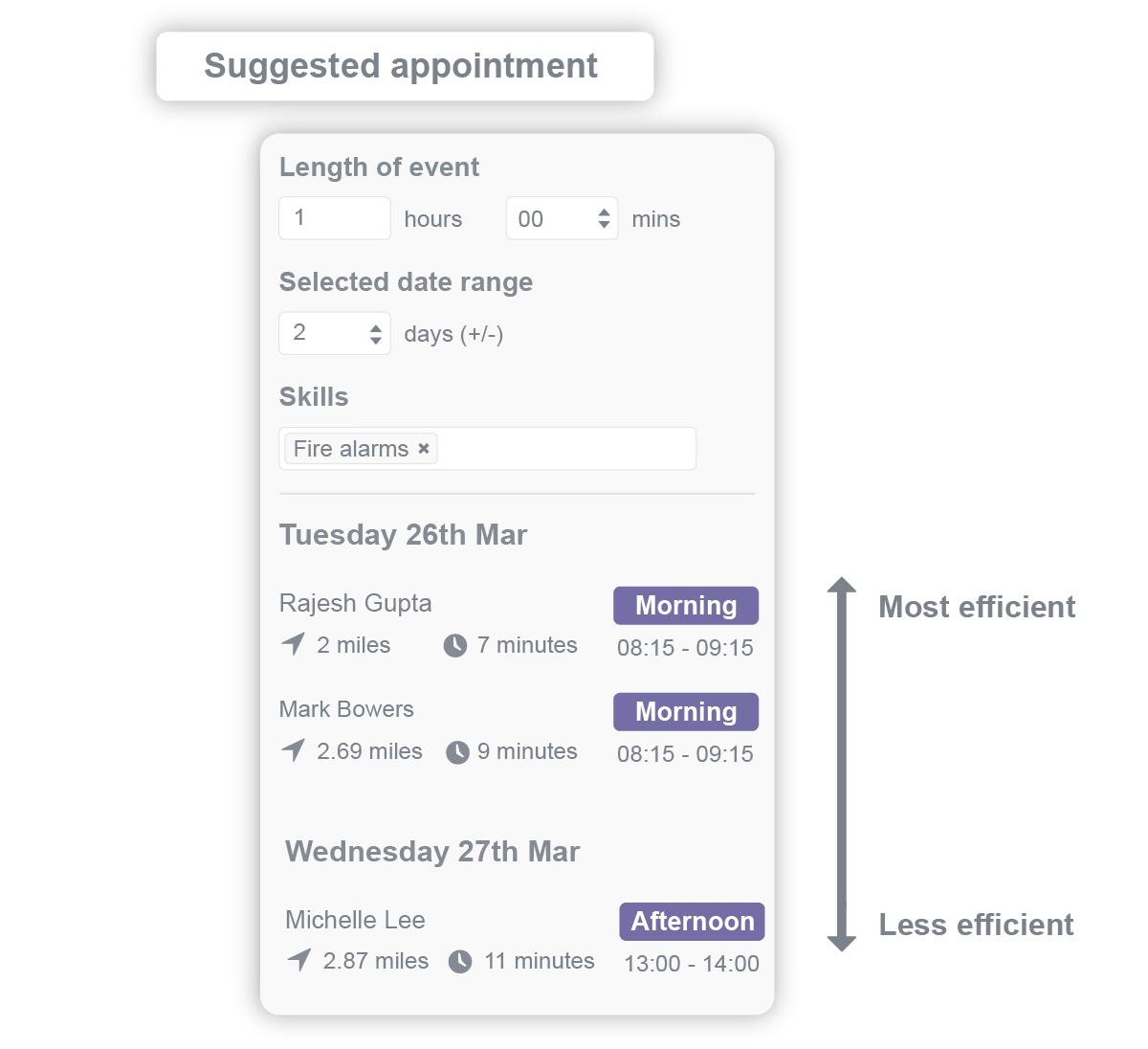 Accommodate last minute changes
WOW CUSTOMERS
Be there whenever your customers are in need. Last minute changes won't ruin your schedules; intelligent scheduling seamlessly incorporates these jobs. Instead of being a scheduling headache, unexpected jobs are opportunities to increase productivity and cash-flow.
Quickly adapt any last minute changes or new jobs

Commusoft updates in real-time; all edits immediately sync for your entire team

Provide excellent customer service and increase profits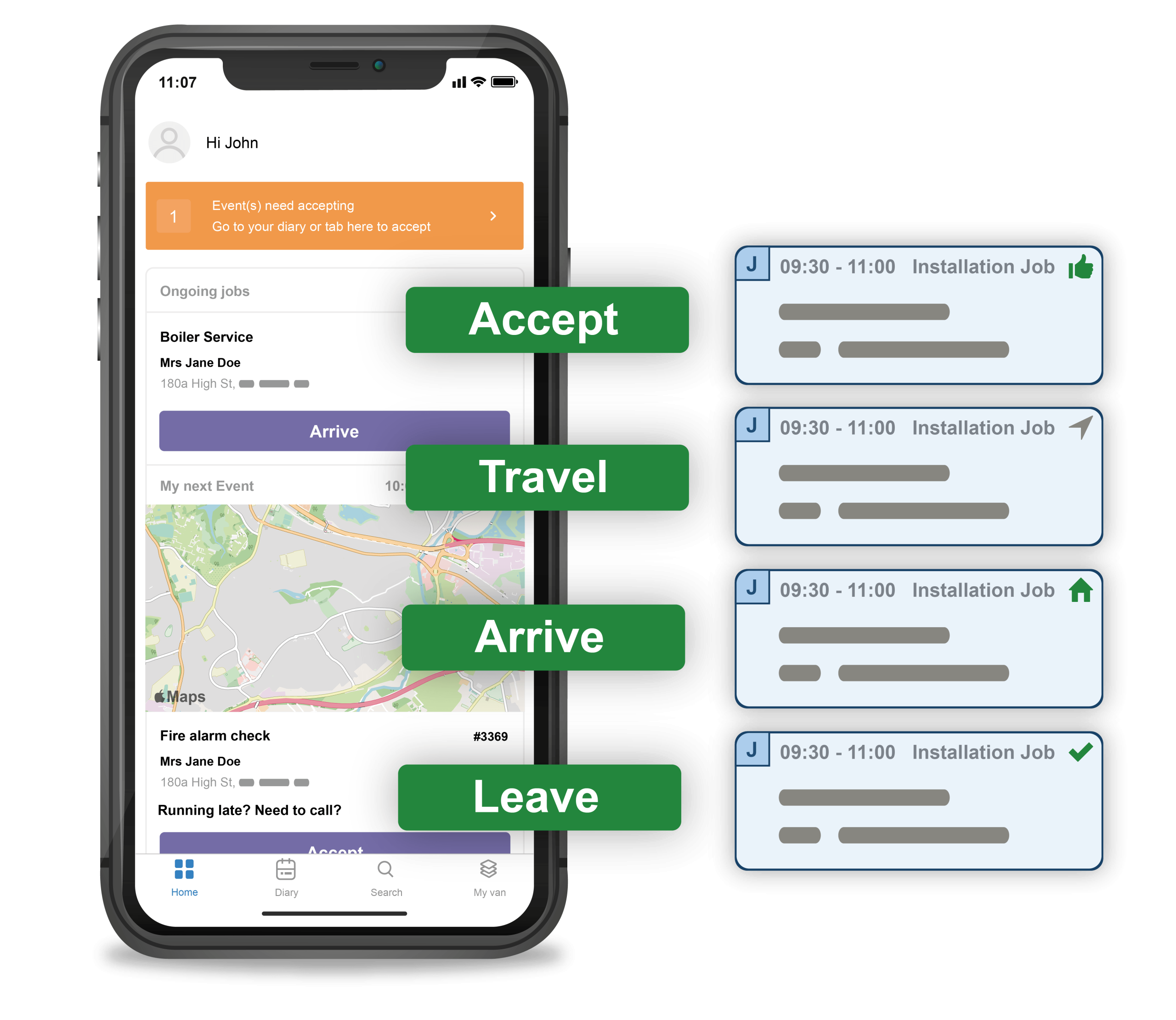 More ways intelligent scheduling can help your business
Mass scheduling

Want to schedule multiple jobs at once? With Commusoft's Automation plan, you can easily schedule hundreds of jobs at once. Set your parameters, and Commusoft handles the rest.

ROI calculator

If you're not sure intelligent scheduling is worth it, try our easy-to-use ROI calculator. We'll tell you how much time and money you can generate for your business.

Set technician skills

Guarantee the perfect technician is selected for a job by setting different skills. These are completely customizable. Examples range from "repair" or "installation" to niche specialties like "liquid fumigation" or "backflow tester".

Set technician shifts

Employee shifts are easy to create and maintain in Commusoft. Set full-time, part-time, or any combination of shift patterns. With these parameters in place, our system knows who to, and not to, book for jobs.
More ways intelligent scheduling can help your business
Intelligent scheduling FAQs
Intelligent scheduling software is a route optimization algorithm that suggests appointments.

Leave appointment scheduling optimization to us! Commusoft's intelligent scheduling software suggests thousands of appointments in seconds based on appointment time, driving distance, technician skills and shifts, and the type of job. Commusoft sorts suggestions from most to least efficient, so your team can feel confident making a selection.

Intelligent scheduling is available on our Customer Journey plan and higher.

Commusoft's pricing will depend on how many licenses you need and which of our plans you choose. To see all of our pricing details and which features are included on which plans, check out our pricing page.