How to Find Vendors for Your Electrical Contracting Business?
July 16, 2019 - Sales - 9 minutes
From pliers to screwdrivers to multimeters, an electrician is only as good as their tools, and a good electrical contracting business is responsible for providing them with the best. But where do you get the best tools without putting a hole in your budget?
The answer is easy: from a great vendor. How to find vendors for your electrical business, however, is the real hard-hitter.
Companies that operate on a national level have manufacturers crowding to supply them with tools and parts, but most electrical businesses don't have this privilege. Smaller orders (and by "small" we mean less than a few thousand items) can be more effort than they're worth for large vendors.
So they'll either refuse or up the price until it makes more business sense for them–and less for you. Therefore, if you want your company to have a sustainable growth, great reputation, and happy technicians, you have to put a lot of thought in learning how to find vendors.
What is a vendor and how is a vendor different from a supplier?
Generally, a key difference between vendor and supplier is that a vendor will be the last person or company in the supply chain, meaning that you (or your electrical contracting business) will not be selling their products to anyone else but be the end user.
A supplier, on the other hand, will provide goods or services in bulk to a company that will either sell them to others or use them to manufacture other products.
This means that in the vendor vs supplier debate, most electrical contracting companies will have to deal with the former rather than the latter.
You'll be tempted to get parts from big-box stores when researching how to find vendors for your business but sometimes, it's worth looking around for local ones which will allow you to negotiate and be more willing to support another local company.
Since you're buying smaller amounts of products, your first instinct might be to choose the closest vendor and be done with it, or to select the one you've heard has the lowest prices. That's a great way to simplify your parts purchasing process. It's also a great way to waste money, lose time, irritate your customers, and lower your profits.
Even for small and medium-sized field service businesses, it's important to carefully select the dealer you purchase parts from. After all, if their parts are too expensive or their delivery is slow, it reflects on your company.
So set aside a few hours to do some research and ask yourself these key vendor evaluation questions:
1. What is the most useful service for my business?
You may have seen the saying 'Good, fast, cheap–pick two' on a funny billboard or a sign in someone's office. This is actually referring to a well-known project management adage called the 'Triple Constraint'. If the service is good and fast, it won't be cheap. If it's cheap and fast, it won't be good. And if it's cheap and good, it won't be fast.
The witty saying applies when learning about how to find vendors, too. You probably can't get everything you want from a single vendor, so you need to prioritize the criteria that are most important to you.
The Next Level Purchasing Association offers some insight on common purchasing criteria such as cost, quality & safety, delivery time, social responsibility, convenience, etc.
When thinking of how to find vendors, you need a priority matrix. List what you consider your main criteria then assign them a point-system: 5 points for the most important can't-do-without aspects and 1 point for things that are nice to have but aren't vital to how to run a successful electrical business.
In the example below, a manager has assigned 5 points to cost, quality & safety, and 4 points to delivery time meaning that these are the most important things they're looking for. Vendor 3 has the best prices but that comes with low-quality and long delivery times.
At the same time, Vendor 2 doesn't have the cheapest offer but also guarantees a high-quality service overall. Vendor 1 scores high in other areas but those don't hold the same value to the manager. By adding the points, Vendor 2 comes out as the winner. Pretty simple, right?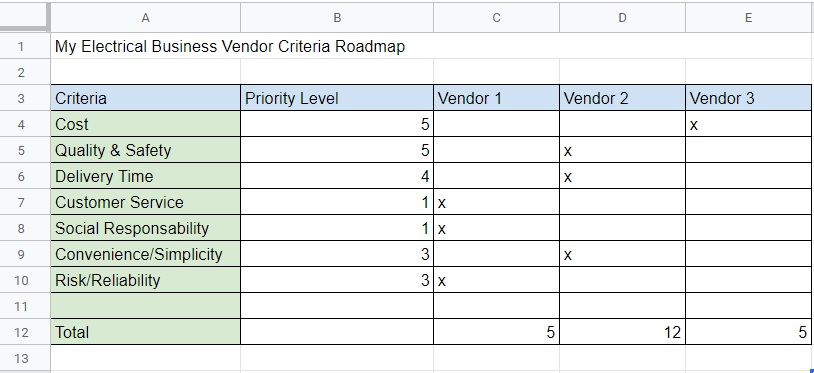 2. How to find vendors that offer more of what I want?
Now it's time to create a list of the vendors you want to evaluate based on the criteria you just chose. Put a name on Vendor 1, 2, and 3.
A simple Google search for online vendors and brick-and-mortar retailers in your area will turn up a lot of options. It will take time to go through all of them–or even most of them–but if you want to run a successful electrical business, you need to put in the work.
Have a look at the big vendors like Border States, Van Meter, Honeywell, or even Home Depot, but don't forget to check out the local businesses too. Depending on your priority matrix, they might rank higher than the familiar names.
How to Manage and Grow Your Electrical Contracting Business?
Of course, you can purchase parts at multiple retailers, but the benefit of choosing one or two is that they'll be more likely to offer extra help, favors, and discounts if you're a frequent purchaser and loyal customer. Striking up a relationship with your preferred vendors makes the business world go 'round. That doesn't really roll off the tongue, now does it? Nonetheless, it holds true!
Once you have your list, visit their websites to compare how well they fulfil your most important criteria. For example, if price is your main consideration, compare how much the same parts cost at multiple locations. If it's speed of delivery, check out what delivery options the different retailers offer and how much they charge for each one.
List a few favorites then call them up and check if you can set a meeting with a manager or another decision maker who is able to offer preferential rates.
3. Do other successful electrical contracting businesses recommend these vendors?
You check for positive reviews when choosing a restaurant, looking for a new car, or even when deciding between the 150 grill cleaning liquids on Amazon. Why not let user reviews play a part in how you find vendors as well?
Trade unions, industry specific media, and online forums like Reddit's /electricians are all good places to find opinions and experiences from your top candidates' actual customers.
You can even reach out on forums, LinkedIn Groups, and email discussion groups to ask what members' experiences with a particular vendor have been like.
4. Do the vendors offer business discounts?
Many parts and tools vendors offer business accounts that come with perks like discounted prices. Cheaper (but still good quality) parts can mean more profit for you, so be sure to check them out.
Don't limit yourself just to the vendor itself. Check if they work with any trade associations or unions that you might be able to join!
5. Are the products actually less expensive with the business discount?
Buyer beware! Just because a vendor offers a business discount doesn't mean they're your most cost-effective option. Some successful electrical contracting businesses complain online that certain vendors raise their prices so they can then offer 'discounts'.
This makes the net effect for you null. In other cases, a vendor may simply have higher prices in general. So the business discount doesn't make the items cheaper than their competitors'.
6. As a brick-and-mortar store, are they willing to match internet prices?
If you want to support your local retailers, but don't want to pay a premium for the privilege, find out if they'll match prices you find online. This goes back to what we mentioned above. If you convince the vendor you'll be a loyal, frequent customer, they may agree to price-match for you.
Also, if you do manage to find a local vendor for your business, consider forming a partnership with them. If you work with subcontractors, for example, you can offer to refer them to the vendor. In turn for each referral, they can provide you with a larger discount on materials.
It's a win-win for both sides, as parts will come at a lower cost for you, and they'll be able to build their client base in turn.
7. What does my gut say when it comes to finding vendors?
Once you've gathered data on how the vendors match your top criteria, it's time to choose the big winner. If you have two or three close contenders, sometimes it comes down to your gut instinct. This is how to find vendors the right way.
Many business owners scoff at the idea of using instinct to make decisions. But experts say intuition should have a place in your decision-making toolbox.
'Leaders gather data and seek input but at some point, they reach the over-thinking tipping point', says Shelley Row, MBA, author of Think Less Live More: Lessons from a Recovering Over-Thinker, in an article on Forbes.com. 'That's the point where the time needed to gather more data and input exceeds the value. They must decide and move on'.
Don't let the fear of making a mistake paralyze you. If you keep a close eye on your finances (an electrical business software with powerful analytics always helps!), you'll always be in control of how your business is doing. If you can tell that your costs exceed your earnings, you can always switch.
This can be a strategy where you give notice to a vendor that they're not the one for you anymore. Rather than losing out on regular business, they might be willing to negotiate their rates. So now that you know how to find vendors, what's next?
Electrical business software is the answer.
Over-thinking your inventory management? As an electrical business software, Commusoft can help you manage and track parts, invoice customers for parts, track purchase orders, plus so much more.