10 Remote Work Tools to Run your Field Service Business from Home
February 9, 2023 - Management - 14 minutes
Today, more than ever, it's important to be able to work, manage, and oversee your business no matter the location. Accessing your data in one, organized place helps you stay productive whether at the office, at clients' properties, or on the road. Field service businesses are increasingly turning to cloud-based software to enhance telecommuting. Digitizing a field service business isn't always easy, so knowing and using the best remote work tools is key.
Here are the top 10 Remote Work Tools for maintenance businesses:
Read on to learn more about the best technology for working remotely!
1. Technician GPS Tracking
Know where your technicians are at all times to ensure safety, accountability, and efficiency!
When you have multiple employees in the field at various job sites, having location information is an absolute must.
Here are the top three reasons employers implement GPS tracking, according to a tsheets.com study:
Safety
Accountability
Efficiency
Safety
One of your technicians and trucks gets in an accident, and you don't find out until hours, or even days, later.
Not only is the safety of your employees at risk without GPS tracking, but your trucks and equipment/parts are also at risk during commutes to jobs. Knowing where your services went down in real time helps provide accurate data so you can address situations as they arise.
Great GPS tracking software provides travel records, allowing you to troubleshoot what happened so you can reduce potential risks in the future.
Accountability
Your technician submits a timesheet, but since you weren't by their side going from property to property, you don't really know how the time was spent. This type of blind trust can cause you to have doubts and can affect your relationships with techs.
Beyond that, being able to track your technicians to see when they are on the way, arriving at the job, and leaving the job allows you to accurately understand their and your trucks' whereabouts.
Countless studies show that workplaces with increased transparency and trust have been proven to work more effectively as a team and be more productive.
You might think that GPS tracking could make employees uncomfortable. However, according to the same study mentioned above, "78% are comfortable with GPS tracking at work, while only 7% are uncomfortable."
Efficiency
Your technician was scheduled to be at a property for two hours, but they end up being there for five hours and counting. The tech has been so busy working on the customer's issue that there's been no time to take a break to get in touch with the office or the next customer.
The next customer is waiting with no notice, uncomfortably remaining at their house prepared for the appointment, but at the same time is wondering if no one is coming. If you want to give incredible customer service, having delayed or canceled appointments with no notice is definitely not in your best interest.
This can all be avoided with GPS tracking. Your staff knows where technicians are, so if there is any change in schedule, customers receive a courtesy call and they're kept in the loop.
Even better is the capability to send customers a tracking link, so they know when their tech is on the way and when they are expected to arrive.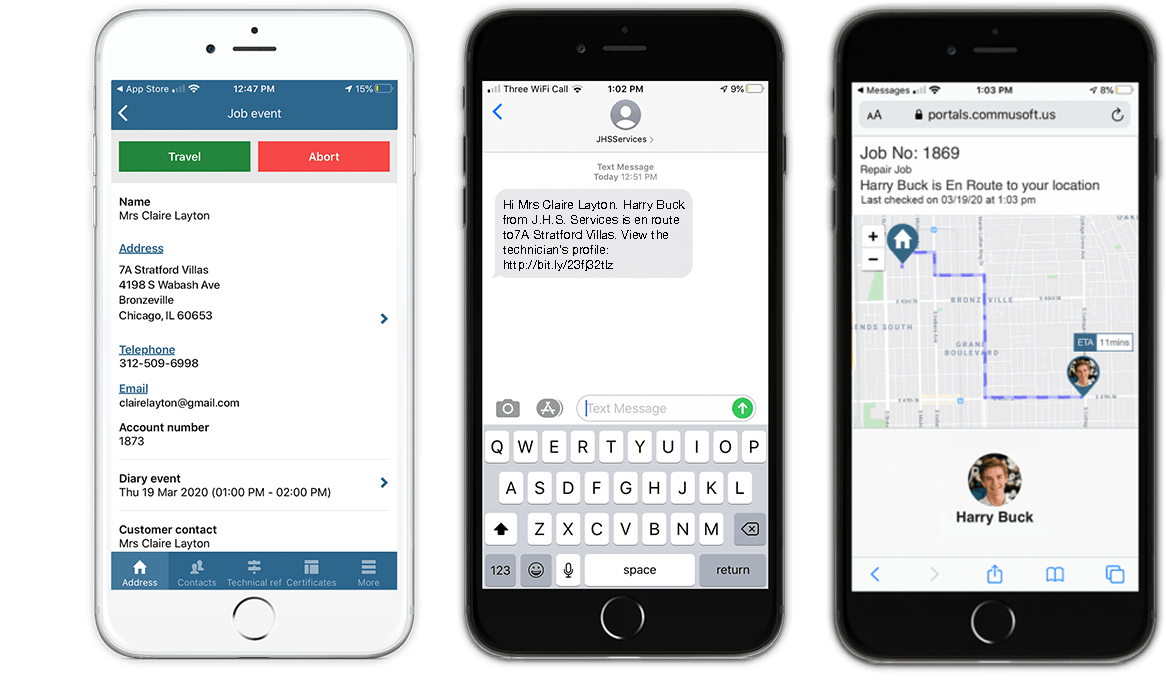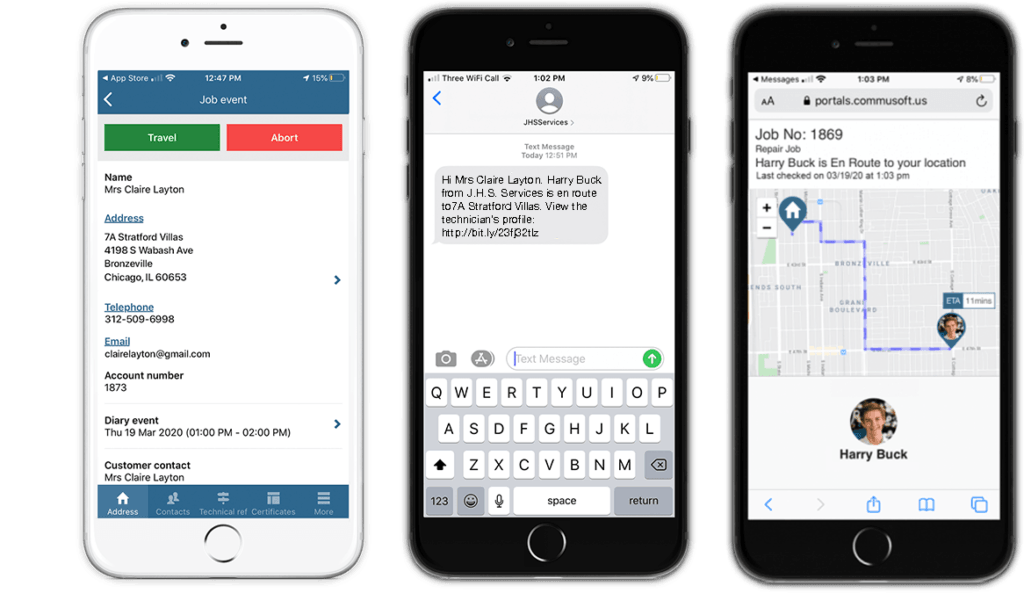 Employees say the top benefit of GPS tracking while working is: "Ensuring I get paid what I'm owed". This type of efficiency with payment benefits all sides.
To learn more about how tracking your vehicles and analyzing the data actually boosts technician engagement, click here!
2. Digital Parts Management Tool
Use an inventory app or desktop software, rather than visiting a physical location, to get information on parts statuses.
Your technician needs a part for a job and wants to check if the stockroom has it. They use fuel and company hours to travel the stockroom, and then find out the part is out of stock.
This situation wouldn't be as painful if a remote work tool such as a digital parts management app was used. Rather than relying on other types of forms or systems, digital parts management makes it so time is used more effectively and that information is available on the cloud with real-time updates.
This type of system provides an overview of parts statuses so your team doesn't have to keep going back to the stockroom to see if you need to order something—saving time, fuel, and frustration.
An excellent parts management tool allows you to see the following parts statuses wherever you are:
Requested
Ordered
Received
Installed
Furthermore, you know exactly at the cent how much money (parts value) you have in the stockroom. This makes up for any losses with parts or inventory.
Not sure if field service management software is for you? Watch the video below to learn what FSM software is NOT.
3. Diagnostic Augmented Reality
When an in-person visit is difficult or unnecessary, visit customer properties virtually using innovative, easy-to-use technology.
In some situations, it doesn't make sense for a technician to visit the property. That's where Augmented Reality (AR) comes into play. Diagnostic AR is a brand-new technology and is one of the best tools to work remotely.
"An augmented reality (or AR) tool can save businesses from lost jobs and unsatisfied customers. With recent developments in technology, particularly Apple's AR Kit, there are a few scenarios where an AR mobile application can be deployed and help customers soft-fix small issues, without wasting time and fuel for technicians." – Jason Morjaria, CEO of Commusoft
Diagnostic AR generally involves a video conference with a technician and a customer. The customer uses video to present the issue, and the technician acts as a virtual assistant—using AR to circle and highlight areas where the customer can fix their problem.
While it's no secret that connecting virtually presents challenges, video chatting has more room for connectivity and human emotions. In fact, Video conferencing performs 30% better for communication than audio-only setups.
4. Quoting Software
Make use of software that lets you create and send quotes anytime, anywhere.
Stop being dependent on the office server or supplies to get quotes sent out. There's no need to use paper templates or software that is only available on office desktops.
With remote work tools, you can use quoting software to take this process online.
You're no longer dependent on the office server or supplies to get these quotes sent out. Digitizing the process also lets you get acceptance and any initial deposits sooner.
A great FS software notifies you right when this happens, and you can get the notification whether or not you are connected to the internet.
Click here to learn details about how quoting software can help your business
5. Invoice Software
Use invoice software to create and send invoices, and your customer can even pay you online.
Sending out accurate invoices promptly improves cash flow, no doubt. Your virtual field service office is more than able to handle the entire invoicing process.
Your remote employees can create invoices directly from the quote, saving time while preventing double data entry.
Invoicing software has the following benefits:
A simple way to create and send invoices from wherever you are
An easy way for customers to pay
More likely to get paid on time
Seeing a real-time overview of your cash flow (and any customer debts)
6. Cloud-Based Financial Reporting
Know where you stand financially with an automated, easy-to-read report.
Knowing your financial state is ideal, but this can be tricky when there's information across programs or physical documents. It can take some time to compile a financial report, and you have to keep updating it manually to be ensure accuracy.
Whether there are piles of papers or information in several different software programs, finding the information you need often takes time.
'What if you could automate the process and have all financial data available on one screen, in real time? Cloud-based financial reporting gives you an overview of two key areas: 'What if you could automate the process and have all financial data available on one screen, in real time? Cloud-based financial reporting gives you an overview of two key areas:
Where you are spending money (example: job expenses or parts expenses)
Where you are making money (example: profits on individual jobs, as well as aggregate profit data)
Having all job, cost, and profit information organized in one location offers an effective solution. A comprehensive report, thanks to cloud-based financial reporting software, empowers you to know your financial state, at all times.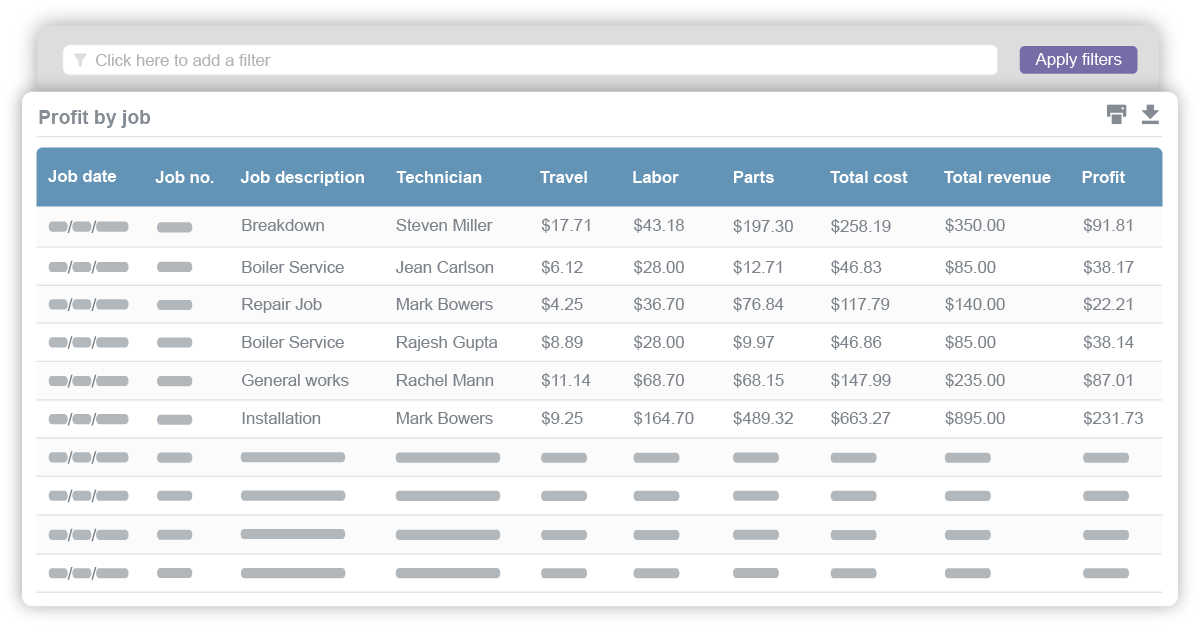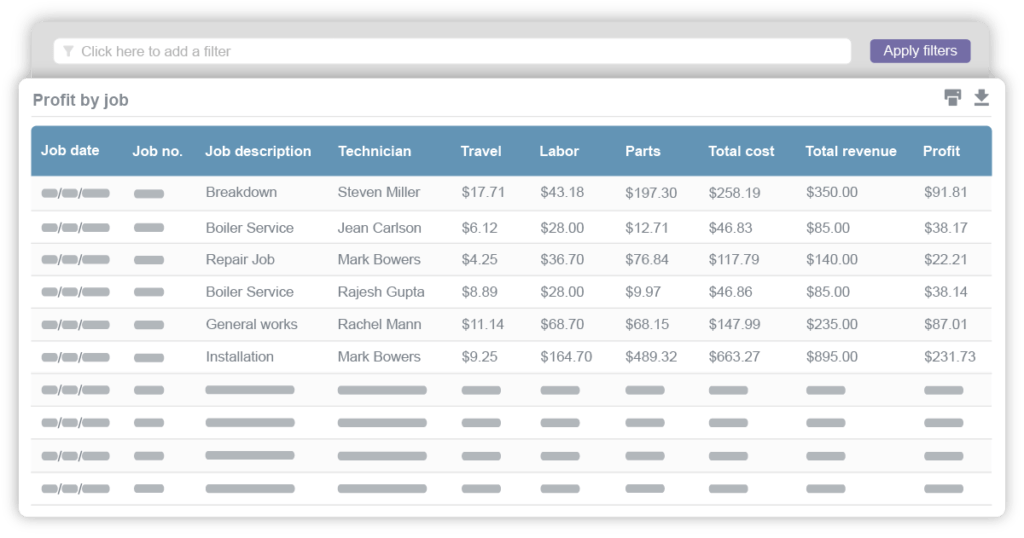 7. Cloud-Based CRM
Give the team access to organized customer information from wherever they are.
You're currently working from home when a customer calls you for emergency work on their boiler. You're unable to access that customer record as it's in your office, either on your desktop or in your cabinet.
You might be asking questions trying to figure out who they are, which is never great for your customer service reputation.
The bottom line is this: you don't have the customer data you need to serve them, and the customer is left feeling let down, giving them all the more reason to move on to your competitors.
Clear, well-organized data and systems allow you to engage with your clientele across devices and locations. This essential remote work tool gives each member of the team an overview of each customer, along with all their work history, assets, property information, and more.
8. Cloud-Based Scheduling System
Your team can schedule and dispatch technicians from anywhere they're working.
After all, according to Cloudwards, 70% of managers say that their teams' performance is as good or better when WFH is implemented.
Your technician is on their way to a property, only to realize there's no one home. They need a good way to communicate this back to the office, and your office needs a way to rebook this appointment ASAP.
If no one is in the office, then your technician can't get a hold of anyone. So, unfortunately, the appointment can't be rescheduled right then and there.
For changes in work orders, such as a no-access or canceled appointment, it's great to have your technician update this in a system where all staff can see the update right as it happens. That way, you can get that job rescheduled immediately, hassle-free.
Remote work tools such as cloud-based scheduling systems allow your business to be reactive to real-time updates and customer needs.
Updating the data is more effective than sending an email or phone call because it's accessible to everyone in real time. You can see technicians' available hours, their skills, and the work order request all in one place—streamlining and saving valuable time.
When appointments are booked, you'll want to have an accessible visual calendar with a map view so you and your staff can locate your technicians at all times.
Booking jobs ensures your business's revenue and growth – it's one of the most important parts of your business! That being said, optimizing and managing your tech schedules with a synchronized system is key.
Online Booking with Remote Work Tools
About 93% of respondents said they'd be more likely to choose a provider that uses online booking over one that doesn't (according to getapp.com).
Why? According to the same study, 56.4% of respondents get frustrated waiting on hold and dealing with inconvenient office hours.
Restricting your ability to secure appointments to working hours usually doesn't pay off. Online booking forms allow you to receive job requests even when staff is out of the office.
Read about how to get plumbing leads even when you're not in the office!
Calendar Integrations
You have a job management schedule used for dispatching, and another calendar such as Outlook. When you update the job management schedule, you manually update the other calendar.
What happens if your remote employees forget to manually update one of the schedules? Scheduling errors can cause a technician to not show up at an appointment, or show up at an appointment that's been canceled.
Software that has calendar integrations decreases the chance of such inefficient uses of time. Furthermore, having software that has calendar integrations allows you to see business information from your favorite online calendars, and vice versa.
9. Mobile App for Technicians
Give technicians access to resources on the job via mobile, and send and receive information to them.
4/5 techs use tablets or smartphones for field work and 66% of field services use mobile workforce management solutions.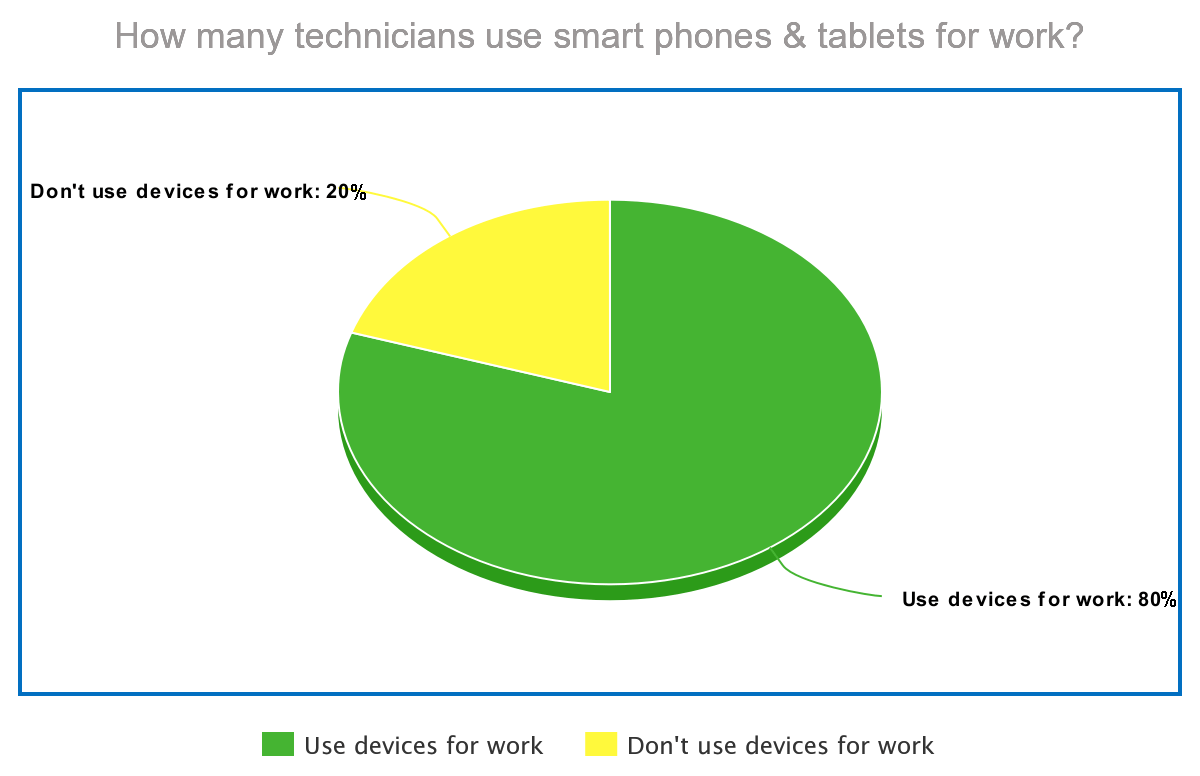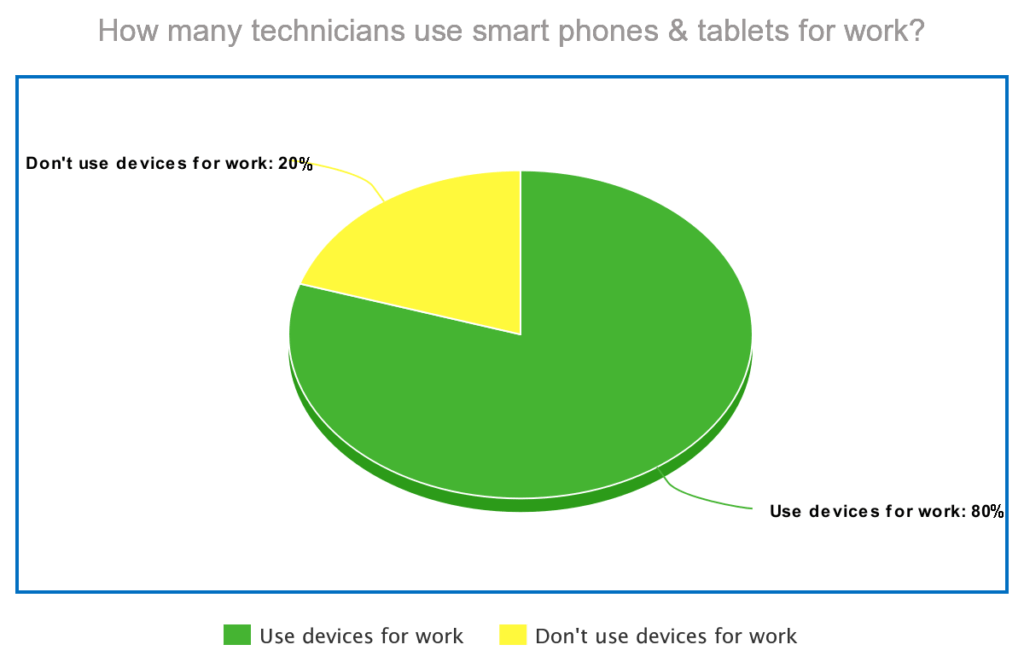 There's a reason why using mobile devices for field work is trending. Cloud-based mobile platforms allow technicians to move quickly from job to job and eliminate the need to carry stacks of papers between appointments.
Their mobile app should contain work order details, as well as any digital manuals or other documents they may need. Having mobile checklists and forms allows your technicians to stay organized by creating lists of parts needed for a job, assets to fix on the job, etc.
For example, why should your technician have to remember asset information each time they go to the same property? Great software has the asset information on the app so it's right at the technician's fingertips.
On a similar note, property history is useful but can be hard to remember when there are lots of other moving parts. Having this on the technician's mobile device prevents them from asking the same questions over and over again.
Technicians should be able to track their time with their mobile app so they have accurate timesheets for what time they arrive at a property and when they leave.
The software allows you to see your technicians' time records from a device wherever you are. No more needing to have techs visit the office to turn their timesheets in.
Learn more about the best tips and tricks to train your technicians on their mobile devices
10. Digital Work Order Management
You and your staff can see everything about the work order in one digital place.
Let's say your technician contacts you after your work hours asking for a customer address so they can travel to the job. Without your usual materials at the office, you likely can't help.
Having technicians travel to the office to gather a work order sheet every time for a job isn't the best use of fuel or time.
Instead, arm your technicians and office staff with digital work order management. From their mobile, your crew can review easy to read and customizable job details. They'll have everything you need to know for each job: customer name, property address, type of job, etc. If you use this remote work tool, technicians can receive and return digital work order data without a trip to the office.
This work order information carries over to estimates, invoices, etc. so there's no double data entry, meaning less room for error.
The Takeaway on Remote Work Tools
This article has shown you 10 remote work tools that you can use to manage your maintenance technicians. These tools help you manage employees, customers, and your overall business, enabling you to grow in all aspects and rise above your competition.