INVENTORY MANAGEMENT
Innovate your warehouse workflow and take control of your inventory
Commusoft's powerful multi-location inventory management system will manage stock as it moves across your entire business. By reducing stockpiling, organizing returns, and streamlining ordering, your team will be empowered to provide an unmatched customer experience.
Revamp your inventory management system
Multi-location inventory
Manage your company stock across various locations, including technician' trucks and multiple storerooms.
Real-time inventory levels
Stay in the loop at all times with current stock supply levels through the web and mobile app.
Mobile warehouse app
Our convenient Warehouse app for iOS and Android devices, streamlines the check in and check out of parts.
Automatic reorder lists
Inventory automation protects your team from forgetting to reorder parts, so you'll always be prepared.
Stock returns
Bolster your company revenue and reduce stock wastage by effortlessly returning unused parts to vendors.
Inventory history
Review the history of all inventory transactions to track every individual item and what has occurred to it.
Phil
Managing Director
Premier Heating Solutions
[Stock control] allowed us to start buying our parts wholesale and we now carry a significant amount of product within our building. That has allowed us to save approximately 12% on our parts cost, which is touching on six figures.
Rearrange your inventory operations
Coordinate all inventory management activities
ENHANCED INVENTORY WORKFLOW
Our intelligent software aids your team in keeping a handle on all aspects of your stock. Parts efficiently progress from arrival, to the warehouse, to technicians, to installation or return, all while being tracked within a comprehensive system.
Utilize a dedicated warehouse app and barcode scanner

Always know what's in stock from the office or field

Track real-time inventory levels across multiple locations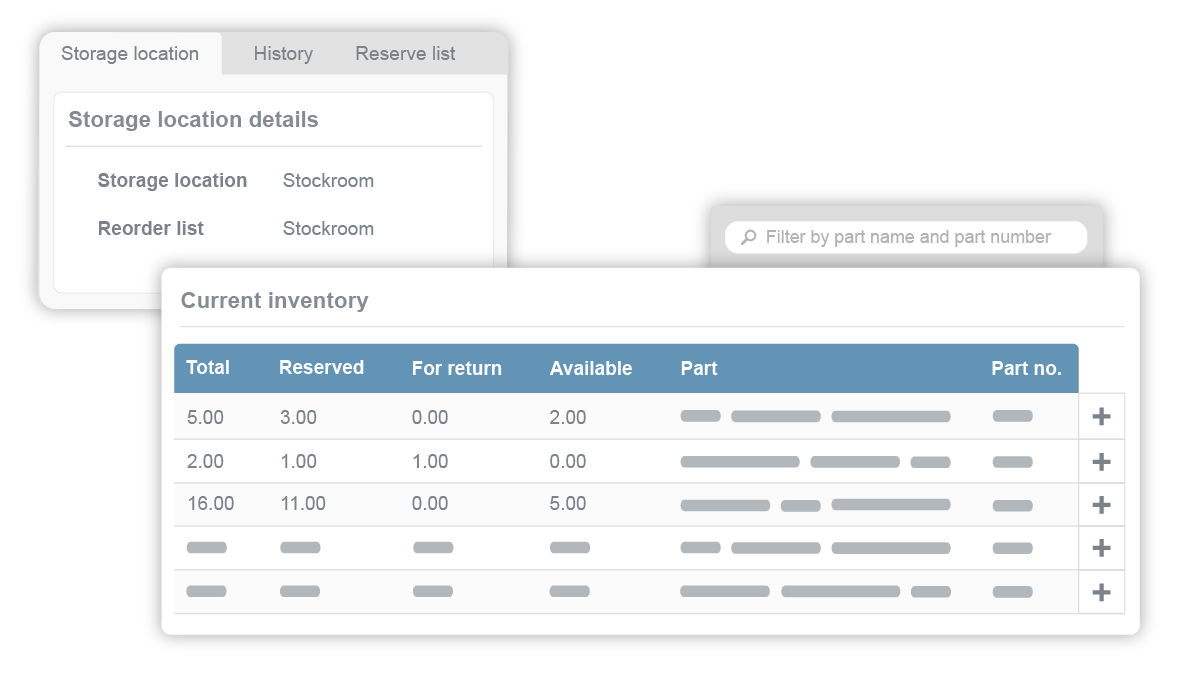 Make smarter purchasing decisions
REDUCED EXCESS INVENTORY
Unused parts rattling around in the back of trucks or in a dusty corner of your warehouse eats away at profits. Blindly ordering and stockpiling parts only makes the issue worse. Instead, your team can make the most effective use of existing supplies first.
Technicians use available parts before ordering more

Carefully control stock levels with automatic reordering

See which stock is available, reserved, or being returned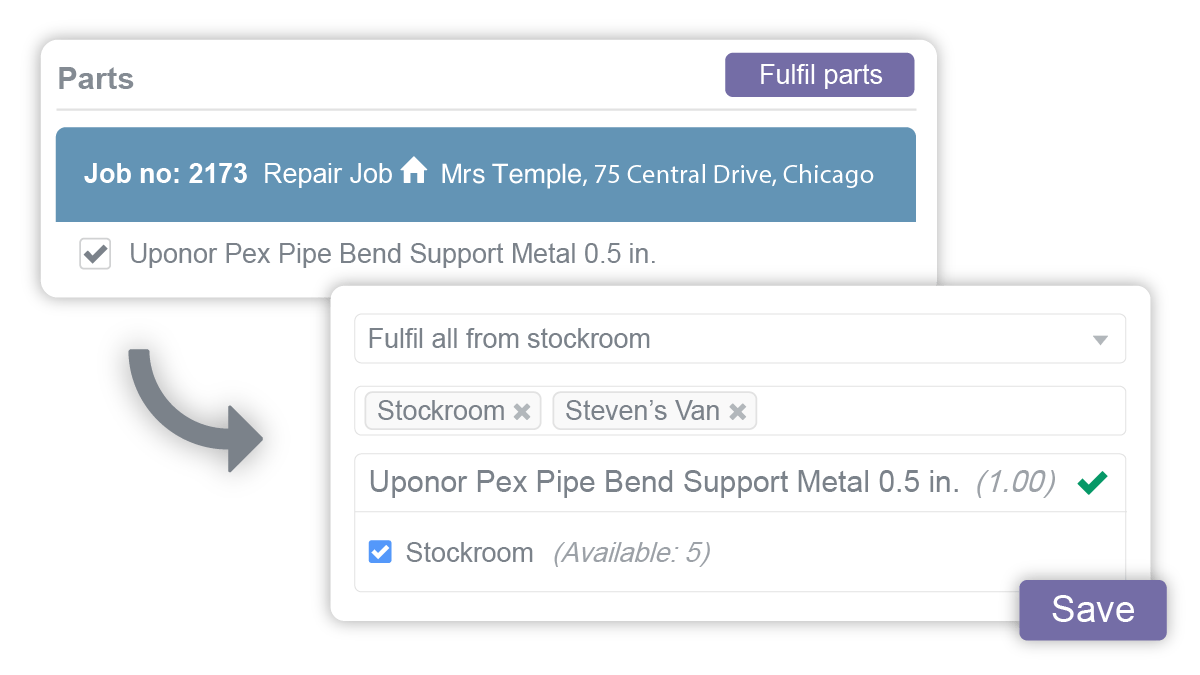 Inventory management can boost your company revenue!
Transform your inventory management
Stop stock wastage and free up your cash flow
STRESS-FREE RETURNS
Reduce lost, broken, and stolen inventory by helping your team track unneeded parts and mark them for return. Seamlessly include returns in your warehouse process to ensure parts get back to the vendor and the cash ends up back in your account.
Our inventory management mobile app makes returning unused parts easy

You can track the whereabouts of every individual part

Know exactly where your money is being spent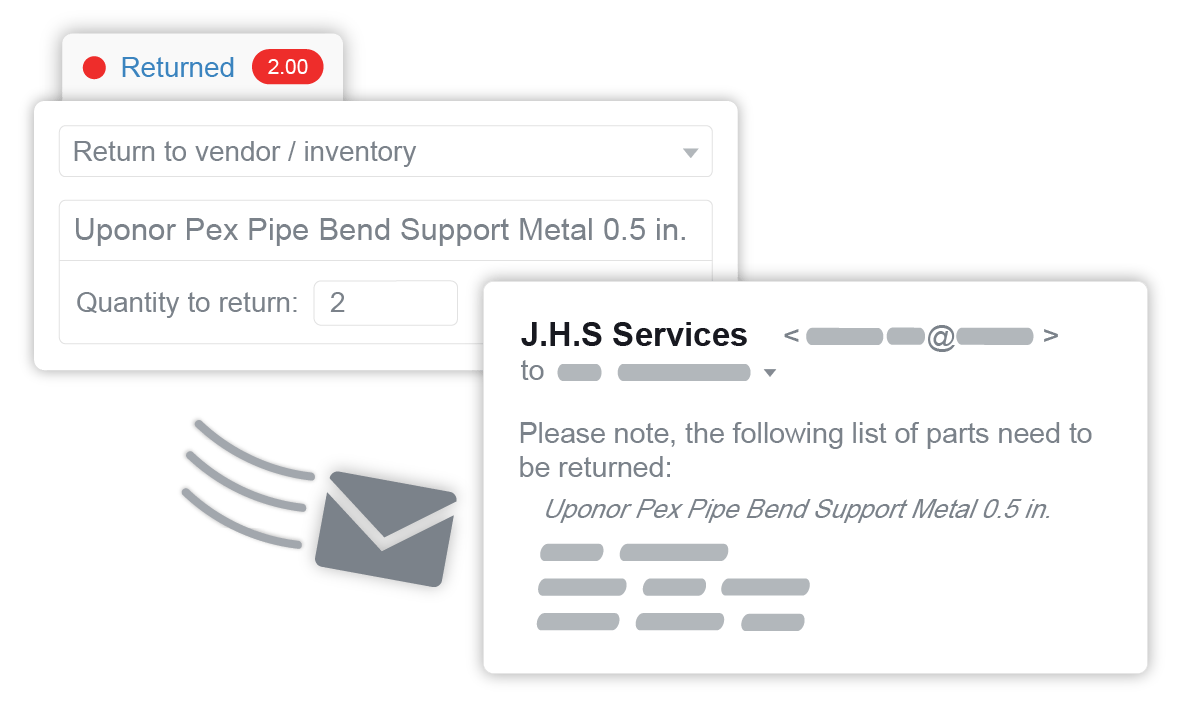 Navigate the unexpected
IMPROVED CUSTOMER SERVICE
Technicians can swiftly give customers clear information on which parts are in stock and which need to be ordered. Plus, you'll automatically receive a notification if a delivery hasn't been checked into your inventory in time before a scheduled job, so you can inform the customer in advance.
Impress customers by coming to jobs prepared

Reserve inventory for a specific customer from the job site

Automatic reordering ensures stock is always handy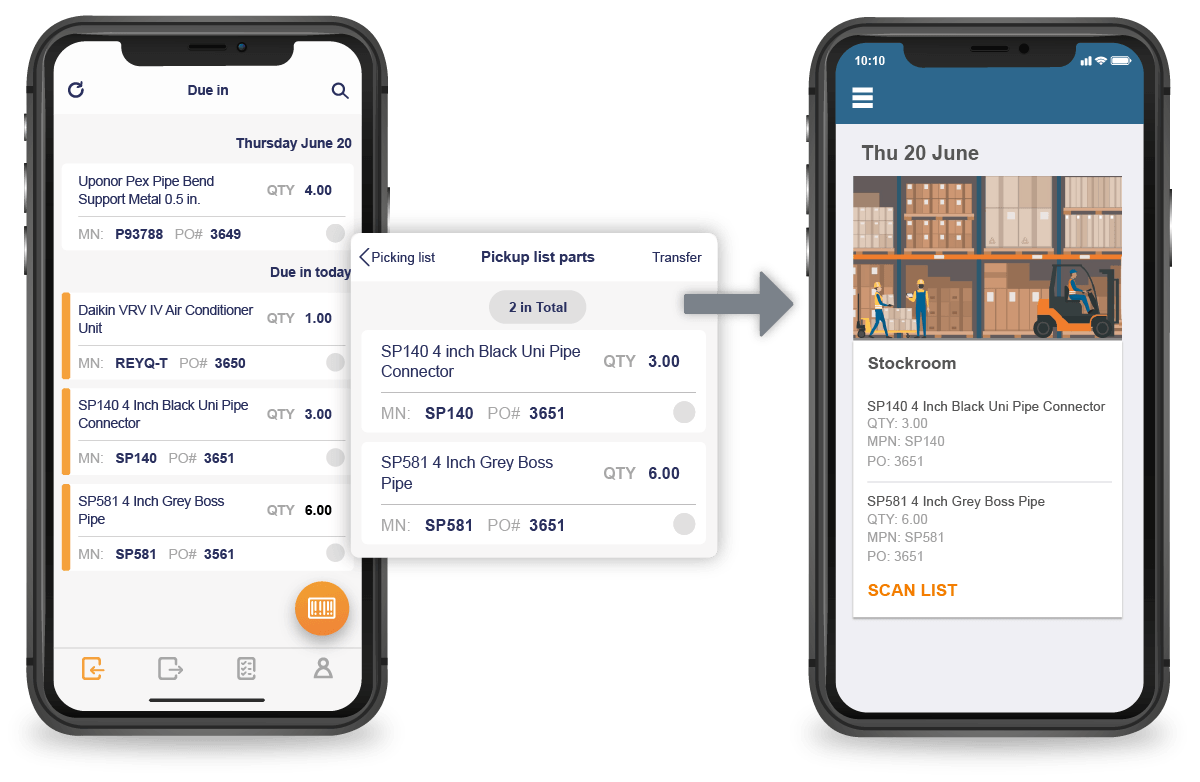 Unlock the potential of inventory management
On-the-road transfers

Rather than returning to the warehouse in the middle of the day, technicians can see what's in stock in their truck and directly exchange parts using their mobile apps when in the field.

Automatic reordering

Order without lifting a finger. Tailor your settings for routine parts reordering, and your warehouse will never run out of necessary supplies again.

Barcode scanner

Our practical mobile barcode scanner ensures seamless movement of inventory through your business.

Picking lists

Your warehouse manager can easily manage stock due in and out by creating personalized picking lists for all of your technicians to collect each day.
Unlock the potential of inventory management
Inventory management FAQs
Inventory management software is a digital solution that manages your stock system, so you can organize your parts and free up your cash flow.

Commusoft's inventory management software goes further, helping your team organize stock across multiple locations, whether parts are in your warehouse, various technician trucks, or both. Your team can track real-time inventory levels across all locations, reducing lost parts, and slashing piles of excess parts.

Want to learn more about multi-location inventory management? Read here!

Our inventory management mobile app helps your warehouse manager check in parts, create picking lists, and ensures the right parts get to the right technicians. Our app eliminates the need for your warehouse manager to lug around a barcode scanner and laptop computer to check-in and organize parts!

This streamlined solution means your team can receive the parts they need sooner and complete more jobs quicker, so your business can bring home more profits.

Commusoft's inventory management software pricing depends on how many licenses you need, and which of our powerful plans you choose.

Inventory management is available on Commusoft's Customer Journey Plan, or higher.