Dig further into your data than ever before
REPORTS AND DASHBOARD
Commusoft's reports and dashboard provides full overviews of all facets of your company, helping you make informed choices for your field service business. Automatically generate reports on everything, from work orders to finances, and easily maintain all the moving parts.
Reports and dashboard features
Reports dashboard
In real-time, we compile comprehensive data from your entire business into easy-to-understand reports.
Preconfigured reports
Our 40+ preconfigured reports allow you to dive into data on jobs, finances, parts, users, and more.
Create custom reports
Gain crucial business insights and view the exact data you want using filters to tailor any report.
Filters
Create personalized reports with our editable filers at any time and save them for future use.
Angela
Administrator
W Williams Plumbing and Heating Ltd
The reporting is a very useful and easy to use function, which is one of my favorite aspects of the software. Overall, I am very impressed with the software and very happy I decided to go with Commusoft.
Generate reports for any occasion
Your go-to reporting hub
COMPLETE REPORTS AND DASHBOARD
With 40+ customisable reports and data filters, you can harness information within parameters and visuals that work best for you. All aspects of day-to-day work are easily maintained within Commusoft, meaning your business can expand effortlessly.
All data from your entire business is utilized

Our reports help maintain customer experience

Understand where your business is most profitable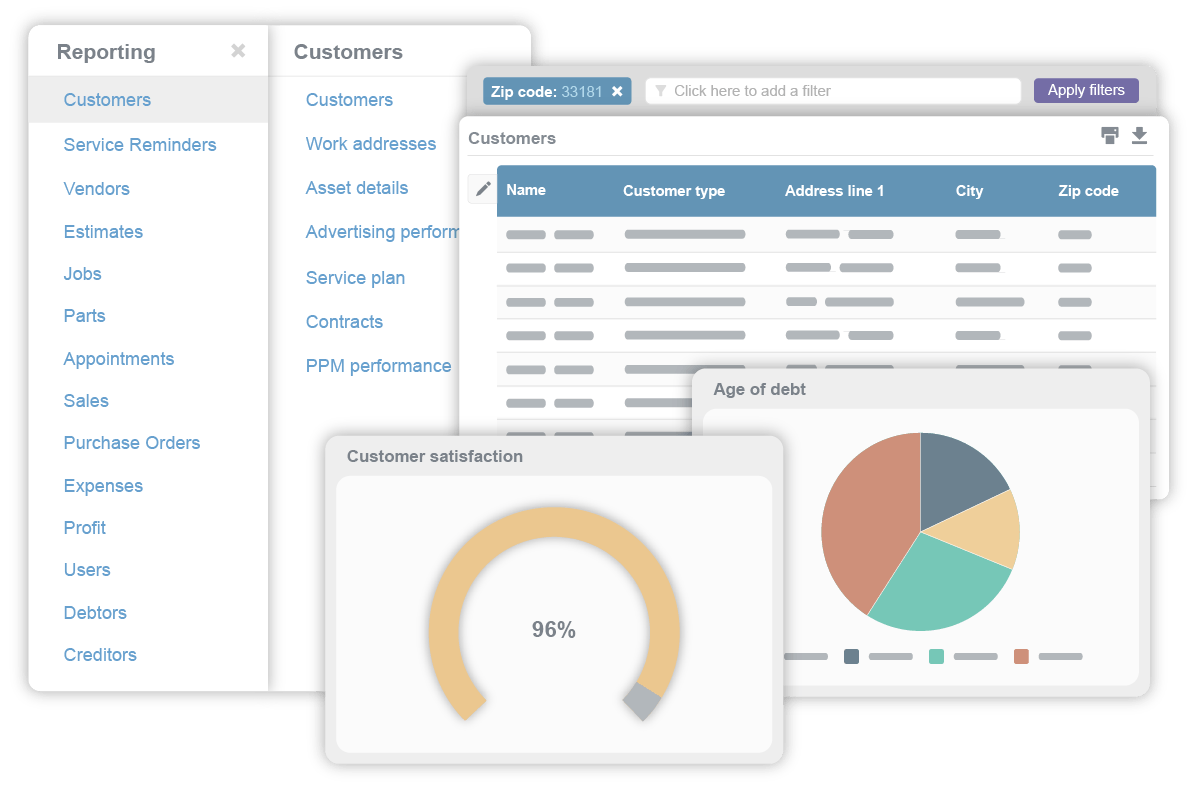 Real-time information within reach
DYNAMIC DASHBOARD
Our reporting dashboard is customisable, allowing you to rearrange widgets with our drag and drop functionality. Quickly view in-depth visual snapshots of critical business metrics, such as sales by month, customer satisfaction, and job statuses.
Widgets ensure that vital data is always accessible

Choose which reports and widgets are presented where

Reports with real-time data help decision making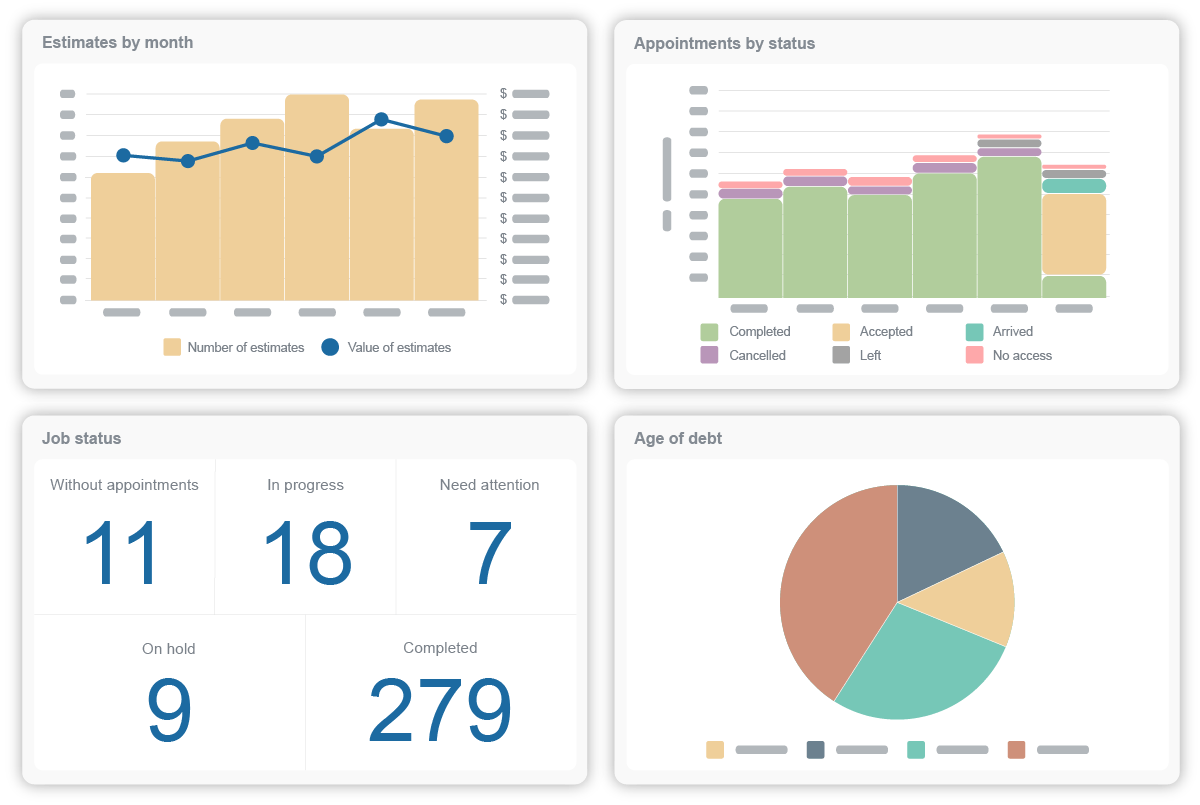 See how you can get the most of your data with professional reports!
Justify big decisions with accurate reports
Stay in the loop
IN-DEPTH COMPANY REPORTING
No company information should ever be a surprise or mystery. Commusoft's reporting and dashboard tools makes data comprehension easy, so you can expand your business with confidence, anticipate growth opportunities, and outpace competitors.
Manage parts, finances, jobs, timesheets, and more

Forecast where your company is headed

Print and download an Excel version of any report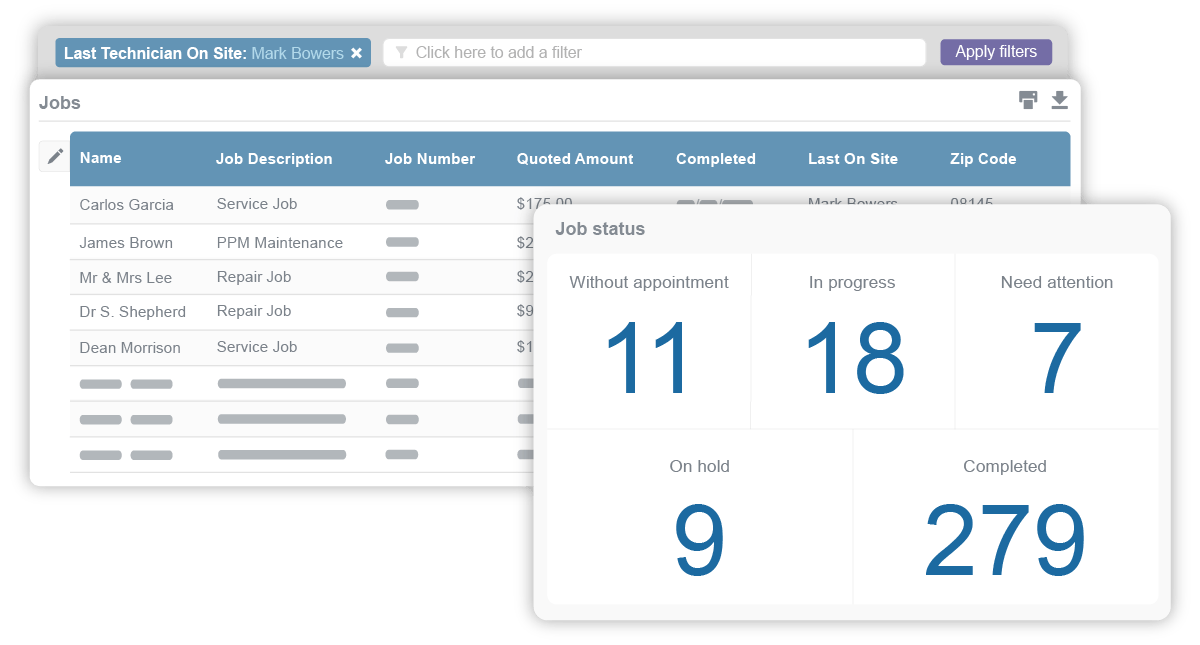 Cultivate customer happiness
DETAILED CUSTOMER REPORTING
Customer satisfaction fuels continuous cash-flow into your business. Our customers reports help your staff track metrics focused around the service provided to clientele. We'll help you better understand customer needs and provide an unmatched service.
Dig in with our customer satisfaction report

Understand what delights your customers

Identify opportunities to improve customer service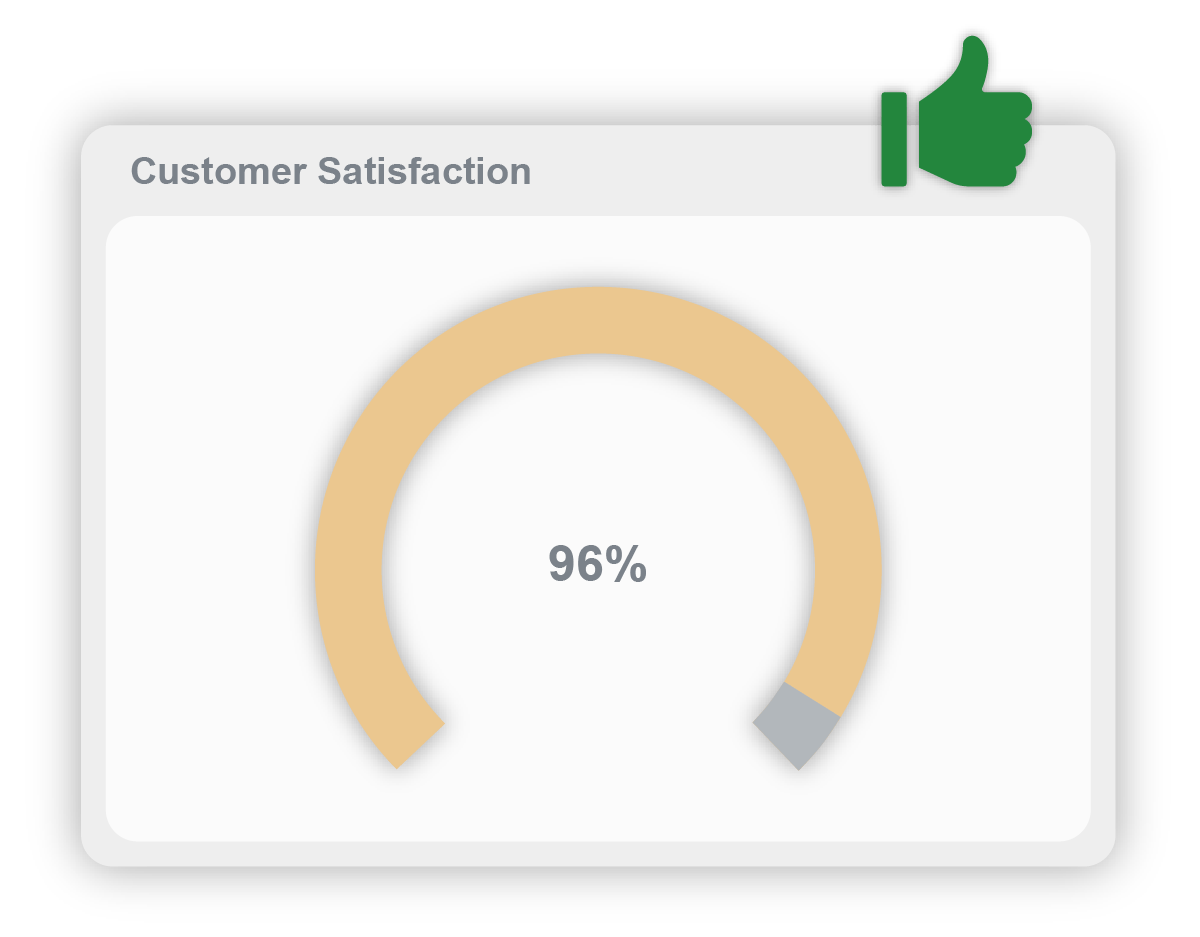 Our reports and dashboards also include
Finance reports

Commusoft's finance reports track estimates, expenses, purchase orders, profits, debts, sales, and more, so you can make the best financial decisions.

Job reports

Study every job your company has ever carried out in one report, and see predefined reports for jobs that are outstanding, free of charged, or terminated.

Profits

Examine our profit reports and get an in-depth look at which jobs are proving especially cost-effective, or not, for your business.

Parts and purchase orders

Parts reports show the number of parts installed within certain time frames, requested, ordered, and available parts, plus any parts due to be delivered.

Print and download

All Commusoft reports can easily be shared with your entire team and key decision-makers with options to print, download, or export to Excel.
Our reports and dashboards also include
Reports and dashboard FAQs
Reports software is a program that generates charts, tables, and graphs which can be used for analyzing business performance. A dashboard is a digital platform where this information is displayed.

Commusoft combines these into one easy-to-comprehend platform that generates and displays 40+ customizable reports and data filters.

Reports and dashboards is available on Commusoft's Customer Journey plan and higher.

Commusoft's pricing depends on how many licenses you need and which of our plans you choose. To see all of our pricing details and which features are included on which plans, check out our pricing page.