7 Essential Electrical Contractor Software Features
April 29, 2022 - Array - 8 minutes
Electrical contractor software is becoming a must-have for electricians all over the world.
After all, the future of field service is digital, and paper-based systems can't keep up anymore. While daunting, the time to switch is now – companies with electrical contractor management software benefit from organized operations, happier employees, and higher profits. 
Electrical contractor software has made leaps and bounds recently; now's the time to weigh your options. If you're unhappy with your current job management system, keep reading. We've gathered must-have features and valuable tips for how to choose the perfect electrical contractor software for your business. 
Let's walk through essential features to look out for! The best software for electrical contractors should include:
A Mobile App for Electrical Contractors
A reliable mobile app is essential for any electrical business. Staying connected to contractors, wherever they may be, is essential. Be sure to use a mobile app that supports both iOS and Android devices, can operate without a WiFi connection, and empowers electricians – not slow them down. A mobile app should fit into your workflows, not the other way around!
Further, the most powerful mobile apps allow for live technician tracking, so both office staff and customers can stay up-to-date on contractor location. Mobile apps need to be useful and powerful; they're the backbone of your remote operations.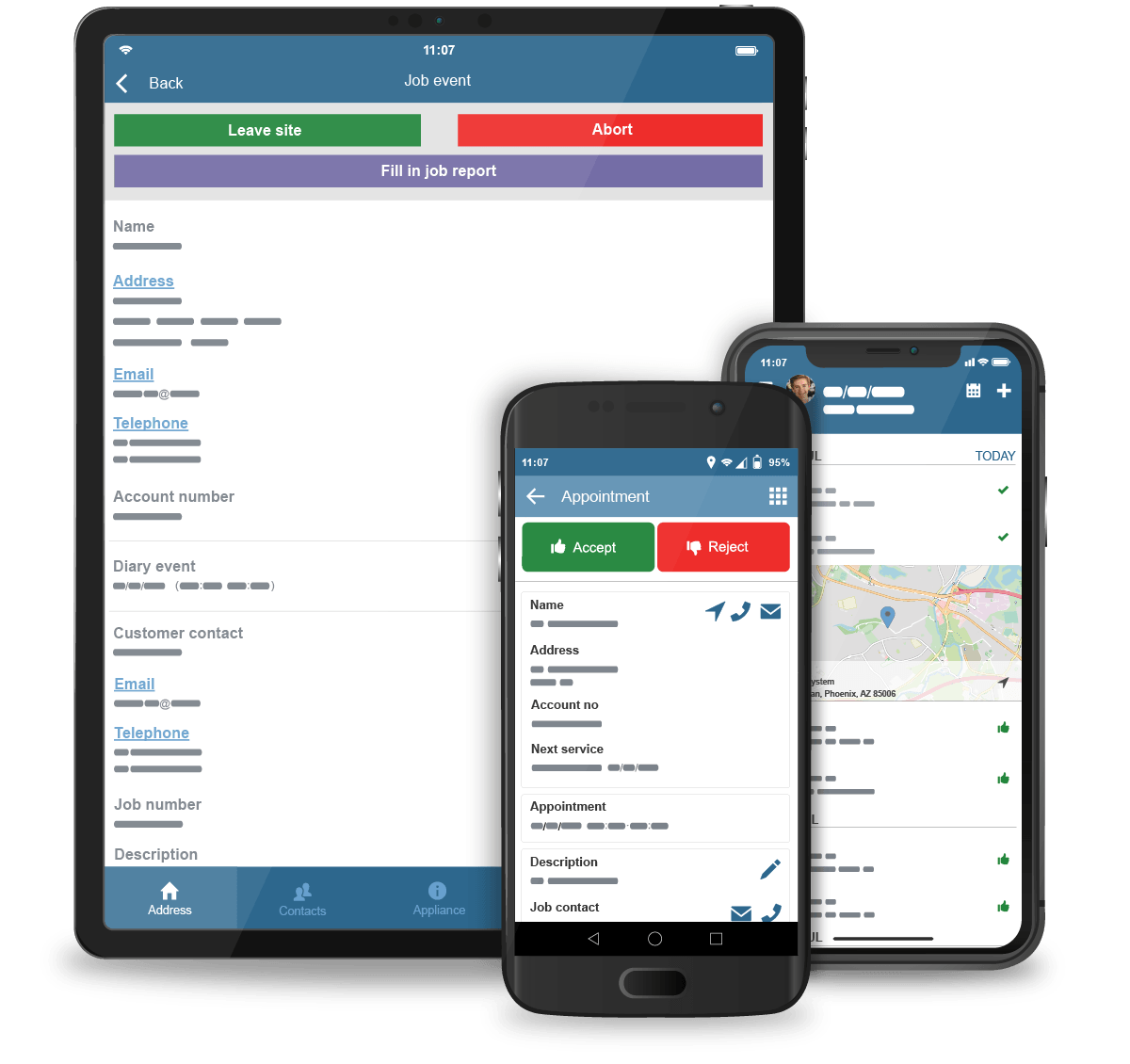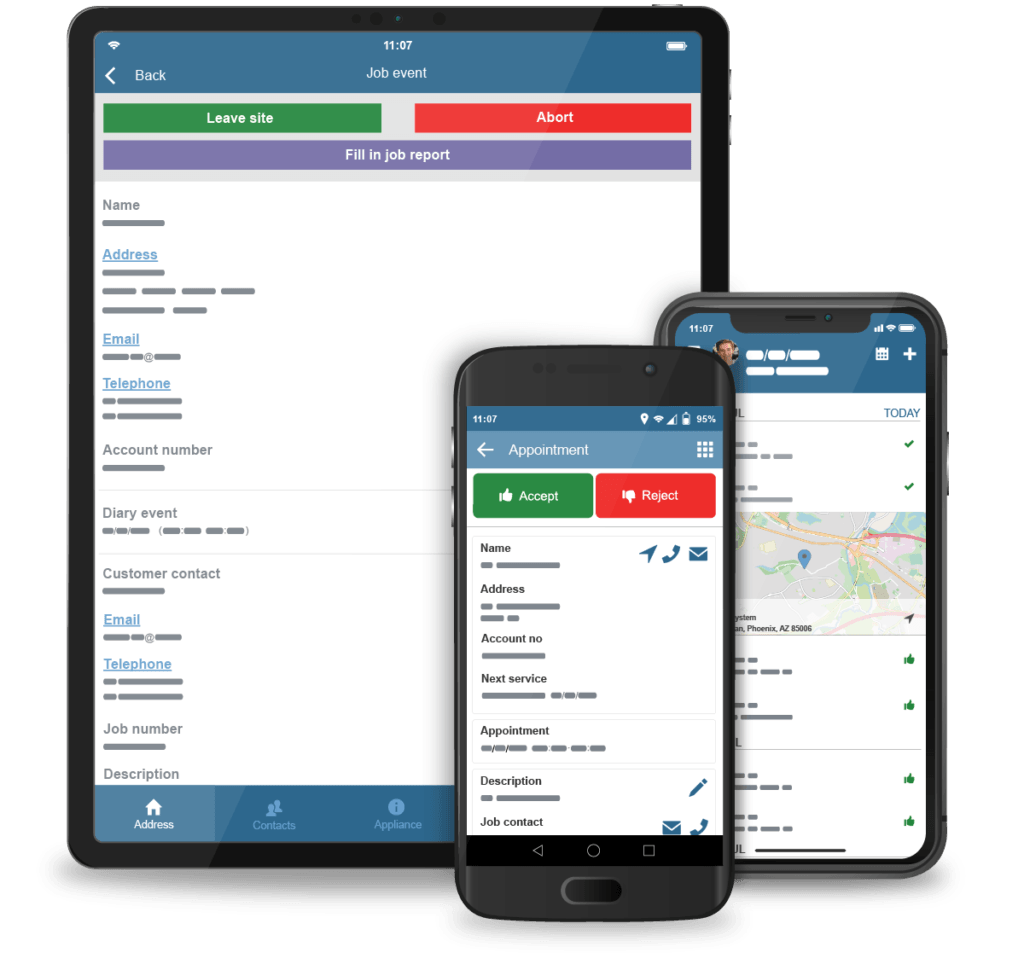 If you're ready to ditch paper: Think about your team; are they tech-savvy or do they struggle with technology? It's important that they like and want to use the mobile app.  
If you're switching electrical contractor software: Many mobile apps on the market have limitations. Weigh your current mobile app against others – do they have offline capabilities? What features are, and aren't accessible from your mobile app? Make sure you find a mobile app that supports, and strengthens your workflows. 
Electrical Contractor Service Reminders Software
Service reminders matter. They're an opportunity to book more repeat services, offer another layer of customer service, and boost your overall profits.
Timing is everything. It depends on the business – Your electrical contractor software should allow you to send reminders one week before, three days, on the day itself – whenever is best for you. This helps your customers keep their appointments top-of-mind, reducing situations like no access jobs. 
Automated service reminders streamline this process even further. With automation, service reminders can be sent based on unique parameters like timing, and can be sent with custom messaging, or by specific source, like email or SMS message.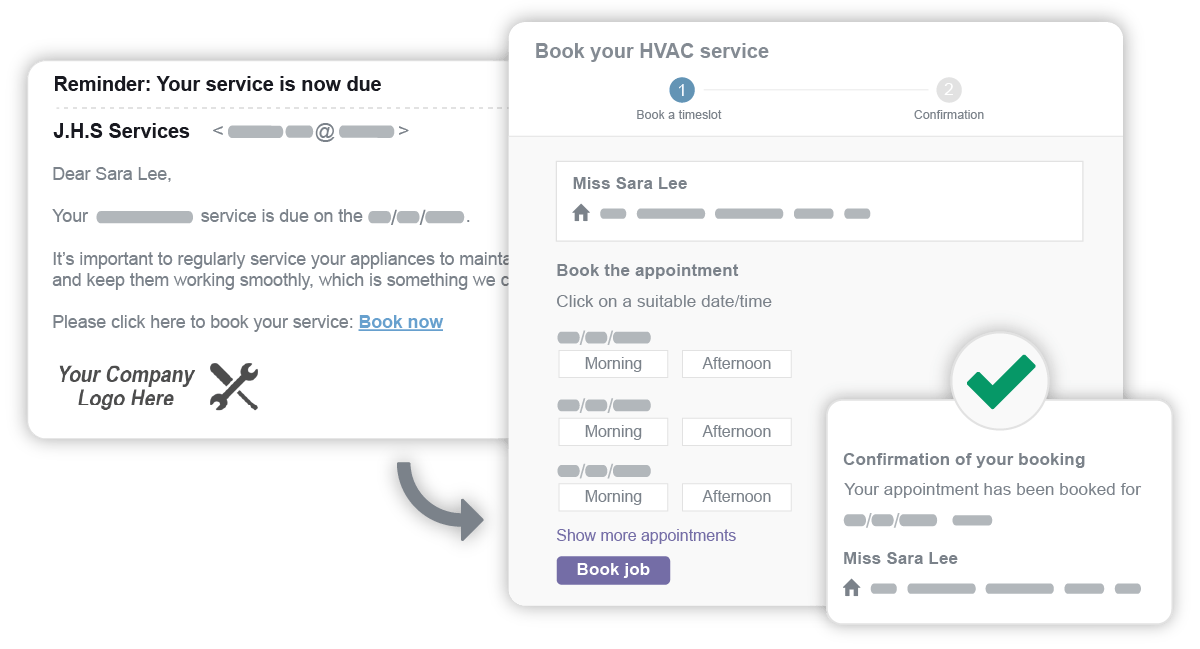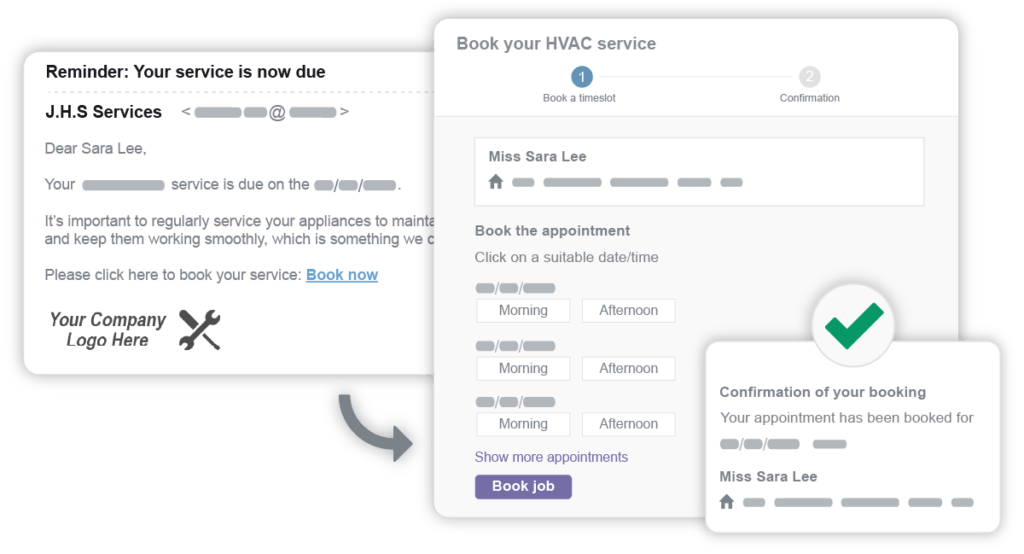 A tip for moving away from paper: Your software solution should be just that, a solution. Make sure your team can quickly create and send reminders whenever they need. Think about what your office team can do instead of manually creating and sending service reminders. 
A tip for moving to a new software: See how a new solution can streamline the process even further. Look into customizations, personalization, and automation; how can these perks help your business?
Asset Management Software for Electrical Contractors
Memorizing records should be left in the past. It's inefficient! Handwritten notes are inefficient too – they're easy to lose and are difficult to share with team members in a pinch. This is where asset management software shines. An important part of an electrical contractor software system, it helps technicians keep track of unique appliance details. This includes the name of the appliance, its make, brand, model. The best asset software allows electricians to note installation date, who last worked on the asset, and location on the property. 
This workflow reduces asset downtime and centralizes data. When someone leaves the company, or is on vacation, technicians can always have the information they need, when it's most important.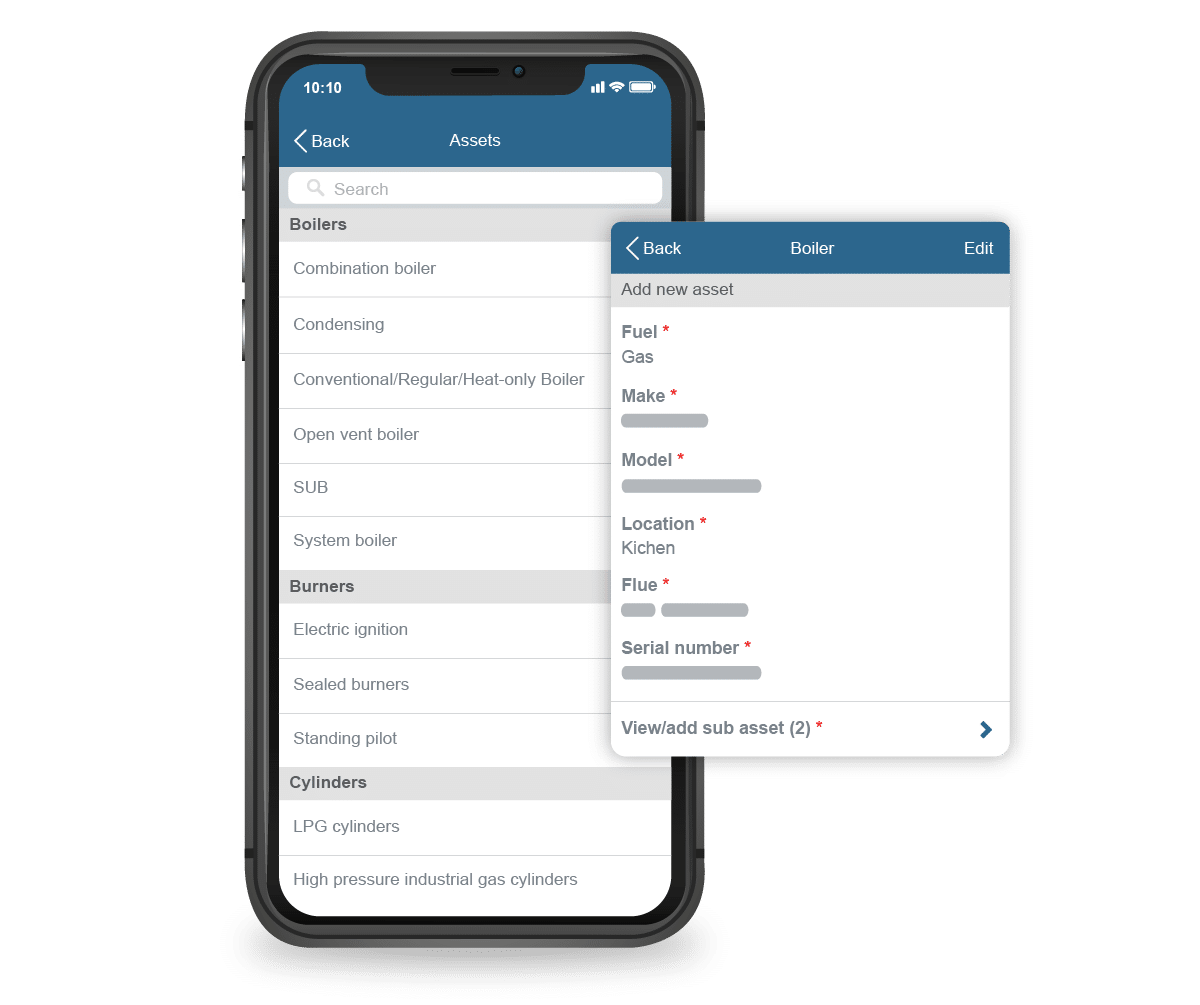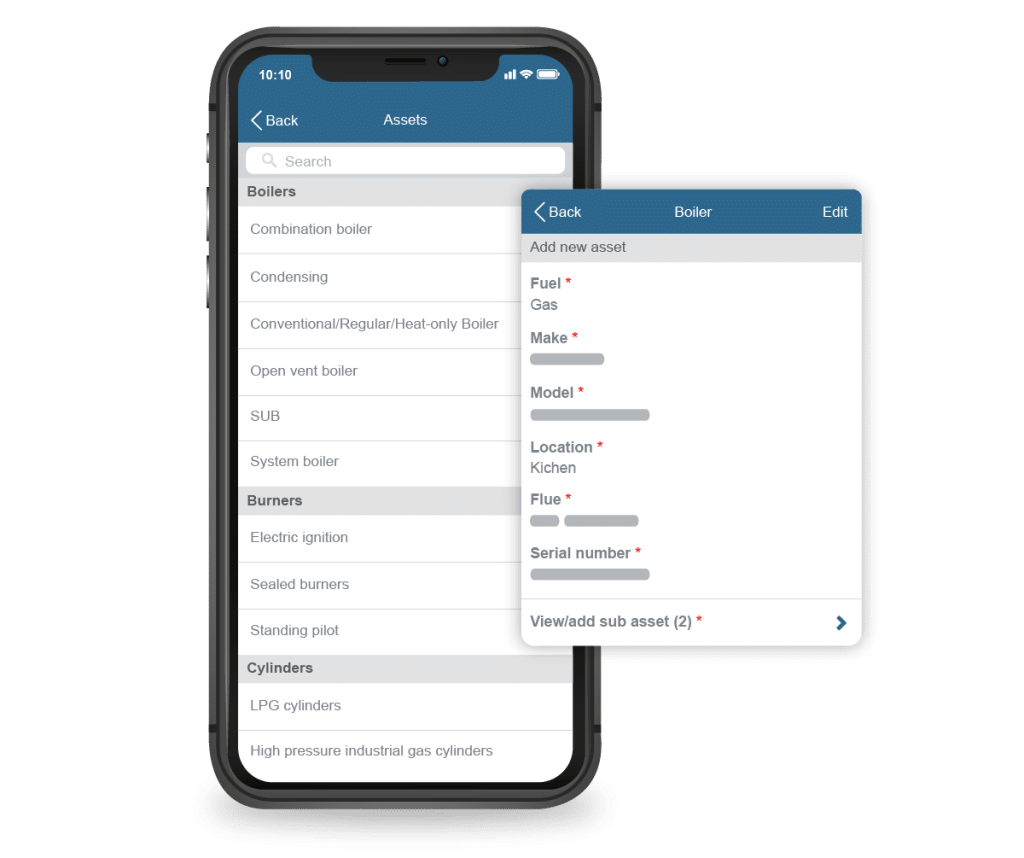 If you want to go digital: Digital asset tracking software should speed up your team's reaction times. Make sure the asset management solution you choose allows your electricians to get to work straightaway. They should be empowered, not held back. 
If you're looking for a new electrical contractor software: What information and asset details is critical for your electrical business? Be sure to use a software that lets electricians easily add, and find, data from the job site. 
Electrical Contractor Parts Management Software
I'm sure you know, electricians order and install a large variety of parts. Whether it's rolls of wiring, custom-made lighting fixtures, or electrical boxes, a digital parts management system keeps your entire team on track. Your contractors should know whether or not certain parts are in stock, and your office staff should be able to incorporate specific parts into job records, and invoices. 
The best parts management systems, like Commusoft's, offer a parts database, an option to create custom parts kits, and allows teams to record multiple prices for one part. With relevant parts data in one place, teams can accurately track expenses and performance.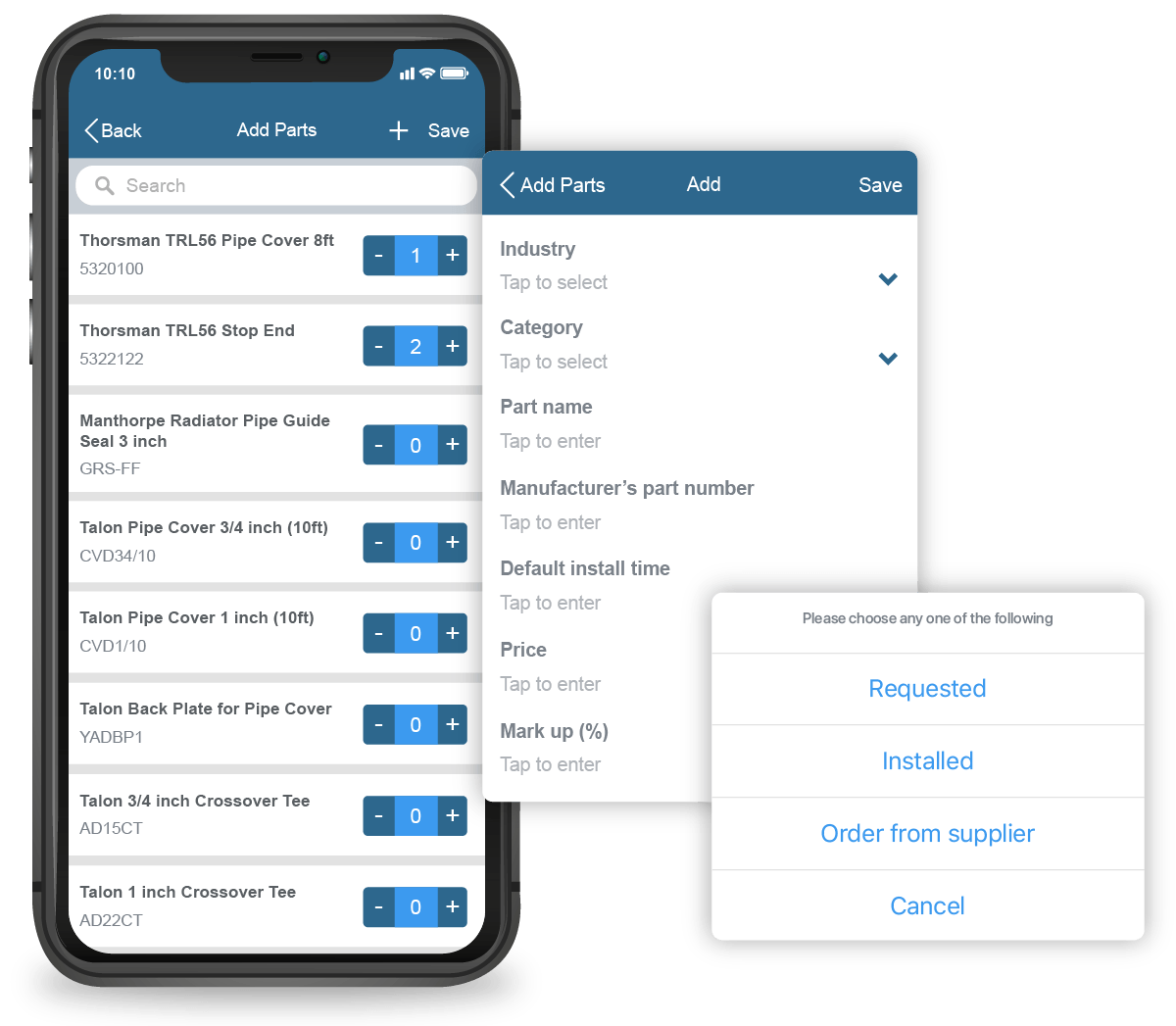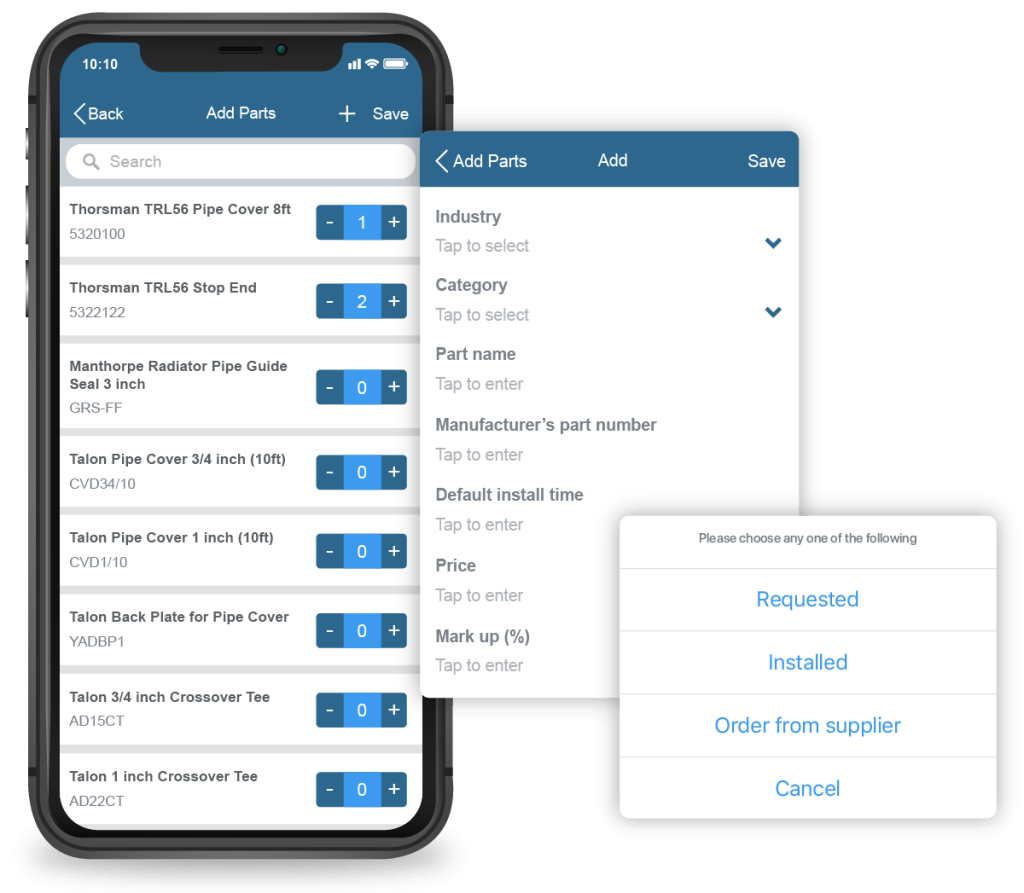 Done with paper? Customization and flexibility is important for a parts management system. Breaking away from paper based workflows means your team can better organize their days,   
Here's some software advice: Consider how your parts management software can further optimize operations. Can your team currently track expenses, parts in stock, and varying prices on-the-fly? Make sure your parts software can handle what matters to you. 
Custom Forms Software for Electrical Contractors
Custom forms may not be an obvious feature; but it's an important one. Custom forms software helps electricians capture important job data from the job site. This includes industry standard electrical forms, custom safety forms, bespoke employee checklists, and more. 
Custom forms should be easy to create and easy to complete from the field. Further, they should be saved against unique customer records and jobs. Electricians all around the world benefit from customizable forms – make sure your team does too.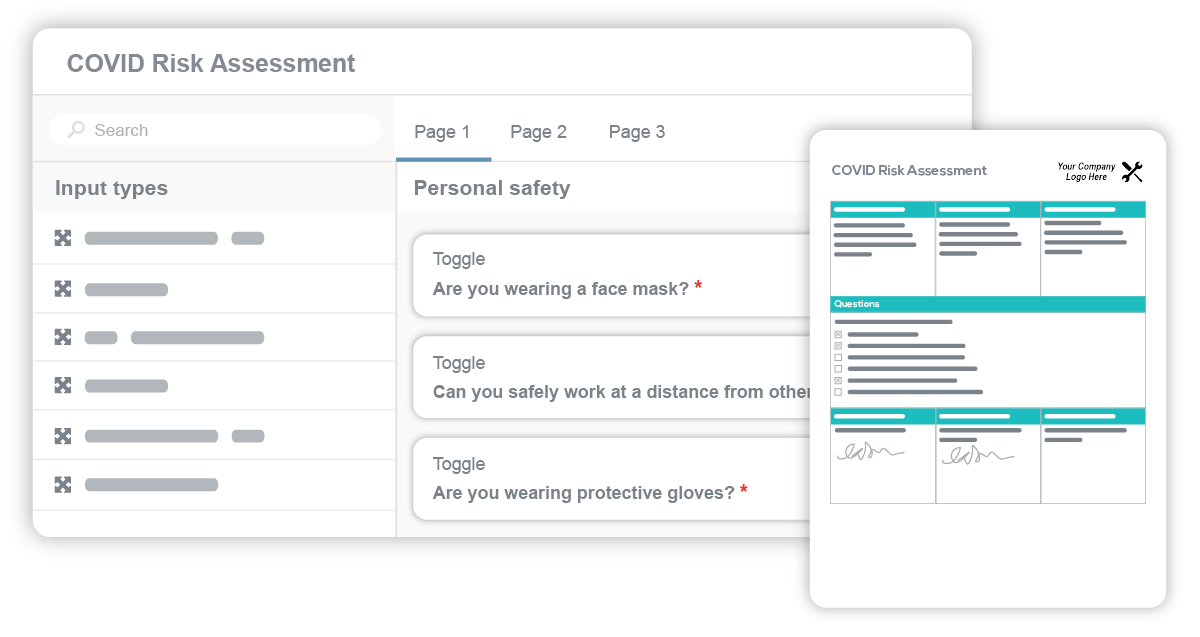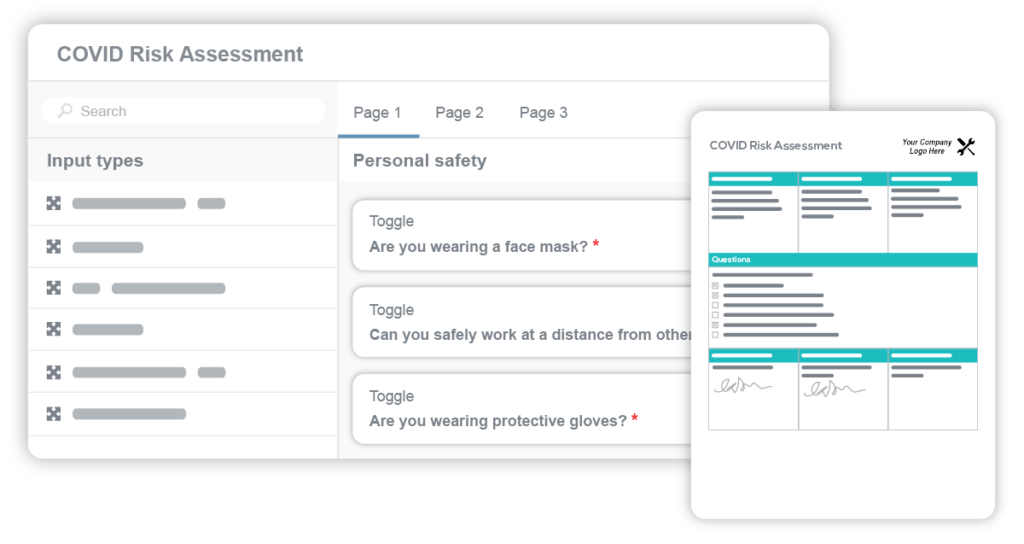 Leave paper in the past! Every second in the field counts. The faster your electricians can complete forms on site, the quicker they can complete jobs. 
Tired of your current software? Look for a custom forms solution that automatically time-stamps documents when they're completed – this way you'll be sure your electricians are filling out forms when they're supposed to.
Electrical Contractor Invoice Software
Invoicing might be the important part of any job – after all, it's essential your team gets paid for their services. This is why you should pay extra attention to the invoicing features your electrical contractor software includes. 
Digital invoices make it easier for customers to pay, meaning your team can get paid quicker. Make sure your electrical contractor software includes the ability to customize line items like labor rates and parts, create different invoice types like consolidated or deposit, and integrate with accounting software like Quickbooks. 
Personalization keeps you memorable. Your invoices should be branded with your company's unique colors and logos. 
Automated invoicing is a real time-saver. These invoices are sent as soon as technicians mark a job as complete. Invoicing should be flexible – allowing either office staff or technicians to invoice customers.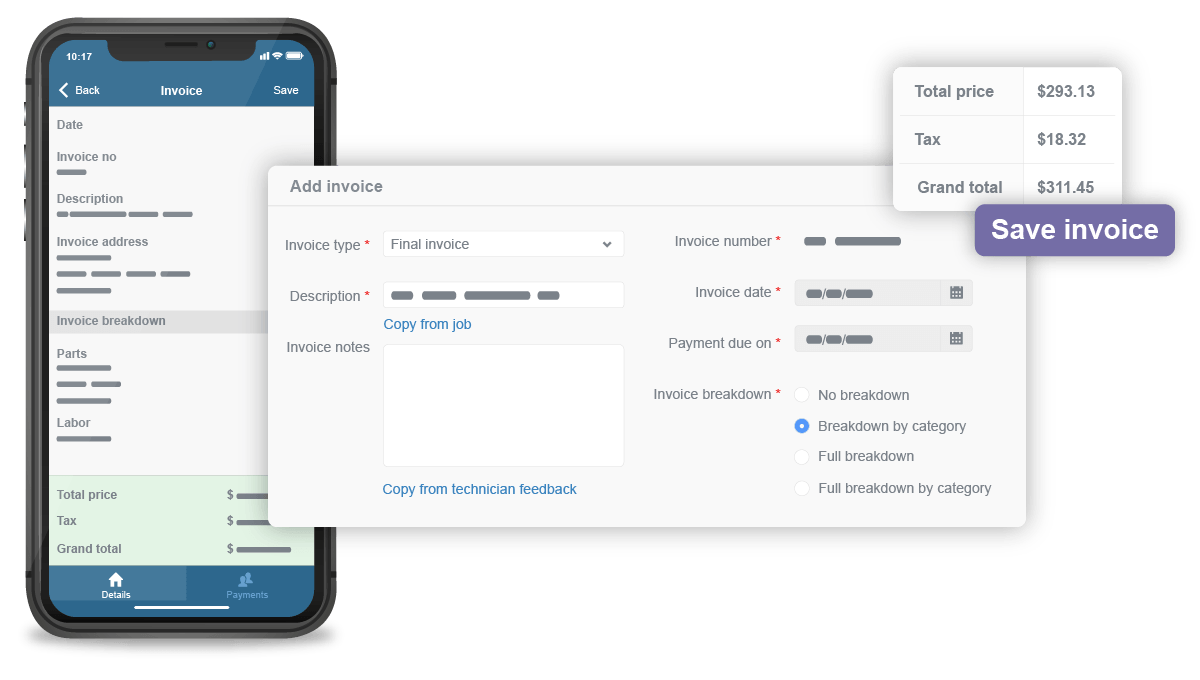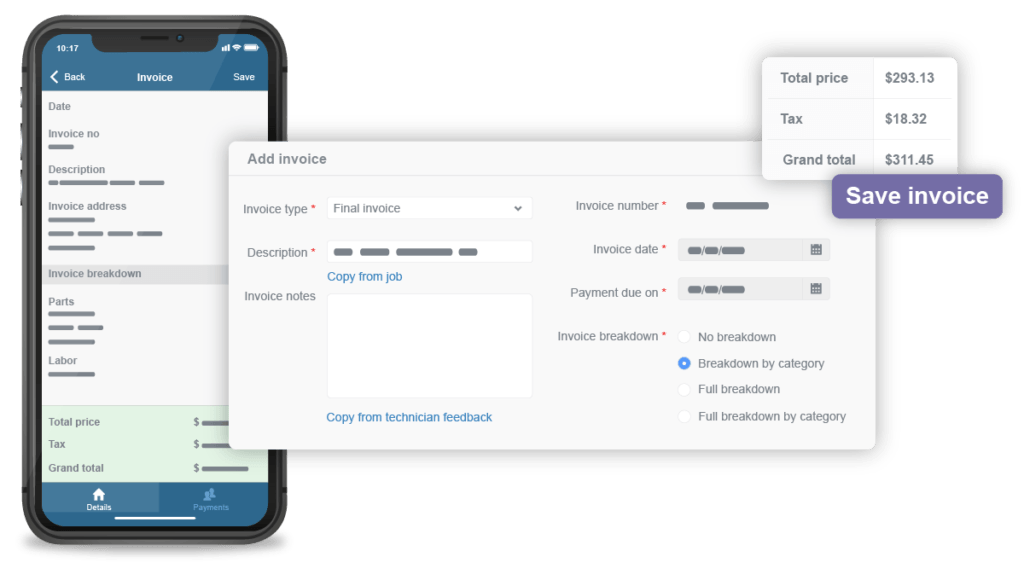 Ready to go digital? Invoicing shouldn't be another headache. Be sure to find a solution that lets you track unpaid invoices, so you can give customers a nudge. 
Here's a quick software tip! Consider your current time spent on invoicing; minutes can be cut to seconds with automated invoicing. 
Accounting Software for Electrical Contractors
Finances matter to any electrical business. Whether it's invoices, parts, or payroll, being in charge of your numbers is essential. Software integrations make your office team's lives easier. Overall, they increase productivity, meaning your admins can accomplish more each day. Integrations also make it easier to make business decisions. Managers can be confident in their choices with data stored in one place.  
Whether your business uses Quickbooks, Xero, Sage, or more, the electrical contractor software you choose should be strong enough to support these programs.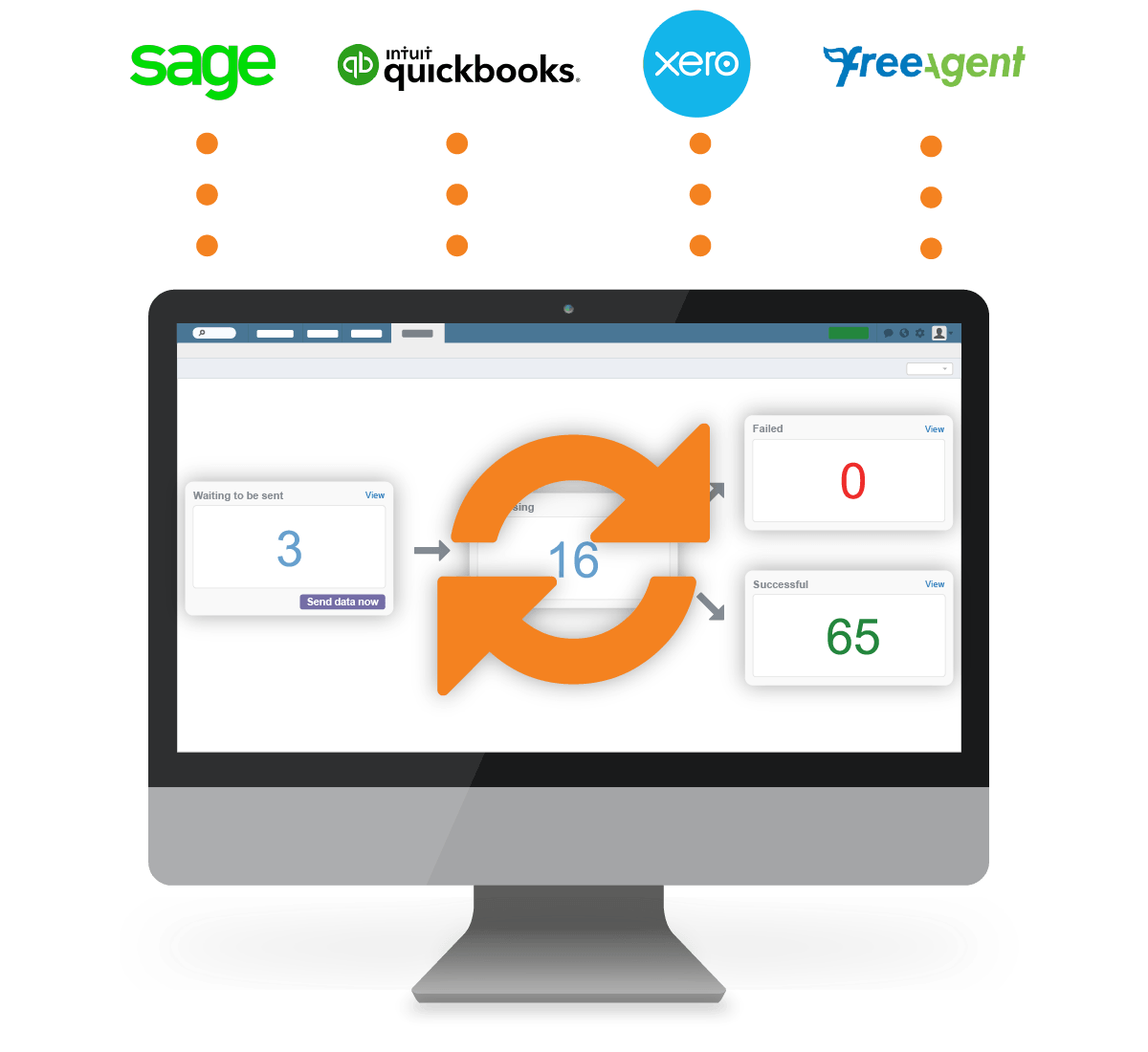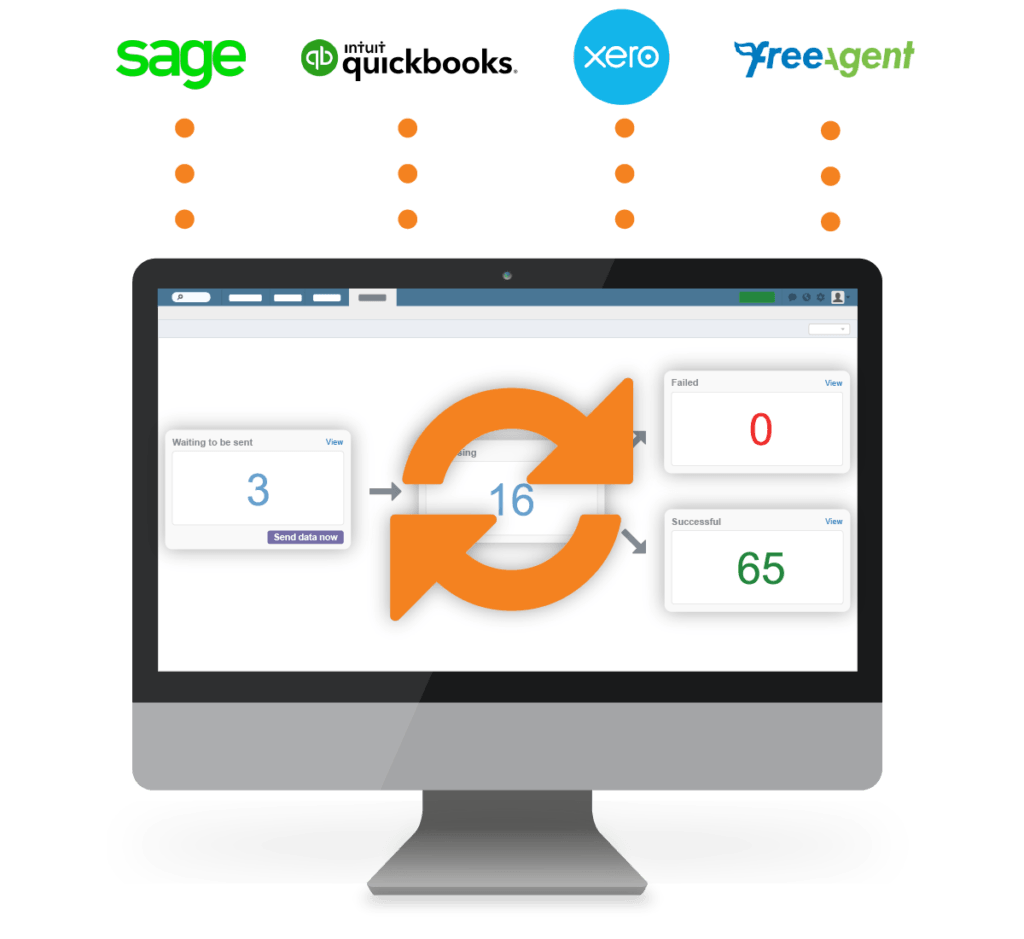 If you're tired of paper-based operations: Take a deep look at the electrical contractor software you're considering. Do they offer the integrations you need? It's inefficient to use your job management and accounting system separately! 
If you're looking for a new software: Look at reviews of the software you're looking into – what do users think about their integrations? 
Let's wrap up! 
Electrical contractor software is already a regular part of the electrical industry. Whether your business is big or small, new or old, committing to an electrical contractor software is difficult. But it doesn't have to be a painful decision! Digitizing workflows and making our clients' lives easier is what Commusoft does. We're here to help electricians like you make the transition easy!
Our job management platform can do everything listed above, and so much more. Commusoft helps electricians control the growth of their businesses, impress customers, and save money in the long run. Further, we understand many electrical businesses have unique operations; our pricing plans are flexible – we offer daily, rolling, and contracted licenses. 
Learn more about Commusoft's electrical contractor software, or, book a call with our team and transform your electrical business today!