How to Ensure Customer Satisfaction For Your Plumbing Business
April 27, 2021 | Read: 11 minutes
Being able to ensure customer satisfaction is one of the biggest drivers for successful businesses. After all, if someone isn't happy with your work, why would they rehire or recommend you? But, as any plumbing business owner or manager is sure to know, satisfying customers is almost never as easy as doing a great plumbing job.
With competition through the roof these days, "good" isn't enough: you have to go above and beyond to stand out. How? That's exactly what we're going to cover today.
Download your free customer experience checklist and get started taking your business to the next level!
Before we get to analyzing the how, we need to first look at the why:
1. Why should you want to ensure customer satisfaction?
2. How do you ensure customer satisfaction? By analyzing their customer journeys.
3. How to measure customer satisfaction in your plumbing business.
4. Give staff the tools to go above and beyond for the customers.
Let's get started!
1. Why should you want to ensure customer satisfaction?
For a plumbing business, it might seem like there's an easy answer: to make more money! Making a profit is a great goal for a business, we can't argue with that! But if money is the only thing driving you, then it's very easy to fall into various traps that actually end up losing you money: like cutting corners on tools, mismanaging employees, and disappointing customers.
When thinking of your "why", it's better to imagine the answer you'd be proud to give a customer who asks you "Why should I hire you and not the other plumber?". As you can see, in this case, saying "because I want to make money" won't work very well.
From a business point of view, Simon Sinek said it best: "people don't buy what you do, they buy why you do it". People get emotionally attached to every choice they make, no matter how mundane. This is why there's so much agitation when companies they like change their logo (Spotify's slightly greener green attracted quite the ire). Getting people to be emotionally invested in choosing to hire you is the best way to create a long-lasting (and, ultimately, profitable) relationship.
How do you create value? Well, first and foremost, don't devalue your services. Customers often like to make assumptions, so don't expect them to have the same understanding of what great plumbing work looks like; use that to your advantage to drive home the benefits you deliver. They might think it's simple, but it's not just quality plumbing or experienced techs that you can offer them, you also offer the security that their house will have hot running water all through the winter, for example.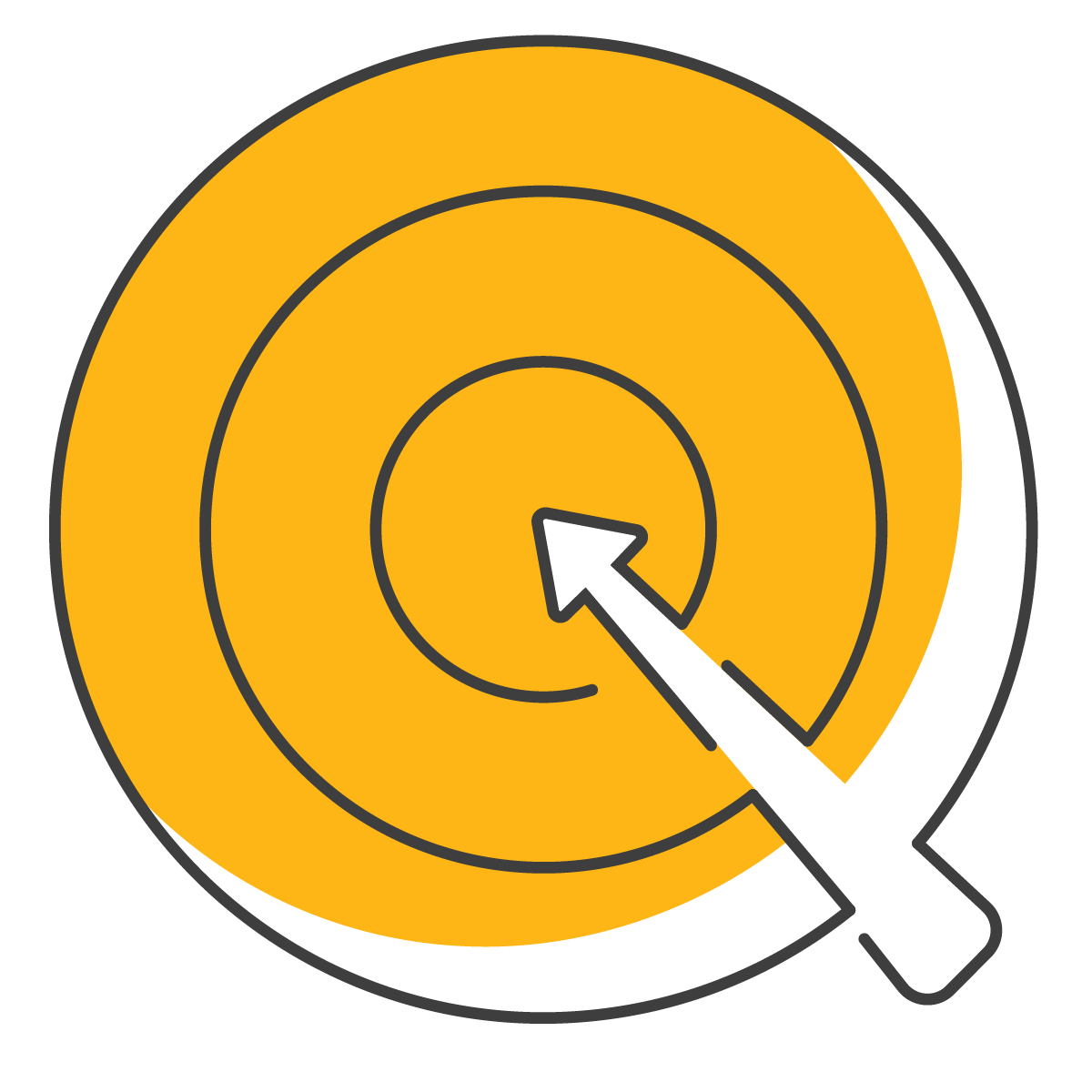 The "why" can be a difficult question to answer, and that's true whether it's personal to you, or the one you envision for your company. It's easy for this to sound a little cheesy, but think about it like this: slogans represent the work ethic of a company. Think of your favorite brands and why you like them. Why do you drink Coca-Cola and not Pepsi or the other way around when the product itself isn't all that different? (If you're a cola connoisseur, feel free to adapt this question however you see fit!)
Some potential answers for why customers should choose your plumbing business are:
You're a family owned company, as opposed to a generic corporation and you'll treat every single customer like they're the only one.

You're the new kid on the block and you're set to make a name for yourself by delivering the best and most modern service around.

You're the company who can deliver the convenience and peace of mind they need, from online booking portals, to technician tracking links and more.
As you can probably tell, the examples above are all based on emotion and the personal comfort of the customer, rather than offering the lowest price (which sets the expectation for cheap and unreliable) or the most experienced technicians (would your average customer even be able to tell 5 years of experience from 25?).
In the end, the customer is always going to be focused on themselves and what's best for them. This is why ensuring customer satisfaction should always revolve around making them feel like they're your top priority.
2. How do you ensure customer satisfaction? By analyzing their customer journeys
And we do mean their multiple journeys.
Identifying every step that a customer takes in order to complete a job with you is essential because to really wow customers, you need to smooth every possible point of friction until you reach a seamless process. One of the reason Amazon is so successful is because their 1-Click-Buy is a perfectly seamless buying experience. While it's not that easy to adapt it to the field service business model, you can still take your cue from the best around!
More often than not, you'll be surprised by what a customer highlights as less than ideal service. If you spend even a couple of hours looking at plumbing company reviews in general, you'll see that mentions of high prices and poor workmanship pale in comparison with complaints about tardy technicians, unresponsive admin teams, or lack of openness to feedback. And if you're struggling with reviews like these, be sure to check out this response template to help you sort out negative posts.
Think of it like this. Customers expect to:
Work with a company who communicates well

Interact with businesses who they feel they can trust to be on time and deliver quality work

Know a business has their best interests at heart

Trust that they will be asked for a review and their feedback will be taken seriously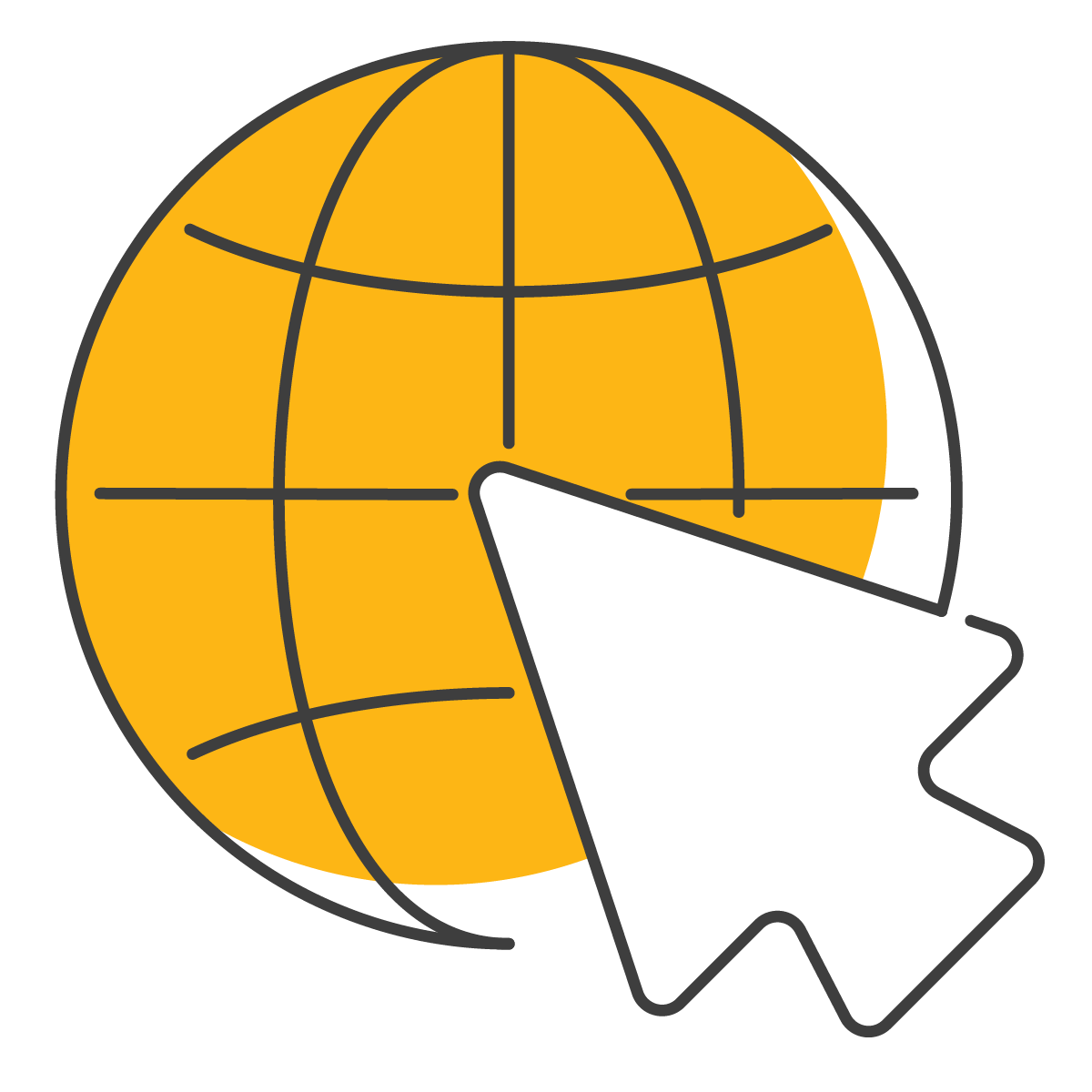 Expectations are high these days, and that's because great customer service has become synonymous with, well, service. That's because so many disruptors like Amazon or Uber raised the standard everywhere, not just in their specific industries. They didn't upgrade the product itself (e.g. Amazon is, essentially, an online retailer like thousands of others; Uber is a technology company with its hand in food delivery and taxi services) but they did enhance the way people access these services.
They made it incredibly easy, emphasizing convenience through small tweaks, like one-click orders and driver tracking. They then coupled these friction smoothing details with excellent customer service, and, as a result, made billions.
Looking for more articles about field service software? Check out the full category here!
It's because big businesses have invested so heavily in making interactions simple for their customers that expectations have trickled down so that every service needs to behave in a similar way. Quick access, smart booking, easy payments, responsive customer service, and more, some of it without any human interaction, have become something smaller businesses need to implement so that they can compete in a crowded space and put themselves ahead.
The CX Lead reports that: "74% of consumers will ditch a brand if they find the purchasing process to be too complicated." To build on that: "we all know it's much easier and more costly to lose a customer than to gain one" (HSO Innovation), but by paying attention to the finer details and addressing the basic needs of your customers, you can encourage them to stay.
At Commusoft, we refer to these touchpoints as "customer journeys" and we've seen that businesses who take care of these journeys (be it through things like payment portals, booking confirmations, automatic invoices, or improved contact options) find success. Just check out the graphic below for some notable stats: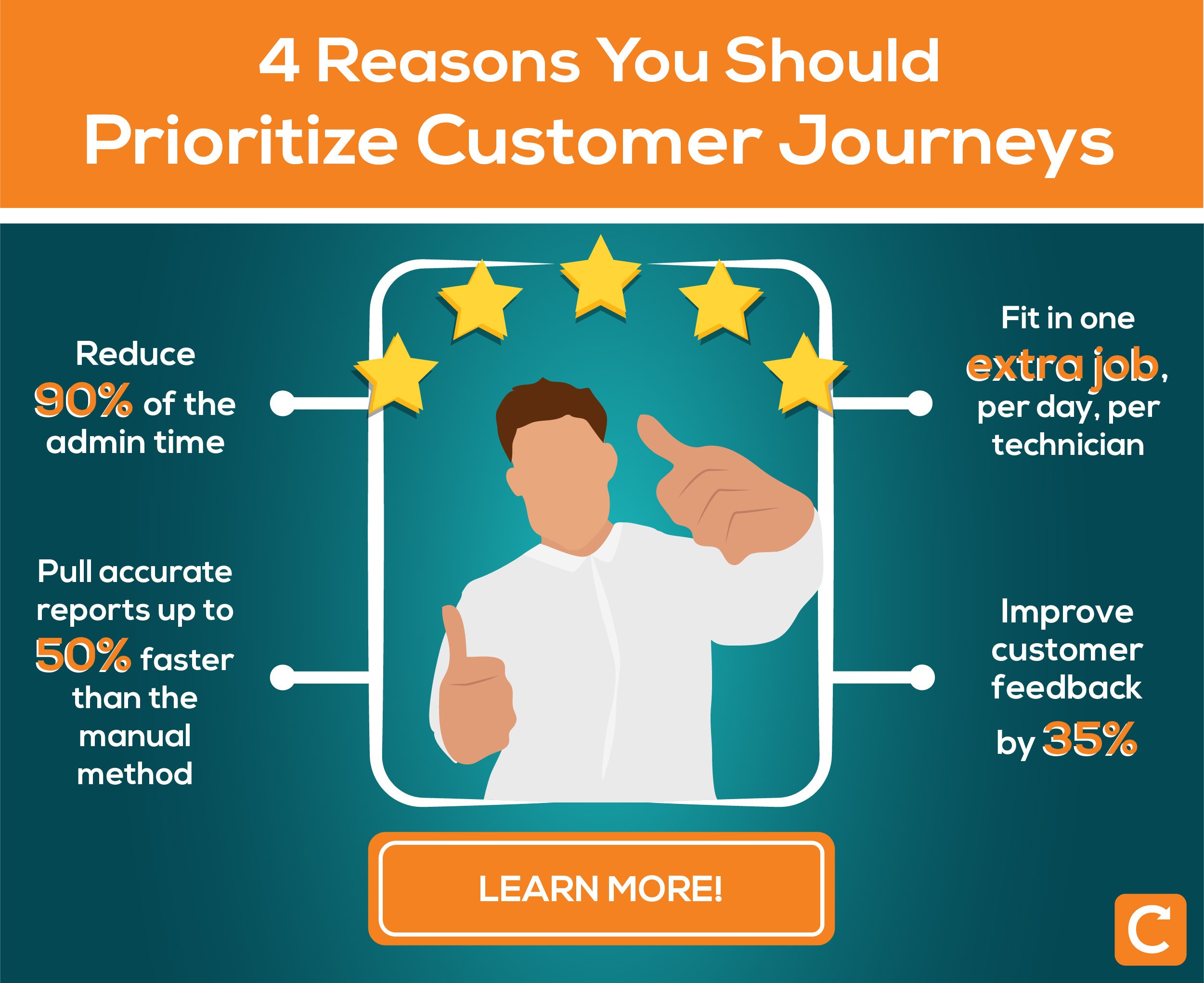 Applying this framework will allow you to identify where weak points may exist in your business and even how you might unintentionally be chasing customers away. If you find friction, then it's time to smooth it away! Whether you do this by implementing a 24/7 online booking portal, or allow people to pay on the spot when a tech visits their home, the idea is to make it as easy as possible for customers to complete their buying journey with you.
3. How do you measure customer satisfaction in your plumbing business?
The question we hear most is "How do I know what my customers want?" and we always have the same answer: "All you have to do is listen." To what? Well, to the Voice of the Customer (VoC).
This is a process where businesses compile everything customers say about them, from reviews, to social media mentions, to suggestion forums. Then they take this information, compare it with what they're currently offering, and deduce the gap between expectations and actual experience.
The first step in your VoC strategy is to know where to listen. There are a number of places you can go, but the first is perhaps the most obvious, and most useful:
Review sites

Social media channels

Net promoter score

Interviews & focus groups

On-site feedback forms

Calling customers to discuss their experience
Learn more about each of these channels in our guide on listening to the Voice Of The Customer.
After gathering your data from any of the channels above, you need to set a benchmark in order to measure precisely how satisfied customers are with your plumbing business. Whether it's always staying above 4.5/5 stars in reviews, or calculating a net promoter score, it's a good idea to base this on a metric you can quantify and assign a number to. This will make it easier to track success in the future and act as an alarm bell in case you're falling behind on customer satisfaction.
4. Give staff the tools to go above and beyond for the customers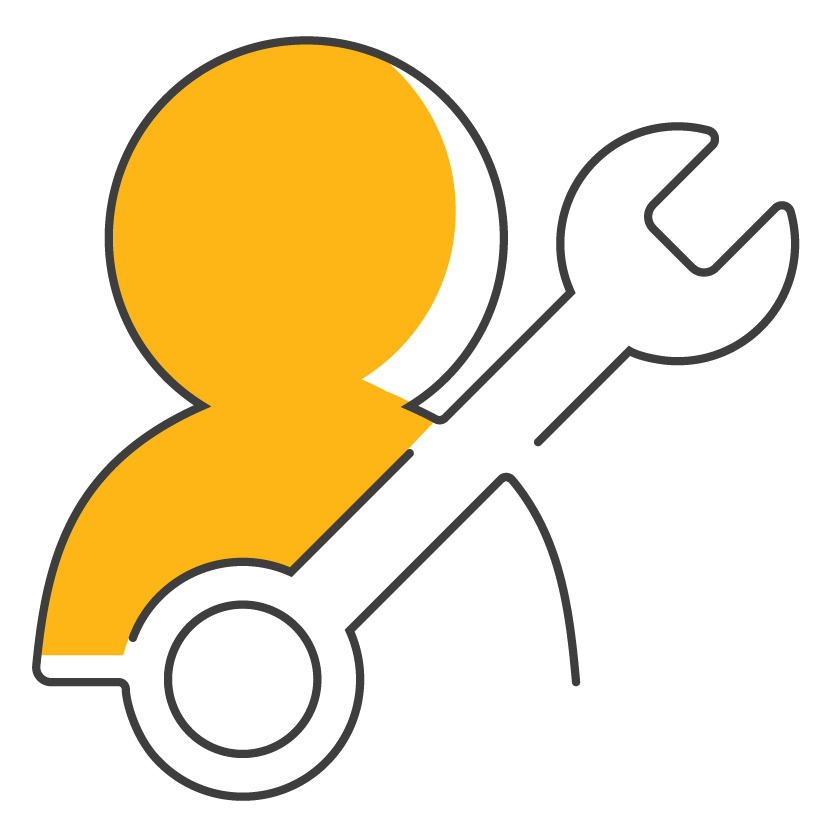 When it comes to ensuring satisfaction, you want your staff to be in the best position possible to interact with customers. Interactions may be going increasingly digital, but face-to-face will always play a big role in field service work, and your employees' soft skills are a major player in ensuring quality is consistent.
Whether they're working online at home, out in the field, or in the office, everyone in your business should know the best way to get their respective jobs done on time. This is where your management software comes into its own:
And these barely scratch the surface of what good software can do for your employees and your business. Software helps them communicate faster, smarter, and more efficiently by reducing manual input, as well as human error.
Check out the best dedicated Plumbing Software you'll ever find!
It all reflects on your customer satisfaction. Quick responses make a person feel important and increases their trust in your business's capabilities. If your staff are able to deal with issues faster because information is readily available, actionable, and syncs up in real-time, then everyone stands to benefit from these simple adjustments.
This will make them happier and more productive, which in turn can give the customer a positive boost too!
The takeaway on ensuring customer satisfaction for your plumbing business
At the end of the day, what everyone wants to feel is special. Software and good processes can only take you so far, but if you don't prioritize the customers in your attitude and work ethic, ensuring satisfaction will definitely be a challenge.
On the other hand, if you're motivated and ready to make customers as happy as possible, then we've got all the resources to support you right here. Check out these 12 ways to personalize the customer experience, all in a neat infographic you can download below!