How to Create a Project Proposal
August 25, 2022 - Sales - 13 minutes
This blog on How to Create a Project Proposal is available via audio. If you're not in a reading mood, just press play!
Every trade business has a different way of approaching its proposals. Figuring out how to create a project proposal is no easy task – but taking the time to listen to your client, craft a formal proposal, track the progress, and persuade your customer's decision will often yield successful results.
While sending out proposals is only one aspect of a business, they hold a lot of weight when it comes to securing and growing your client base.
Keep reading to learn everything you need to know about how to create a project proposal!
Table of Contents
What is a Project Proposal?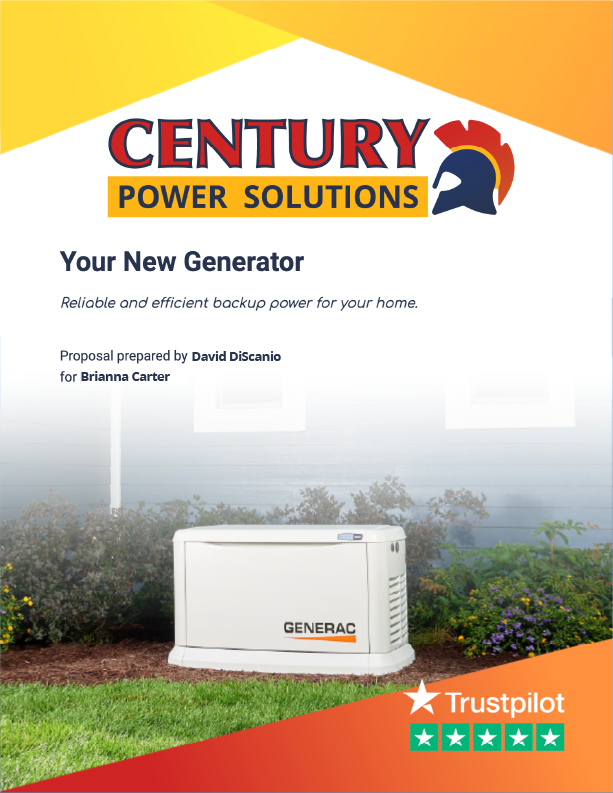 Before we dive into the different types of project proposals, let's define what they are!
Project Proposals are a document that presents the specific details of work or service that is requested by a potential client.
There are many different types and knowing which to use to create a project proposal will help you win over more clients consistently.
The Different Types of Proposals
Solicited and Unsolicited Proposals
Solicited Proposals are sent when one of your clients inquires about work. When returning a client's request, the proposal must be thorough and thoughtful – as they have most likely sought out more than one provider.
Remember: you need to work within the regulations and requirements that the homeowner or project manager requests.
Unsolicited Proposals are made when a commercial client or organization opens up a request to the public for proposals. There is usually heavy competition and it will be necessary to do research and make a compelling proposal based on the requirements if you want to get selected.
Projects that request unsolicited proposals tend to be larger and could require specialized tools and a team to complete (ex: a government entity needs a new park and surrounding area to be managed and constructed). If you're looking for even more information on how to bid for contracts, take a look at this article.
Renewal Proposals
Renewal Proposals are commonly used to remind past commercial clients that they are due for a recurring service.
This doesn't always mean that the service is confirmed to take place, but it can give clients the nudge they need to renew and schedule a date for when work will take place.
Here's a tip: when writing a renewal proposal, touch on positive results from previous projects and highlight the benefits customers will receive if they complete a recurring service with you.
Informal Proposals
Informal Proposals are used when a client makes an informal request (ex: an email or text) for an issue that they need resolving. They can also be referred to as an estimates or quotes.
In this scenario, it's usually okay to respond with a less formal document that gets the conversion started about potential work. With an informal proposal, you can offer a few different options, as the client might currently be shopping for the lowest price. Informal proposals are a good way to get a conversation started and see if your business can offer what the client hopes to pay.
Continuation Proposals
Continuation Proposals are used to provide updates to the client and let them know that the work is in progress.
This type of proposal is not used to persuade a client (since you already have their business), but to communicate what work has been completed and what else needs to be done.
Some clients may not request updates throughout the service, but it's good practice, as it demonstrates a high standard of work and will provide you with a paper trail in case of conflict. You may also need a continuation proposal when working on a large project for an extended period.
Supplemental Proposals
Supplemental Proposals are needed when you are working on a project and have to ask for additional funding or resources.
Depending on the agreed-upon terms of the contract, this may need to be a persuasive proposal in order to not lose out on any possible revenue.
When drafting a proposal, it's important to remember your objective and audience. Don't overcomplicate them with extra information and make sure you use consistent formatting and language across all documents you send out. Always double-check the proposal and make sure it's free of errors before presenting it to the client. Don't put yourself in a position where you have to call a potential client and tell them you forgot a digit on the price.
When learning how to create a project proposal, you'll most likely use all the types mentioned above. You can mix and match the types of proposals as needed – as long as you know your client will respond positively to it.
The Five Steps to Writing a Project Proposal
There are five important steps to create a project proposal that consistently outperforms the competition.
1. Executive Summary
Most of the proposals you send out will begin with an executive summary. This can include:
the history of your company and the expertise your team has within the industry
a brief description of the proposed project
the impact or importance of the work you're completing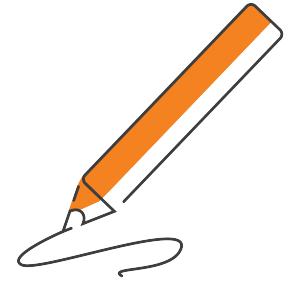 Try not to use too many details when writing your executive summary, you'll have room in the rest of the proposal to lay out the specifics clearly. But don't forget to add your company logo and information, as branding is important!
As it's quite short, remember that attention-grabbing language will help you stand out from the competition. And also that relationships are key; the best executive summaries build trust with potential customers.
2. Project Overview
The next step in creating a proposal is to include a project overview.
In this section, you'll be breaking down the project you're planning to complete. This is a great opportunity to showcase your achievements; you can outline how your team handled similar jobs and how you would approach this one.
Want to add more than one solution to the request? You can present the research you've done and the different options a client might have to resolve the inquiry. If there are any additional risks that the project may present, bring them up here and use language that won't scare the customer off.
3. Solutions and Deliverables
While you may have touched on the impact of the job you proposed in the project overview, the solutions and deliverables section allows you to further detail how it will solve the problem at hand and prevent any further damage.
Use this space to discuss what will happen after the project is complete and how customers can take full advantage of their new appliance or service.
Here's a tip: if you recommended multiple solutions in the project overview, talk about the specific differences between them. After all, they'll likely have different uses and price points.
4. Budget and Financial Information
When potential customers request a proposal, they might have an idea of the scope of work, but they're also looking to compare prices across the local market.
This is why a business should offer a good, better, and best pricing model.
Of course, this won't always be possible. Sometimes there's only one part or solution that's necessary, but if you can present multiple options to the customer for other works, they will feel more confident in their decisions and are more likely to move forward with the transaction. In the Budget and Financial section of your proposals, you can more clearly lay out the costs and rates for the aforementioned work.
5. Conclusion and Additional Documents
Last but not least, your proposal should have a conclusion and section for additional documents or attachments. Here you can tie the steps mentioned above into one quick paragraph that gives the reader a summary of the entire proposal.
If you're sending the proposal electronically, you can include any additional attachments or add photos to provide visual examples for your client.
Following these five steps will help you create a proposal that showcases your company, informs your clients, and persuades them to choose your service over a competitor. Creating and sending out proposals is only the first step, keeping track and following up on them is just as important.
Tracking the Stages of a Proposal
Keeping track of your proposals is the same as saying keeping track of your potential opportunities or clients. If you don't have a system in place to send out and manage your proposals, you could be missing out on potential revenue.
After the initial inquiry has been made and the field survey has been completed, sending out the proposal promptly will help show the client you value their business and are equipped to take on the job.
Successful trades businesses track the status of their proposals and follow up with their leads. You'll have to follow-up if you want to win more business. Sometimes people may just forget to respond to the initial proposal if they are busy – but the first few days after your proposal are crucial, as that is when your clients will most likely make a decision (unless they need the service immediately).
If you don't hear back within a few days to a week, sending a simple and quick follow-up or email reminder will consistently help you convert more leads into sales.
Take a look below for an example of a follow-up email that would work well in most scenarios.
"Hello (Client Name),

I hope you're doing well. Have you had an opportunity to look through the proposal I sent on (date)? Feel free to let me know if you have any questions or would like to move forward with the project. Have a great day!"

Your email signature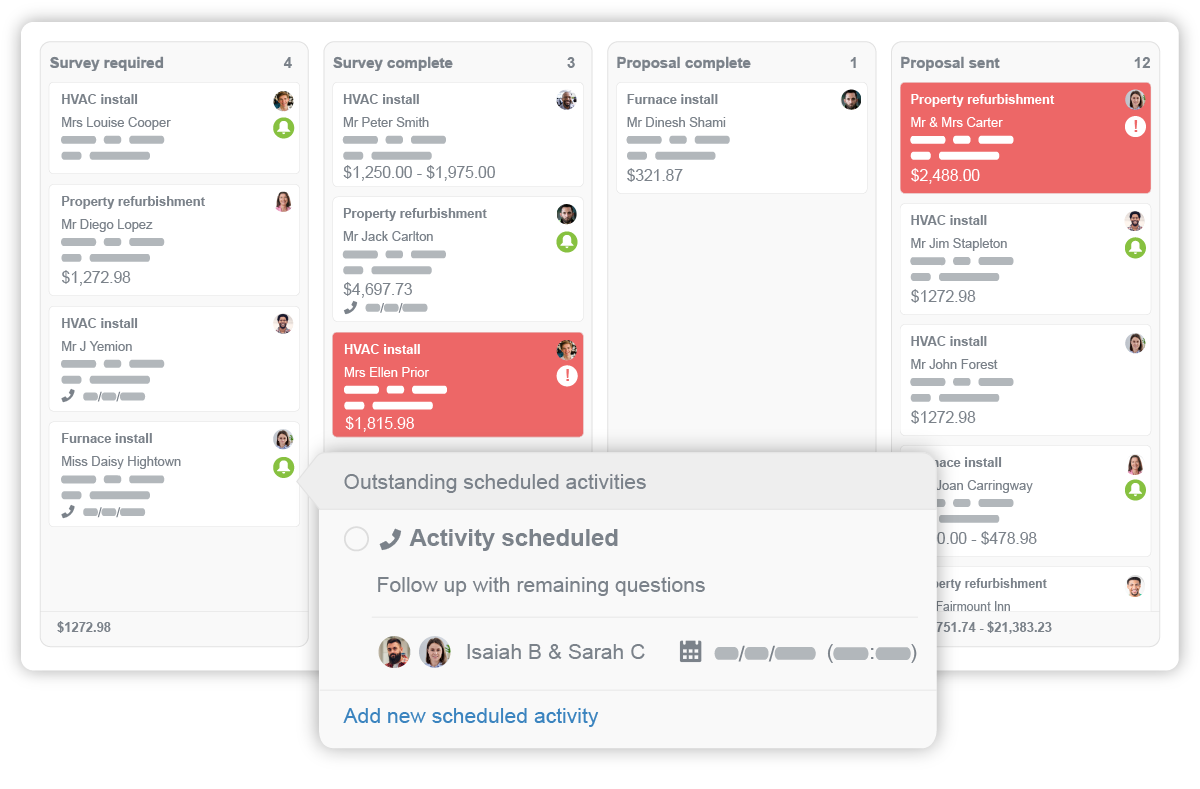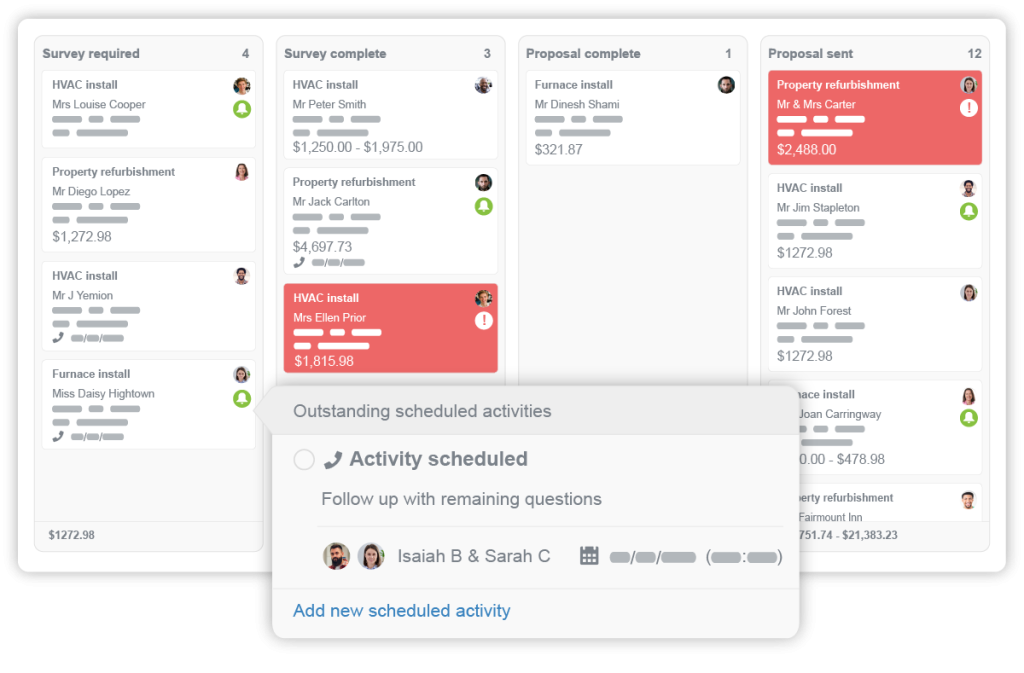 How to create a project proposal: Example Proposal for Pool Installation Proposal
If you're curious about the exact words you might use to create a project proposal – let's imagine a scenario where someone is looking to install a pool in their backyard. Not only are they looking for an inground pool installation, but they also want to upgrade the area surrounding the pool by adding a seating area and fire pit. Lucky for them, that's your speciality!
These potential clients disclosed that they have inquired with at least two other contractors – so the proposal will have to really sell them. Once you send out your team to survey the property and have received their report, it's time to create the project proposal.
Executive Summary:
(Company Logo and Contact Information)
The Pool and Yard Company has been operating in the Springfield neighborhood for over twenty-five years. We have been confidently transforming backyards into the personal paradises our clients envision for over two decades. We can always operate around your schedule and will go above and beyond the industry standards.
Your backyard project will include an inground pool installation, deck/seating area upgrade, and fire pit installation.
Project Overview:
When it comes to implementing the pool, deck, and fireplace, there are a few different options available to you. Depending on the size and shape of the pool you'd like, we can think about extending the deck and seating area, while adding a firepit adjacent to it. For some examples and ideas, please see the attached photos of recent work we've done in your area. We can generally complete a project of this size in three or four weeks (Monday-Friday), working eight-hour days.
Solutions and Deliverables:
After surveying your yard, we believe there are two options for the pool that would be best for your property. We could do a 20×15 ft pool with a new deck, seating area, and fire pit.
If you'd like more space in the yard or a larger deck, we can do an 18×12 ft pool with a new extended deck, larger seating area, and fire pit.
We can cater both of these options to your exact specifications – and will sit down with you to come up with a detailed plan that you approve before starting any work. After the project is complete – we can offer you a summer of half-off pool cleaning thanks to our partnership with (local company name).
Budget and Financial Information:
Since there are two different possible options for the pool size, the price will vary. Take a look below for a breakdown of the pricing based on the options.
1. 20×15 Pool: $75 per square foot x 300 sq. feet = $22,500
2. 18×12 Pool: $75 per square foot x 216 sq. feet = $16,200
1. Deck Upgrade and Seating Area = $1,200
2. Extended Deck Upgrade and Seating Area = $1,700
1. Fire Pit and Stone Walkway = $400
2. Fire Pit with Stone Walkway and Garden = $700
1. Project Total: $24,100
2. Project Total: $18,600
Conclusion:
Overall, the Pool and Yard Company would be delighted to help make your dream backyard a reality. A new pool, deck, seating area, and firepit would be a great addition to your house and raise the property value! If you accept this proposal within the next five days, we can offer you a 5% discount on the project total. Please take a look at the attached photos and reach out to us with any questions or to get the project started.
Knowing that the client initially put out multiple proposal requests, it's necessary to follow up before the discount ends to see if they are still considering your service. After they receive the proposals, they'll take some time to think about their decision and if they truly need to go forward with an overhaul of their backyard.
Follow-Up Email Example:
Hello (Client Name),

We hope you are doing well. Thank you for your interest in our business and services. If you'd like to move forward with the project, the 5% discount ends tomorrow at 5:00 pm. Please let me know if you have any questions about the proposal or are ready to move forward! Thanks,

The Pool and Yard Company
The takeaway on how to create a project proposal
There you have it – an example of a how to create a project proposal from start to finish. Don't be afraid to get personal or modify the steps to meet the needs of your business. Keeping track of the proposals you send out (and following up on them) will lead to improved organization across your business and additional revenue opportunities.