4 Capabilities of Digital HVAC Timesheets that Boost Business Health
August 4, 2020 - 6 minutes
Your business depends on technician timesheets to track productivity and invoice accurately. But are you managing this process in the best, most profitable way?
It's in your best interest to make timesheets as accurate as possible while minimizing time spent creating them.
You might be saying: "it's up to my technicians to report honestly and to be efficient with turning their sheets in". Sure, but that doesn't always happen in reality. 
What if there's a way to ensure accurate data with little effort on your part?
Finding a good digital HVAC timesheet tool is a surefire way to do this. Having a system in place that is designed to optimize efficiency makes all the difference. Not to mention, your team will spend virtually no time gathering and uploading the data. 
Here are 4 functionalities of digital HVAC timesheets that boost business health:
Mobile application

Work order management software synchronization

Reports

PDFs
1. Mobile application
Mobile applications for HVAC have many benefits. Being able to track your technicians' time is one of the many great features.
An excellent HVAC mobile application allows for self-reported time tracking. Ideally, you can track both working time and travel time. That way, you know exactly how much time a technician spent at the property and how much time they spent traveling.
For each job, a good system allows the technician to record data on the app by:
1) clicking a button when they start traveling
2) clicking an 'arrive' button when they get to a property
3) clicking a button to signal when the job is complete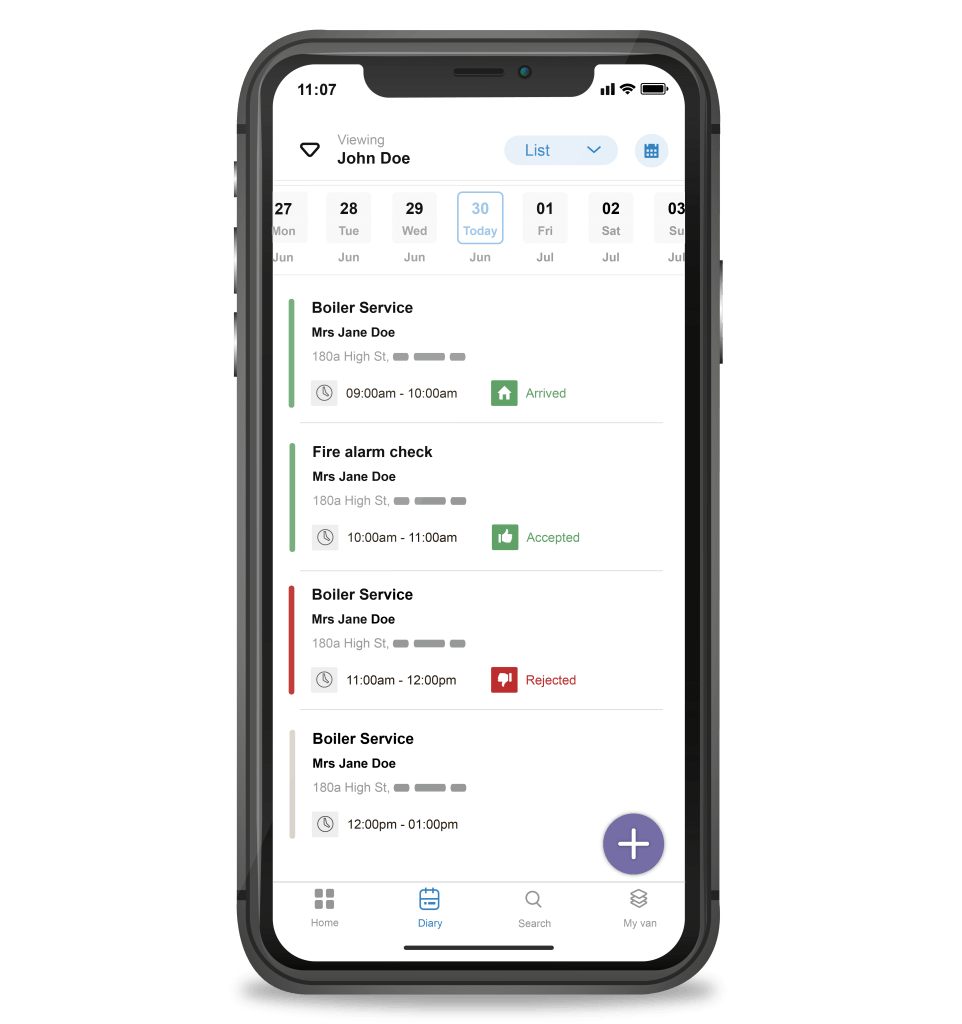 This data should automatically log into your work order management database. You will quickly be able to see how long the technician spent traveling and how long they were on-site.
Of course, not all technicians are tech-savvy, so it's imperative that you train your technicians on how to use a mobile device. Watch the video below to learn more!

Be sure to check out our checklist on tips for training technicians on mobile software!
2. Work order management software synchronization
Accurate time data
When travel time and time spent at a property automatically enters into your HVAC work order management software, there is no need for the tech to go back and spend more time making a timesheet that's based on their memory/notes.
This improved process has 3 key benefits:
Fewer delays with technician's turning in their timesheet

More accurate data regarding time spent at the property

You have the data right away without lifting a finger
Company resources are valuable, and it's in your best interest to save company time so you're not in a situation where too much time is spent on a task that can be automated. 
A timesheet you can trust
With HVAC timesheet software, there's no wiggle room to misrepresent the data. This helps you build trust with technicians because you know where they are and where they are spending their time. No more wondering if they are telling the truth on their timesheets.
Create accurate invoices
Invoices are typically comprised of parts costs and labor costs along with any markup to cover overhead costs.  You can also bill travel time/costs. Without knowing for a fact how long was spent traveling or on-site, it can get tricky invoicing fairly. Your customers appreciate it when prices are fair and it makes things way smoother.
Digital HVAC timesheets help you bill in a way that makes sense. By knowing the exact time spent at the property, you have a clear structure with which you can charge the hourly rate for the respective technician.
The information that digital HVAC timesheets provide is crucial because if there is ever a dispute with a client, you have tangible evidence about what went down that day.
Let's say your company performed HVAC maintenance for a customer. Once the final invoice is sent out, the customer calls and says that your technician was there for 1 hour when the invoice is charging for 2 hours of service. In this scenario, you can show them the proof you have in order to settle their concern. In case there was a dispute or misunderstanding about time spent on the job, there's accurate time data to show. This reduces friction on both sides.
Let's say you charge for a job where the rate changes after the first hour. Well, now it's very easy to know how to bill this because you know to the minute how long your employee was there.
Reports
Technician productivity is important to your business goals, and having the right data to understand this can only help your bottom line.
You can easily compare data among technicians to track productivity of on-site visits, letting you know which technicians are performing highly and which techs may need retraining or a talking to.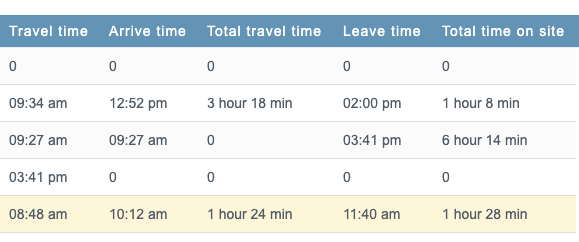 This information can be seen in your HVAC work order management software and can then be used to evaluate how efficient technicians are and which technicians take longer than others to complete similar types of jobs.
If there's a job that takes double the time for a job, you can track down why it took that long.
For example, a manager can see all A/C installations and see how long each technician took for the job. If someone seems to be taking way longer than the others, this could be an issue that can be resolved to improve your services and bottom line.
All this data is represented in a neat report that can also be exported as a spreadsheet.
Want to see our expert tips to optimize your technician's productivity? Read our blog article now!
4. PDFs
With a digital HVAC timesheet system, you should be able to quickly generate and/or print pdfs to get digital or physical sign off. The PDF or prints can be helpful for your records.
Digitizing the process eliminates the need to meet in person and hand sheets back and forth, eliminates travel time to drop off the sheet. 
Takeaway
We've explained the 4 functionalities of digital HVAC timesheets that can boost business health. Commusoft is an all-in-one work order management system that can do everything mentioned in this article. The difference in our HVAC timesheet management system can truly help take your business to the next level.
Not only do we improve your timesheets, Commusoft has an innovative approach to scheduling, estimates, invoices, and more. If you'd like to learn more, please click the button below to book a 15-minute call with a member of our team.