Improve Your Customer Experience with HVAC CRM Software
September 25, 2019 - 11 minutes
In a thoroughly connected world, with dozens of options for everything under the sun, no one's business is unique anymore. An HVAC CRM software is vital if you want to keep up.
So, in order to stand out, it's not about what you're selling, but how you're selling it. This means that you can't get out of improving your customer experience by saying "But I run an HVAC company, not some Silicon Valley unicorn!" The fact of the matter is that you need to learn from every successful business, regardless of the industry, and if there's one thing that's true across the board, it's that you need to provide excellent customer service. 
Tips to improve your customer experience with HVAC CRM software:
---
In this post, we invite you to reflect on your progress and consider the impact of implementing a database, not just your business, but on your staff and customers, too. So, without further ado, these are our 5 recommendations to improve your customer experience with the help of HVAC CRM software:
1. Acquisition is important but don't forget about retention.
Many HVAC managers are tempted to focus only on acquiring new customers. We're not saying that's a bad thing, but as with most things in life: balance in key. You'll not only want to have a good stream of new customers, but a reliable stream of repeat custom, too. The former ensures growth and new income, while the latter evens out your cash flow so that your business can remain stable. 
The Harvard Business Review makes these valuable points on the matter of keeping the right customers:
Just a

5% increase in customer retention

can produce more than a 25% increase in profit.

Your operating costs associated with serving repeat customers is lower vs establishing new ones.

Return customers are more likely to spread positive word of mouth and may even leave more

positive reviews

.
More profits, fewer expenses, and free advertising! What's not to love? After all, an existing customer is already an ideal customer, and a loyal customer is often more willing to pay a premium to work with you. Also, you'll find it much easier to work with people you already know. It's a natural instinct, after all, to like what's familiar, so don't miss out! Put in the effort to keep your customers around! 
One way to recognize if an HVAC CRM software is a good solution is by checking if it has helped you increase your retention rate. CRM software can do this through automated workflows such as newsletters and service reminders, as well as remembering customer history for you. This makes it easier to personalize your service and delight them in turn. If you haven't noticed any difference, or if you current system doesn't have these features, perhaps it's time to look into upgrading? 
2. Make data recording part of your process. 
You can't expect to enjoy the benefits of an HVAC CRM software if recording data isn't part of your day-to-day process. After all, how can you manage a relationship if you don't know anything about the other person? Keeping a detailed database of your customers is one sure fire way to provide a superior customer experience, while also offering them a strong incentive to stay with you, rather than poke around the competition's website.  
Educate your employees, both in the office and the on-site HVAC technicians, to record useful data that goes beyond the usual customer name, phone number, and address. Make use of your HVAC CRM software's "notes" feature (if it has one) to record insightful data such as customer preferences, like  "no calls after 8PM". There's critical data, good to know data, and irrelevant data, but consider how your staff can go beyond just the textual information and collect things like photographs (with permission of course) or videos of installed equipment (like boilers), or even digitally scan documents to create electronic copies (PDFs) for safety certificates (and more), which can be sent instantly to a client.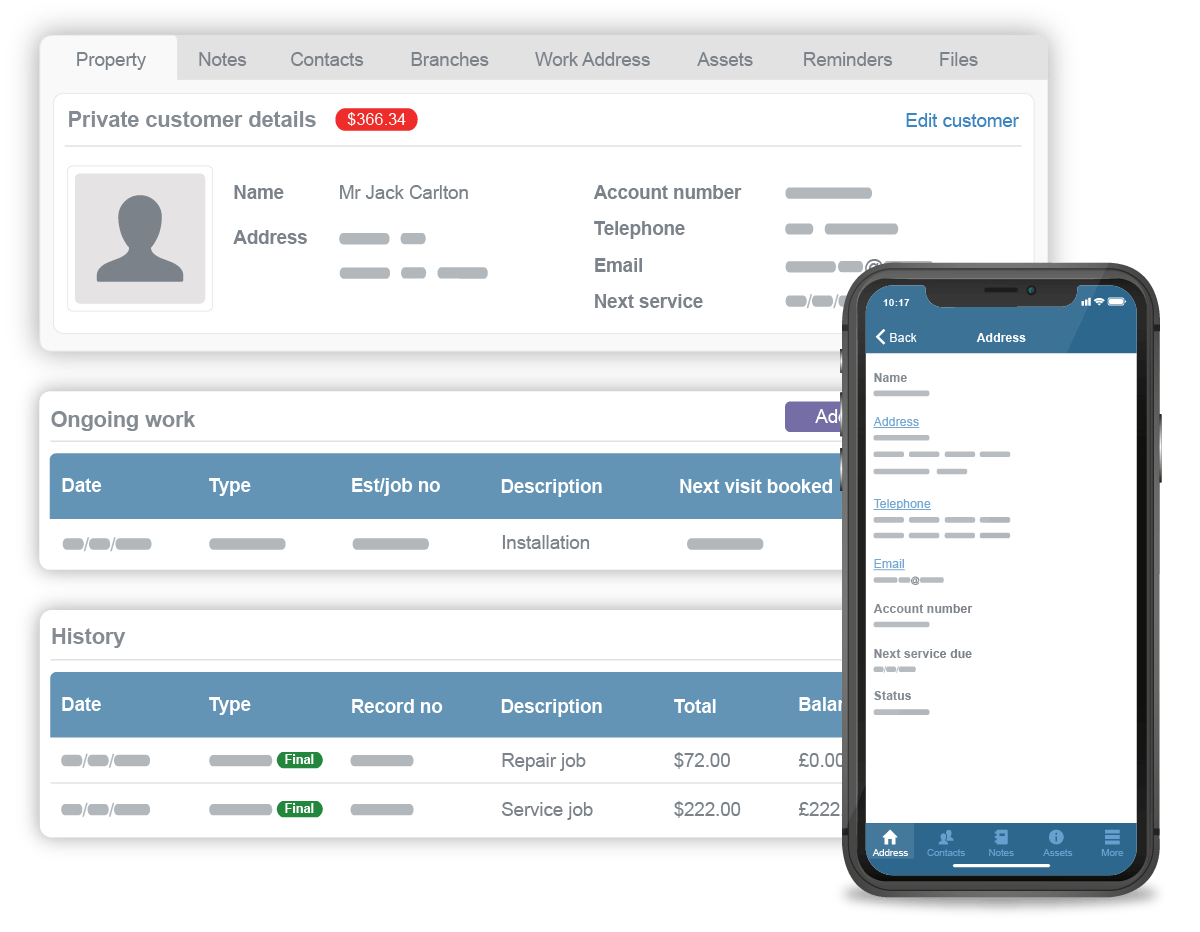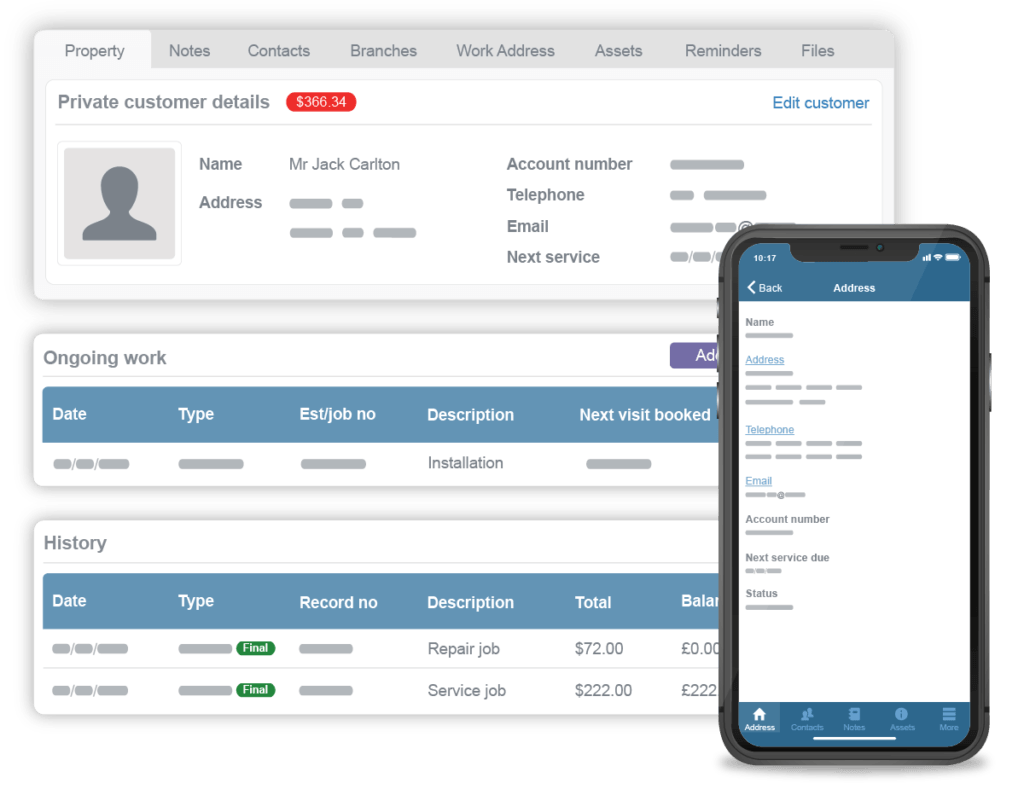 After the job, record the feedback so that next time you're able to do a better job. This also means recording any incidents or observations that might come in handy later. For example, if a technician was late or you had to reschedule an appointment, it's best to take note of it. Later on, if a different emergency comes up or you have to prioritize another customer again, you can avoid inconveniencing an already frustrated person. You don't want to earn a reputation for being unreliable. Notes like this can help you better organize your bookings.
Another useful habit, this time for office staff, is to have them update the database while they're on the phone with a customer. In particular, make it a habit so that when your admin staff call or email a customer, they check that the information in the database is up-to-date. This could be considered part of your wider communication plan, but queries will like this will only take a moment: "Is the best email to reach you on: customer@mail.com?" and delight the customer into knowing that they're remembered. In contrast, sending an invoice to the wrong address can result in wasted effort, cause embarrassment, and even damage a customer relationship. 
3. Anticipate customer needs and delight them.  
Convenience is the name of the game these days. Customers expect you to reach out to them before they even know they have a problem. An HVAC CRM software together with well-trained, responsible employees can make it easier for you to notice issues that might have otherwise gone unnoticed. Additionally, you can  make a better case for upsells when it's necessary, using the knowledge you have about the customer's existing appliances, as well as what you know about them as a person. For example, they like high-quality installs is an indication they may prefer to invest in a high-end system that can save them money in the long-term on their bills, etc.). 
As well as saving yourself admin headaches and providing opportunities for bigger sales, an organized, accessible database can be of benefit to the customer, too. Supposing, for example, the customer needs to produce an HVAC safety certificate for insurance purposes, but cannot find it. If you have a digital record of the certificate (and if you have an HVAC CRM software, you definitely will) obtained from a previous work order with that customer, you can simply send them a digital copy in a few clicks. How's that for great service? 
When you're assessing software, make sure to check how easy it is to update the database from the mobile app. More often than not, it will be your HVAC technicians gathering the most important information, recording installation types, and writing down customer preferences. You'll want to make it clear that this is an important part of the process so that they don't skip it or forget about it. Great HVAC CRM software will offer you the option of making the corresponding fields mandatory so that techs can't close a job without filling in the details. 
4. Take your feedback strategy to new heights. 
We cannot stress enough how important it is to listen to feedback. HVAC CRM software helps you gather it, of course, but it won't lead to any long-lasting change unless you're committed to acting according to it. Customer attrition is a business term used to designate the rate at which customers stop using or break away from your company (also known as churn). By tracking this variable and implementing feedback, you can tell if your changes are making an impact or not. 
A great way to do this is to actively monitor customer feedback. With a great HVAC CRM software, customer feedback surveys are easy to execute. Say there's a particular group you need to target, like the customers living on a certain street. Rather than going through a customer profile individually to add one at a time, you can filter your database to provide the information in a few clicks. Then, once you've distilled the data, use an integrated service like MailChimp to send a group email.
Specific, segmented feedback will also help you identify trends over time and even identify if an issue is becoming a regular occurrence. It could relate to your technicians' response times, the duration of their appointments, or even the friendliness of your team. These are all factors that contribute to customer loyalty and you're likely not going to know about them if you don't take the time to listen. 
"How do I listen to my HVAC customers," we hear you ask?  Well, you can start by:
1. Sending surveys
SurveyMonkey is a good platform for creating surveys; it's also free for surveys up to 10 questions, with 100 responses.
2. Monitoring social media for mentions of your business name
It's a great way to find out what people are saying about you and even join the conversation. You can also create polls on social media to gauge how your audience feels about various topics (e.g. would they prefer a discount on a future service or a branded goodie if they refer another customer back to you?)
3. Signing up for review sites
It's up to you to decide where and how often to list your company, but keep in mind that it's good to have a balance. If you list your business on too few websites, customers will be less likely to consider you trustworthy, as they can't easily find you. If you list your business on too many, you may find it difficult to effectively manage so many review streams, or worse, they'll be too dispersed to help with your credibility. Rather than have 100 reviews on just as many sites, it's better to simply appear on a few well-known platforms.
4. Setting up a Google Alert
Google Alerts will notify you whenever your business is mentioned, anywhere on the web. You'll want to know if people are talking about you, not only to gather feedback, but also to have the option of taking control of the conversation. Make sure to list your company on Google My Business to track and respond to Google reviews.
5. Become a trusted adviser. 
Keeping in touch with customers is the way to go, but why not take it to the next level? Use your HVAC CRM software to send automated service reminders when their appliances are due for inspection. Take advantage of this, after the appointment, to offer a subscription system, where they can pay a monthly fee and ensure they get preferential treatment, such as priority in case of emergencies, or improved discounts.  
If you really want to remain a top-of-mind choice, you can also send monthly newsletters to a selected number of customers (you can use those handy filters we mentioned to select them). Just don't fill the emails with advertising – nobody likes being sold to. Instead, use the insight gathered by your CRM system to write down useful advice. You could even make a list of topics, issues, or questions that appear again and again (e.g. "Is it a good idea to change my own air conditioner Freon?" with the answer being "No, for a dozen different reasons. Let me elaborate…"). Put them in a blog, and promote them in your newsletter. The response may pleasantly surprise you. Not only will it help you with your customer experience strategy, but your website will also gain more traction online. 
A dynamic HVAC CRM software solution…
Be positive! No matter what the answers to some of these questions might reveal, the insights will be useful and help you take your business further – they may even show that you're already on the right track!