The Complete Guide To Writing A Standard Invoice [Includes Template!]
July 7, 2020 | Read: 7 minutes
Having a standard invoice template that works for your business is essential. Knowing how to make an invoice for a job is an important aspect of running a company, and without a solid process, your revenue will be at stake. Here are a few of the benefits to be gained if you follow good standard practices for invoicing:
Timely invoices can guarantee paying customers.

If the customer knows what they're paying for and why, they're more likely to do it.

Free branding opportunity: Let customers know there's more you can offer.

A standard invoice template that makes it easy for customers to pay, will make them pay quicker.
So, how can you write a service invoice that will earn you all those benefits, and that's easy to track and quick to create? It sounds like a tall order, but let's take it step by step:
Step 1: Keep an updated database
Whether you're using a cabinet file or a digital folder, knowing which work order corresponds to which customer, and listing the correct parts to their associated prices is essential for creating accurate standard invoice templates. After all, the only wrong invoice a customer will pay is one that's charging them less, and that won't be of any help to you.
It takes diligence to keep your work orders in, well, order. To solve your invoicing problems, you need to think about a few things when it comes to how you regulate your processes:
How do your technicians and staff keep track of customer information or inventory data?

Are they relying on paper worksheets and lists?

Do they have access to data off-site or on the road?
There are many ways to track your data, but the best solution is to have an all-in-one database that lets you see information clearly, access it easily, and apply it practically. That applies to whether your staff are working back in the office, or are live on-site, with a customer. If you think about all the information you need for completing a standard invoice template, it makes sense to make it as accessible as possible. This way, whoever might be responsible can have a straightforward and pain-free experience accessing it.
Check out how you can improve your HVAC (or any other trade) business with CRM software!
It makes a lot of sense to upgrade to a digital invoicing solution, not only for the sake of speed but also because it can enable technicians to complete jobs and improve the customer experience at the same time. How would it be to finish a service and put together an invoice on the spot, that the customer could even pay then-and-there, via a payment portal? It's easy for you and convenient for the customer!
Step 2: Create an invoice workflow and stick with it
A payment workflow indicates the process you should follow with every customer. You won't need to go through all these steps every time, of course, but having a workflow in place will help you manage the process when/if certain needs arise. At the same time, training admin staff is easier when you have standard procedures in place.
An ideal workflow may look something like this:
Estimate >

Contract >

First Payment >

Second Payment

>

Third Payment >

Invoice >

Reminder >

Demand Letter (if there's a non-payment) >

Arrange a Call with the Customer >

Set a point (if necessary) where you send the account to a debt collection agency.
Step 3: Identify where things are likely to go wrong
For many field service businesses, this sort of problem is most likely to occur when it comes to invoicing errors relating to inventory and parts management. After all, a technician may be laser-focused on getting the job done (great!), but forget to record all the items they've used (not so great). This is especially true if they've been met with surprise problems (and extra parts needed!) along the way.
4 Small Tweaks to your Customer Service Process that Drive Big Sales
If you're not able to keep track of your costs and, in particular, the way in which you invoice customers for a job, you're more likely to lose money. Ask yourself these questions:
Are you relying on paper trails?

Do technicians have access to inventory information on the go in order to provide good estimates?

Who's responsible for invoicing?
If you don't have clear answers to these or know the processes you have in place aren't the best, invoicing will be more of a chore than it needs to be and errors will flood your admin.
Step 4: Integrate with accounting software to reduce the risk of errors and double data entry
Time is of the essence when it comes to handling payments and it's true that accounting—like many other services—has gone digital. While many field service businesses might still be doing things the traditional way (though many have moved on, too), the companies and services that you partner with to support your business, have also moved on.
Jibran Qureshi, of Clear House Accountants, provided some insight: "If you go back 15 years…accounting was largely done on a piece of paper, so we had all these ledger books-" the value that came from that, while useful, was simplistic, "-but if you look at accounting now, 15 years ahead, things have changed! It's projections and forecasting and a lot of analytics. You can look at numbers, modular analysis, ratios, and percentages, and you can use that data to assess, in real-time, how your business is performing."
"The biggest problem we see is that the traditional way of doing things is so ingrained with them, that processes haven't changed and haven't grown with the company," Jibran adds. This makes fixing issues, especially as an accounting firm that uses a lot of technology, even more of a slog to work through and "untangle everything that's being entangled.
Being able to invoice at speed is just one benefit of going digital with your data, but being able to extrapolate and apply the data you've obtained and put it to practical use is another. It can dramatically improve your decision-making and help you build a more secure bottom line.
If you're not able to sync your data up and enable your accountant or accounting software to access it securely, you'll be wasting time and resources with administration tasks, and restricting yourself (and your customers) from enjoying a smoother experience, as well as endangering the confidentiality of the information.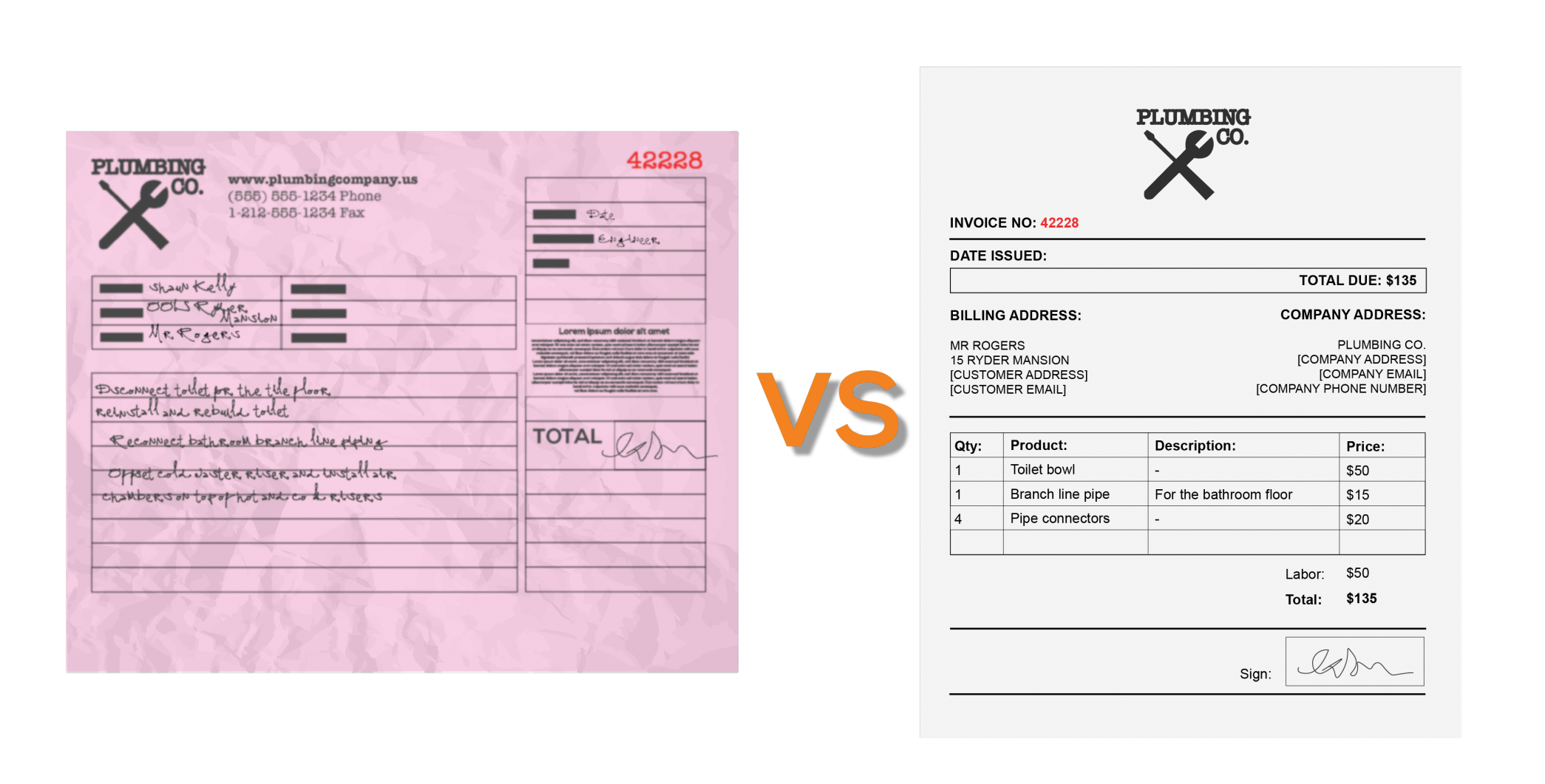 Learn more about invoicing software!
Step 5: A list of everything you need to include in your standard invoice template
It doesn't get simpler than this. If you followed all the previous steps, you'll have implemented a bulletproof invoicing process for your service business, so the last thing to do is make sure the following are listed on the actual document:
Logo

Customer name and address

Your telephone number

Invoice details

Work description and parts used (Price, Quantity, Total)

Cost with and without tax

Quality badges/associations/legal bodies accreditations

Your company name, address, and email

Business registration number and email contact
The takeaway on having a standard invoice template
All in all, invoicing doesn't have to be such a hassle. Similar to using an electric drill rather than a screwdriver, you can get things done faster and better by using the right tools. Take a look at Commusoft's invoicing benefits or download these insights below, via an easy-to-print infographic that lists everything you need to write on your standard invoice template.