What is Multi-Location Inventory Management Software?
July 28, 2020 - 11 minutes
Multi-location inventory management software allows you to efficiently receive and distribute the parts you need for various jobs. This keeps both your inventory system and business happy and healthy.
But, how do you choose which one to go with when there are so many options these days?
When comparing various providers, it's important to make sure you get the tool that fits your exact business needs. There are certain key features that will take your business to the next level and any option you consider as a permanent solution should include them. Without further ado…
Here are 6 functionalities you need your inventory software to have:
Parts status and location tracking

Tracking of multiple storage locations

Accessible real-time information

Mobile app

Barcode check-in system

Minimum reordering levels

Visual reports
Now we will go into some further detail so you understand how these functionalities work and why they're necessary.
1. Parts status and location tracking
Let's say there's an extra part in a technician's van that hasn't been documented anywhere.
Without a clear idea of where the part is, it's not hard to lose track and forget to return the part to the stockroom or return it to the vendor. In this situation, the part might sit in the van for a while before it ever makes its way to a job or back to the designated storage location.
Untracked inventory can get broken, stolen, or lost if it's not accounted for. 
Maybe this is fine if it's just one part. But what happens when this is happening on a larger scale? You might have a bigger problem, then.
When there isn't a solid tracking system, it's all too easy to not make use of all parts in an efficient manner.
You buy parts for a purpose, of course. If you don't optimize parts usage use of parts, you'll just end up wasting expensive storage space.
Another example is you might think you don't have a part and then go to order more, when really that part was available in another storage location all along. There's nothing more frustrating than spending money on something that wasn't necessary.
Simply put: you want to be able to know where parts are at all times. Tracking parts location gives employees accountability and also helps maintain an organized system that's easy to refer back to if there's ever a question about where a part is. With real-time lists of inventory, you will not have a situation where parts are lost, misplaced, or broken.
The inventory software should let you simply search for the name of a part, and boom! The search results tell you exactly where it is and its current status—whether it's been requested for a job, on order, available to use, installed, or returned.
This type of system can also accommodate remote work situations because team members don't have to go to a stockroom to know where things are; you have it all at your fingertips.
2. Tracking of multiple storage locations
A multi-site inventory management solution gives you a clear picture of where parts are across your entire inventory.
Good software lets you track inventory across vans, stockrooms, various offices, etc. This way, you're better prepared for jobs and you know if you have the necessary parts and where they or if you have to place a new purchase order.
First, you want to be sure you can search for a part to see if it's in stock at any of your locations. You'll want a system with a cross-location search function that can tell you which storage facility or van has the part you need. At the end of the day, you'll want to make the most of what you already have, only going to a vendor if absolutely necessary. 
There are two necessary capabilities when searching for parts.
First, you should be able to search a part by its name and then see all the locations where that part exists.
The below screenshot shows an example of searching the inventory for a radiator valve, and seeing that the part is in the stockroom and John's van, but are reserved for jobs already.
This can help someone know that a part isn't going to be available for their job, and they can plan accordingly.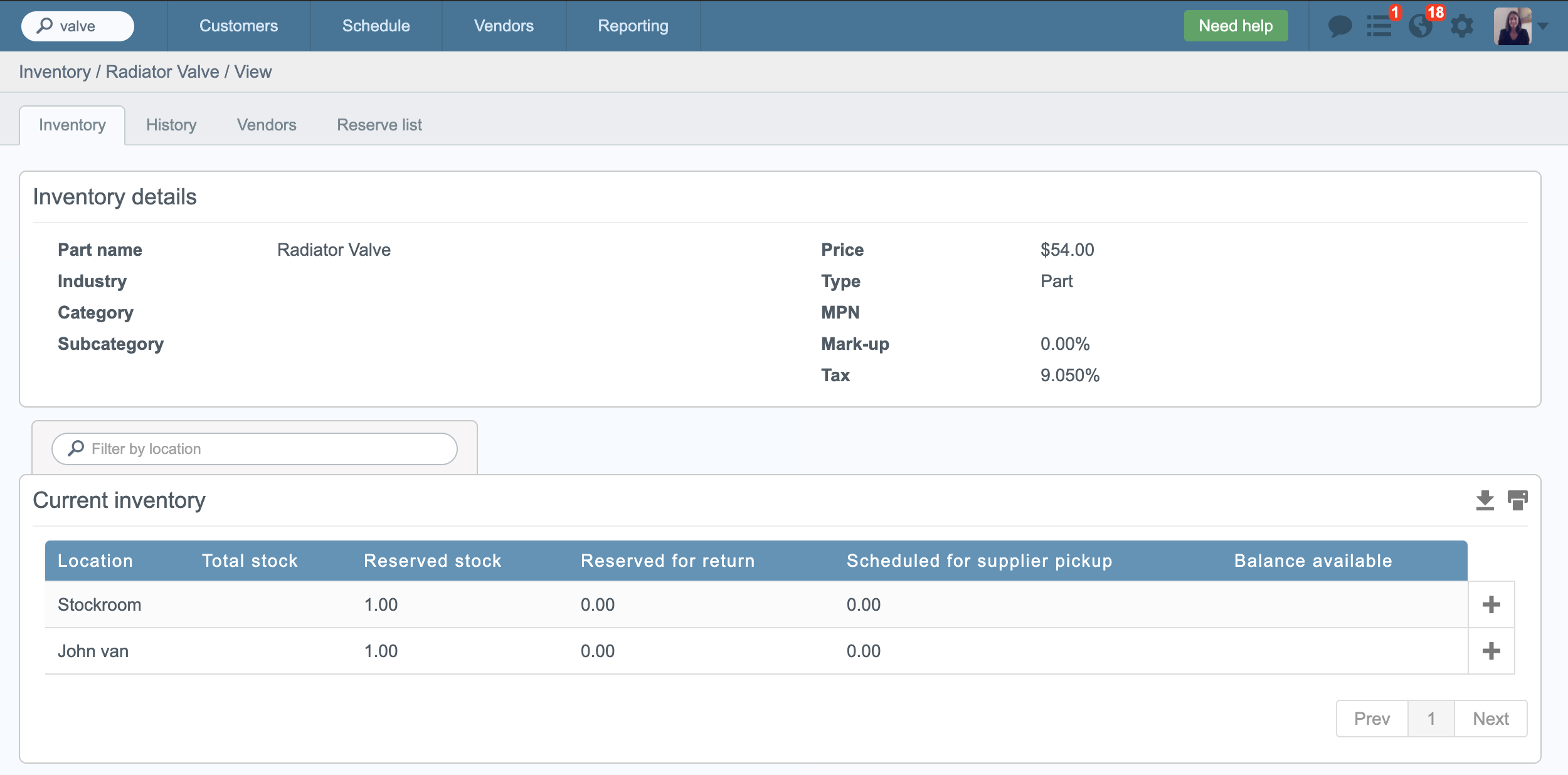 Second, you want to be able to search for a storage location and get a running list of what's there.
Let's say you want insight into what parts are in each location. A great multi-location inventory management software lets you see a list of parts that are available in each spot. You should be able to simply pull up a stock location and from there see what's there, in real-time.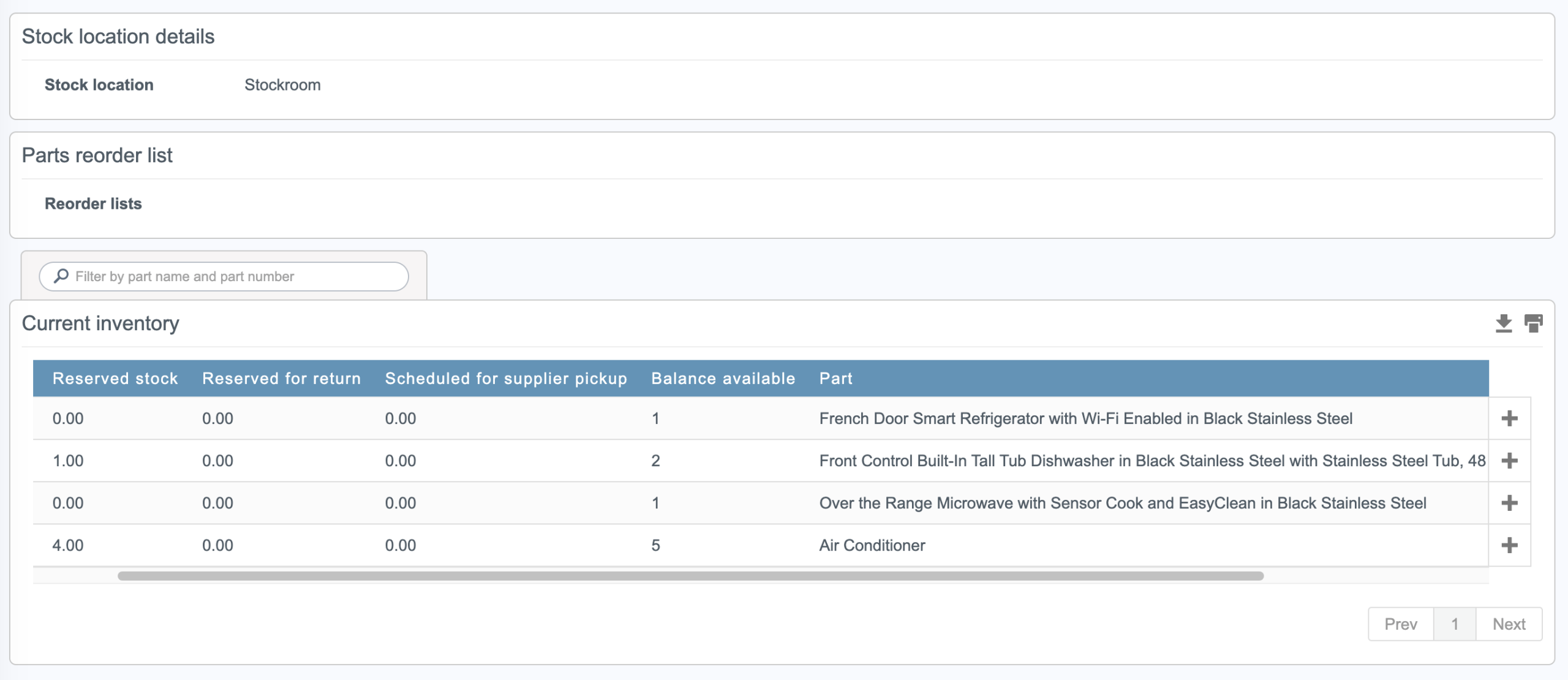 With software, you have all the information organized and at your fingertips—so that you can minimize the number of unnecessary purchase orders you raise. And, you are able to make sure you always have the parts you need for customers on time, avoiding any disappointment with not having the right parts at the right time. No customer likes to hear that they can't have service because you don't have the correct parts at the moment.
Watch Now: How to Use a Multi-Site Inventory Management Mobile Software
3. Accessible real-time information
Update parts status
Let's say a technician installed a part but they don't get to update the inventory sheet until a few days later. Well, this delay might cause someone else to think that the part is still available and then they could make plans to use it.
Errors like this can compromise the quality of jobs and can tarnish relationships, as well as your business reputation.
It's important that the status of parts is updated in real-time. You really don't want to settle for anything less. The last thing you want is to make decisions based on old, inaccurate data.
Multi-location inventory management software allows technicians to mark parts as installed and then it will update that status change across the entire system.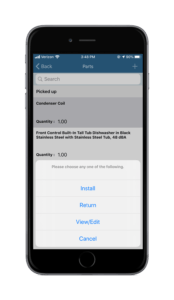 In a nutshell: a great multi-site inventory management system makes it so everyone can see up-to-date information from their own device. an intelligent database keeps everything organized and easy to find. This takes away any need to physically visit the storage location to update a document there.
Requesting parts
If a tech is in the field and realizes they need an additional part, they can see right away if the part is in stock or will need to be ordered. If it isn't in stock, they can request a part on their mobile device, which we cover more in the next section of the article.
This type of communication within the inventory software saves calls and messages back and forth with the office, taking care of business much more efficiently.
4. Mobile app
A light-weight, simple way to manage inventory
For one, a mobile inventory location app eliminates the need to lug a computer around the stockroom to log parts in and out. Spreadsheets don't always come up well on mobile devices, but luckily, good software will display all this information neatly right on your cell phone.
Easy check in and check out
Checking in parts can be a burden, especially if the person checking in the parts has to manually copy down information such as part name, manufacturing numbers, and so on.
A mobile app should have a barcode storage system that allows your team to scan parts in. The system will then mark a part as available so you can set up a transfer to a technician.
Checking out parts should be just as simple. A mobile multi-site inventory management software should allow the stockroom manager to build a pick-up list for the respective technician by adding the needed parts. That sets the transfer up and makes it ready for pick up. The technician is notified on their app that there are parts to be picked up.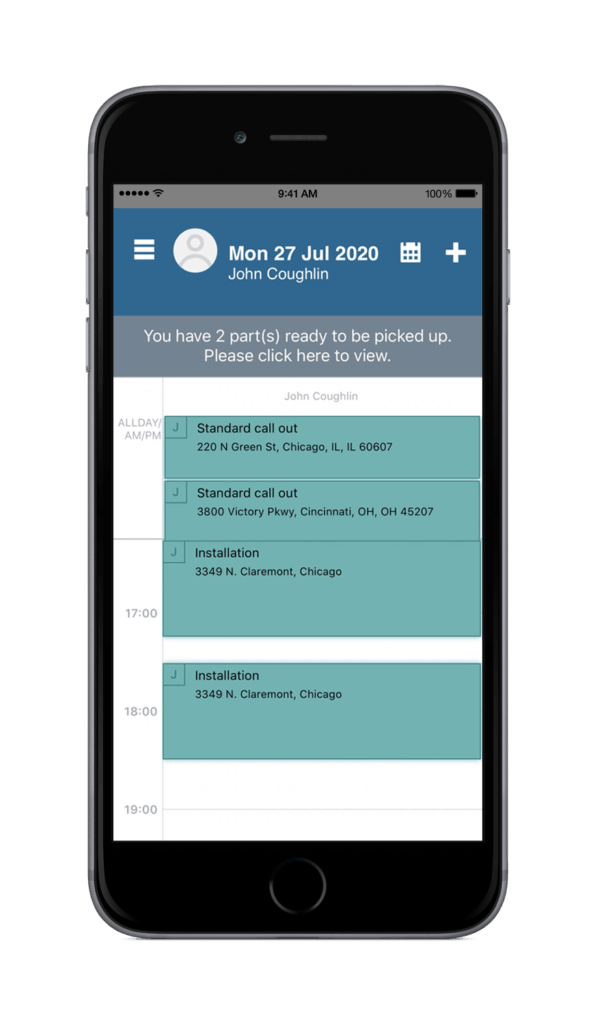 Once the technician visits the stockroom, the technician can scan the stockroom manager's mobile QR code to finish the pick up of the parts. Then the transfer is logged in the system and the storage location is updated for the parts.
Technicians can also transfer parts from van to van using a similar methodology.
Process syncs with technicians' existing workflow
Technicians should already use a mobile app for their jobs so it's convenient that they get a notification on their phone in their work order management app about picking parts up.
The app prompts technicians to mark parts as installed, returned, picked up during other workflows so it's not something they need to go back and remember. This capability is also cool because it makes it clear to the team what happened to the part.
Additionally, when a technician is at a property, they should also be able to check your inventory levels and see if you have the parts (and therefore can finish on the same day) or if you need to order them (and give the customer an estimated time until completion).  A mobile app allows techs to request parts from their app while they're at a property. 
5. Barcode check-in system
Do you like having to manually write out manufacturing numbers each time a part arrives? Neither do we.
It's exciting when parts come in, but it's usually not the most fun to get them all checked in. Smart software recognizes barcodes for easy check-in.
This makes it so your team member doesn't need to spend their time manually copying down information and putting it into the system. A simple scan can drastically save the time spent on the inventory process. If you have a bunch of parts you are checking in at once, you can work through the boxes quickly and freeing up time for more high-value tasks.
Make sure you watch our video linked above to see this in action!
6. Minimum reorder levels
Let's say you consistently need a supply of certain frequently used parts. Having to manage these reorders can be a ton of manual work, but using a good inventory location tracking software helps avoid this.
Minimum reorder levels does exactly what it sounds like: automatically reorders parts once you are down to a certain specified quantity.
This is so you have everything you need and don't have to miss out on a job because you realized too late that you don't have parts. You should be able to set the minimum reorder levels for each part to customize according to your needs.
7. Visual reports
Humans are visual creatures and sometimes it just helps to see things when it's nicely displayed.
You will want a software that automatically creates visual metrics since it's helpful to understand how much inventory you have at a glance. The widgets are user-friendly and give you a simple, big picture view regarding how your inventory is looking.
Look for a system with widgets so you can see easily and visually what parts you have, what's on order, and the number of parts you requested.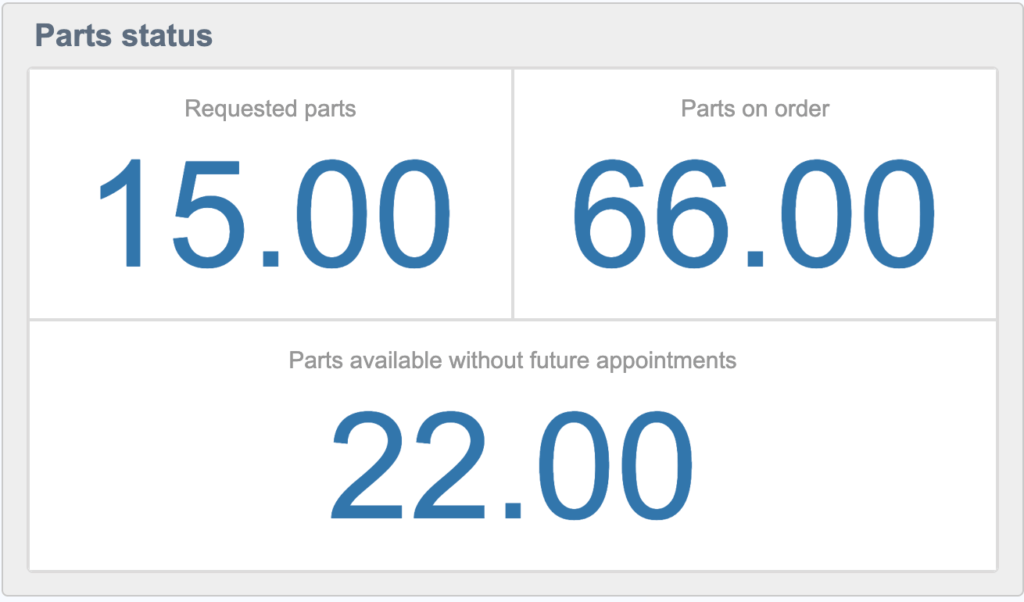 These helpful automated reports can bring issues to light before they become larger problems. 
The below report shows all the parts on order and their expected arrival date. Also shows the quantity ordered, vendor PO #, and who ordered the parts. All of this is in one place so you can understand each day what will be coming in. No need to create your own lists about when parts are due in.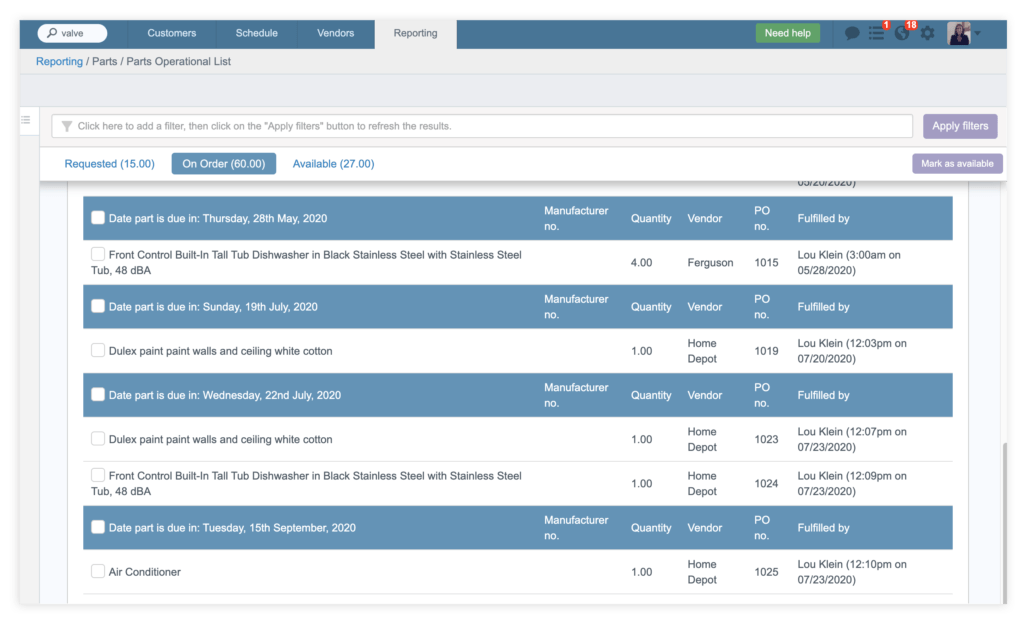 Takeaway
In order to arm yourself with the best multi-location inventory management software, you need to be sure you have all the functionalities listed above. Then you'll be in great shape to take advantage of a system that streamlines and improves inventory management across your business.
Now that you know what features are most helpful for an inventory management system, you may want to consider Commusoft. Commusoft offers award-winning work order management software to help you maximize the return on your investment with your business. Read more below!