How To Look For A New Field Service Scheduling Software
August 12, 2020 - FSM Software - 9 minutes
Whether you're at the beginning of your digital journey or looking to upgrade existing tools, it's always important to keep a clear head about what you need from your field service automated scheduling software.
Nowadays, there are plenty of solutions out there and most of them promise the world, but if you keep the following points in mind, you'll have an easier time discerning which ones can actually deliver automated scheduling.
Gaining oversight of the physical resources of your business (whether it's your schedule, inventory, vehicles, or your technicians themselves) is easier thanks to digital tools that can make work feel substantially more freeing, depending on the type of tools you employ. If you're transitioning from paper calendars and post-its, even a simple software can make a big difference. However, if you've been in business for a few years now, you might have outgrown your current digital tools.
How do I know if it's time to switch from paper calendars to a scheduling software?
There are three main reasons why field service managers decide to invest in field service automated scheduling software:
Manual labour doesn't scale well.

You need more technicians as you grow, and there's no way to centralize their labor.

You have to keep hiring operations managers.

When you rely on manual scheduling, you have to hire a new operations manager every time you add 2-3 more techs.

That's the opposite of the scalable growth you need, where revenues grow and expenses stay low.
You can't keep up with customer demand.

Late arrival rates start creeping upward when your scheduling system can't keep up with the growth of your customer base. Late arrivals = unhappy customers = stalled growth.
How do I know if my business has outgrown its scheduling software?
Usually, it's quite easy to tell when it's time to switch from paper calendars to automated scheduling software, as it's basically the tipping point where if you find you're hiring an admin for every two or three new techs, you're going to start to struggle to break even.
An operations manager can handle around 3 – 5 technicians per day using a traditional calendar management system, therefore, if you try to bring more techs into the business without upgrading the system, the result will be higher expenses, unhappy customers, worn out operations managers, and lower revenues.
However, deciding to upgrade your software takes a lot more decisiveness and leadership. Using new software will require training, but you'll also come up against the good ol' tendency known as: "if it ain't broken, why fix it?". People, after all, aren't always fans of change, especially if it seems like it'll be disruptive or challenging.
Generally speaking, updating from a free software to a paid solution, or from a simple digital calendar to an intelligent scheduling system is mandatory when:
You find yourself hiring more and more admins, as opposed to technicians

You can't get a comprehensive picture of your weekly schedule on a single screen because there are too many appointments

Customers reschedule and cancel too often and your system can't keep up, resulting in errors and negative experiences

You want to save time and fuel costs by having an algorithm help your admin identify the optimal slot for each appointment

You're signing more and more maintenance contracts and need a software that can handle a large number of work-orders

You want to assign a tech with the right skills for every job, ensuring high first-time fix rates and customer satisfaction
Now that we're all on the same page, let's take a look at some of the other common questions field service managers ask when it comes to having an automated scheduling system.
Skip to what matters most to you:
1. Why do you need your field service scheduling software to be online?
2. Should you get a free field service scheduling software?
3. What is the best field service scheduling software?
4. Field service management software customer job scheduler.
Let's get started!
1. Why do you need your field service scheduling software to be online?
Adopting intelligent software isn't about putting in temporary fixes, but adopting long-term solutions that will help your business adapt for years and years to come.
"A scalable business is one that has certain processes and systems in place to ensure that, when the business grows, it has the capability and the infrastructure to grow with it," writes Ben Lobel, for Small Business. "While demand will certainly play a large role in how and when a business decides to scale, it is vital to have a competent growth strategy in place from the get-go."
If you aren't set up to scale before taking growth actions, you'll hit a wall when your field service business outgrows its software and systems. While making sure you can cope with demand is one reason to upgrade, on the other hand, we've seen many businesses shifting to a digital set out of pure necessity.
While recent world events have, understandably accelerated this process in 2020 , the other reason for transitioning to digital sooner rather than later has been around for far longer. Simply put, cloud tools will help you keep up with the competition and continue to be financially competitive by doing the same work in less time and using fewer resources.
Indeed, a recent report from Capterra states that 2020 has seen a large increase in businesses adopting software out of necessity, but predicts that:
"Over half of the new software purchased for temporary use during the circumstances created by COVID-19 will actually be permanent tools by 2021."
Even before the pandemic, you'll have been toying with online solutions to some degree and seen the benefits in terms of communicating with customers or employees, as well as streamlining finances and admin processes. Digital tools, whether it's smartphones, email, or other apps, have made it easier to communicate and stay in touch with and it's true that an intelligent scheduling system can give you a boost in much the same way.
2. Should you get a free field service scheduling software?
There is a time and a place for free software (or freemium versions of paid software) and it's up to you, as a field service manager and business leader, to decide if your business is too small for a more comprehensive solution or if it's just the right size. At the same time, a good leader thinks ahead of what works well right now to what will work best next quarter and next year.
Field service software implementation takes a bit of effort and time so make sure that when you decide on a software, whether paid or free, your admin and techs won't have to go through a similar upheaval in 6 months' time when you've outgrown your current solution.
Below you'll see a little snippet of the free checklist you can download at the end of this article. Check off the options that apply to you and reach a conclusion on whether you need a field service automated scheduling software to upgrade your trades business!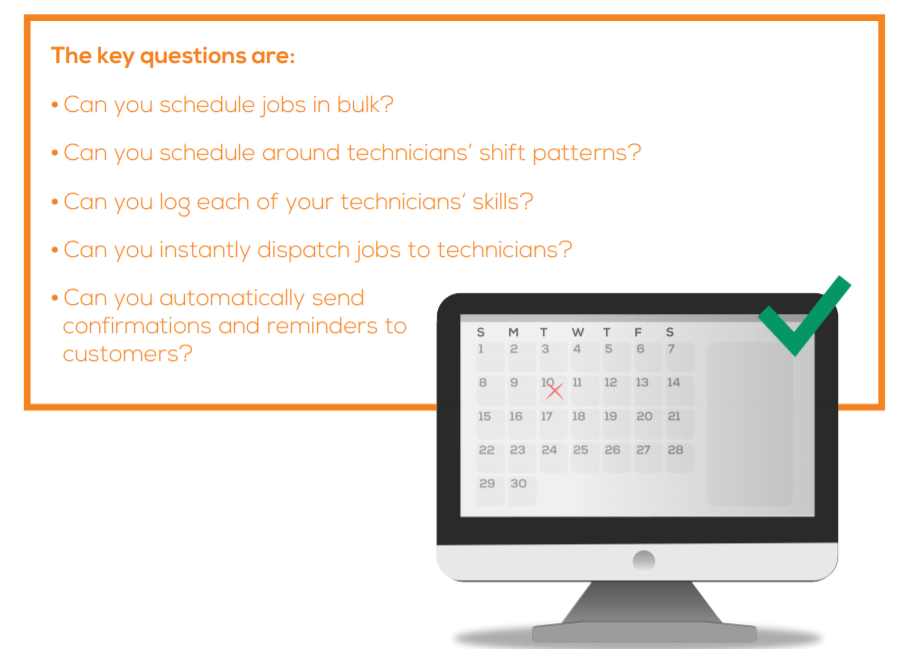 3. What is the best field service scheduling software?
Remember: Efficiency that's matched by great productivity should be a primary business goal!
Say you have 30 technicians, and each one has five jobs per day, five days per week. That's 750 jobs per week. Even if your operations manager uses a scheduling tool that suggests the best tech for each job, and that can optimize the daily schedule, if you truly want to scale at this point you need an automated system that can schedule multiple jobs to multiple technicians at the same time.
The best field service scheduling software is the one that comes with a surefire way to increase a business's revenue. If you want to calculate how much a good software can benefit you, in cold hard numbers, click here to use the Intelligent Scheduling ROI Calculator.
Again, more techs (and more work orders) means a more complex schedule. If your business relies on a traditional calendar management system, your next move on the growth path would be to hire more operations managers to handle the load.
Besides, there's a difference between traditional growth and scalable growth.
"The traditional growth model has fostered a vicious cycle of inefficiency," says Jason Albanese, co-founder and CEO of Centric Digital, in an article in Inc. Magazine. "A company gains a few new clients, so they hire more people to service those clients, adding costs at nearly the same rate that they're adding revenue."
What you want is scalable growth, where revenues grow and expenses stay low. Adding a new operations manager every time you exceed 3-5 additional technicians is not that. Replacing a manual scheduling system with intelligent software gets you back on the scalable growth track.

4. How does your service quality improve with a field service management software customer job scheduler?
If the point of scalable business growth is more revenue with fewer expenses, the point of scalable customer service would be having happier customers—and more of them—while not using up more resources.
On-time engineers are an important aspect of your customers' satisfaction levels. The more customers and jobs you have, though, the more engineers you need to service them, and the more complex the schedule becomes. The result? Late arrival rates that start creeping upward. Talk about a vicious cycle!
According to Software Advice, 67 percent of customers will never rehire a service business if they're over an hour late to an appointment, and 36 percent wouldn't rehire if the business is over 30 minutes late. A manual scheduling system that can't handle a growing number of customers, engineers, and schedule changes will put a stopper in your progress. On the other hand, field service automated scheduling software could be just the thing you need to take your business to the next level.

The takeaway on field service automated scheduling software
Whether it's now, or sometime in the future, setting your business up for success  with quality digital tools is going to be necessary. Implementation needn't be tricky and while a learning curve to adapt can take time, like any obstacle, it's worth overcoming.