Why You Should Have a Plumbing Blog & How to Write Stand Out Content For It (includes examples!)
December 16, 2021 - Marketing - 15 minutes
Starting a blog for your plumbing business can feel like a big undertaking. And there is a lot to consider. What type of content will you create? How often will you release new articles? And how can you promote your plumbing blog?
Those are big questions, but don't let them deter you! If you're thinking about starting a blog, you're in the right place. Read on, or skip to what matters most to you:
Ultimately, blogs are not one size fits all. You don't need to be writing the next literary masterpiece or have the most mind blowing, life altering content. Your blog should be an extension of your business. Remember, it's your voice, just in written form.
1. Why is having a blog for a plumbing business important?
It's the million dollar question (for this article, at least). And one I can answer best by sharing a recent experience.
As I was sitting in my living room the other day, I realized there was the faint sound of running water. The toilet must still be running from the last flush, I thought, and continued working. Ten minutes later, though, the sound persisted on.
Like most of us do, I ran a quick web search: "why is my toilet running." Guess what the top search results were? Blog posts. I clicked on one, read through all the possibilities of why the water continued to run, and started trying the solutions the article offered.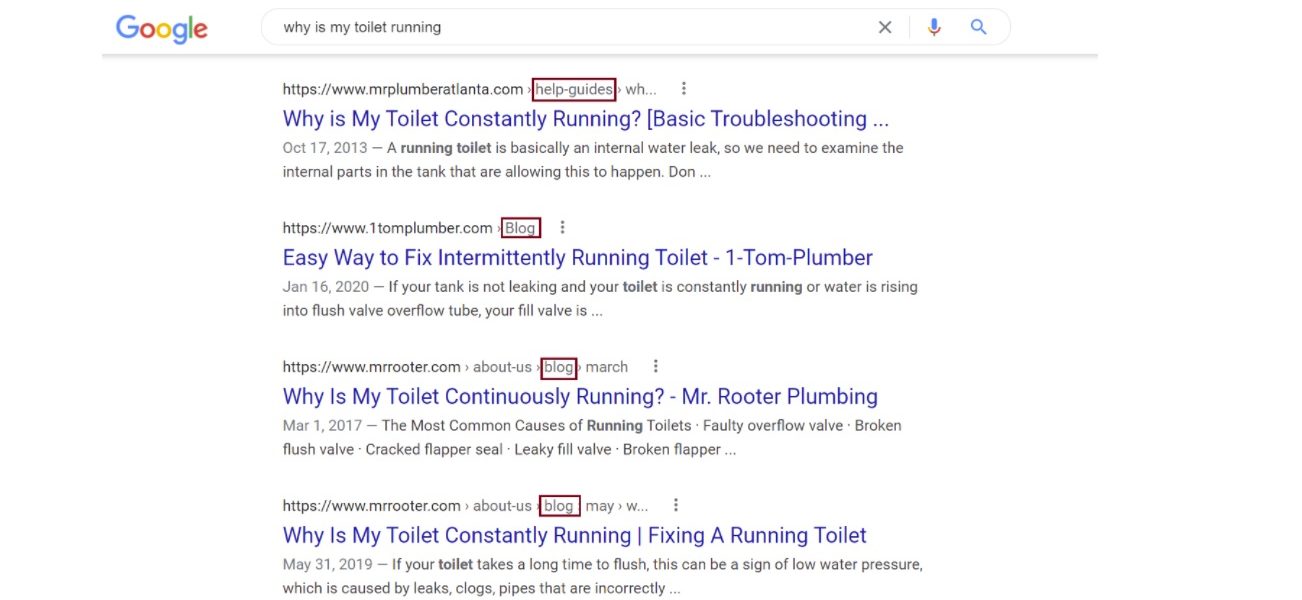 Lucky for me, the fill valve just needed a small adjustment. But what if it wasn't such an easy fix, and I needed a replacement? Unfortunately, I'm not much of the DIY type so I'd have to reach out to a professional plumber. And after reading Mr. Rooter's Plumbing blog, I wouldn't even have to leave the page to get help: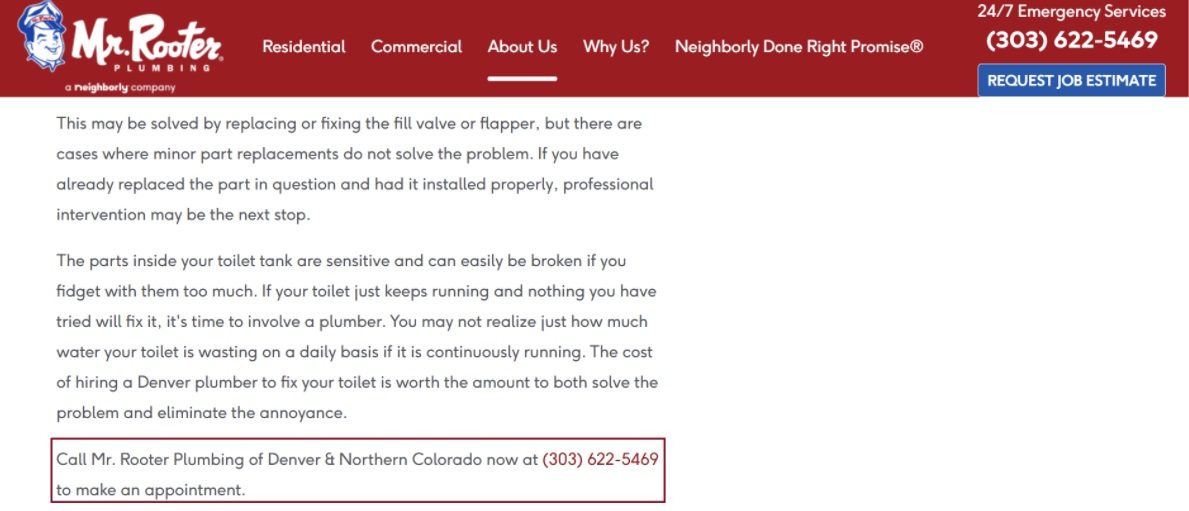 By writing this article and offering me free advice, this business gained my trust. The content felt knowledgeable, provided real solutions, and made it easy for me to get in touch in case I needed additional help. They've set themselves up to gain a new customer from this article–and you can do the same.
Blogs are a great way to generate leads because they drive traffic to your website and give your plumbing business additional exposure. It's great to have a website that lists the things you can do, but a blog can highlight your expertise on those services.
Furthermore, they build trust with customers–which is key when it comes to winning business. Writing content that's well researched and backed by experience will make you an authority in your field. It can create brand recognition for your business, and people want to work with businesses they feel confident in.
If you want to grow your business, a blog will be key for your company. And while there's no doubt you have what it takes to create a great plumbing blog, there are a few other factors to consider as well. Which leads me to…
2. A brief crash course in SEO and how to optimize your plumbing blog.
If you're not very familiar with SEO, it stands for Search Engine Optimization. It's a way to increase both the quantity and quality of traffic to your website. You can do that by persuading search engines (like Google) to recommend your content to users as the best solution to their problem.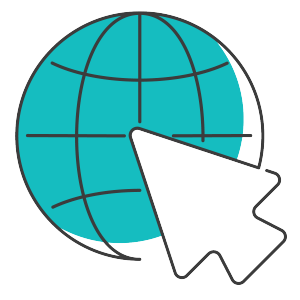 Why is this necessary? Because, unfortunately, not everyone's content can make the first page of the search results. And more honestly, not everyone's content should make the first page. The aim is to create relevant articles targeted to solve specific issues. It would be a bit annoying if I was searching for ways to fix my running toilet, and instead was getting results for top travel destinations.
Therefore, SEO will play a big role in your plumbing blog and you'll want a strategy to rank highly. Data has shown that 60% of people click on the top three websites in search engine results, and 75% of users never click past the first page of results.
So, what can you do to make sure your blog posts are ranking well? A lot of things need to go into it, but here are some key factors:
Local SEO
Firstly, if you're a local business, your focus should be on local SEO. This means you're optimizing your content for a specific geographic area. It's a great idea to include your location in your articles.
If you remember from a little earlier, at the end of Mr. Rooter's blog, it said "Call Mr. Rooter Plumbing of Denver & Northern Colorado". They've included their location to specifically target potential leads in that area. Search engines will take this into account, and show it to users looking for plumbing help in Denver.
If you'd like more service business sales content, check out the full category here!
Keywords
Next, it's important to write content on topics people (meaning your potential customers) are searching for. A great way to do this is through keyword research. Keywords are terms that define what your content is about. They're phrases or words people would type into a search engine–for example, "why is my toilet running" was my keyword.
To find out what keywords people are searching for, consider using a free tool like Google's Keyword Planner. It will show you the search volume of certain phrases and from there you can decide what topics make most sense for you to write about.
When doing keyword research, be mindful of who your target audience is. Just because "how to replace a fill valve" has a high search volume, doesn't mean it's the right phrase to target. Someone searching for this is most likely planning to complete the job themselves instead of calling a professional like you. Target a more general phrase like "how to stop a running toilet," for example. Someone doing this search will more likely be open to using your services.
Create content for humans
Although a search engine's algorithm decides where you rank in a search, your content is for people–not Google. With that said, don't focus all your energy on incorporating every little element that could make your plumbing blog rank higher. It might just end up backfiring if it alters your content so much it no longer appeals to real people.
Instead, prioritize writing useful and relevant blogs. Draw from real conversations you have every day with your customers. By focusing on content people genuinely care about and want to read, you'll actually gain visibility in the search results. That's because Google rewards unique content–not run of the mill work. And with that said, here are…
3. Unique content ideas to consider creating for your plumbing blog.
Blogs come in all shapes and sizes, so don't feel like you have to be locked into creating one form of content. With that said, your plumbing blog should be focused on creating content that will appeal to your target audience (which in most cases, will be existing or potential customers).
Just because your competitor down the street writes about certain topics doesn't mean those are the right topics for your audience. Maybe they cater to more commercial clients and you work with primarily residential customers. Focus on what they would want to read. And if your competition does have a great article on a topic that relates to your audience, it never hurts to write a post on it with your own spin!
If you're in need of inspiration for how to create unique content, though, look no further. Here are some ways you can make you blogs posts stand out:
Videos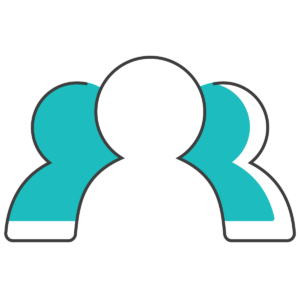 A great way to make your blog articles stand out is by including a video. According to UpCity's video marketing research:
47% of businesses believe that their current video marketing strategy is somewhat effective in achieving their 2022 goals
A majority of respondents noted that increased brand awareness is their most important goal for video marketing in 2022
17% of businesses focus most heavily on creating demonstration videos, followed by company culture videos at 16%
If you think about your day to day online scrolling patterns, you most likely click on posts that have a visual attached to them–especially if that image is of a person. We naturally gravitate towards this type of content, so it's a great idea to record a short video in your posts to really stand out.
To see some great examples of the different types of videos you can create, check out this post here from the Commusoft team. It's a blog dedicated entirely to our top videos of 2020. You'll see topics can range from industry trends, interviews with experts, and even your own personal tips and advice.
Check out the full Field Service News & Insights series here!
Audio
Another way to really make your content stand out is by creating an audio version of it. Just like you, your target audience is busy. They're probably always on the go, and may not have the time to sit down and read through all your amazing blogs. So, give them the option to listen to them instead!
If you write a post that's really spectacular, consider turning it into a podcast. This form of media is on the rise in the United States, with 64% of people consuming audio content weekly. Take some time to turn your top blogs into a narrative, and maybe even invite a friend or colleague to discuss the content with you.
By doing this, you'll make your plumbing blog more accessible to a wider audience. And you'll definitely stand out in the process. 
Check out the full Let's Talk! interview series here!
Written Content
Last (but very much not least), is how you can make your written blog content unique. The majority of your plumbing blog most likely will be in written form, so it's important that your content separates you from the competition.
To do this, it's best to research. If the plumbing business downtown offers 5 ways to fix a running toilet, your blog should offer 7 solutions. Maybe they just wrote out their tips, but what if you included some visuals? Not everyone (including me) will know what a fill valve looks like off the bat. If you can show me, I'm much less likely to click away and run a separate search about it.
Ultimately, you want your blog to be the end all be all. When a potential lead finds your plumbing blog, don't give them a reason to leave the page. Provide them with as much useful information and content as possible. If you want some more tips and best practices, check out this post.
4. How often you should be creating and promoting your content.
The short and simple answer for how often you should post on your plumbing blog is as frequently as possible. But the reality may not be as clear cut. While it's true the more you post (quality and unique content, that is) the more traffic you'll tend to get, you may not be able to allot as much time as you would like for your blog.
However, if you can't post consistently, it is better to post less. As you gain a following, your audience will expect regular updates from you. If you post four times a week for one month, and then only two times total the next, you risk losing engagement.
To avoid this, sit down and really map out your schedule. Consider how long it takes you to write and edit an article. If it takes you six hours, for example, can you commit to blocking out that amount of time weekly?
If it feels completely out of reach, utilize your team! Ask if anyone would be open to being a regular contributor to your plumbing blog. They most likely have a plethora of knowledge they can share while bringing a new and interesting point of view.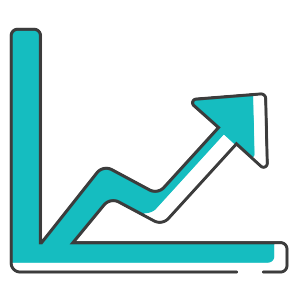 Once you know how often you'll be updating your blog, make sure you're promoting it. Some people may find your articles organically in the search results, but to scale faster it's a great idea to post on your social media as well.
You most likely already have a solid following (and if you want to give it a boost, try these tips). Use your network to your advantage. Whenever you release a new article, update your social accounts and encourage your followers to like, share, and comment. This will expand your reach and allow you to get in front of even more people.
Check out the best dedicated Plumbing Software you'll ever find!
5. The takeaway + 5 plumbing blogs to check out for inspiration!
Now that you've gotten through the basics, it's always a good idea to check out some examples of what a great plumbing blog looks like. Below you'll find some blogs that are paving the way in the industry for content.
Why: Not only did Mr. Rooter come to my rescue in my time of need, but this plumbing blog also excels at creating multi-form content. You'll find long form posts, easy to follow DIY tips, and informative "how-to-videos." Their brand is also focused on community, so they've even included a "Monday for Mom's" section where you can find comfort food recipes that make you feel right at home.
Why: Best Plumbing keeps it simple, and it works. Many of their posts tackle a specific issue, list out potential reasons for the problem, and walk you through solutions–all within a 3 minute (or less) read time. They know their audience is on the go and give it to you straight, which is one of the many reasons they're a leading business in the industry.
Why: A part of Reader's Digest, Family Handyman's blog doesn't confine themselves to one lane. Instead, they write on a broad range of topics–and most importantly, they do it knowledgeably. If your business offers more than just plumbing services (maybe you do HVAC too) this blog is a great one to draw ideas from.
Why: Reddit Plumbing is not your average plumbing blog, in fact, it's a forum. With over ninety-two thousand members, it encourages a dialogue between users who can share ideas, collaborate, and offer advice. It also boasts a broad range of content that features all different types of voices and perspectives.
5. Commusoft
Why: Sure, maybe I'm a bit biased, but the Commusoft blog offers content on everything from how to boost sales and improve customer experience to the nitty gritty of managing a team and increasing productivity. It has something for everyone while still focusing on specific challenges the field service industry faces.
The takeaway on having a plumbing blog for your business
All in all, starting a blog for your plumbing business is a great idea. It can generate more business for you, establish your authority in the industry, all while personalizing your brand. While there is a bit to take into consideration before getting started, really focus on finding your voice and creating unique content. If you do that, you're sure to have a winning blog!
And, while we're on the topic of great content, be sure to check out Commusoft's free guides and resources. Clear and effective communication means a lot to us, and we get that it can be difficult to find the right words when working with customers. To make it easier for you and your team, we've created The Customer Communication Toolkit. It has over 10 free templates, including everything from service reminders, to job confirmations, to asking for reviews. Download your copy below!