8 Essential Features for Dynamic Scheduling Software
August 21, 2019 - 11 minutes
Let's discover eight essential features for dynamic scheduling software that every field service business should be looking for.
Field service businesses schedule and dispatch hundreds or even thousands of work orders per day. It's the responsibility of their office staff and schedulers to process those appointments, assign them to a technician, and find a suitable date and time for the work to be completed. But this is no simple task.
Scheduling is especially challenging for organizations with large workforces, broad geographical service areas, or those who conduct varied types of work. This is where dynamic scheduling software comes in.
With the right software, scheduling can be automated to improve workforce utilization, increase first-time fix rate, maximize efficiency, and allow businesses to complete more work orders per day. We've covered the 8 essential features for any dynamic scheduling software below, so you know what you're looking for.
1. Schedule multiple appointments at once
2. Suggest single appointments too
3. Map view and street-level routing
4. Shift patterns
5. Skills management
6. Appointment slot controls
7. Instant updates and dispatch
8. Automated customer notifications
But first, what exactly is dynamic scheduling and how does it work?
What is dynamic scheduling?
Dynamic scheduling occurs when a field workforce's appointments are automatically scheduled using a system that can consider factors such as staff availability, location, travel time, skill sets, and more. Instead of manually organizing appointments, a dynamic scheduling system handles the complex and evolving workload through powerful computer algorithms. Through this process, businesses can achieve higher levels of efficiency and route optimization than possible through purely human-based scheduling.
To find the best dynamic scheduling software for your business, you need to consider these 8 features that are essential for any dynamic scheduling software.
1. Schedule multiple appointments at once
If your dynamic scheduling software cannot handle booking multiple appointments in one go, then look elsewhere. Mass scheduling (also known as bulk scheduling) should be a core feature for any dynamic scheduling software. Booking multiple work orders in one action is not only the biggest time saver, but it offers the most efficient routing too. By considering many appointments at once, an automated scheduling system is able to analyze far more possible routes and combinations and therefore find highly efficient schedules for your team.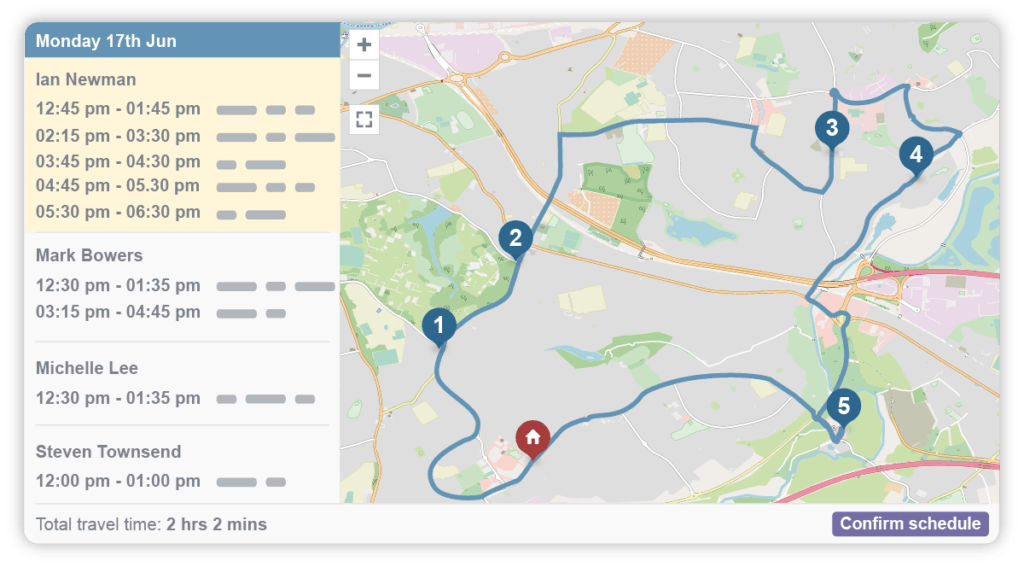 A few other things to look for in a mass scheduling feature:
Schedule review:

 Before you commit to booking those 1,000 appointments that the system has just analyzed, let a human review it first. Ideally the dynamic scheduling system will offer a simple review screen with each technicians' work orders by date and time as well as their driving route displayed on a map. This gives office staff an easy way to quickly verify the schedule before they approve it.



Customization:

 Mass scheduling is only as great as the tools that come with it. For example, can you select which technicians you wish to be included? Or select a timeframe for appointments to be scheduled? If you can't customize the process with some useful parameters, then it may be difficult to make it work for your business.



Background processing:

 Bulk scheduling shouldn't take long for smaller numbers of appointments. However, it's exponentially slower the more work orders you add, due to the increased number of possible routes. Don't accept a system that makes you wait while it processes. Dynamic scheduling can (and should) occur as a background task, allowing staff to use the rest of the software whilst the system is at work.
2. Suggest single appointments too
Whilst dynamically scheduling multiple work orders at once may be the most efficient course of action for field service businesses, it's not required in every situation. Sometimes you simply need to book in just one appointment. In those instances you will want to rely on the same automated scheduling system and intelligent algorithms to find the perfect date, time slot, and technician for the job.
For example, imagine a customer is on the phone trying to arrange an appointment for a service. With a dynamic scheduling system that features appointment suggestions, office staff can input work order details and have the system spit out the most efficient options based on current availability. The scheduler didn't have to scour the calendar for an empty gap, work out who to send, or try to assess the driving distances from the tech's other work orders – dynamic scheduling did it all for them.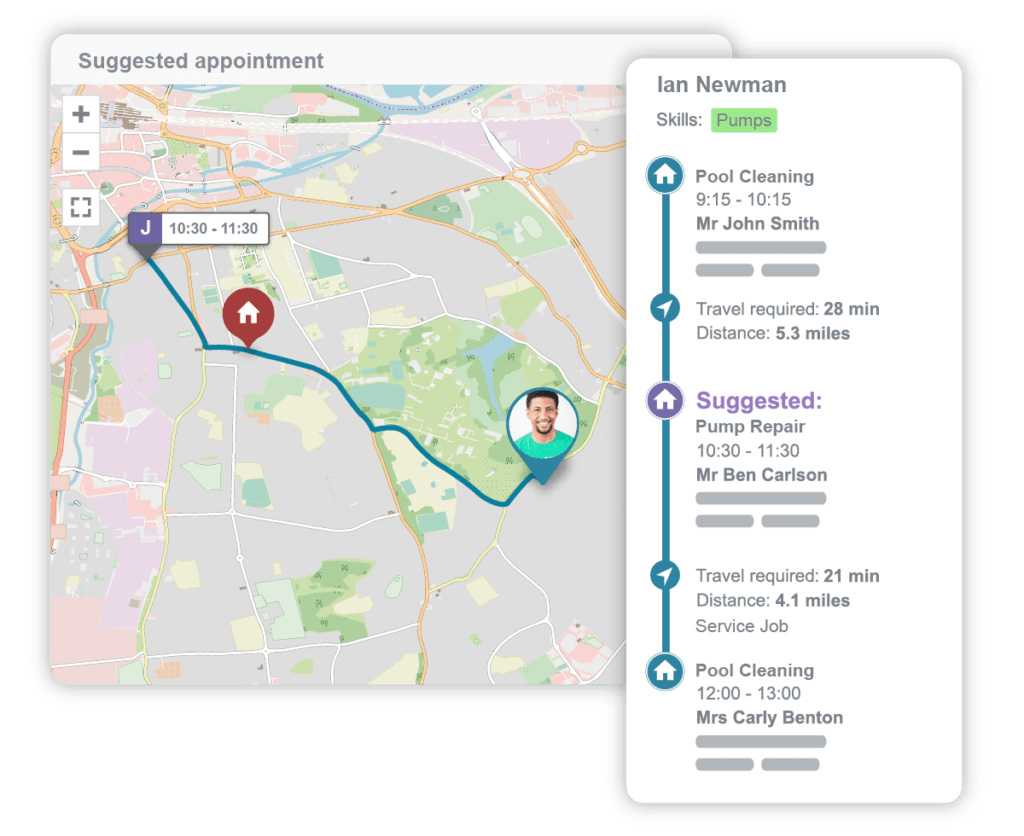 You'll want to make sure your system also offers:
Multiple options: 

Make sure your dynamic scheduling system can offer multiple appointment options. If the most efficient time slot doesn't work for your customer, then you can offer the next most efficient. That's no good either? Offer them the third most-efficient appointment. Still no good? – I think you can see where this is going…



Date flexibility:

 When booking a single appointment, you may already have a particular date in mind – perhaps requested by the customer. A good system should offer the ability to look for the most-efficient appointment on that day. An even better system will also give you the flexibility to find an appointment over a time frame e.g. Wednesday 24th plus or minus 2 days.
3. Map view and street-level routing
Whether your office team are dynamically scheduling multiple or single appointments, maps make everything better. Automated scheduling can be difficult to comprehend at times – and a list of addresses without visual cues is challenging for any scheduler to digest – that's why maps are essential. If you are reviewing a mass schedule of tens of appointments, you should expect to be able to see those on a map so you can visually process that information and the suggested route.
You will also want to consider the routing provided – does the system generate street-level routes or only "as the bird flies"? Street-level routing is vital to ensure that your dynamic scheduling engine offers accurate driving routes based on the map data available.
4. Shift management
Now that we've covered three core features, let's look at some smaller features that still have a significant impact on the effectiveness of a dynamic scheduling system. If you're considering a system that doesn't offer the following features, you may think "No big deal, I have the main components required" – but don't be mistaken by just how important supporting features like shifts, skills, and service windows are. Without them you may find your automated scheduling system is almost useless.
First up is shift management. With a dynamic scheduling system you can quickly schedule efficient appointments – but are they at suitable times for your technicians? Remember, not every technician works the same hours, flexibility, or overtime. If the system does treat everyone the same, you're going to run into problems, like frustrated techs and appointments that keep getting moved. With the right tools, the system will know that Mark doesn't work Fridays, Lisa can't take work orders after 4pm, as well as each tech's particular overtime periods and rates. By giving the automated scheduling system this information it is able to always schedule logical appointments that work for your team.
5. Skills management
Just as not every technician has the same shifts, not every technician has the same skill sets either. Understanding skills is critical for a dynamic scheduling system to send the correct person for the task. This is especially important if your business works across multiple fields or industries with employees specializing in different types of work.
Take for example the fire and security industry. If the business had technicians who specialize in fire safety (fire alarms, sprinklers, etc) and technicians who handle the security side of things (CCTV, alarm systems, etc) this would pose a challenge – they may even have techs who do both.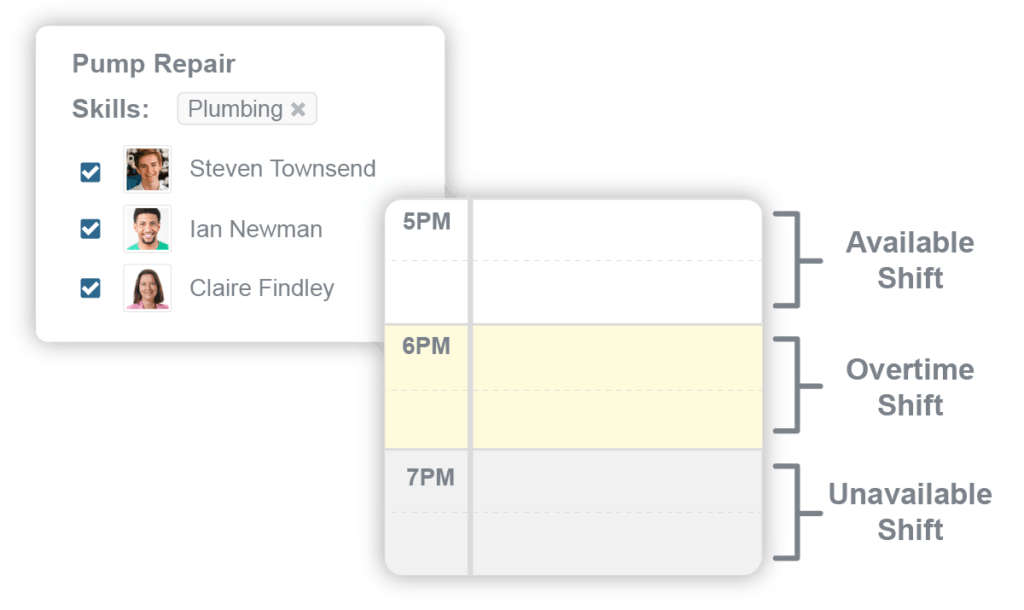 If a fire and security business wishes to embrace automation and use dynamic scheduling, the system needs to know the difference between fire safety work and security work and which technicians should be sent to them. By implementing skills management with an automated scheduling system, businesses can improve their first-time fix rate by always sending the right person for the job.
6. Retain control over appointments
A dynamic scheduling system may have the ability to optimize or move existing appointments. This is great for efficiency but can result in negative customer experience. No customer wants to be told the technician will come at a specific time on a specific day, only to get an update telling them the booking has been moved. Now imagine that happening multiple times for the same appointment – the customer will rightly get frustrated. Without the correct management tools, this is a potential risk associated with a dynamic scheduling system. There are ways to combat this though, for example:
Lockable appointments: 

The ability to lock a work order and inform the system (and your colleagues!) not to move it. This may be required for a time-sensitive work order or if you have guaranteed a customer an exact time. Ideally, you would be able to lock an appointment in multiple ways, such as by date/time and technician. This ensures the dynamic scheduling system can't move appointments you don't want to be moved and mess both your customers and team around.



Service windows:

 With service windows, businesses can offer their customers broader time frames for an appointment, while still setting specific appointment times for your techs. For example, a technician may be scheduled to install a fire alarm from 2-3 pm, however, the customer was told "late afternoon between 2 pm and 6 pm". This gives your team greater flexibility with their schedule. It also gives you more control when using a dynamic scheduling system. For example, if the automated system recognizes that the appointment would require less driving at 5-6 pm, the appointment can safely be moved without any update to the customer required.
7. Instant updates and dispatch
If you've found a dynamic scheduling system with all of these features so far, you're doing well! You'll be able to quickly schedule large amounts of work orders, finding both the most efficient route and the right person for the task. However, do you have a good way of dispatching those work orders to your technicians? Being able to schedule 1,000 appointments is no good if you can't easily deploy the information to your team.
For an automated scheduling system to be worth your time it needs to be fully integrated with your work order and workforce management software. So, when you do mass schedule those work orders, your techs will receive notifications on their smartphone for them to accept or reject. Technicians can then access all the relevant work orders, property, and contact details straight from their work order management app.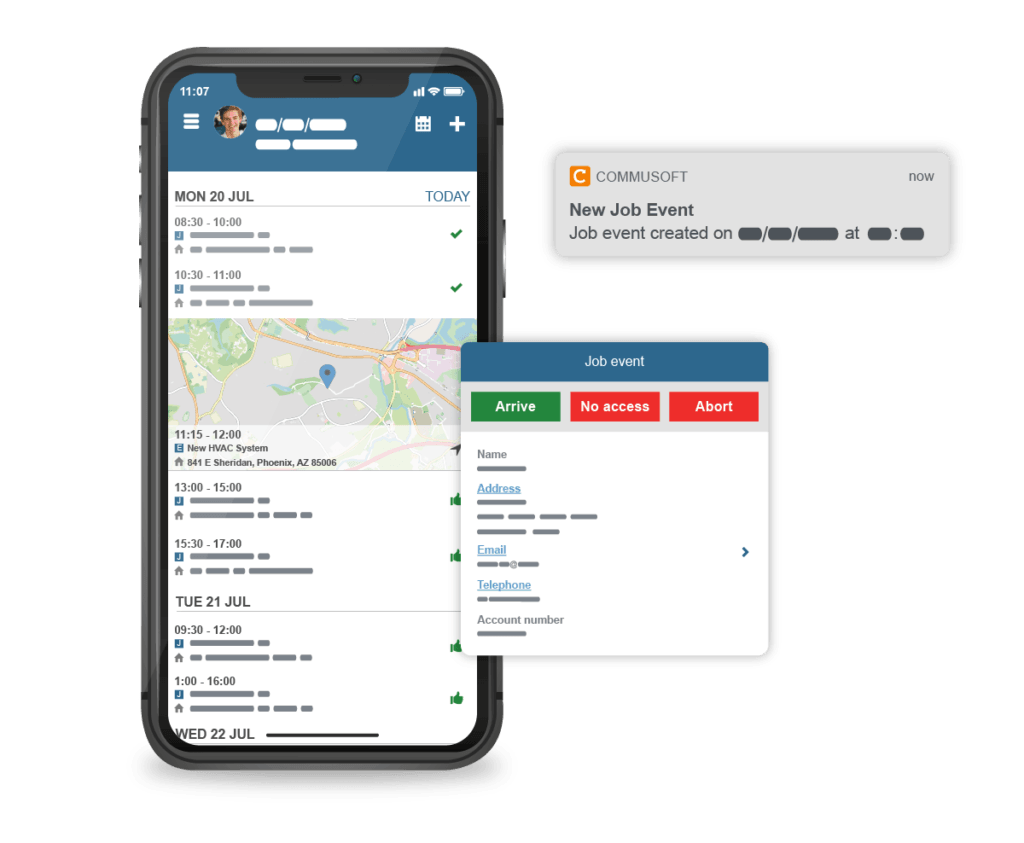 While we're on the subject, make sure the app can handle inventory management, invoicing, on-site photos, customer communications, and everything else your team needs to do its work on the go.
8. Automated customer notifications
Your technicians are not the only ones that need to be communicated with effectively, your customers do too – which is especially important when dealing with multiple appointments being dynamically scheduled (and potentially rescheduled!). Customers expect to be kept in the loop with their appointment booking – they'll want to receive confirmation emails, SMS, or event a letter (yes, some people still want paper letters!). Once you've used dynamic scheduling to book an appointment (or a couple hundred), a confirmation should be automatically sent to let the customer know the details.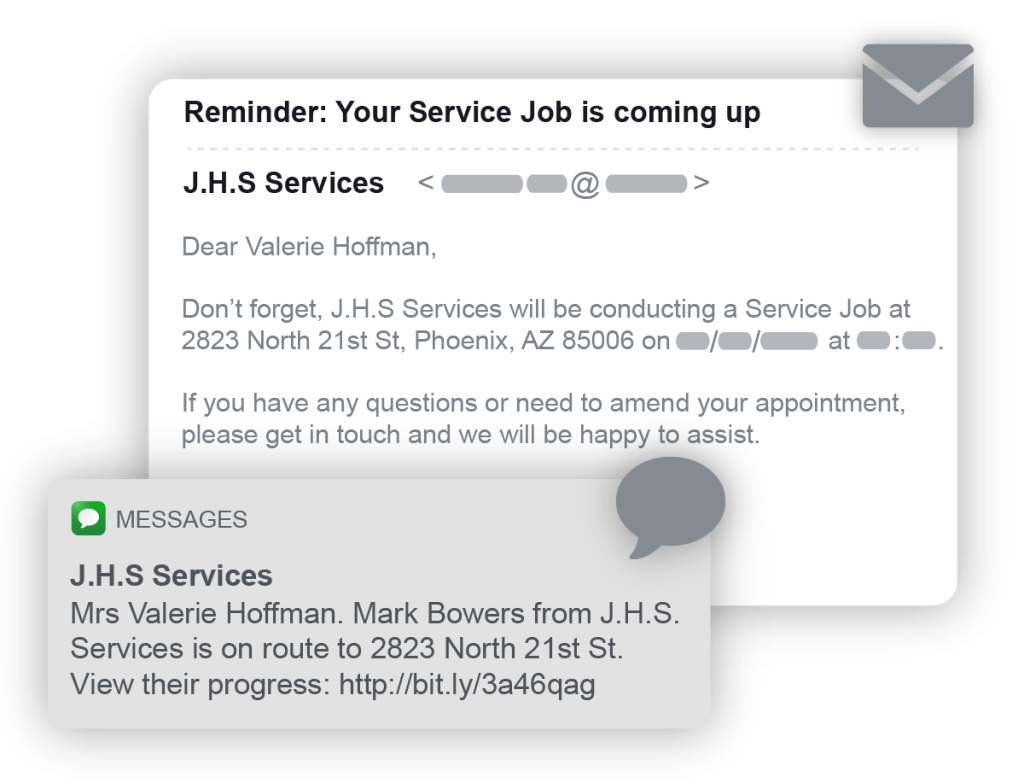 When considering dynamic scheduling software, it's worth your time to also review what other communication tools it can offer your business. For example, technician tracking portals, communication templates, personalization tags, feedback forms, or online booking forms – all of these will give your customers a better experience and enhance the automated scheduling system.
A dynamic scheduling solution
Commusoft's dynamic scheduling (we prefer to call it intelligent scheduling!) hosts all of these features and more to offer the best-automated scheduling system for field service businesses. Benefit from both suggested individual appointments and mass scheduling, all powered by our route optimization algorithm and cluster-computing framework. Commusoft's dynamic scheduling can offer a level of planning and routing efficiency that simply isn't possible by a human in order to reduce fuel costs, travel time, and underutilization of technicians. To calculate how much money dynamic scheduling could save you, try our free ROI calculator here.