5 Must-Have Tools For Service Level Agreement Monitoring
July 16, 2020 - 8 minutes
Service level agreements are often a requirement for large service maintenance contracts and when working with well-established commercial clients.
Due to the costly penalties and fees that accompany SLA breaches, failing to properly monitor service level agreements can result in significant financial burdens for your field service business. With the right software, however, you can stay on top of SLAs, breaches, and reporting to ensure accurate service level agreement monitoring.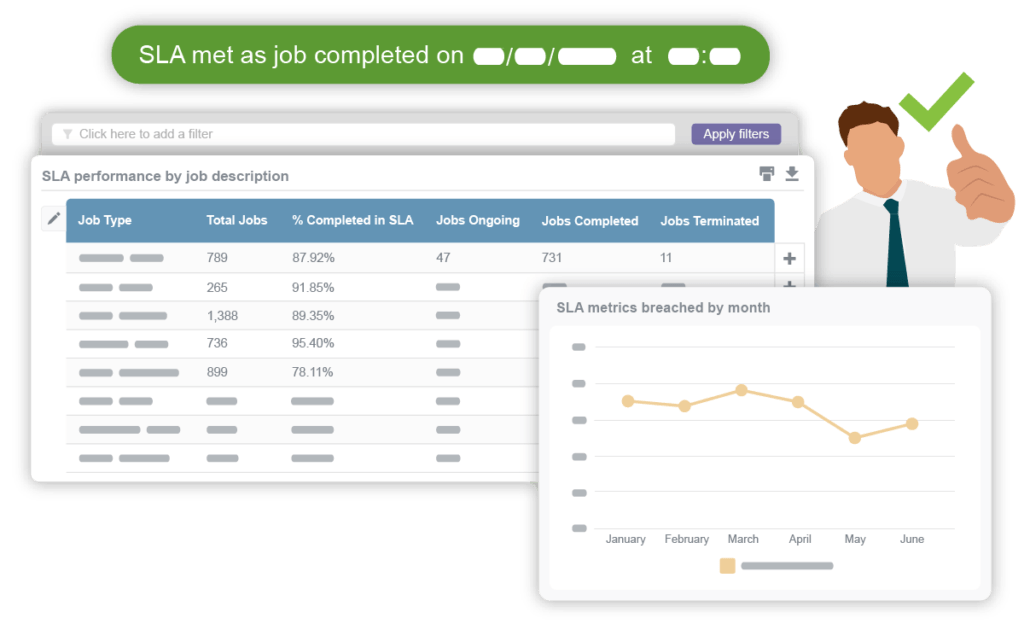 If you want to unlock the benefits of successfully managing SLAs—we're talking improved customer relationships, winning bigger contracts, and increased cash flow—make sure your software provides these 5 must-have tools:
1. Visual countdowns and timers
2. Breach notifications and warnings
3. SLA reporting and analytics
4. Segmentation and customization
Not certain what an SLA is?
SLAs (service level agreements) are usually the part of a contract that concerns the level of service a business will provide. For field service businesses, this could mean responding to a job within a certain time frame or having a technician on-site within a certain number of hours. The agreement will often include penalties for failing to meet the outlined level of service, such as a $200 fine per breach. This is why having the right tools for service level agreement tracking is so important.
Now you know what an SLA is, let's review the 5 essential features for monitoring SLAs.
1. Visual countdowns and timers
Service level agreements are usually based around very specific time frames, therefore time tracking is critical.
One of the biggest challenges field service businesses have with SLAs is simply staying on top of that time: "How long do we have to provide the service?", "What time will we breach the SLA?". With multiple people working on the same jobs, tight deadlines, and lots of stress, it's easy for accurate timekeeping to fall by the wayside.
Without a computer system monitoring SLA countdowns for you, you have no single point of truth – no single timer that you can rely on to track how long until an SLA breaches. It's not good enough to simply rely on people to remember, especially not when financial penalties and your company's reputation are on the line.
Service level agreement monitoring software can provide you with that high level of accuracy you need to track SLA countdowns. With on-screen timers, any member of the office team can quickly check how long there is left to fulfill an SLA.
If the software color-codes the timer, it can offer a really easy visual to check where things stand – to put it simply, green = good, red = bad! These tools make it difficult for your office staff to miss an SLA deadline and are vital for effective service level agreement monitoring.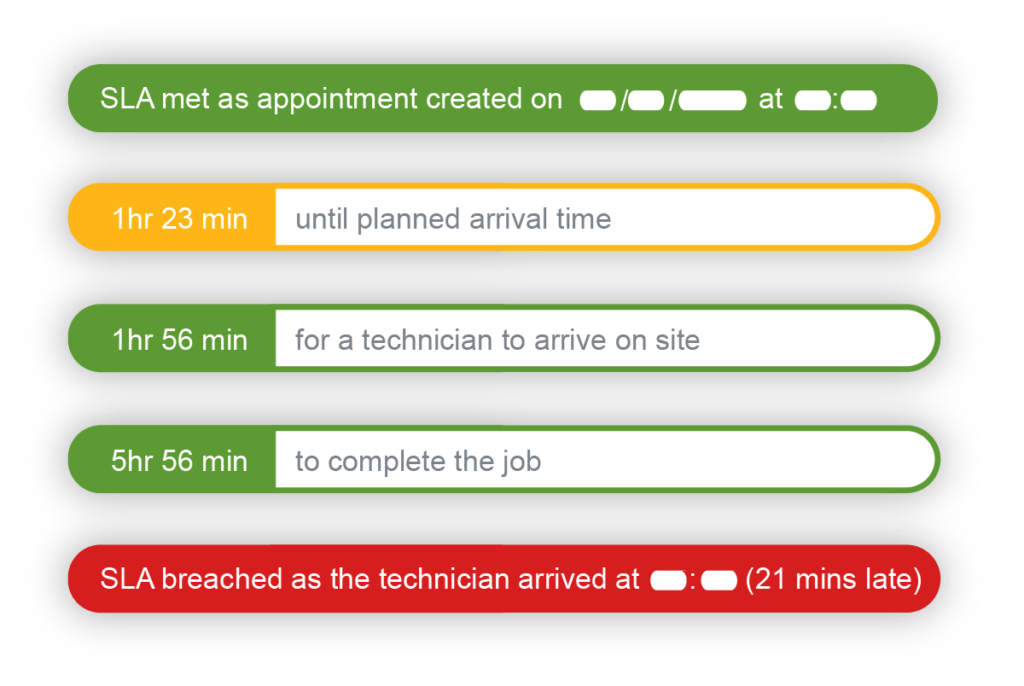 Beware: Some software companies will claim they can improve your SLA management, however, these solutions often don't include real SLA tracking and countdowns. If a company offers "SLA features", make sure you check that they are tangible SLA monitoring tools.
2. Automatic breach notifications and warnings
While countdowns and timers make it easier to stay on top of SLAs, it is inevitable that at some point an SLA will breach, whether due to traffic, a technician falling ill, or other unforeseeable circumstances.
Before that happens, it's ideal to receive a warning notification to let staff know that an SLA will soon expire. For example, your business offers an SLA for a technician to be on-site within 4 hours. If 3 hours have passed and the SLA hasn't been met, SLA tracking software should be able to automatically notify you and warn you that there is only 1 hour left until the SLA breaches. This offers office staff the opportunity to follow up with the technician and check if they will be able to get to the property on time.
If the SLA does breach (i.e. the technician arrived later than 4 hours), your operations manager will want to be notified. Service level agreement tracking software can provide instant notifications when an SLA is not met in time—so everyone is kept in the loop regarding business performance. Similarly, you may want to send an automated email out when the SLA breaches. This could be sent to the client to acknowledge the breach and address any next steps or follow up required contractually.
If your field service business wants to upgrade their service level agreement monitoring and reporting, then automatic notifications and warnings are must-haves.
3. SLA reporting and analytics
Instant notifications may let the operations managers know when there is a breached SLA, but what if they want to know how many SLAs were met (or not met) in the past 6 months?
That's where reporting and analytics come in. If you're working for large commercial clients (or would like to) you may be asked what your SLA compliance rate (or attainment rate) is. Your SLA compliance rate is the percentage of time that you successfully meet the service level agreement. So, if you had 100 jobs with an SLA, and you met all but 2, your compliance rate would be 98%.
If you're recording SLAs with a spreadsheet, attainment may be difficult to accurately track. Similarly, without the proper management tools, you may find your SLA compliance rate is nothing to write home about.
By employing service level agreement monitoring and reporting software that records each and every instance of an SLA, your business can always rely on detailed reporting and analytics. Beyond that, effective monitoring of SLAs will likely allow you to improve your compliance rate and offer your customers a better overall service.
SLA reports allow staff to look back on breached SLAs and assess what could have been done differently to achieve a better outcome. As we mentioned, reporting can also allow you to measure your SLA compliance rate, which can help impress potential clients when tendering for contracts. With well-implemented SLA reporting, your field service business can benefit from added accountability and insight when working with SLAs.
4. Segmentation and customization
Inflexible management software can sometimes cause more problems than it's worth. If you are adopting software to monitor your service level agreements, make sure you pick a solution that is customizable to your needs. For example, is there a logical way to assign which jobs have which SLA? If you have a standard contract with standard SLAs, is there an easy way to create a reusable template for that? Can you customize how long before a breach the warning notification is sent?
Segmentation is a great example of a customization that improves user experience and helps you tailor service level agreement monitoring to your business. Not every job you do for a client will receive the same SLA—and some jobs may have no SLA at all.
With segmentation, the system can automatically control which jobs are assigned which SLAs, for example only jobs marked "High Priority" or just jobs with the description "Fire alarm emergency call out". By doing this, you can ensure that when a matching job is created, the SLA will be applied without the team having to manually check and add it themselves.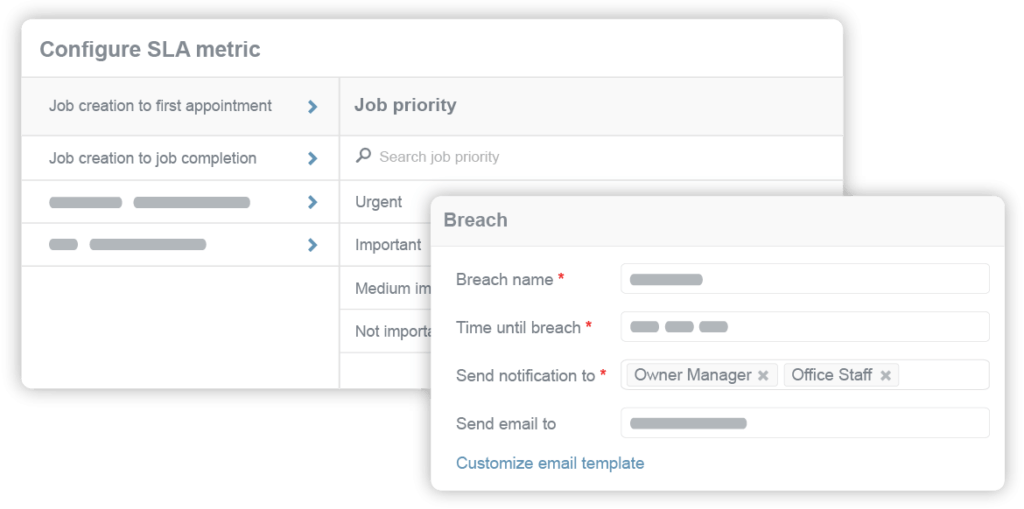 Customizations like contract templates (which should include SLAs) are other time-saving tools that can enable you to quickly get new accounts set up with service level agreement tracking. Remember, a software that isn't customizable will only get you so far – you need to be able to make solutions work for your field service business's unique challenges.
5. Multiple metrics to track
We've covered 4 must-have features for effective SLA monitoring, however, we've saved the most important for last.
It may seem like an obvious one, but you need to actually be able to track the different types of SLA that your business offers. SLA monitoring software will likely have different SLA metrics hardcoded into them—you won't simply be able to create your own. The question is do they have the ones you need?
Most service level agreements are time-based—"We'll have a technician on-site within 5 hours", or to put it literally, "We'll do X in Y time". From the system's perspective, it needs to be able to measure the start action, the completion action, and the time between. If you offer very complicated and specific SLAs, you may find that there is not actually software out there that will be able to properly measure them for you. There are, however, several standard SLAs to look out for:
Time to schedule a job: This is the time from a job record being created and it being scheduled into a technician's diary.
Time for the technician on site: This is the time it takes from the job record being created and the technician arriving on site.
Time for completion: This is the time it takes from the job being added and it being marked as completed.
If the solution you are considering only offers one or a couple of these metrics, it may be worth looking for a more comprehensive software for your service level agreement monitoring and reporting.
Service level agreement monitoring solution
Commusoft work order management software offers service level agreement monitoring and reporting that includes all of these must-have tools. With the right software, field service businesses can improve their SLA compliance rate, reduce breach penalties, and strengthen customer satisfaction.