Key benefits of intelligent job scheduling software for your HVAC business
January 7, 2021 - 3 minutes
Job scheduling software for HVAC businesses comes in all different shapes and sizes. But the best scheduling software works for you, meaning there's very little you have to do to get the desired outcome.
When scheduling jobs, the desired outcome is to create the most efficient schedule. This means you're minimizing the travel time each of your HVAC technicians has from job to job. Arranging this manually can be a burden. But what if software could do all this for you?
Here are the top benefits of intelligent job scheduling software for HVAC businesses:
Route optimization

Always assign the technician with the right skills

Mass schedule jobs

Less admin time spent scheduling
Route optimization
How many times have you tried to figure out scheduling all your technicians' routes in the most efficient way possible? And how much time has this taken you?
The truth of the matter is that configuring technicians' days and weeks on your own involves more manual labor than necessary.
With intelligent job scheduling software, when you go to book an appointment, the software will give you options of what the most efficient appointment is.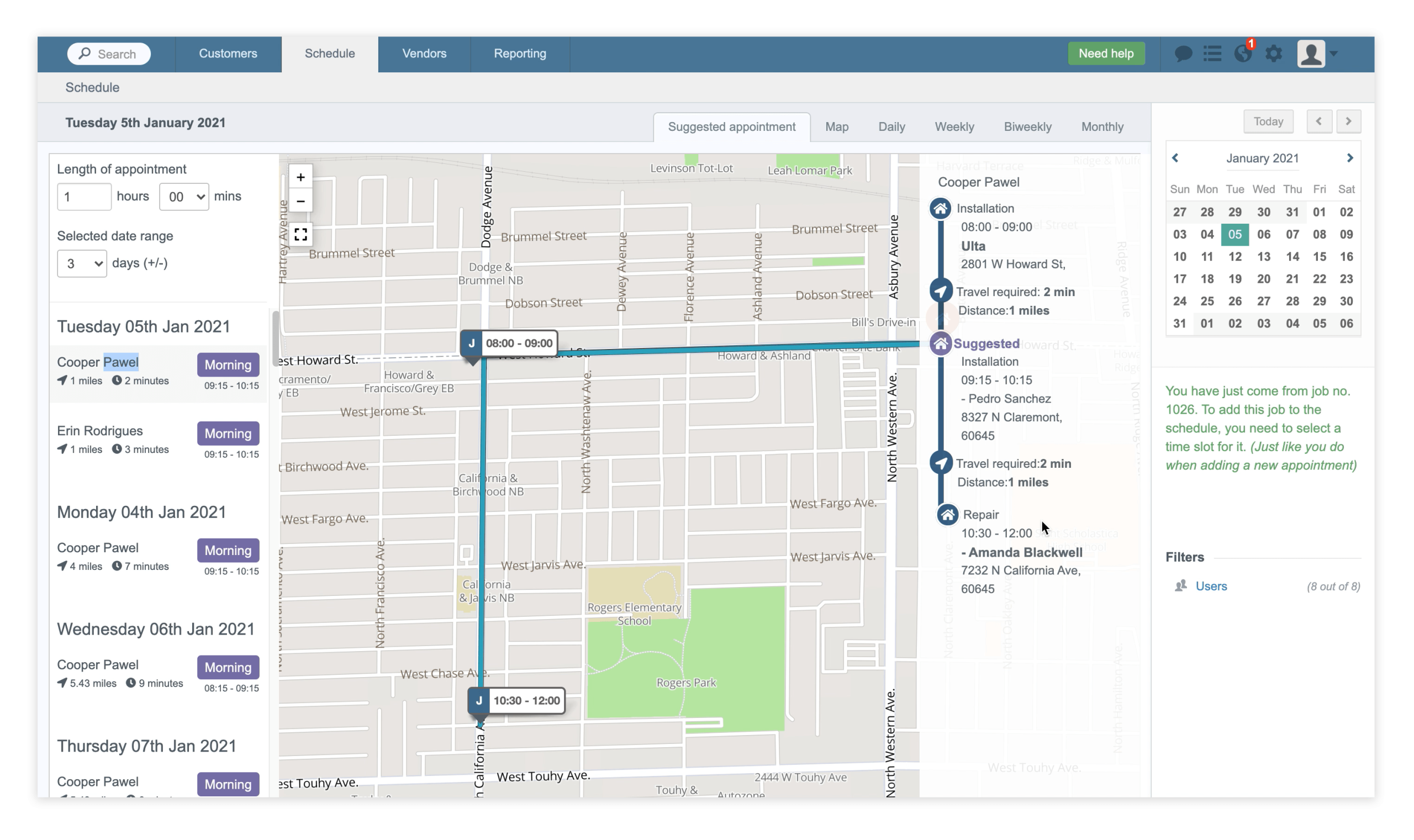 In the above screenshot, the appointments on the left are listed by efficiency. The most efficient appointment is at the top, and the appointments get less efficient as you go down the list. Note that the software tells you the distance and how long of a drive it is to the property. 
Then, when you click on a specific technician and time slot, you can see their exact route and where they were before and after. 
Having a system like this helps optimize technician utilization by decreasing driving time and fuel costs. 
Always assign the technician with the right skills
But what if the software assigns a technician for a furnace repair when they don't have that particular skill set? No need to worry. You should be able to assign skills to technicians so that way when you go to schedule a job, the intelligent job scheduling software knows which technicians have the needed skills.
Mass schedule jobs
If you're like most of our clients, you simply can't afford to schedule jobs one by one. It just eats up too much time. That's why our intelligent scheduling software gives you the ability to mass schedule. All you need to do is select the jobs you want to book and the software will find the most efficient schedule for all those jobs.
Less admin time spent scheduling
As a successful HVAC business, you know you can't spend time doing things manually if there's a faster way. You want a high return on investment when it comes to scheduling. And the best way to get this is to let intelligent software power your scheduling system.
Less time setting up appointments means more time being able to provide excellent customer journeys. The customer journey you provide is directly related to the referrals and return business you get.
Takeaway
Route optimization, assigning the technician with the right skills, mass scheduling jobs, and reducing admin time with scheduling are the key reasons why you should consider intelligent job scheduling software for HVAC businesses.
At Commusoft, our intelligent scheduling does everything mentioned in this article. To see the feature and other great features in action, click the link below to watch a free demo.