7 Benefits of Using an Online Appointment System for Your Service Business
March 9, 2020 - Array - 5 minutes
To make the scheduling process easier on your team, your customer, and your budget: consider using an online appointment system.
Online booking allows customers to schedule an appointment on your website. Then, the job automatically enters your calendar.
Making a process this simple for your customers can help increase conversions. Not to mention that your scheduling process will become more efficient, meaning your office staff can spend more time on other important tasks.
In case you aren't yet convinced, here are some key benefits of an online appointment system:
1. Customers can schedule services in a familiar space
Customers value online experiences, especially when it comes to making purchases. If you aren't offering online booking, the prospect may very well go to a competitor who does.
94% of respondents said they'd be more likely to choose a provider that uses online booking over one who doesn't, according to GetApp. Therefore, taking your booking services online provides a competitive advantage for your business.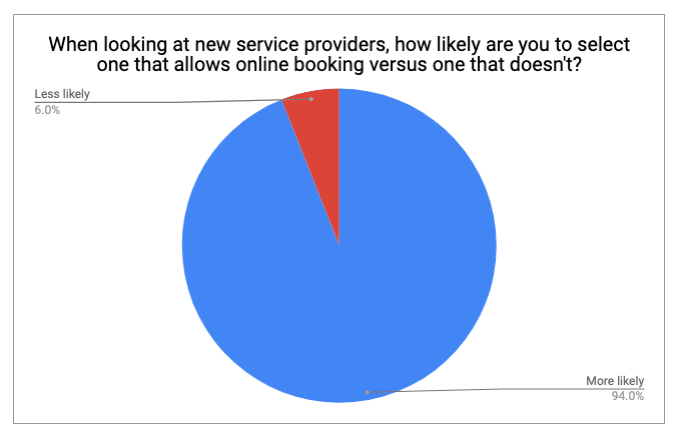 Catering to your customers' preferences pays off and is what people expect. In an age where people already use the internet for much of their lives, putting your booking form right on your website aligns the process with their lifestyle.
Moreover, people use company websites to understand services and make decisions, so providing a scheduling system right then and there can reduce the number of steps a customer takes to purchase your services.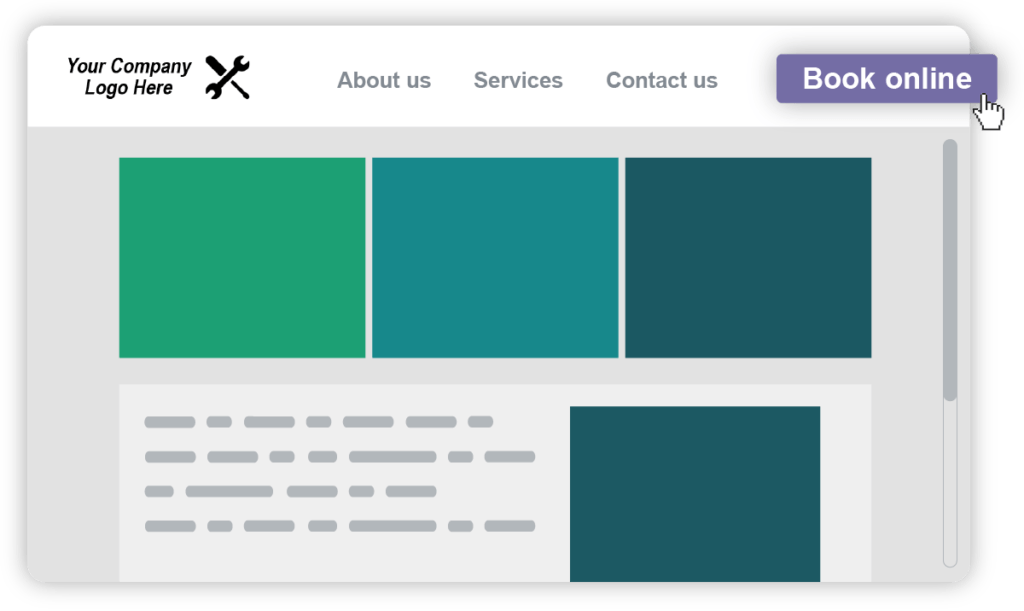 Learn more about creating excellent customer journeys online
2. Appointments go directly into your calendar
Cut down on tedious scheduling tasks by syncing your online appointment system to your calendar. Once your customer books an appointment online, the appointment goes straight into your calendar. You won't have to worry about manually booking jobs, giving your office staff more time to focus on other areas.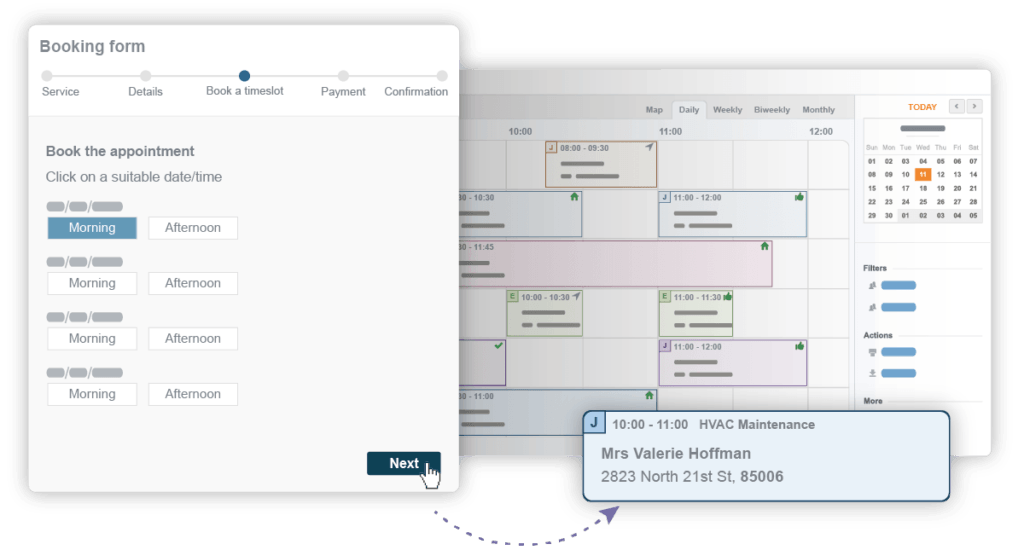 Gone are the days of checking voicemails and playing phone tag to get an appointment set up. Online booking helps you secure an appointment sooner, get the job done sooner, and ultimately get paid sooner.
3. Quick and easy for customers
Decide which services people can book online. Only the services you choose to list will appear on your online booking form.
A well-designed booking form menu gives customers a glance at what you have to offer so they can choose accordingly. You can even include the service price so customers are well informed about what they will owe.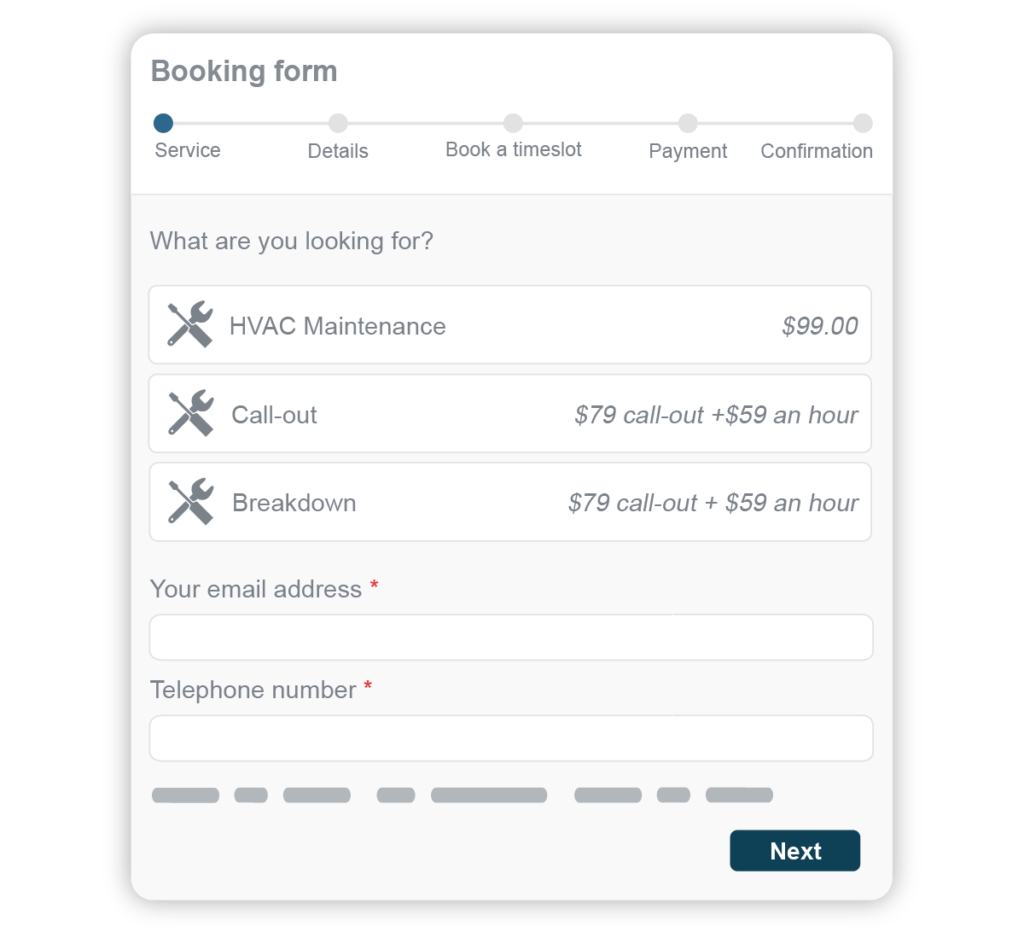 The form also provides a spot where they can select their date and time slot and give payment.
This simple form should give you all the information you need while keeping it as painless as possible on your customer's end.
4. Improves the customer scheduling journey
The last thing you want to do is make customers jump through hoops in order to book an appointment.
According to GetApp's research, nearly 70% of people would rather book their services online, while only about 20% prefer to book over the phone.
Offering online booking provides value because customers can book anywhere they have internet, rather than depending on staff availability to set their appointment up.
Additionally, there's no need for customers to step out of work or sit on hold. It's inconveniences like these that can result in your customer going to the competition.
Customers appreciate it when you don't waste their time. Let them book whenever they wish with a user-friendly system, instead of throwing dates back and forth with staff over the phone.
Scheduling with your customers' preferences in mind pays off by increasing both jobs and cash flow.
5. Converts new prospects easily
Converting more leads is all about having a booking system that's simple and quick to use.
Online appointment systems contribute to business growth because it's easy for new customers to quickly fill out a form and get into your CRM. This makes it that much easier to gain new clients and have their data inputted without getting admin involved.
On top of that, you get a job scheduled in mere moments!
6. People can attach photos of their issue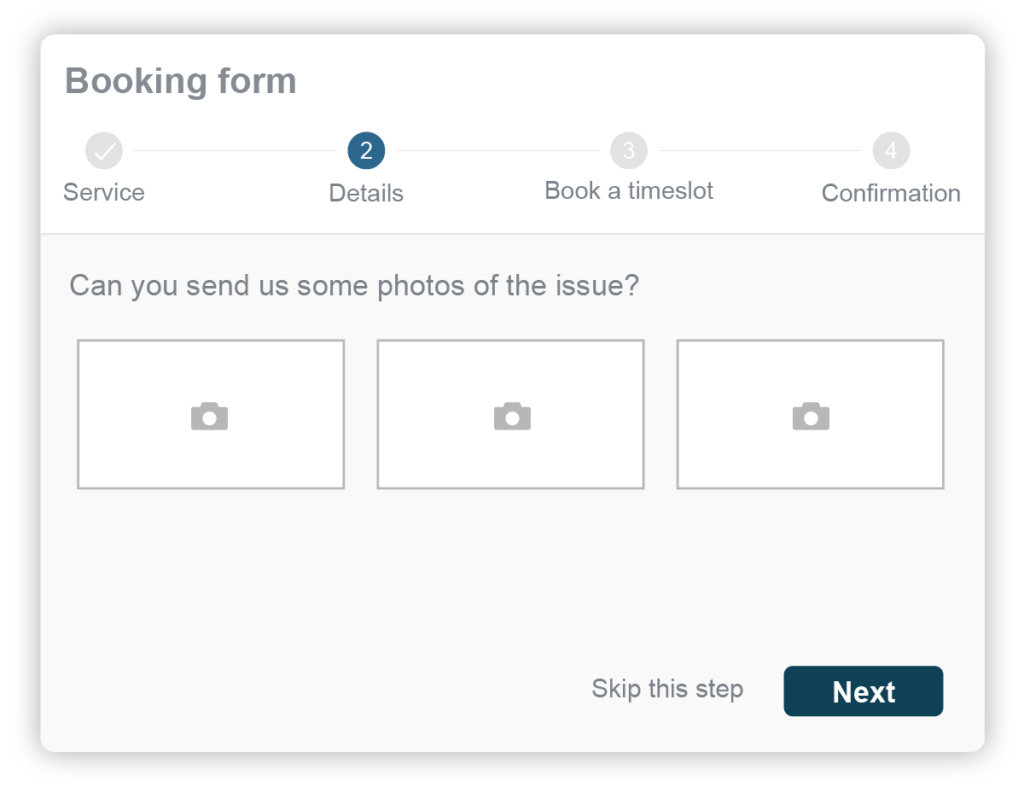 There are times when an image is the best way to get a point across. Especially with service jobs, seeing a photo of your customer's problem can help you see exactly what is going on.
Instead of having a customer try to describe their sink issue to you in writing, they can simply upload a photo.
7. Reduces admin time spent booking jobs
Simply put, online booking systems are less exhausting to manage.
Ease the load on your office staff by giving them a tool that reduces the time spent on appointment scheduling. This frees up time for other tasks and contributes to your business being more efficient overall.
On top of that, there are fewer scheduling errors or miscommunications when using appointment scheduling software. Customers input their information directly into the form, so there's no need to listen intently to details over the phone and write them down correctly.
Takeaway
To conclude, providing an online appointment system is a major advantage and has the capacity to grow your business while keeping existing customers happy.
Commusoft's Online booking tool does everything mentioned in this article and can remove 90% of your admin time. On top of that, a simple online booking system it helps you increase new business coming through the website. Our all-in-one work order management software is designed to help field service companies make meaningful changes to organize and manage their business. Learn more by clicking the button below to watch a free demo.