How to Give an Estimate Using Online Software
February 24, 2020 - 15 minutes
How to give an estimate can be a struggle for many trades businesses. Whether you perform monthly maintenance, install new appliances, or repair broken assets, aligning expectations with your customers is imperative. After all, giving prospective customers high-quality and detailed estimates significantly increases of converting them into paid jobs.
And you're in the business of making money, right?
Great quotes start with great software. Quotes and estimates software streamlines your sales process with easy-to-use templates. You can further improve sales by allowing customers to pay deposits online straightaway. No need to wait for a phone call or email.
Let's walk through a practical approach for how to write and give an estimate using online job management software for the trades.
1. Determine How You Can Help
Giving an estimate starts with diagnosing the problem and offering a custom solution. Personalization sets service companies like yours apart; and it's vital to remain memorable when prospective customers are weighing different options. 
Talk to the customer. The more your team understands the issue, the better you can help. Whether you visit their property, speak over the phone, or have a video conference, use these opportunities to build lasting connections. 
This initial conversation is a great time for your technician to show off expertise and educate the customer on their appliances.
Your technician should use this time to briefly outline the process of how they can solve your customer's problem. This is a good time to bring up any licenses or other relevant designations.
During their conversation, your technician should also use this as an opportunity to professionally present your business. They can share some information about your company and what makes you unique from competitors.
The tech has the option to quickly and professionally give the estimate right then and there. We will go over this in more detail in step eight.
No matter what, at the end of this conversation, your technician should show confidence in their ability to do the job and thank the customer for their time. Remember this tip: the more relevant information your technician can gather here, the easier it will be to build the estimate.
Watch below – "How to Quote a Field Service Job: Dos and Don'ts "
2. Design An Appealing Document
Designing an amazing estimate should be a top priority when you're learning how to give an estimate. All your competitors use estimates and it's likely that certain aspects of the document look very similar from company to company. To stand out, it's of vital importance that your design stands out.
In short, your estimate should be:
Branded

Distinctive from competitors

Something people actually

want

to look at
Branding plays a significant role in selling services these days. A strong brand identity is a powerful asset that helps you stand out from your competition.
One branding technique  is using a professionally designed logo. You certainly want to provide a way for your customers to remember you, and your unique logo is a great start. Adding your logo to your template header helps the customer understand who the document is from while standing apart from competitors. 
Next, let's talk about color.
The difference between a color document and black and white is more significant than you may think. In fact, people's desire to read content increases by 80% when there are colored visuals. 
Adding a color enhances the design, making it more visually interesting. With work order management software, you should be able to decide which color accents your work best for your estimate.
Quoting software should also give you a spot to add photos at the footer of your document. This is helpful if you want to show the faces of the business or any relevant licenses. Beyond that, it can add a pop of color! 
The good news is, once you have a template set up, you're able to go ahead and use it for as many jobs as you wish. You can make templates for all the services or types of jobs you offer. 
One final warning: if your estimate isn't visually appealing, there's a high chance it will get rejected. 
If there's resistance to even looking at it, it's highly unlikely they will spend time engaging with your document. Unfortunately, that means you just lost a job.

3. Add Your Contact Information And An Intro Message
When learning how to give an estimate, you'll get the most bang for your buck using reusable templates. These are great because you can type in certain information once, and then never have to type it in again.
Here's some key information you'll want to include in your estimate templates:
Company contact information

Customer name and contact information

Introduction message
Make it as easy as possible for your customer to get in touch with you to book a job. This can be done by including contact information in an organized manner.
Configure your estimate template by writing in your company's contact information—including your company name, phone number, address, and email address. Make sure the information is arranged neatly and place the information at the top or bottom of your document.
You'll also want your customer's name and contact information toward the top of the estimate.
Other best practices include adding an introduction message to your estimate template. Adding message text to the top of your template helps you express your gratitude for their consideration. This is your chance to be friendly and personable.
In your message, thank the customer for their interest and invite them to contact you should they have any questions about your services.
In your writing, we urge you to address your customers by name. According to Forbes, "the majority of consumers (80%) are more likely to purchase from a company that offers personalized experiences."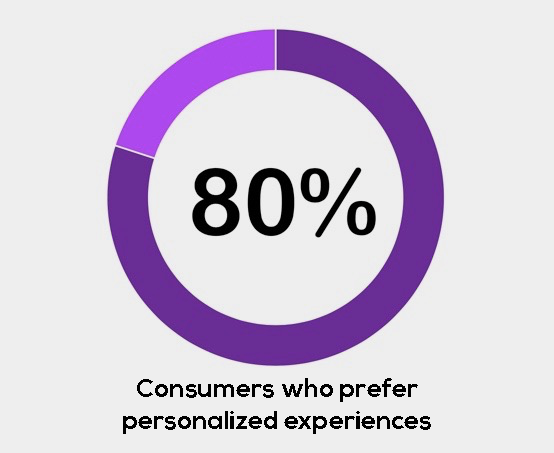 Have a hard time remembering names? And even worse, spellings of names? Us too.
Many estimating software offer tags to customize information – this includes contact name, customer email, estimate job type, estimate portal URL, customer email, and more. This saves your admin team valuable seconds, all while ensuring the information you provide is accurate.
Then, your estimates software automatically fills these tags with the respective information once you send out the quote.
Here is a basic message you to use for your introduction in your quotes:
Dear [estimate-contact-name],

Thank you for booking an appointment with us. Below is an estimate so you can understand the expected cost of the service. Please let me know if there are any questions.

Thanks,

[your business name]
Following these guidelines, here is an example of what the top of your estimate could look like: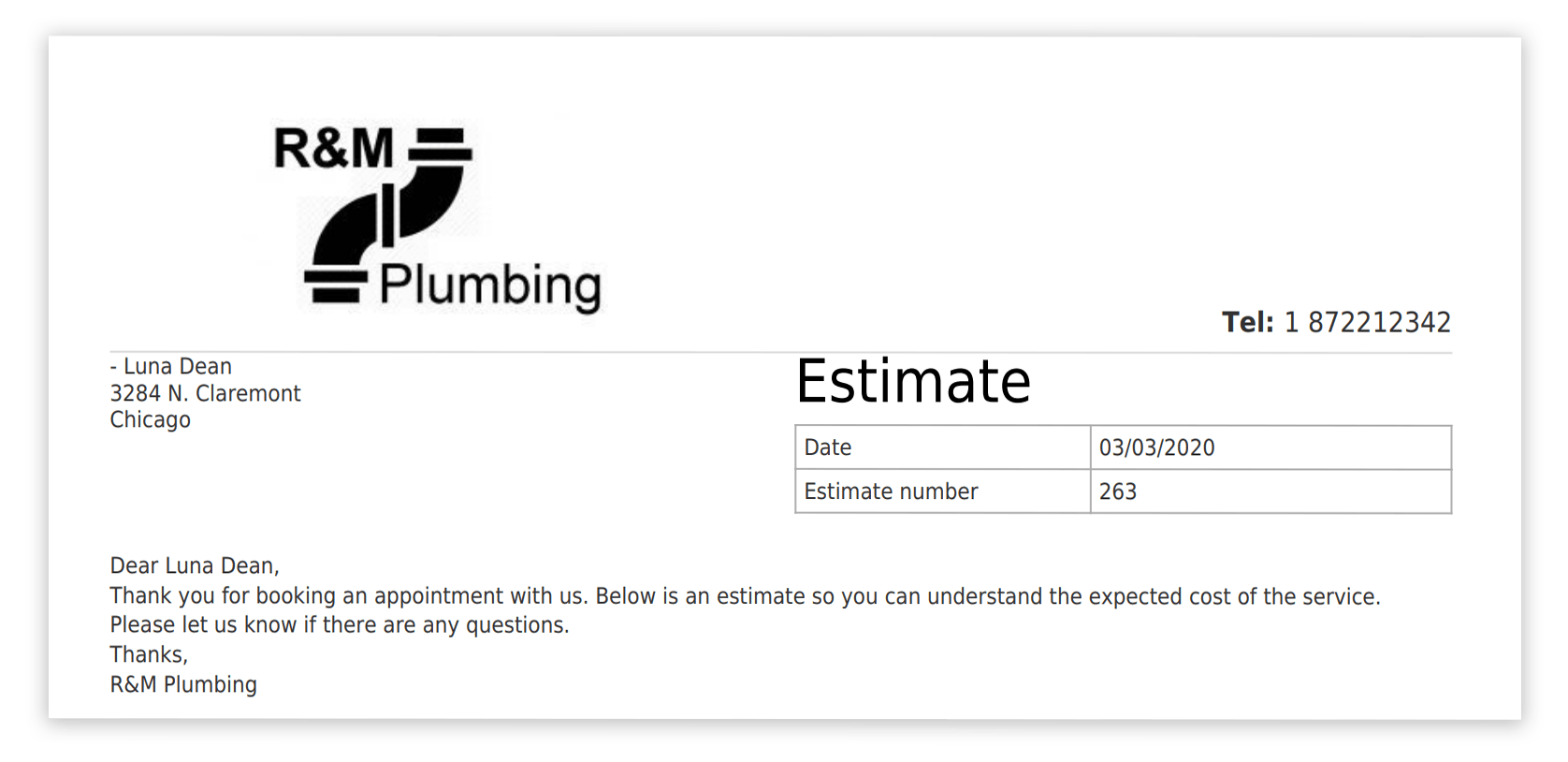 Once you write this text once, you're free to use it over and over again!
No one likes using their time and energy to do the same thing repetitively, and estimate software helps you minimize automatable tasks. Of course, you can personalize the intro text from job to job, or from customer to customer. The best quotes software leaves this entirely up to your team's digression. 
There's no one size fits all solution with personalizing vs. standardizing introductory messages— this is where experimenting pays off!
4. Outline Your Job Description
The job description is where you share details such as who is going to complete the work, what the work involves, and approximately how long it will take. The writing will feel more technical than your introduction. This section is typically right below your introduction. 
The main thing your customer wants to know is how you will solve their problem.
Include these components in your job description:
The diagnosis of the current issue

The proposed solution

Who will complete the work

The date and time the tech is coming

Where the work will take place

Any relevant procedures that the tech plans to carry out
Aim to provide a concise description of the works. Surely, you want to be descriptive enough so they understand your plan. But please, do not bore them with lengthy text containing unnecessary technical details.
Be clear and direct with the writing. Keep in mind that you're writing to someone who probably does not have nearly as much industry knowledge as you do.
After writing an initial description, spend some time thinking about what information is necessary to communicate and if any of the text can be taken out. Messages that are brief yet informative work the best.
With work management software, you should have the ability to bold, underline, and italicize text. You can also adjust the font size or font family to your liking.
You can use these tools to alter the text to emphasize different aspects of your message. Just be sure to keep the copy clean!
Here's an example of a plumbing job description:
"On 3/14/2023 in the early afternoon (1:30-2:30 pm), Kevin will complete plumbing work at your home address. The job involves unclogging a bathtub drain on the second floor. Kevin will use hydro jetting to clear the clog. The process will take about 3 hours and includes the installation of drain cleaning equipment."
5. Set Up Terms & Conditions
Most trades business don't usually think about terms and conditions when building estimates. These matter. They help you establish expectations around your services. 
Quotes software should allow you to create any terms and conditions which are attached along with the estimate you send. Create as many estimate terms and conditions templates as you like.
When creating an estimate, your software should give you the option to choose which terms and conditions template you wish you use.
6. Determine Job Pricing
We wouldn't be talking about how to write an estimate or quote without mentioning something of utmost importance: the cost.
At the end of the day, the way you want to price your jobs is entirely up to you. A tool that can help is job costing software. 
That being said, we recommend you make sure you're getting the payment you deserve by using a precise method to determine your price. If you're looking for tips, here are some ideas that you may want to consider:
What parts/labor does the job involve?
Do you want to put a markup on parts? If so, how much?

Are there any new parts you need to order for the job?
About how long will services take?
Look at how long these services have taken in the past. Then, charge by job type and the hourly rate for the technician completing the service.
Still having trouble settling on a price?
If you're having difficulty selecting a price, you can check competitors' web pages to see if they list how they charge for similar services.
Deciding on a single price is tough; but it doesn't have to be a struggle.
Check out our awesome guide on how to price your services!
A beautiful thing about estimating software is its ability to create multiple quotes segmented by budget. For example, you could provide three different options with different levels of service/price points, giving the customer the freedom to select their preference.
7. Include Relevant Job Costs
Now, you go to your customer account and create an estimate! You want the document to be neat and organized, and thankfully the software does all this for you once you put the data in.
It's best to provide a table showing the breakdown of costs to keep the information organized and easy to understand.
Here's an example of how the data entry may look from your end: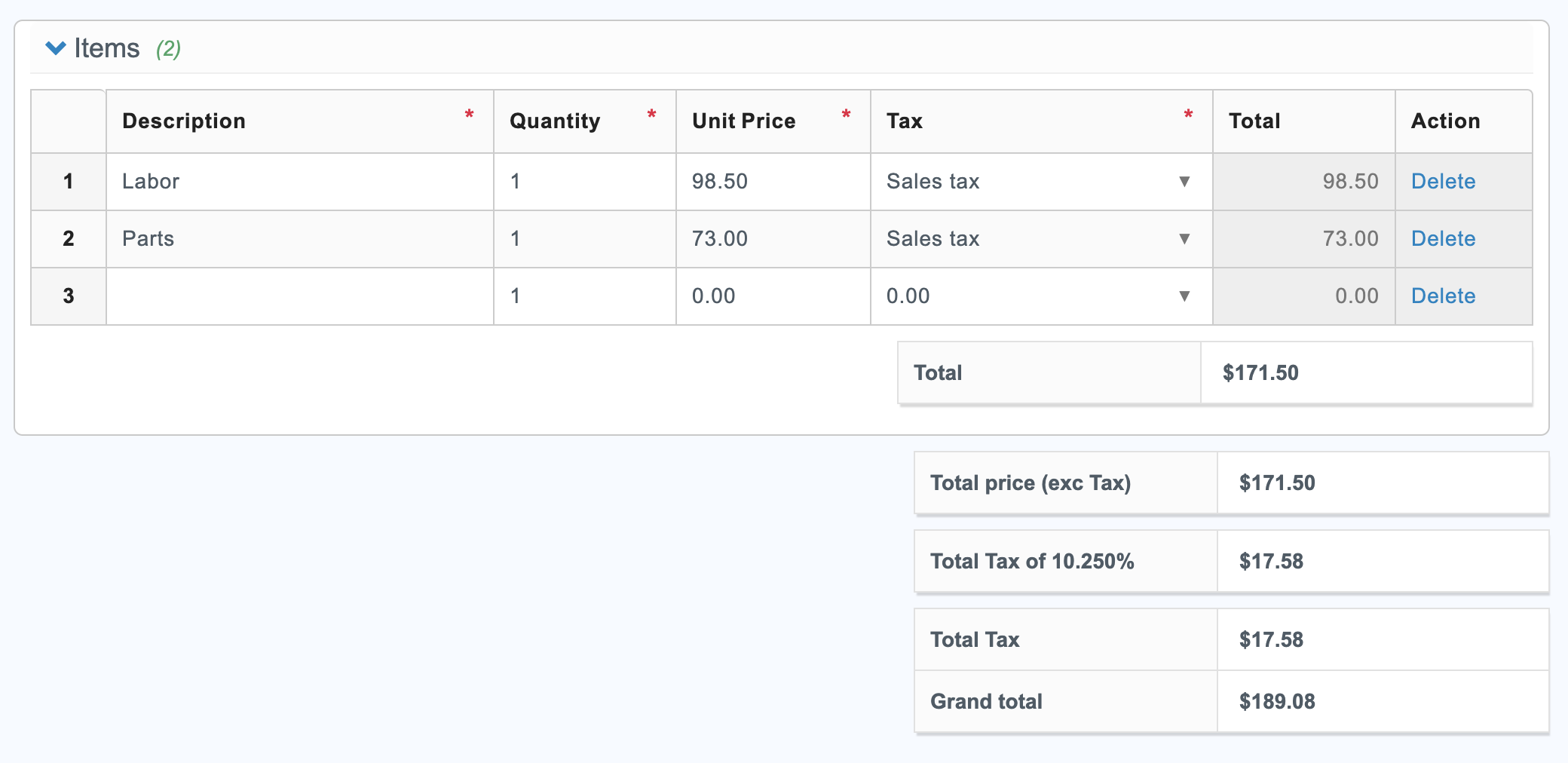 As shown, it's helpful to break down the costs into labor and parts. This is enough information to satisfy your customers without overwhelming them with unnecessary details. 
You don't want to give too much information, such as the details of parts markup. Your customer can easily look up parts prices and may feel uncomfortable with your markup.
However, your customer wants a general idea of where the number came from so it doesn't look like it was pulled out of thin air.
Don't forget to add tax! Remember, tax rates may differ depending on where your business is located and where your services take place. The best estimates software will automatically add up your quote items and factor in tax to get a final price.
Lastly, decide if you want to take a deposit. This helps cover any initial costs while guaranteeing their commitment and reducing the chance of cancellation. Estimates software can help you team factor a deposit in, giving you the ability to choose what percent you will take. Then, the software can automatically deduct this amount from the job's final invoice.
The estimate you create automatically goes to an estimate portal. You can send this portal to your customer via email and then your customer conveniently views an estimate, pays any deposit, and accepts the services. 
Additionally, the estimate is available in PDF form for both you and your customer to reference. The screenshot below shows how the cost table looks on the PDF version:

8. Give An Estimate On-Site
Your team has the option of creating an estimate wherever you want. Most choose to create their estimates back at the office or on-site, both using job management software.
Let's go through the simple steps of how to give a professional estimate on-site. This usually happens during the first appointment, as you gather more details about the job. 
When creating a mobile estimate on iOS or Android operation systems, the process begins with the technician creating the quote on their mobile device. The mobile software has the same functionality as the desktop software, so the tech can enter in all the details such as job description, price, etc.
Next, the customer reviews the deposit price, signs the digital document, and clicks the accept button.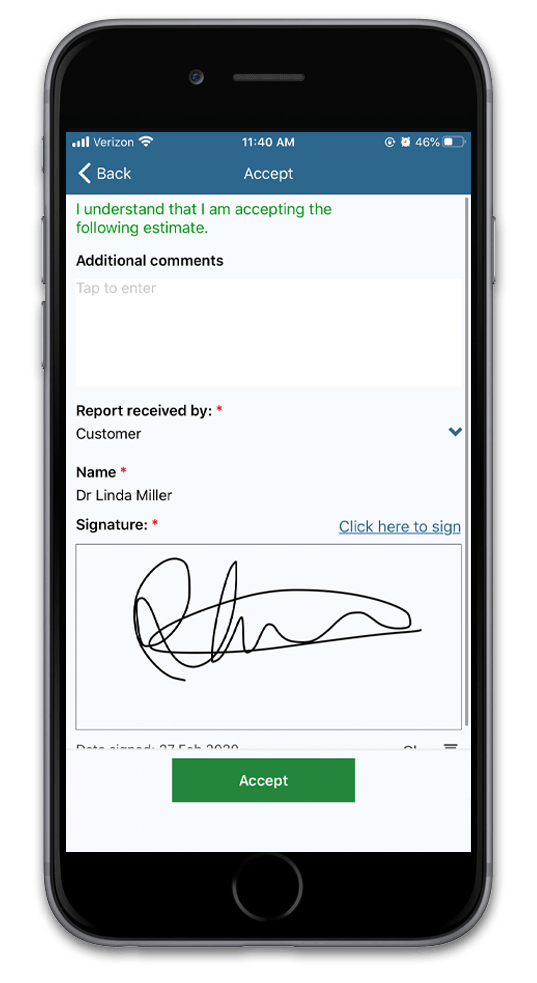 Finally, they use their credit card to securely pay with the software's mobile payment integration.
Once the deal is done, your technician should thank them for choosing your services and let them know they look forward to helping them out. If they have a business card, it's always a nice touch to give the client one on their way out.
9. Let Customers Accept Online
Another option is having your staff deliver estimates via email by attaching a link to a portal where customers view and accept estimates or quotes online.
Estimate portals save you the time and energy it takes to print and mail estimates. With the click of a button, estimate portals are created automatically as soon as the estimate has been created, and can be sent instantaneously right from your software.
Waiting around for customers to accept estimates is not ideal.
Estimate portals ensure that the wait time is significantly decreased because customers accept and pay their deposit as soon as they receive the email. They can do this at their convenience, and this means you don't need a staff member available to process payments over the phone.
When sending the estimate portal, you'll want to use thoughtful subject lines and email text. To write standard messages that send along with your estimate portal, write your text in your estimate settings.
Here is an example of an email you could send to your customers, using personalized tagging:
Subject:

[estimate_contact_name], your estimate for a [estimate_description] at [estimate_address_line_1] is available

Email:

Dear [estimate_contact_name],

Please see attached estimate [estimate_no] for a [estimate_description] at [estimate_address_line_1] [estimate_address_line_2].

Please contact us if you have any questions or concerns. [estimate_portal_url]
Here's how a quotes software will interpret this email: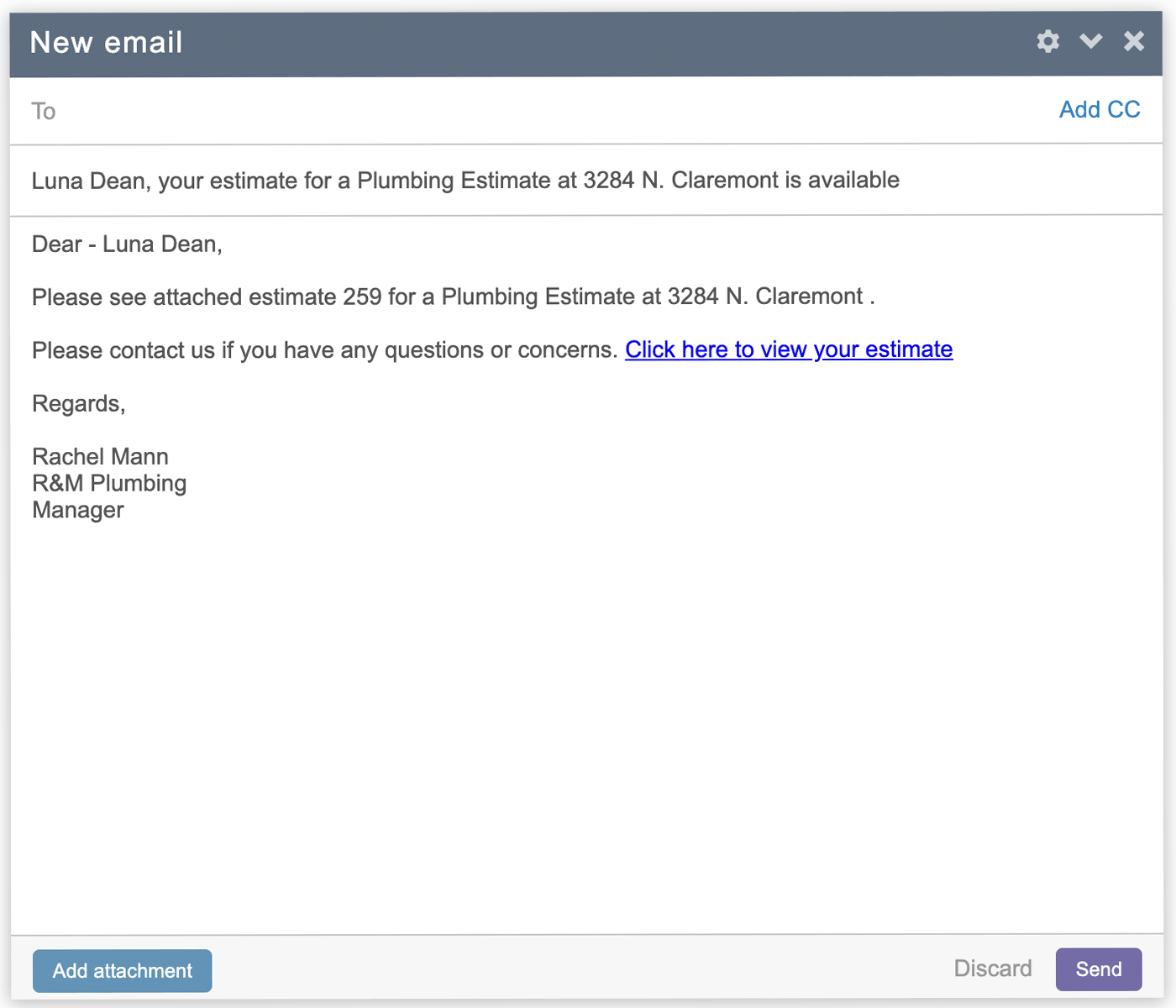 As soon as your customer receives this email, they're all set to accept the estimate from the estimate portal. Check it out in the below screenshot: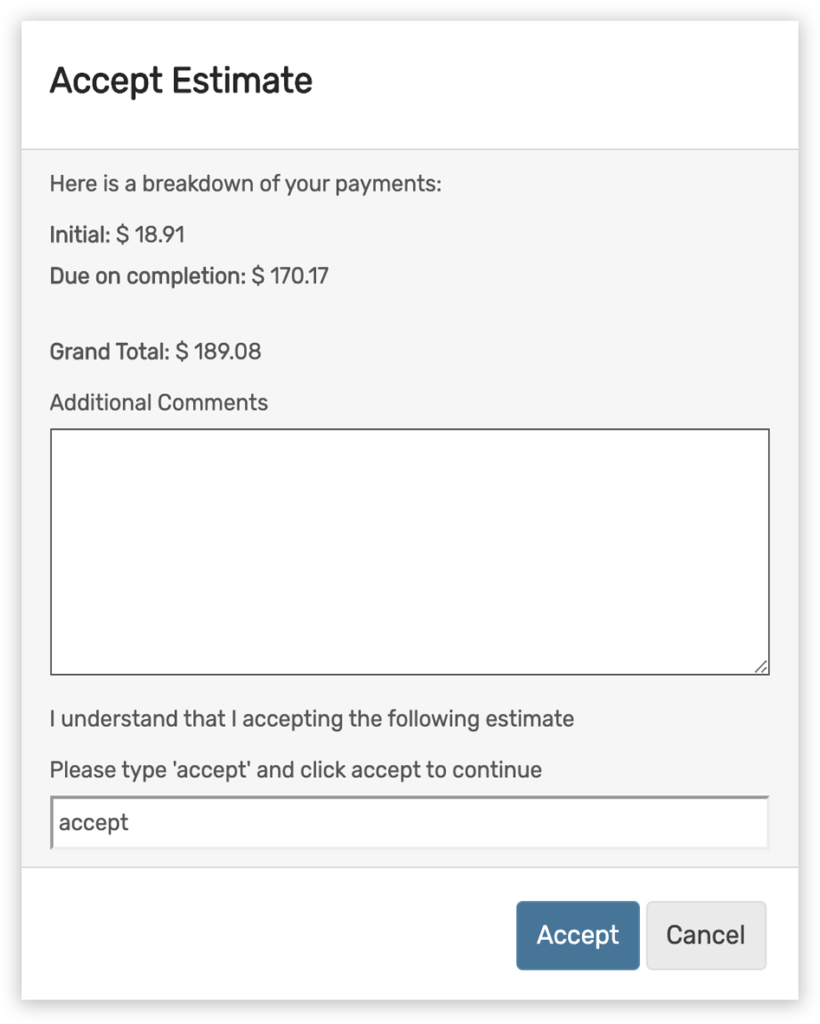 10. Email the Customer a PDF Version
Once your customer accepts the estimate, email them a PDF version. The best quoting software clearly marks the estimate as accepted, so there's no second-guessing.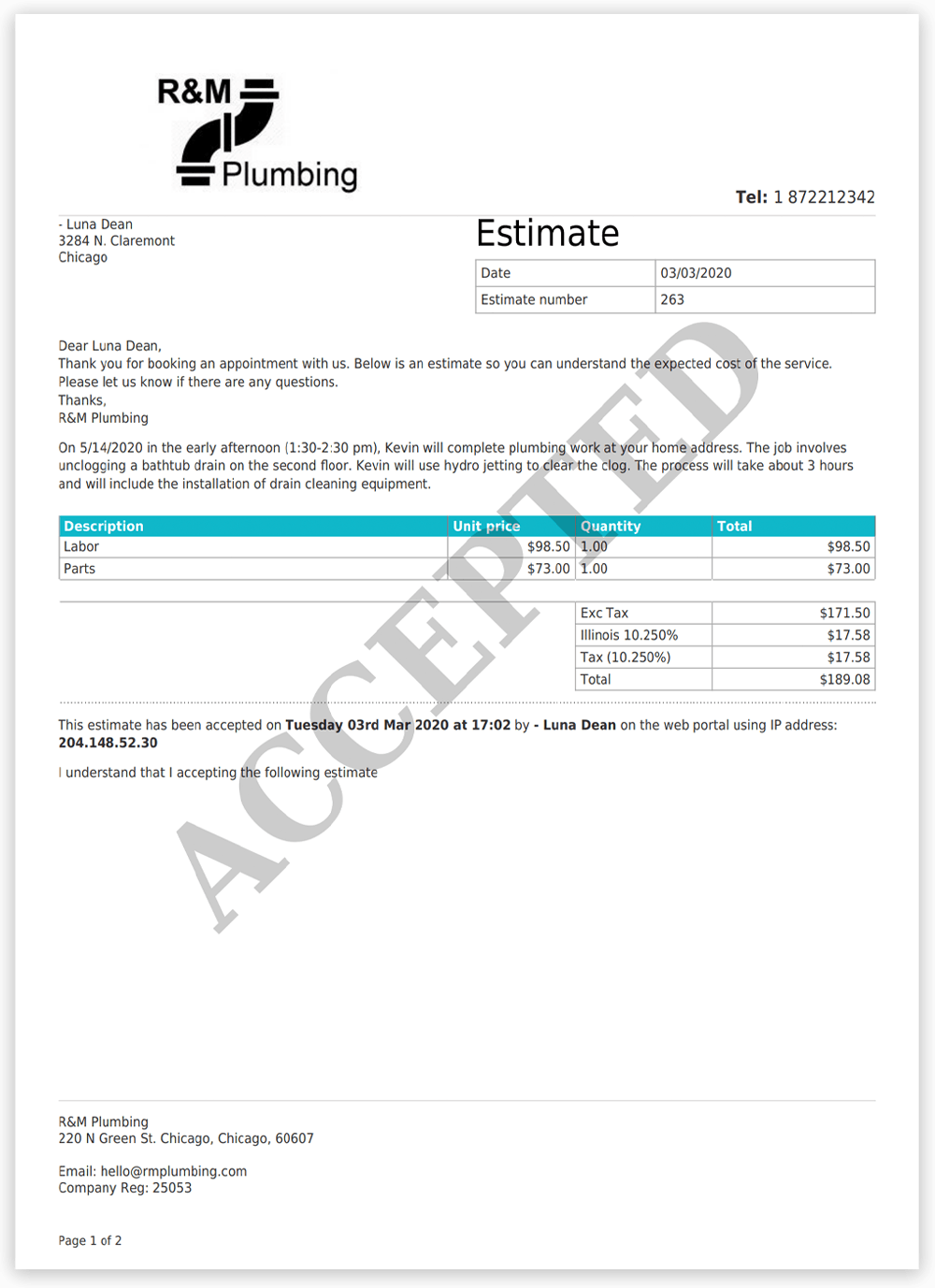 Now, you that you've done all the work with securing their business, it's time to make sure your team does the best job possible during the appointment. Learn more about how your technician can exceed expectations and improve the customer journey.
Thriving With Powerful Estimates
Mastering the process how to give an estimate is extremely important. When you outshine your competitors, and prove to prospective customers you can fulfill their needs, your team will win the jobs that matter most.
Using online software for your estimates increases your chances of success while saving you time and money.
Learning how to give an estimate is an ongoing journey. Going paperless reduces costs, minimizes errors, and enhances your professional image. All of this improves the relationship with your customers, which is likely to earn you more business.
Having a more efficient and professional process directly helps you increase bookings and cash flow.
Commusoft's maintenance job management software for trades businesses business provides an estimate feature that does all the helpful things mentioned in this article.
On top of estimate software, Commusoft has a number of other helpful tools that boost business. Thousands of businesses trust us every day to manage their data and provide world-class customer journeys. Learn more about how Commusoft can help you too.