8 Expert Tips on How to Automate Your Field Service Business
August 20, 2019 | Read: 11 minutes
Automation is the buzzword everyone's talking about. But is it really that easy? Many either assume it is and are disappointed or go the opposite way and are too intimidated to even try it. The truth is in the middle: Innovation can be challenging but if you understand how to automate, then your business stands to earn a great deal.
To give you a hand, we've asked a few experts, from field service managers with years of experience to consultants and marketers, on the best way to automate your business. Keep reading to find out more!
1. Find the right software.
2. Ask your peers.
3. Test the mobile application like it's your main platform.
4. Consult your team along the way.
5. Start by automating simple workflows.
6. Make sure your team has access to a knowledge base.
7. Do all this yesterday!
8. Mystery question!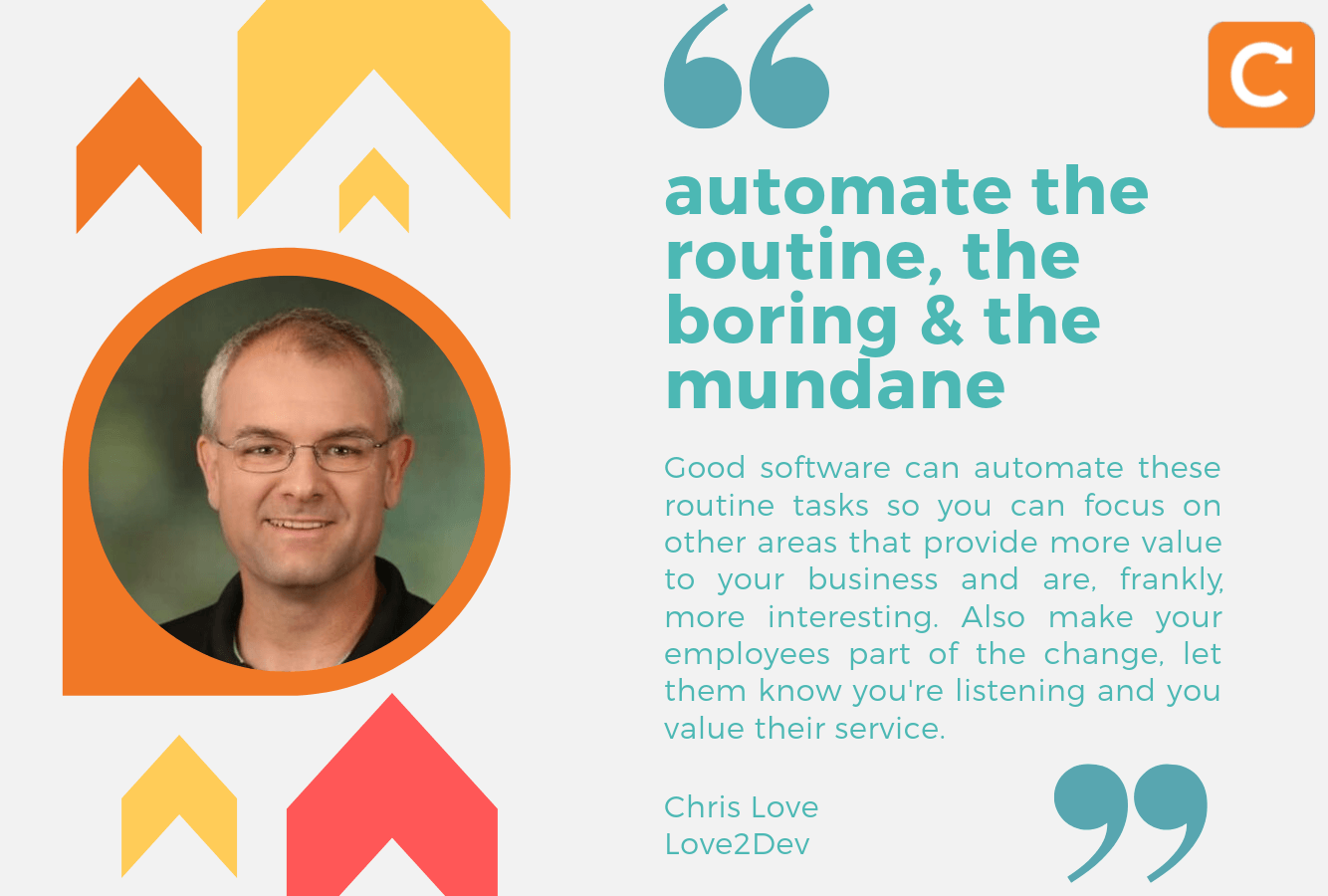 1. Find the right software
Another thing that's easier said than done. As a web application specialist, Chris Love, of Love2Dev, recommends to automate the routine, the boring, and the mundane – all tasks that no one finds enjoyable.
These are the features he considers essential when looking for a field service dispatch software:
The ability to work offline and sync data when the network becomes available again. Because the application can be cached locally, it runs fast since no network is needed to run. The ability to sync means the technician can continue working without fussing with cellular issues.

Make sure it's mobile-optimized. This means the user interface is designed for touch. Content is readable, user-friendly, and easy to find. You also minimize the amount of keyboard input and thus potential typos or even handwriting issues.

In some cases, you can leverage the device's camera for photos and video to add more depth to the info available on an asset.

Push notifications, SMS or even application data sync can keep technicians routed to work orders. Appointment times, customer phone numbers, service histories and directions can all be done using a progressive web application.
2. Ask your peers
Who better to give you the most honest recommendation on how to automate than your peers? Ask around, whether on professional social networks like LinkedIn or your local acquaintances working in the same field. They'll be familiar with your challenges and paint points, and have first-hand knowledge of how to automate a field service business.
Chris Forbus, of Choice Air Care, confirmed that "The best way to look for a good service is to ask your friends in the service business, since any recommendations from people you know is important, especially if they have hands-on experience with a particular tool. They can tell you what's good and what they don't like, so you can dig into it more before deciding."
If you're still not sure , you can always check reviews on software review websites such as Capterra, where other field service managers review software.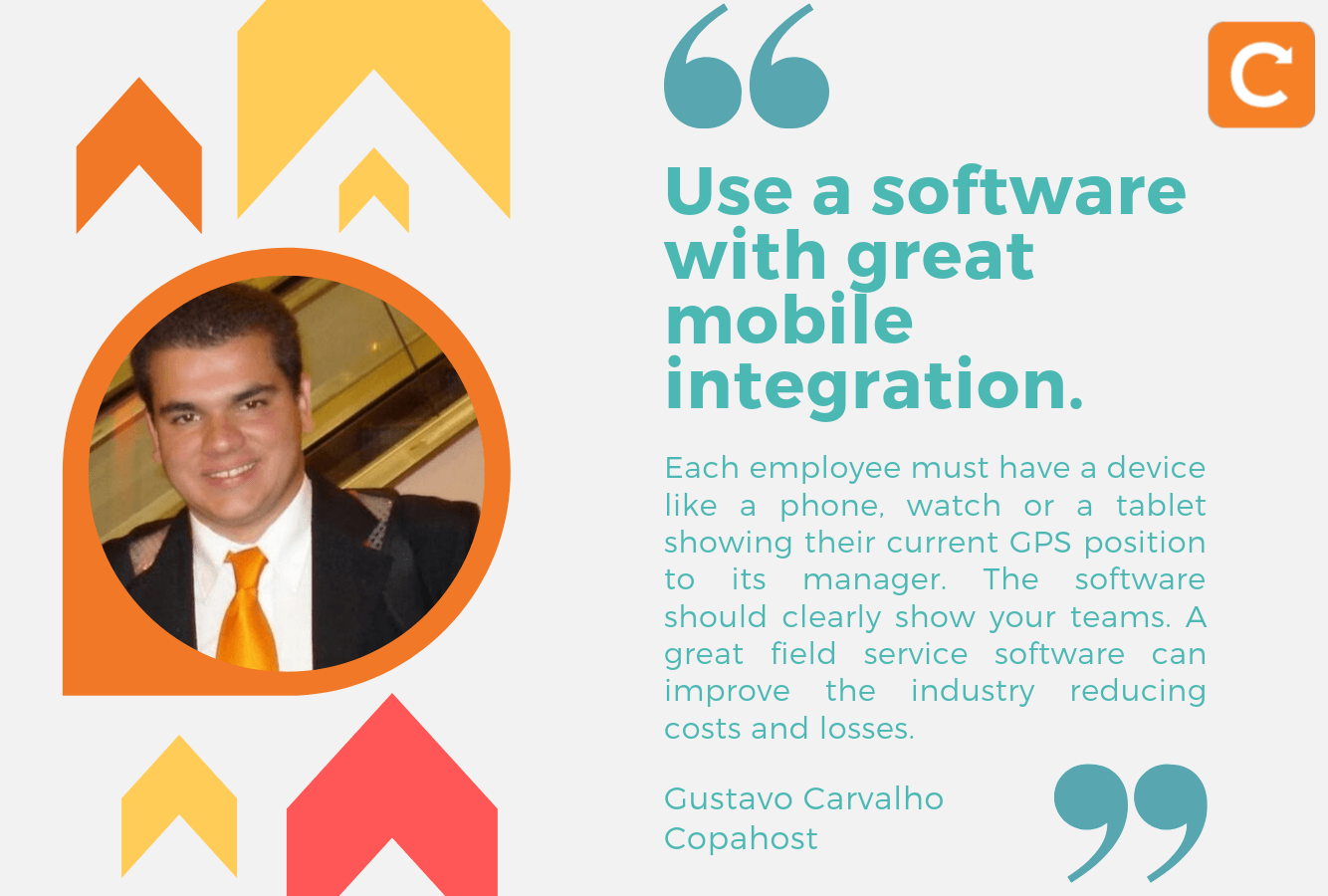 3. Test the mobile application like it's your main platform
As a field service company, most of your team will be made up of technicians who will be on-the-go more often than not.
This means that they need a mobile version of the software since you can't expect them to be lugging a laptop everywhere they go. Some will simply design a smaller version of their desktop software but that's never the way to do it. If you don't understand how to automate efficiently, you'll end up with an app that's difficult to read and impossible to use.
Gustavo Carvalho, of Copahost, adds that GPS technology is also essential if you want to make sure your team is being productive: "field service software, first of all, must integrate with mobile devices.
Each employee must have a device like a phone, watch or a tablet showing their current GPS position to its manager. The software should clearly show your teams (employees who are outside performing tasks), with their GPS coordinates.
A very common issue on such field service jobs is your team being outside the real place they should perform the services. For example, they can give feedback that they are at the client, but in fact, they can be resting or wasting time in other places. A great field service software can improve the industry, reducing costs and losses. A history of the GPS positions of each employee and/or team can do a very nice job."
Want a technician tracking portal that you can also share with customers? Click here!
Chris Love agrees: "Any software today needs to be mobile-first, especially when you need your application to be accessible from anywhere. You also want the software to run on any platform.
This is why I focus on progressive web applications, they are web applications that, when properly designed, are mobile-first, but work well on any computer. This means your technicians can use iPhones, Androids, tablets or laptops and access the content from anywhere."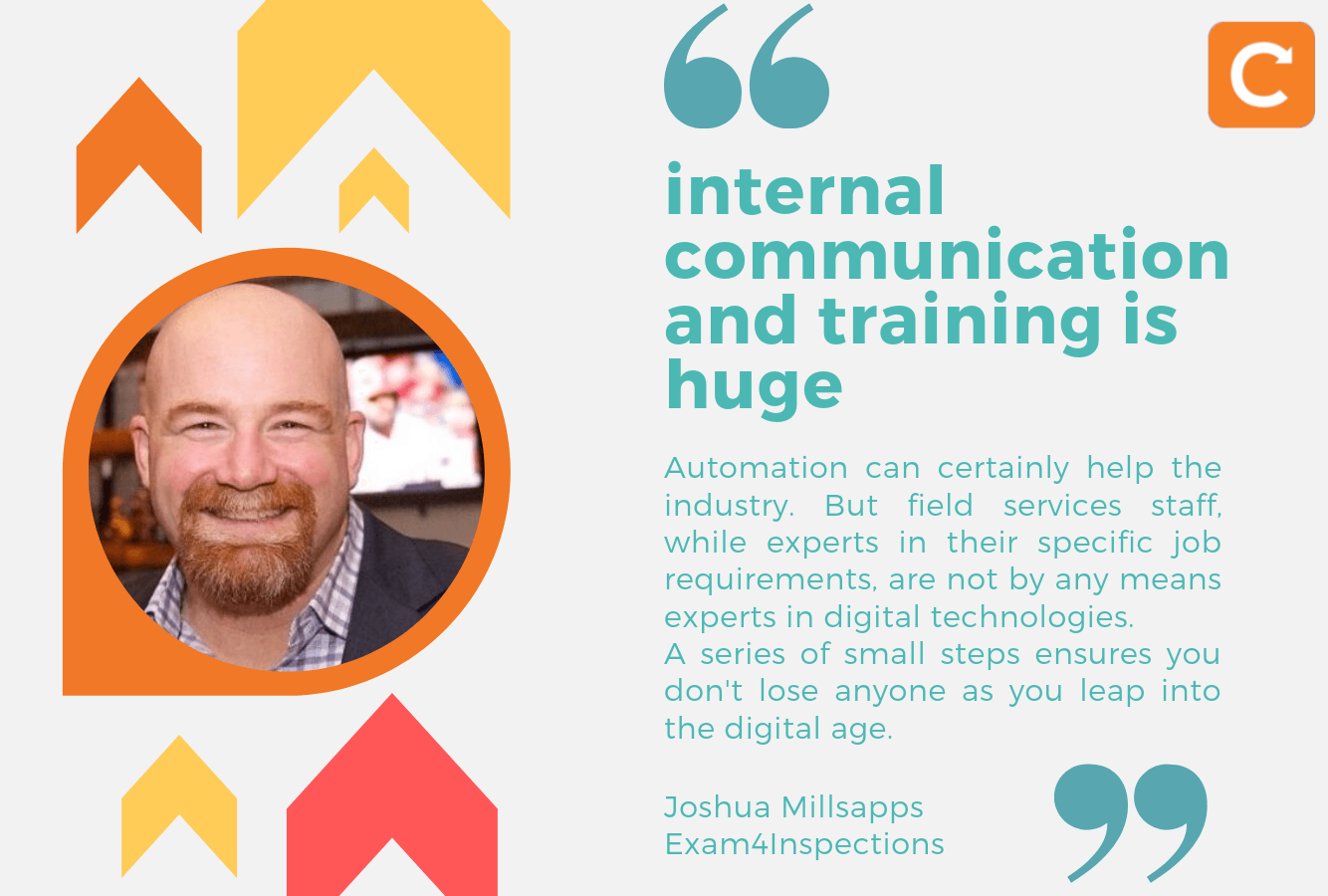 4. Consult your team along the way
There's no way around it: Without employee buy-in, you'll struggle. At the end of the day, you probably won't be the person using the software most often.
Your team, however, will have to deal with the consequences if you don't make the right choice. Not to mention the fact that if you don't consult them along the way, it will translate into a feeling of being undervalued. You can't expect perfect cooperation from unhappy employees.
What is schedule optimization software and why do you need it?
Joshua Millsapps, of Exam4Inspections, advises strongly against such behavior, using his personal experience working will field service companies:
"Something I learned early in my professional career is to make sure users understand that software is a tool to make them more efficient. Don't let it be an opposing force. Often new software is seen as a course of frustration since employees need to be trained, there are associated costs, etc. A good strategy I have employed is to involve one or more of your target users in the design or choice of software."
You could even take a formal survey of what your employees like and dislike about current solutions, and make sure those pain points are addressed. If you make them part of the change, they will be more open to it.
Tomas Keenan, owner of Top Class Installations, adds another method that he's experimented with: "The last time we went looking for software I put 3 of my office staff members on the task to help expedite the process. Each of them was to look at all the available software they could find, then book 3 different demo calls with their sales rep.
This process allowed us to review many options in a short period of time. Then we agreed on a winner together."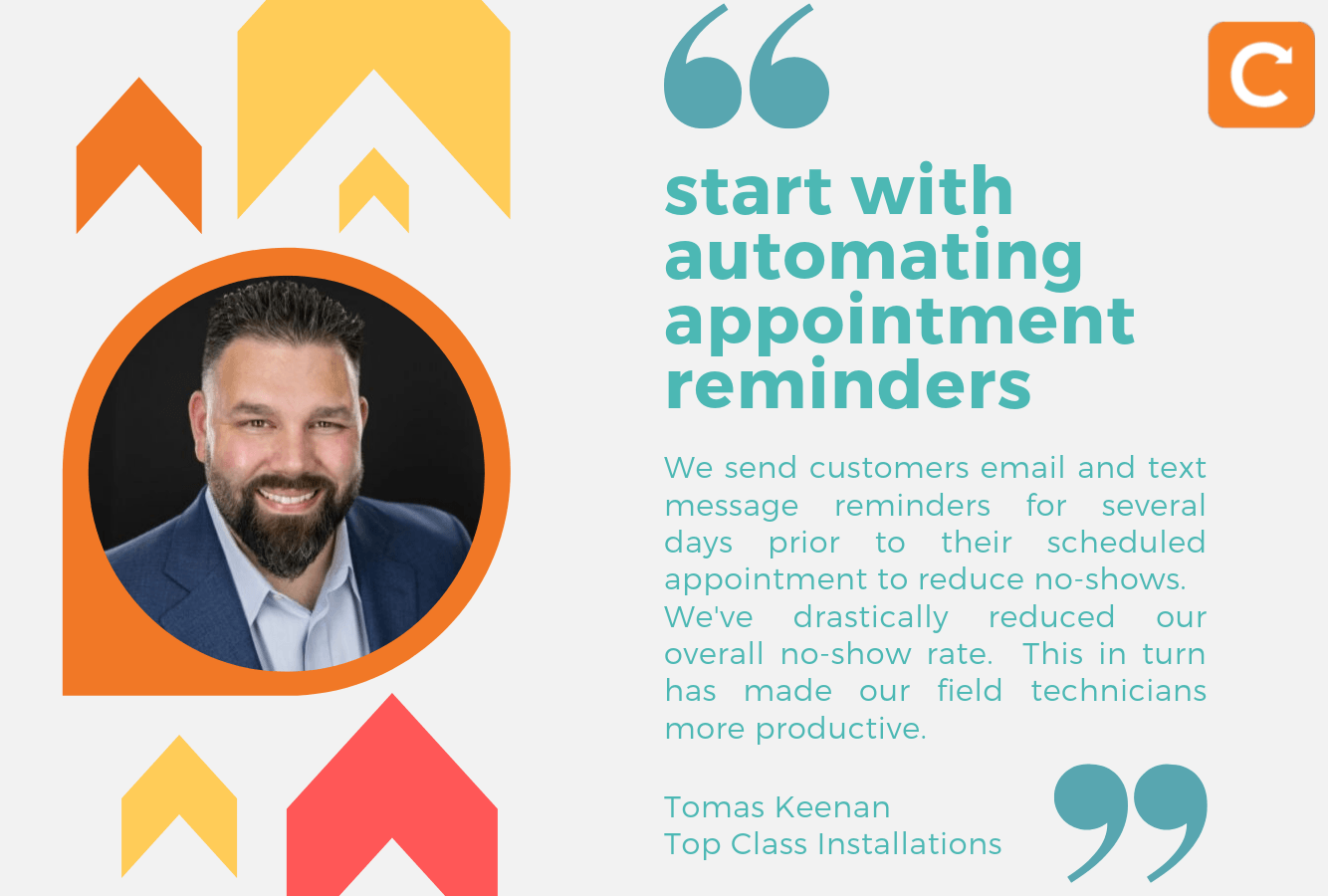 5. Identify then automate simple workflows
When managers wonder how to automate their business, they often overlook the small tasks which prove to be the most time consuming. For example, if you need someone to sit down and email dozens of customers to remind them of their appointments every day, you're wasting precious billable hours.
In Tom Keenan's experience, service reminders should be your fist automation target:
"The first piece that we automated was appointment reminders to our customers. We send them email and text message reminders for several days prior to their scheduled appointment to reduce customer no-shows."
If you want to become an automation expert, check out the Complete Guide to Field Service Business Automation
He's experienced tremendous growth after automating his field service business: "Since implementing this basic form of automation, we have drastically reduced our overall no-show rate. This, in turn, has made our field technicians more productive, ultimately driving revenue up."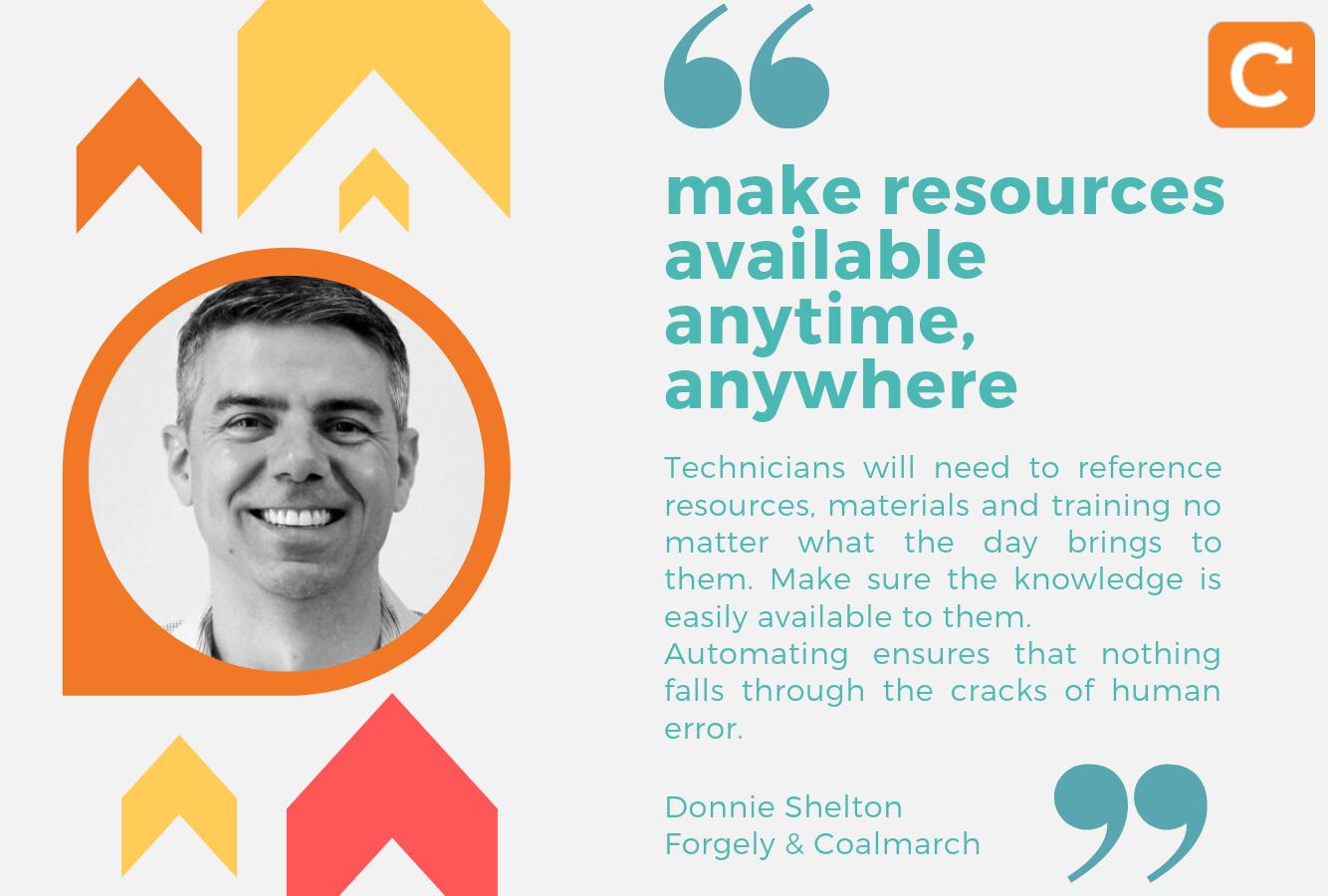 6. Make sure your team has access to a knowledge base on how to automate
Your employees should never feel like they're 100% on their own, even if they're doing individual jobs. And if they're still learning how to automate a field service business, it can be much harder to experiment since it feels like completely new territory.
Therefore, make sure when you start the automation process that the software you choose has a reliable knowledge base.
Donnie Shelton, CEO of Forgely and Coalmarch, confirmed it: "Automation in the home service industry makes a world of difference when it comes to efficiency. In the age of mobile technology, and in one of the most mobile industries, technicians will need to reference resources, materials and training at some point.
We designed our Forgely software to help automate training and the availability of resources, making it easy for business owners, managers, AND the technicians who are using it out in the field."
"Automating the hiring, on-boarding and training aspects of team leading can save management lots of valuable time. Having a process for onboarding ensures that nothing falls through the cracks.
Having an established process and queue of training ready to go for when a new technician starts saves time for managers so they don't have to reinvent the wheel for each new hire. Automation will save valuable time for managers, keep their daily routine organized, and allow them to spend more time on the things that really matter: growing the business."
Build a Better Customer Service Training for Your Techs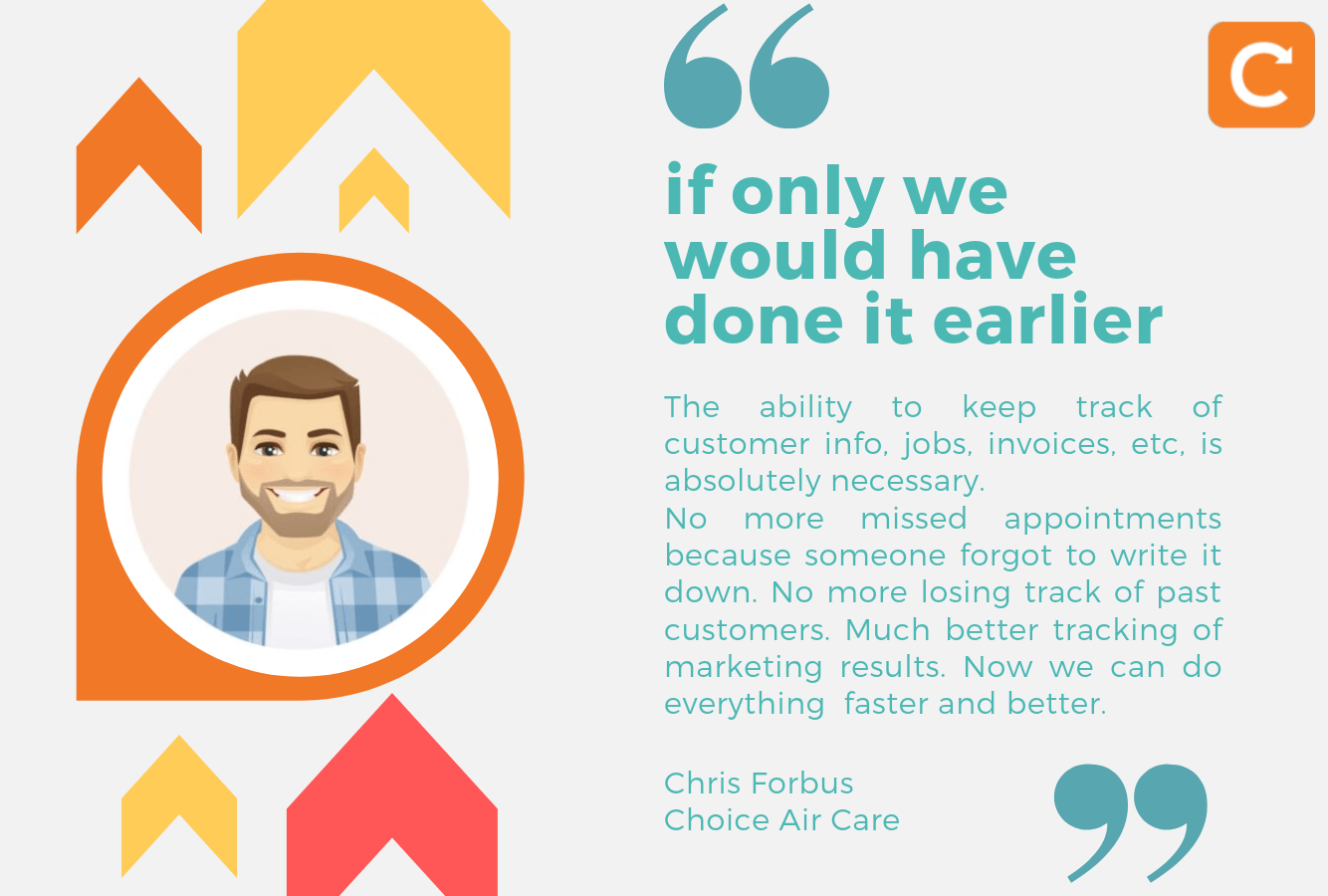 7. When should you automate? Ideally, YESTERDAY
When field service managers ask us for advice about when to start their automation process, we can't help but smile. If you haven't started yet, you've just allowed your competition to get ahead.
Many regret not having introduced automated processes earlier to their business. "We finally moved to a cloud based management tool a couple years ago and it has made things so much easier and better. Had we done it earlier, it would have helped us grow even faster. The ability to keep track of customer info, jobs, invoices, etc, is absolutely necessary," said Chris Forbus.
Avoid these software regrets and start looking into automation now!
8. Mystery Question: What did automation change most about your field service business?
Quite a few of the experts we chatted with have seen tangible effects on field service businesses after implementing software. We've put together some of their answers here:
"No more missed appointments because someone forgot to write it down or tell someone. No more losing track of past customers. The ability to keep in touch with past customers.
Much better tracking of marketing results. All this plus the fact that you can do everything faster and better." – Chris Forbus
"Many tasks technicians and back-office support staff do are boring and mundane. A key aspect of good software is automating these routine activities so they can focus on other areas.
Ideally, these would provide more value to your business and, frankly, be more interesting. A good example is identifying workflows in your business where an employee needs to take a manual action. Determine if an automated workflow could make that process more consistent and free up time.
For example, can you allow a customer to reschedule an appointment online, which can then automatically alert the field technician or back-office and reroute them to another appointment? Can you automatically send notifications to all concerned parties? These are the things that make a difference." – Joshua Millsapps
"Techs can give feedback that they are at the client, but in fact, they can be resting or wasting time in other places. A great field service software can improve the industry reducing costs and losses. A history of the GPS positions of each employee and/or team can make a very nice job, helping with that.
It's very easy to implement such technologies with the employees and learn how to automate together. We have implemented similar software in 4 or 5 companies without issues in the past. We haven't had any rejection or similar issues." – Gustavo Carvahlo
And there you have it! Straight from the experts who have automated their own business or advised others. This way you know that their recommendations are actionable and can bring tremendous results. If you'd still like to delve deeper into this topic, just click below to download our complete guide on how to automate your business!