6 Online Portals That Will Improve Customer Journey
January 28, 2020 - Customer Experience - 11 minutes
A service business, like any other business these days, depends on customer perception. There is simply too much competition around and getting savvy with sales and marketing is something even more traditional industries have caught on to. This means it's time for online portals to enter the stage!
It's easy to feel overwhelmed when you read articles these days about all the things you can do. Finding a marketing agency or hiring a full team of specialists to build and nurture a strong brand are both good strategies if you have the time and money to spend chasing them. But when it comes to your average trades business, most owners or operations managers have neither so they have to make do.
Good news, however, is that you don't need to win the lottery to implement a few small changes that make a big difference. To this end, we've asked Nick Garrett, an expert at naturalForms, to give us some advice he's picked up from his extensive experience in advising small-to-medium businesses – many of them plumbing and other field service specialties – on how to improve their processes.
Read on to discover the small tweaks you can add to your customer perception strategy! We'll follow the customer journey and start with:
1. Booking portal
2. Technician tracking portal
3. Quoting portal
4. Online payment portal
5. After-sales care portal
6. Customer portal
Let's get started!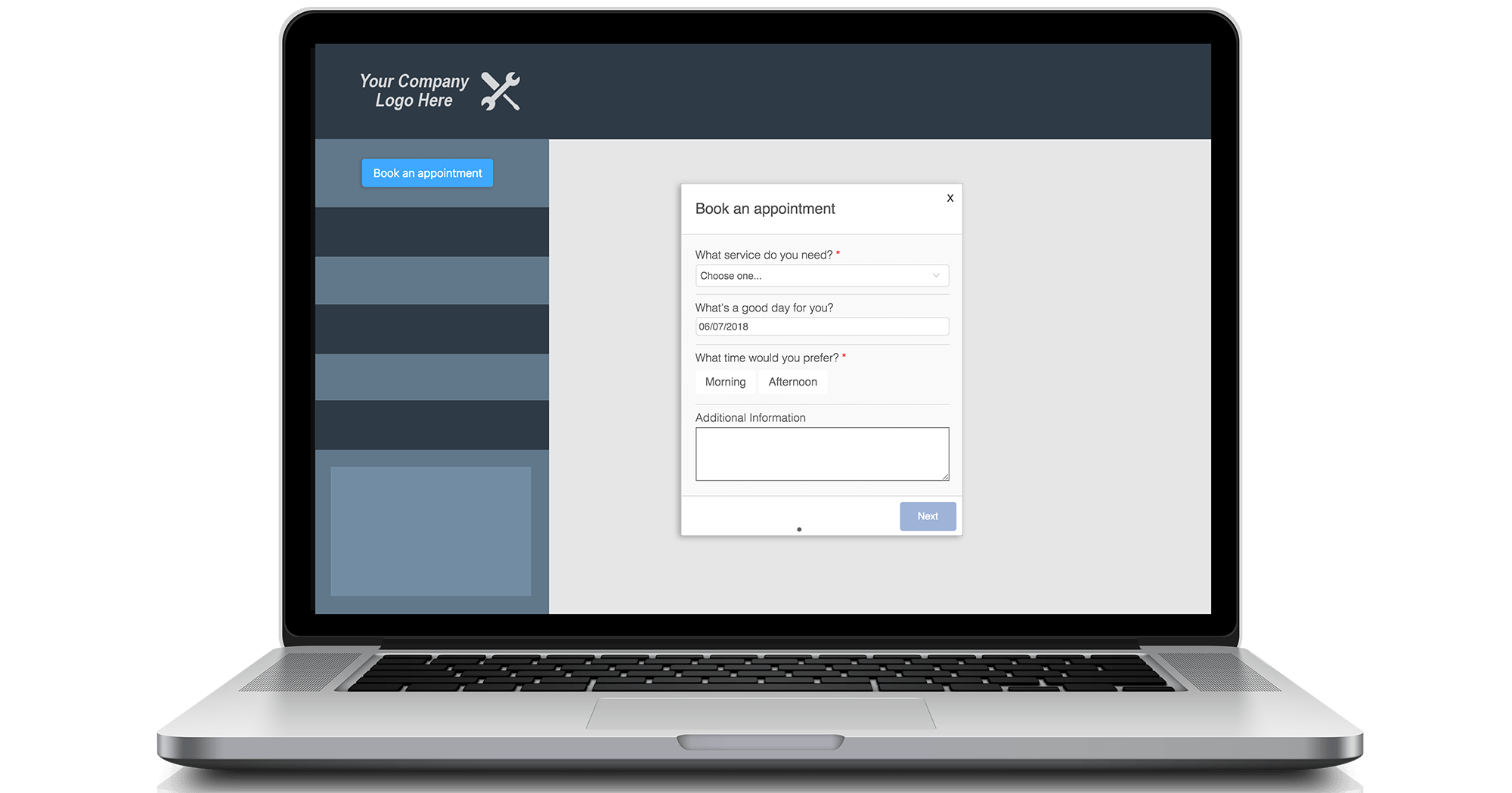 1. Booking portal
First impressions matter in shaping the customer perception of your business. If their first encounter with your company is a website that looks straight out of the early days of AOL, then it's no wonder that not many of them reach for the phone to call you.
And that's where more trouble stems for: people, these days, don't want to reach for the phone. Inc Magazine even wrote an article about it. Its conclusion is that, thanks to the prevalence of text and social media, most customers would rather avoid awkward phone calls.
By 2022, Gartner predicts that 72% of customer interactions will involve emerging technologies while phone conversations will make up merely 12% of customer service interactions as opposed to 41% in 2017. This is why you need a customer portal or online booking form where users can book their own technician, at a time of their own convenience.
It might not seem like much, but if a customer knows nothing about you and your competition, but the latter is just easier to reach because they have both a phone number and they make use of online portals, then you'll be on the losing end of this choice. Nick confirmed it from experience:
"When companies are not offering that to their end customers, it does get them a negative perception, if you will. And then the other thing we see is companies using digital forms as a competitive advantage.

So, if I'm a company using software and my three competitors in the area are not, then I have the competitive advantage of being someone who looks like they know what they're doing. It looks like I'm using the best technology available, and that projects onto the work I do. So we definitely see that there is an impact. Customer perception and using the right technology go together."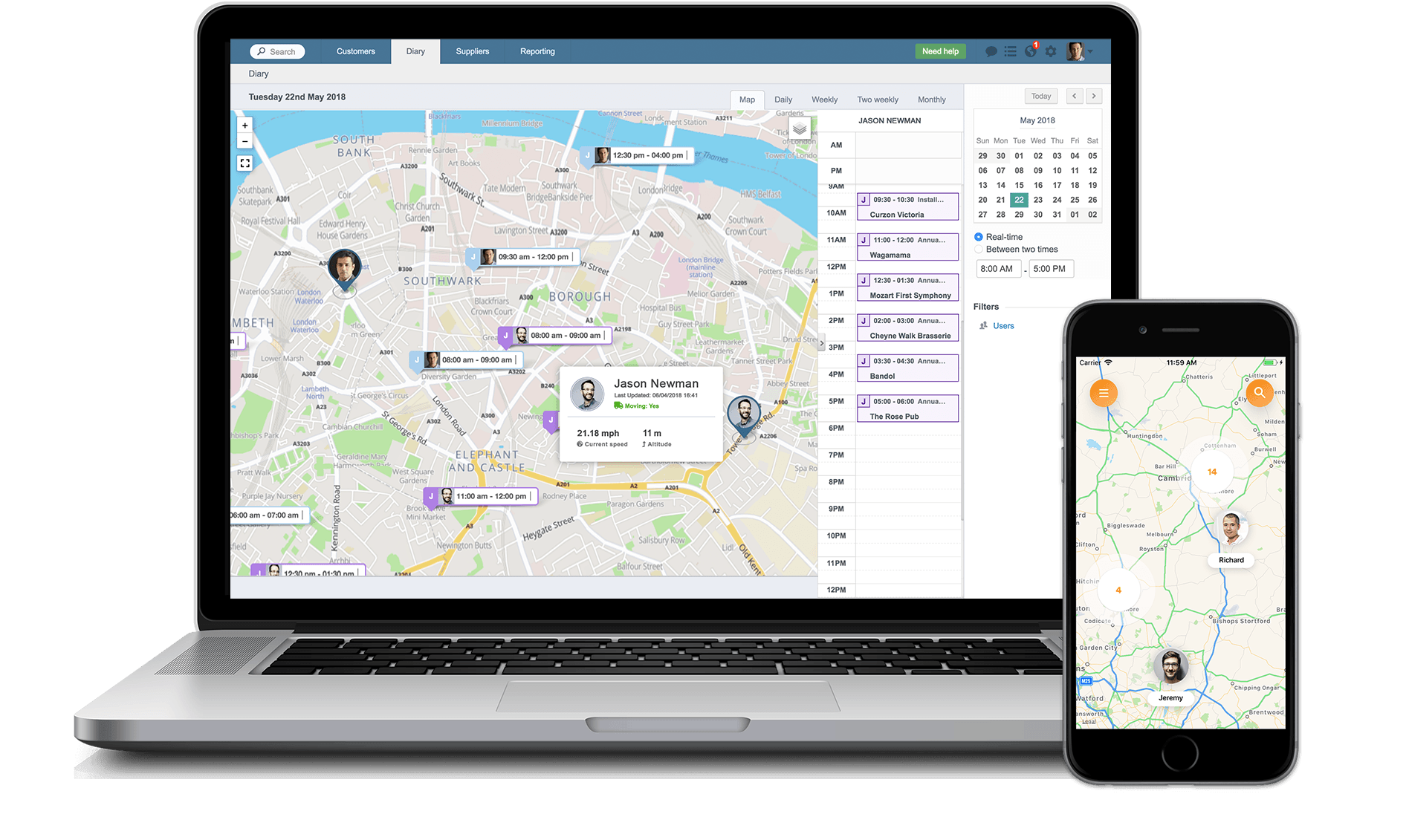 2. Online portals for technician tracking
Now that you have your customers booked in, it's time to send a tech their way. Like with most things nowadays, the customers' expectations have changed and online portals are a quintessential element of what they want to experience during their buying journey.
It's particularly important when they're waiting for the field employee to arrive. This is quite similar to waiting for an Uber driver to arrive or a parcel to be delivered, isn't it? The disruptors of these industries have made tracking online portals a mainstay of the "waiting" experience so it's only natural for people to expect it even from their local HVAC company.
Mobile workforce management software is nothing new, but recently there has been a growing trend for SMBs to use this feature in order to boost their customer experience and compete with larger companies.
In Dominic Heath's words – and he's an expert working for telematics company, Astrata – smaller companies are…
"starting to see what's available, they're starting to look at technologies, look at everything from a much more holistic perspective and it's not just heavy vehicle logistics companies but also smaller fleets asking 'What can I do now to get some of the same benefits for my field service business?' So I think there has been a trickle down and a sort of cross-fertilization, where smaller companies consider what value they can derive from telematics".
Now, there are many other benefits to having online portals and tracking your technicians, but the one we're focusing on today is its impact on customer perception.
A trades business that wants to project expertise and quality service will always focus on making those values a part of every step in the buyer's journey. Saving a customer from having to take a full day off just to wait for a plumber and sit around anxiously waiting to hear the doorbell ring – it all goes a long way towards improving their opinion of your service.
At the end of the day, customers can rarely tell a good job from an excellent one – a pipe that doesn't leak is a pipe that's fixed in their mind – but they always remember a remarkable service call.
It's no wonder that many people prefer companies like Uber compared to old school taxi services: the core service they get is the same (transport from A to B) but the former's experience is, clearly, often superior.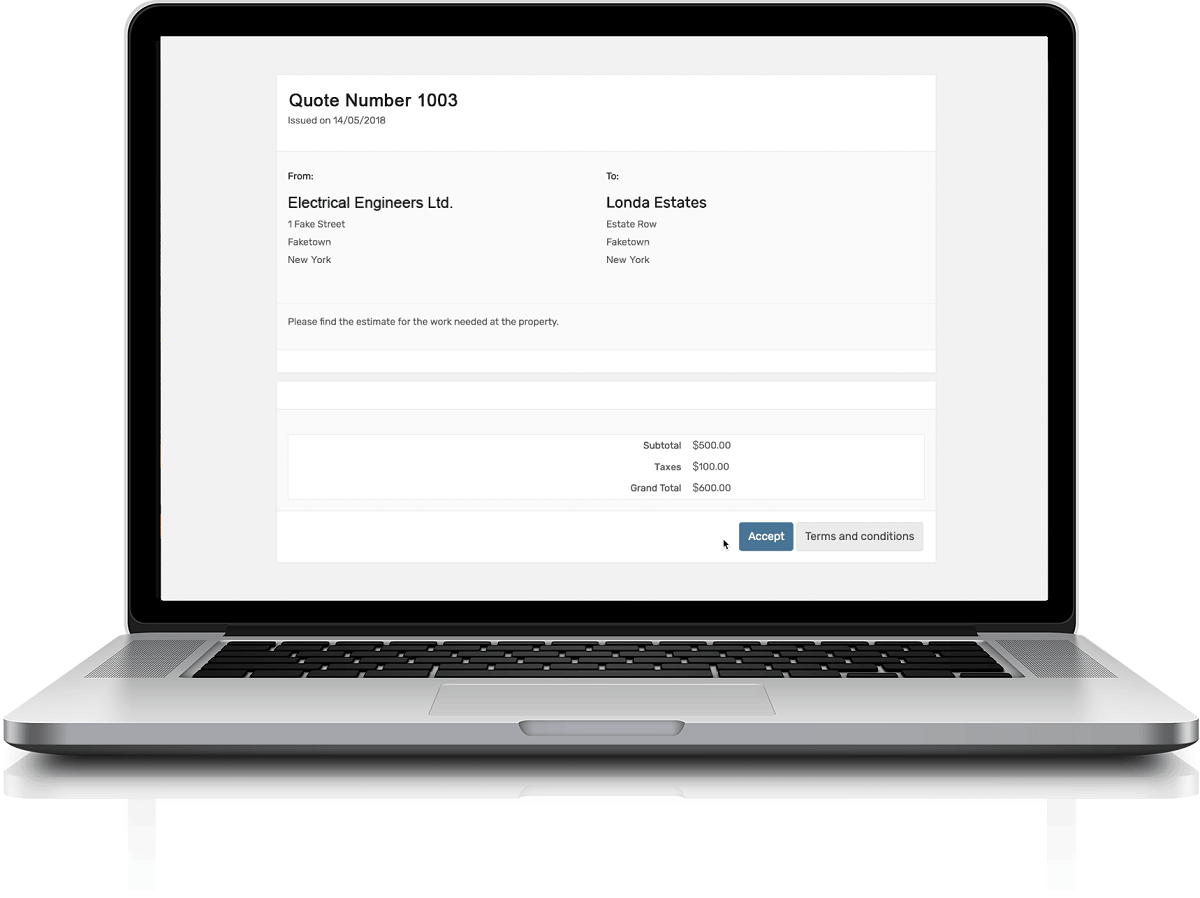 3. Quoting portal
Online portals can make the difference between a "meh" 3-star review ("decent service, nothing special") and a 5-star review ("such an easy company to work with, friendly and approachable"). To make sure you get those 5-star reviews, a quoting portal is essential.
Sending quotes and waiting for them to be accepted is an admin barrier for you and a nuisance for your customers. The simple process of sending a technician to a job and having them come back to the office or call in to send a quote, only to then wait for the customer to print it out, sign it, scan it, and then wait again for the next available appointment… well, it's the definition of a poor customer experience.
The excuse that this is how every business operates won't work anymore; it's simply no longer true, either. Besides, customers want the same smooth journey that other services offer them and plumbing or any other field service speciality is no exception.
According to Nick Garrett, the benefits of using digital forms for your quotes extend to admin as well:
"it's significant how much time they [admin staff] save. And one thing that we have found, especially with the small and medium businesses, even some of the larger ones, they really don't quantify the amount of energy and effort spent on all these manual processes. So they don't have a good understanding of the costs that are associated with those things.

That's what we found. So we try to help them gain more of a quantitative mindset and understand how much cost, effort, energy, and resources they're using and how to repurpose these through digital solutions."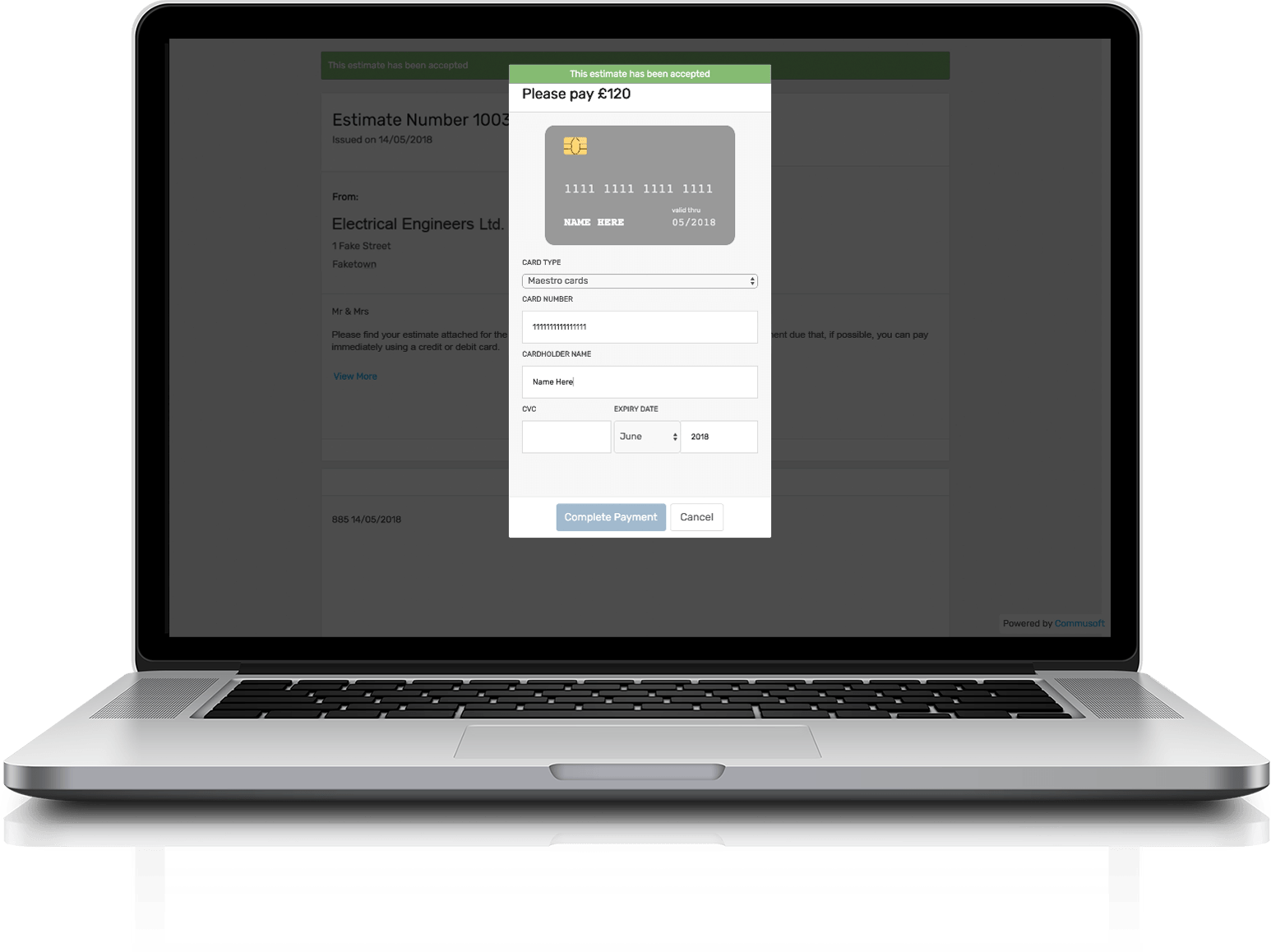 4. Online portals for payment
When we asked SumUp, the payment experts, about field service companies using online portals to enable customers to pay, James Henry, their Head of Sales and Partnerships, said without a shadow of a doubt: "They should give the matter a great deal of attention. Field service companies need mobility, ease of reconciliation and a seamless user experience".
At the end of the day, online payment portals benefit both your team and customers, by giving them a convenient way to pay bills and improving your cash flow and non-payment rate.
Many trades businesses operate under the assumption that small debts are the norm. They think debt management is for big corporations and if they want to keep their customers happy, they need to deal with the inconvenience.
However, the truth is that poor cash flow is one of the biggest business killers out there. As a manager, you shouldn't have to deal with slow payers choking up the business. You've done all the work, paying for both the labor and the parts, now it's time to get paid and payment portals make it that much easier.
Additionally, online portals also mean your staff doesn't have to do any double data entry since all the information quoted is automatically backed up into the system and, if you're using the right software, directly added to your accounting system.
They offer an easy way to send customers their invoice and provides them with a quick way to pay, on top of reducing the sheer amount of admin your team has to deal with. No late payments, happy customers, and happy team? That sounds like a great deal to us!
5. After-sales care portal
We've talked before about how important positive reviews are for plumbing and heating companies but just to double-down on the matter: BrightLocal found that 86% of consumers read reviews before hiring local business. This percentage goes up to 95% for people aged 18-34! Considering that this demographic also trusts online reviews just as much as a personal recommendation, it stands clear that you simply can't afford not to have a strategy to get more positive online reviews and an online after-sales care portal does exactly that.
But how do you get more reviews? Rebecca Reynoso, an expert at G2, the review aggregator, has one simple advice:
"Honestly, one of the main things is – and this seems obvious when you say it out loud – to ask for them. People expect that. Even if it was a great experience. I've had good experiences with products and services before and it didn't even cross my mind to write a review. It wasn't like I was actively against a company, I simply didn't think about it.

People don't prioritize review, especially if they're not reminded to do it."
An after-sales care portal does just that: it automates the process so it's not another task for your overworked admins and it can be customized to fit the situation. Once your sales process is fully complete with a customer having paid their final invoice, you can send them a request for feedback.
They can either give you a thumbs up or a thumbs down and will also have the option to include a text response. Get a glowing review? Share it with the technician and let them know they're doing a good job. Receive a complaint? See what you can do to address it, fix your customer relationship, and implement changes to avoid it happening again.
6. Customer portal
Time-consuming phone calls and sorting through mountains of paper (or digital files) can easily put commercial customers off. At the same time, once you start working B2B, your admin will have to adapt to different expectations and more pressure, as losing a contract is very different from losing an individual customer.
Starting with the proposal phase, a customer portal can boost your chances of impressive prospective commercial partners because it's not something many service companies offer right off the bat.
Being able to demonstrate step-by-step how, say, a property manager can book a job at an address, check the status of an older appointment, collate every invoice into a consolidated file, and more, will go a long way towards setting you apart from the competition.
A customer self-service portal will also extend the reach of your team to 24/7 support; once you implement one, it'll reflect your company's commitment to nurturing the very best experience.
Learn more: 7 Must-Have Features for Your Customer Self-Service Portal
The takeaway on online portals
Want to do all these things at once? Try plumbing management software like Commusoft and start impressing your customers with sleek and modern online portals. In the meantime, check out our simple guide on how to automate your business!